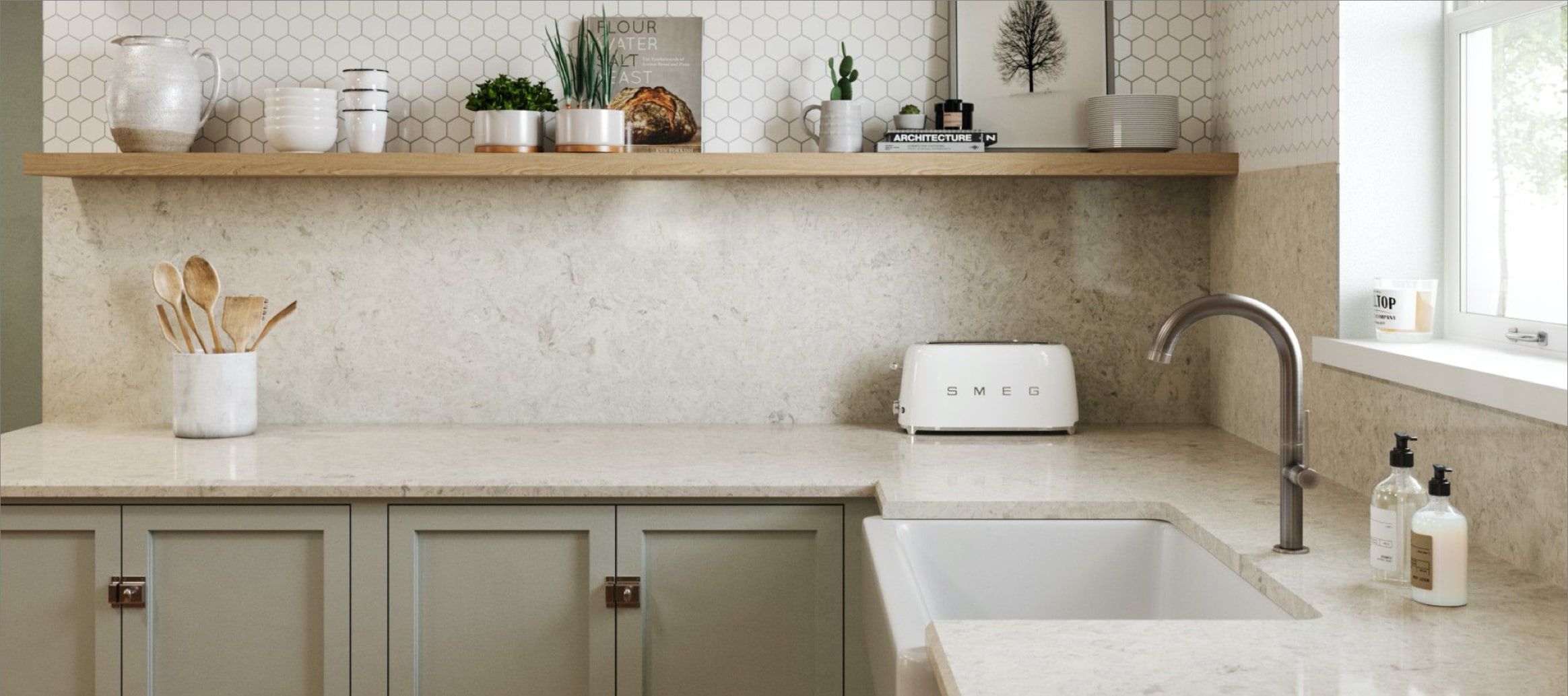 Home Depot Cambria Quartz Countertops: An Unbiased Review and Cost Guide
Photo by  International Granite and Stone
Originally Posted On: Home Depot Cambria Quartz Countertops: An Unbiased Review And Cost Guide – (igscountertops.com)
Introducing Cambria Countertops, now available at The Home Depot
The exclusive Countertop Brand, known only for being sold through specific Countertop Retailers, has now made its way into Big Box Stores, starting with Home Depot!
With exceptional Designs and out-of this world Durability, made from the purest white Quartz on Earth, Cambria is ready to make a splash in a new market. Scroll below to learn more about Cambria Quartz and to check out some of the Designs only offered through The Home Depot's Design Center.
Cambria Quartz Whitendale Home Depot Kitchen Bathroom
What is Cambria?
Cambria is the leading brand of Man-made Quartz Surfaces used for Kitchen and Bathroom Countertops. Made in America, out of Grand LeSeur & Eden Prairie, Minnesota, Cambria is a Family-Owned Business that proudly employs over 2000 employees nationwide.
Quartz itself is a rock hard mineral found in nature. The stone scores a 7 on the MoH's Hardness Scale, three spots behind Diamonds, which are known as the hardest rock/gem/mineral on Earth (so hard you can cut with it!). The only thing hard enough to scratch a Cambria Countertop is another piece of Quartz itself.
Cambria mines their own Quartz from their proprietory mines, searching for only the purest white pieces. The finished product ends up being an "Engineered Stone," made up of 93% Crushed Quartz, and 7% Resins, Binders, and Pigment.
During the Manufacturing Process, the material is bound together with a small amount of binder, that renders the stone poreless, unlike Granite. Being Non-Porous, Cambria NEVER needs to be sealed like its Natural Stone Counterparts Granite and Marble. The finished product is an Ultra Durable, Scratch Resistant, Stain Resistant, Maintenance-Free Slab of Engineered Stone.
Dovestone Cambria Quartz Home Depot Bathroom Kitchen
How Much Does Cambria Quartz Cost at Home Depot?
Home Depot sells Cambria Quartz Countertops between $75-$110 per square foot, depending on the style and color you are looking for.
Depending on the Fabricator, the square foot price includes the Material, the Template of the Project, the Fabrication of the Countertops to your exact measurements, and the Installation of the Stone.
Fabricators who don't include Material, Template, Fabrication, and Installation in their square foot prices will often add those charges on a la carte at the end of a quote.  This confuses customers, because they budget for the square footage cost of the material, and get blindsided when presented the bill because of extra charges they were unaware weren't factored in already.
In terms of pricing compared to Granite, Cambria falls around Level 2 Granite and up. With Cambria, you also don't need to pay additional money towards the Sealing of the Countertops, as it is naturally Non-Porous and Stain Resistant. Professional Sealant Application can cost $200+, the price is normally determined by the amount of square footage that needs to be sealed.
Trafalgar Cambria Quartz Home Depot Kitchen Bathroom
How to Buy Cambria Quartz Countertops
When Buying Cambria through Home Depot, customers must visit their local Home Depot store and meet with someone in the Design Center to go over color selection and pricing. Although Cambria offers over 160 different designs to their Retail Customers, Home Depot only offers 16 exclusive Home-Depot Designs. Unfortunately, if you fall in love with one of Cambria's Signature or Luxury Designs, you will not be able to buy them through Home Depot.
Cambria's Luxury Collection, which features wavy, veiny, sweeping popular designs like Brittanicca, Ella, or Skara Brae.
For more Cambria Designs, you must go through a Cambria Premier Dealer.
International Granite and Stone is a Cambria Premier Dealer.
Cambria Quartz Colors at The Home Depot
Cambria has created 16 visually stunning designs for Home Depot Customers and Designers, allowing customers who may not have a Premier Cambria Dealer in their region, access to America's favorite brand of Stone Surfaces.
The designs are as follows:
Seacourt Cambria Quartz
Like a light dawn misting, Seacourt features cool gray swirls, with tinges of warm honey resting on a whisper white background.
Ridgegate Cambria Quartz
Featuring a marble-esque like background, Ridgegate's medium gray and rust-colored veins create a serene mix of complementary and contrasting colors.
Whitendale Cambria Quartz
Cambria Whitendale showcases dark gray scattered veins, against a creamy white background. A light marbled design, perfect for any space.
Travella Cambria Quartz
Delicate navy blues veins accent this creamy white design, like rivers cutting through the Earth. Travella is the perfect marble look to pair with white & navy cabinets.
Dovestone Cambria Quartz
Dove gray veins that dance on parchment white stone, Dovestone is a gorgeous neutral toned marble look, with hints of khaki throughout.
Risegate Cambria Quartz
Creamy whites and grays blend together in cloud like wisps to form Risegate, a light and airy like design with hints of contrasting grays.
Summerbrook Cambria Quartz
Summerbrook features broad streams of translucent taupe, with navy blue overlays throughout the veins.  This nautical design blends beautifully.
Nadenbrook Cambria Quartz
Taupe gray veins, with hints of translucent neutral tones marry in this design, with vast sweeping veins, Nadenbrook features hints of brown throughout the movement.
Warwick Cambria Quartz
Laid back and inviting, Warwick features warm and cool grays on a white background, with black flecks intertwined throughout the design.
Chatsworth Cambria Quartz
Variations of cream and ivory swirl throughout Chatsworth. With gray veins and hints of tan gold, this design is a contemporary hit.
Trafalgar Cambria Quartz
Swirling Seafoam Green with hints of tan throughout, Trafalgar brings you that beachy coastal feel, like the water hitting your toes in the sand.
Sherwood Cambria Quartz
Named after the Famous Forest in England, Sherwood pulls forest green, white, black, and gray together harmoniously.  Just the right amount of Earth tones and contrast.
Brookvale Cambria Quartz
Shades of Taupe and Grey blend together in Brookvale to create this concrete looking quartz color, with hints of chocolate brown.
Hawkridge Cambria Quartz
A gorgeous combination of neutrals, Hawkridge showcases tans and contrasting rust orange and beiges to bring this pattern together.
Ashbourne Matte Cambria Quartz
Sultry greys and charcoals, Ashbourne Matte features a rich combination of contrasting shades swirling into each other.
Bellwater Cambria Quartz
A rich mix of creams and tans, Bellwater's swirling movement is the centerpiece of this design, creating an ethereal flowing pattern that relaxes the mind.
About Home Depot
Established in 1978 by Bernie Marcus and Arthur Blank, The Home Depot is America's largest leading DIY Project Center.  With over 2,000 stores nationwide, The Home Depot has become a national standard amongst other Big Box stores, with customer service and top-trained employees at the center of their business model.
Home Depot's Core Values are as follows:
Taking Care of Our People
Respect for All People
Doing the Right Thing
Building Strong Relationships
Giving Back
Excellent Customer Service
Creating Shareholder Value
Entrepreneurial Spirit
Hawkridge Cambria Quartz Home Depot Kitchen
Who Installs Countertops for Home Depot?
With Home Depot's vast reach and Big Box store notoriety, they can broaden their reach and offer their customers more project management and installation opportunities when they come into the store. A couple of big questions customers must keep in mind when pursuing a Home Renovation Project through Home Depot is, who is actually doing the work and the installation? Does Home Depot have separate locations who pump out these products, are the employees installing these services Home Depot employees?
The short and sweet answer?  Being a Big Box Store, The Home Depot subcontracts the projects out, using preselected contractors and companies to do the work.
Most of the time, you don't even get to meet the subcontractor who is installing the project until they show up at your home to complete the contracted services.  Depending on the service you've selected, you might not even know the name of the company or any relevant information about them like reviews, insurance, contractor's license number, etc..  Most Homeowners are wary of having strangers come to do work in their home.  Having a trusted, vetted employee inside your home is a top priority for many homeowners, as well as making sure the job gets done right.
As the saying goes, your Sales Department will bring customers through the door, but it's Excellent Service that keeps customers coming back.
Pros and Cons of Buying Cambria at The Home Depot

Pros
Big Box Store with Many Locations
Wide Selection of Home Renovation Services
Cons
Home Depot Cambria Quartz Summary
In Summary, Cambria is a highly sought after Quartz Countertop Material that is now being offered in Home Depot.  Previously only offered through trusted, hand-picked, professional fabricators, Home Depot & Cambria are making a splash in the Big Box Store circuit with 16 exclusive Cambria Designs. Home Depot customers can meet with a Designer in-store and buy their quartz countertops.
However, customers do miss out on the Traditional In-Home Consultation, where Design Reps take personal care in working with the Homeowner on their Design Project.  Having an In-Home Estimate or Consultation done leaves the customer fully informed, with a vision for what is being done in their home.
Home Depot subcontracts out all the Countertop Projects they do, leaving the customer with minimal information about the contractors coming in and out of their home.  Having Cambria in Home Depot also boosts brand notoriety, as well as opening customers up to the only American brand of Quartz Countertops on the Market.