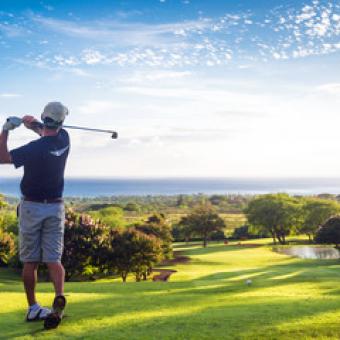 Guide to The Best Golf Courses on the Costa Del Sol
Originally posted on https://rightcasa.com/guide-to-the-best-golf-courses-on-the-costa-del-sol/
The Costa Del Sol is considered a Spanish golfing wonderland: A Mecca for the world's rich and famous who are looking to enjoy some of the world's greatest golf courses and year-round sunshine. With over 70 golf destinations in the region, the courses here rarely feel crowded. What's more Andalusia (which the Costa Del Sol is a part of) won the 2019 IAGTO Award for Best Golf Destination in Europe: great golfing is guaranteed!
So, what do you need to know about golfing in the Costa Del Sol? Here's our guide to the best golf courses in the Costa del Sol:
Follow the Masters
There is nothing more exhilarating than playing golf on a course that has hosted a prestigious tour event, and you will find an abundance of these on the Costa Del Sol: The World Cup, World Golf Championship, Volvo Masters, Spanish Open and World Match Play Championship have all been hosted here in the past four decades.
Some of the world-wide golf stars that have visited the Costa del Sol to enjoy its superior golfing include Spanish idols such as Severiano Ballesteros, José María Olazábal and Sergio García as well as international household names such as Jack Nicklaus, Tiger Woods, Rory McIlroy, Justin Rose and many, many more. Channelling these superstars, whilst following in their footsteps on some of the world's greatest golf courses, might well even help you to improve your own game.
Courses to Look Out For
With over 70 courses to choose from, you're never far away from a golf course when you're on the Costa Del Sol. But if you're looking for superior, world-class golf then here are some of our favourite, world-renown courses in the region:
Real Club de Golf Sotogrande
Rated as the second-best golf course in the nation, the Real Club de Golf Sotogrande boasts a host of famous players, such as Jose Maria Olazabal, Seve Ballesteros, Justin Rose and Ian Poulter. The course has played host to multiple European Tour and Amateur events offering 18 holes of championship golf which were designed by Robert Trent Jones. In fact, the course was his first design in Europe, and is still considered to be one of his best.
La Cala Golf Resort
Looking to enjoy more than one specialist course in the same location? Then head to La Cala. It is famed for being the only venue in the Costa Del Sol that can offer visitors three championship standard courses. It is the perfect destination for visitors looking for a little variety alongside high quality: two of the three courses are considered to be amongst the best in Spain.
Finca Cortesin
If you're looking for a course that offers incredible views over the Mediterranean Sea then Finca Cortesin is one of the best in Spain. It is officially ranked as the fifth best course in the country and has been selected as the host course for the Volvo World Matchplay Tournament three times.  Wondering what makes Finca Cortesin really special? It's a combination of its pace, unique shape and excellent condition that keeps expert golfers coming back again and again.
Real Club de Golf Las Brisas
Want to combine a round of golf with an exploration of the best scenery in Spain? Then a visit to Las Brisas is a must: the flora and fauna here make this the most picturesque golf course on our list. You'll enjoy incredible views and insta-worthy use of nature. But don't let the pretty landscaping fool you: this is also one of the hardest courses in the Costa Del Sol, providing a challenge to even the most experienced golfers. Are you up for the test?
Torrequebrada
Combining excellent golf with practicality, not only is Torrequebrada one of the best golf courses in Europe, it is also just twenty minutes away from Malaga airport, making it a convenient choice if you're looking for a quick golf pit stop in the Costa del Sol. The course was designed by Pepe Gancedo who is known for his outstanding ability to integrate courses into the local landscape. Beautiful, practical, and a challenging course to boot: this is a place that offers something for everyone.
Why just visit the Costa Del Sol to play golf when you can live here and play golf all year round? If you're thinking of buying a home on the Costa Del Sol then get in touch. Our local property experts can help you to find the house of your dreams.