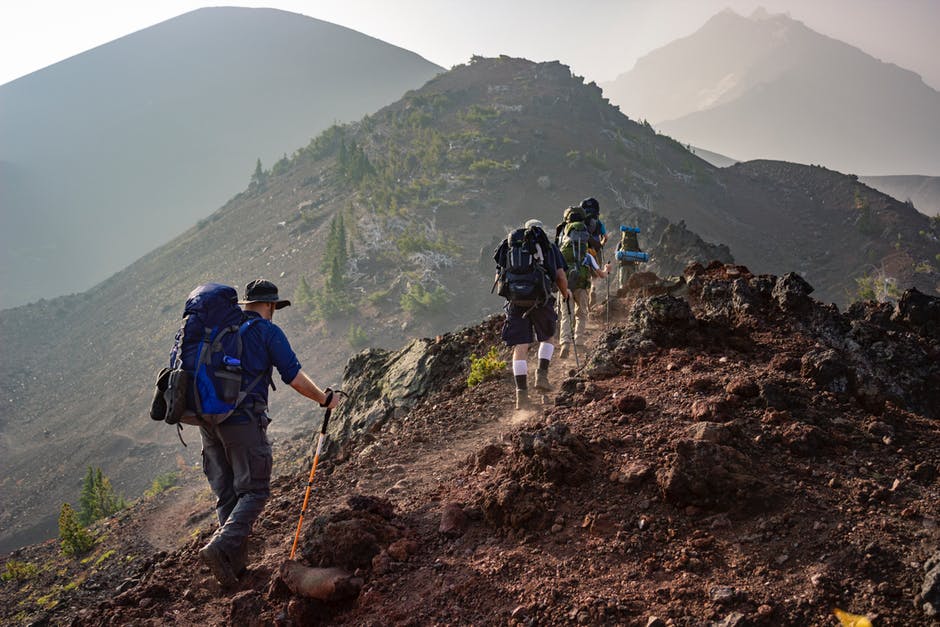 GO FAR AND GO FAST: THE BEST BLACK DIAMOND TREKKING POLES REVIEWED
Trekking poles are just for people hiking Everest or Kilimanjaro right? Nope. No matter if you're walking through the Himalayas or going on a nice stroll in the local hills, trekking poles can transform your expedition.
In this article, we're going to be looking at the best Black Diamond trekking poles. When you're out on the trail, you'll need poles you can rely on and Black Diamond is one of the biggest names in the business.
Plus, you'll look super pro.
Read on to see what all the fuss is about and see our trekking pole reviews.
What Are Trekking Poles Exactly?
Otherwise known as hiking poles, they're hand-held sticks with a nice spike on the end. Swish. But actually, they're much more than that.
Trekking poles allow you to distribute weight through the poles as you place them and give you extra balance on tricky terrain. If you've ever tried to wade across a river or up a rubble-strewn trail, you'll know how hard it is to balance!
Using trekking poles also lessens the impact on your joints when you're on descents. We've all longed for the downhill only to start and complain about its effect on our knees. Because poles stabilise and support your weight (and your pack weight!), the force through your legs is less.
No more aching knees, phew!
Pole technology has changed a lot in recent years and is more practical than ever. Often with ergonomic, comfortable handles and ultra-lightweight, once you start walking with poles, you'll never look back.
Who Would Benefit from Using Trekking Poles?
You might think that trekking poles are reserved for serious, long-distance hikers. But just like hiking shoes, there's a trekking pole for everyone.
Tackling tough terrain?
Flat or steep, tough terrain might include slippery sections, loose stones, difficult inclines or even snow and ice. Trekking poles really come into their own in these environments and are essential.
When all of the force travels through your feet, it's easy to slip and slide. That's (probably) why mountain goats have four feet. With trekking poles, you can plant them securely and distribute that downward force across your feet and the poles. Be the mountain goat.
Loose stones are a pretty major hazard on many trails, especially when you don't know which are unstable. Trekking poles allow you to have a good prod around and quickly discover patches of unstable ground.
All in all, they'll stop you going head over heels. If that's not a good thing we don't know what is.
Prone to Injury?
From twisted ankles to dodgy knees, hiking can be a risky pursuit. But just as trekking poles take some of the weight off your feet to prevent slipping, they also take some of the weight off your joints.
Hiking poles are perfect for the older generations too. There's no reason you can't be hiking the Kokoda Trail at 90 as long as you look after your joints. Using poles gives you a better wight distribution throughout your arms and legs and provides stability in the body.
Like to Feel the Rhythm?
Trekking poles are even ideal for easier terrain and flat trails. When we walk, getting into a rhythm helps pace the trail, maintain constant effort and stops us from walking too fast only to need a break a mile in.
When you use trekking poles, you swing them out in front, plant them and push yourself forward. This motion helps build up a rhythm so you can maintain your steady pace and admire the scenery.
Mother Tell You to Always Stand Straight?
When you're carrying a backpack there's a temptation to slump forward. This puts an enormous amount of strain on your spine (which is why your mother always told you to stand straight up). There are lots of benefits of standing up straight including higher energy levels, pretty important while hiking!
Walking with trekking poles keeps you upright and your spine in a good position. Because you've got extra balance and stability through the poles, you won't be tempted to lean forward and give yourself back pain.
Black Diamond is a big name in outdoor pursuits for a good reason. They produce high-quality clothing and equipment that's built to last. If you opt for budget trekking poles, you'll be put off by the weight and feel of them and they'll hang out in your closet instead of going on adventures.
In contrast, Black Diamond is at the forefront of trekking pole technology and there's a lot more to their poles than meets the eye.
Shaft Material
Black Diamond hiking poles have shafts made from aluminium or carbon. The type you choose depends on what features you need to prioritise.
Aluminium
Cheaper and stronger than carbon, aluminium is the most common shaft material for trekking poles. If you're going to be hiking on seriously tough terrain and put the poles through their paces, aluminium is a solid, resilient option.
Grab a Black Diamond aluminium trekking pole here
Carbon
Carbon
If you're all about saving weight, carbon is the lighter of the two. This is ideal for long-distance trails where you'll notice the weight-saving benefits. Carbon is still strong, but more care is required to prevent them from bending.
Get the black diamond carbon fibre trekking pole here
Grip Types
When you're walking for hours, the last thing you want is sore hands from holding your trekking poles.
Cork
Cork is the dream material for pole grips as it's breathable. In hot weather, you won't get that sticky sweat feeling on your palms and it stays insulated in the cold. Cork also moulds to your hands over time and with an ergonomic shape, it'll be as comfortable as a glove.
Foam
Foam grips are comfortable to hold as well and absorb sweat from your palms. For long-distance though, you might be at risk of friction blisters.
Rubber
If you're planning on hiking a lot in the cold, rubber is an ideal option. It's well-insulated and reduces vibration through your hand.
Adjustable Height and Storage
All of Black Diamond's trekking poles reduce in size for easy storage. They do this through telescoping or folding into thirds.
Reducing the size of your trekking poles is useful for when you don't need them as strapping full-length poles to your pack isn't ideal.
Many Black Diamond poles also have adjustable heights using the same locking feature as the collapsible mechanism. This allows you to adjust the height to suit you perfectly and lock them into place.
Enough about the cool features and benefits of trekking poles in general, let's take a look at two of the best Black Diamond poles.
These ultra-light carbon poles are impressively resilient and packed with Black Diamond's coolest features. Their added durability comes from the aluminium rings and protective sleeve to give the best of carbon's lightweight features and aluminium's strength.
What do you get?
Dual-density natural cork grip – this keeps your palms comfortable and dry and has a breathable strap.
EVA foam grip extension – when you need to adjust your grip down, there's a non-slip foam extension.
Z- Configuration – these poles collapse into a three-section Z-configuration rather than telescopic. They're super fast to deploy and pack up small.
Length choice – These poles aren't height adjustable but are available in different lengths so it's easy to choose the right height for you.
Tip and basket choice – You can buy separate tips and baskets that are compatible with the Carbon Z making them poles for multi-terrain use.
These ultra-light hiking poles range from 405g (14.3oz) and 465g (16oz) depending on the length you choose. Because they're so light and fold up to around a third of their overall length, they're ideal for long-distance treks and multi-adventure trips.
The cork grips are something to really cherish as they're comfortable and only get more comfortable with use. In short, Black Diamond have excelled with these poles and they won't be out of place on a hike up Mt Kosciuszko.
If you're looking for a solid pair of standard trekking poles, Black Diamond's Trail Back poles might be just the thing. Aluminium and telescopic, these poles store easily and won't let you down on difficult terrain.
What do you get?
Rubber grip – the grips might not be breathable but they are comfortable and have a rib pattern to lessen any vibration that comes through. A woven webbing strap keeps your poles secure on your hands.
EVA foam grip extension – just like the Carbon Z poles, the Trail Back pair have a foam grip extension.
Length choice – these are telescopic poles which allow for adjustable length. They reduce down to under half their full length and have three sections.
FlickLock – The FlickLock mechanism secures the poles at the length you want and keeps them from extending while stored.
Sturdy and telescopic, the Trail Back trekking poles are great for hikes where weight-saving and size isn't a priority. At 610g (21.52oz), they're around a third heavier than the Carbon Z poles but for day hikes they still do a great job.
The height adjustment on these is a brilliant feature as you can find the most comfortable length for the terrain you're dealing with. If you're out trekking in the cold, rubber grips provide more insulation than the Carbon Z's cork grips too.
Get Your Trek On
Hiking poles are quickly becoming an essential bit of gear for walkers of all kinds. Their weight distribution and balance functions give you stability on every terrain type, transforming your exertion.
Black Diamond trekking poles come in a wide range but the Carbon Z and the Trail Back are perfect examples of their dedication to quality and functionality. No matter which poles you choose, remember that comfort and quality are must-haves. You'll need poles you can rely on when you're out in the wilds.
Check out our Walking in Australia guides for adventure inspiration and we look forward to seeing you out on the trail with your new trekking poles!