FREE PRINTABLE MAY 2020 CALENDARS
Photo From wiki-calendar
Originally Posted On: https://www.wiki-calendar.com/may-calendars.html
Hi there! Welcome to your on stop shop for free printable calendars all year round! By clicking on the button below, you will be able to download, free of charge, our blank May 2020 Calendar. As long as your computer has Adobe Reader or a similar .pdf reading software installed, you will be able to download, view, and print as many calendars as you like! Additionally, for your convenience, we have formatted all of our calendar files to automatically fit perfectly on traditional 8.5″ x 11″ paper.
MAY 2020 CALENDAR
Welcome to www.wiki-calendar.com. On our May 2020 Calendar available for download below, you'll find 31 days and three major holidays included. These holidays are Cinco de Mayo (Tuesday, May 5, 2020), Mother's Day (Sunday, May 10, 2020), and Memorial Day (Monday, May 25, 2020). These holidays occur every May, but the day they fall on differs each year! Nevertheless, we think you will enjoy the simple design of our May Calendar, which leaves plenty of space for all of your own planning needs.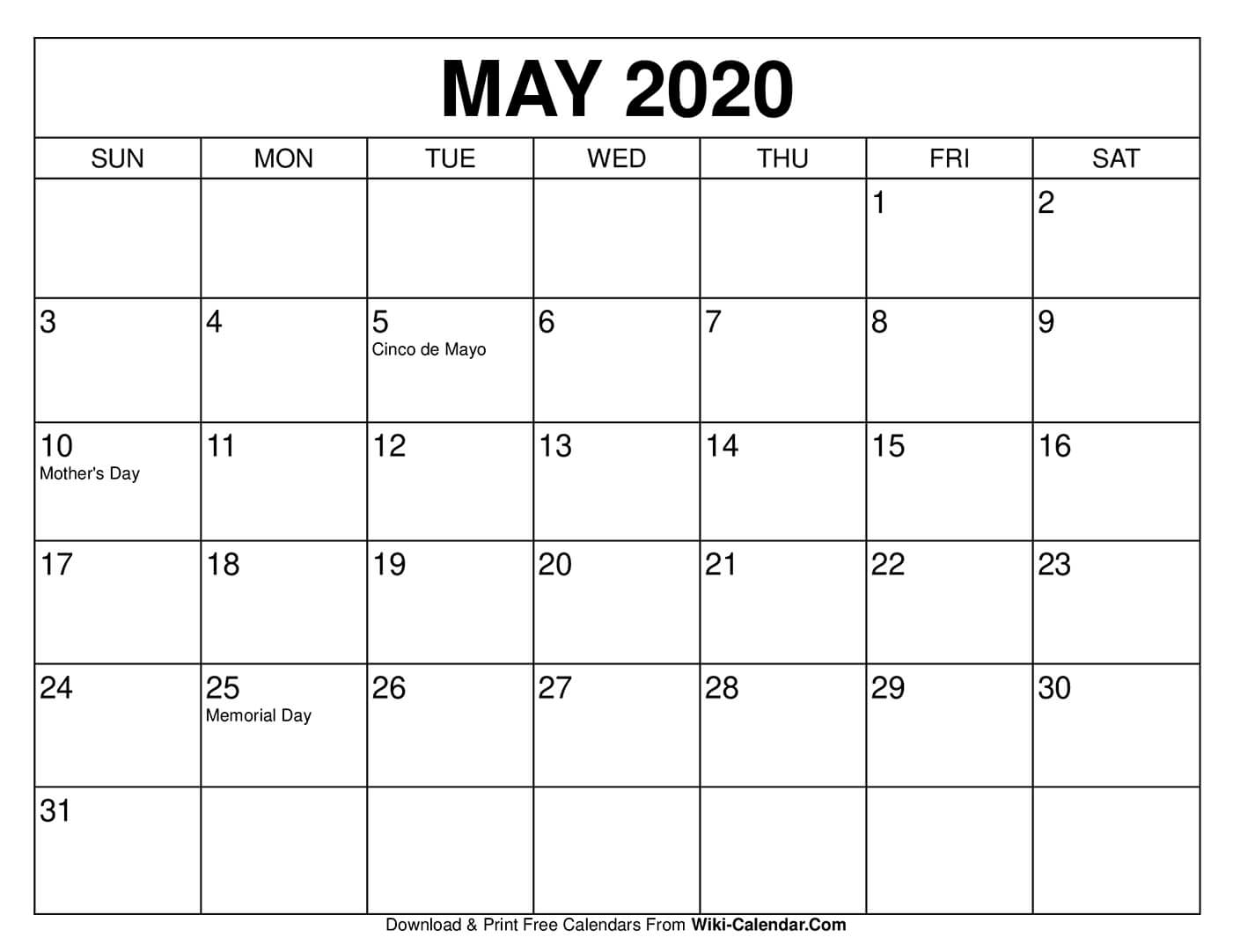 THE MONTH OF MAY
In the twelve month Gregorian Calendar that we observe today, May is the fifth month. However, in ancient times, May used to be the third month. This is because January and February were not included in the calendar and the onset of spring, marked by the month of March, was the first month of the year.
May is also known to bring with it many beautiful flowers and new life. Perhaps you've heard of the phrase, "April showers bring May flowers?" Additionally, May is named after Maia, the Greek Goddess of Earth. Maia is known to bring with her springtime and an abundance of life. In Rome, Maia is known as the Goddess of Fertility.
The emerald, a deep green stone symbolizing success and love, is the official birth stone of May. Some say that emeralds are assigned to May due to their rich green color, representing the Earth's rebirth during this month. Finding an emerald with no inclusions or impurities is extremely rare, making it one of the more expensive birthstones out there.
May's official flower is the "lily of the valley." This is a poisonous flower if consumed, but ok to the touch. Its upside down bell shape makes it easy to identify in the wild. Lilies of the valley typically bloom in a white or light pink color and thrive best in cooler, temperate climates such as Northern Asia and Europe. Lily of the valley is said to represent purity, luck, and happiness.
The crataegus monogyna or common hawthorn is the second flower of May. These flowers are found most typically in Europe, Asia, and Africa and blossom into groups of white flowers from red berries. Unlike traditional flowers, the crataegus monogyna grows in the form of a shrub and is said to symbolize love and the beginning of spring.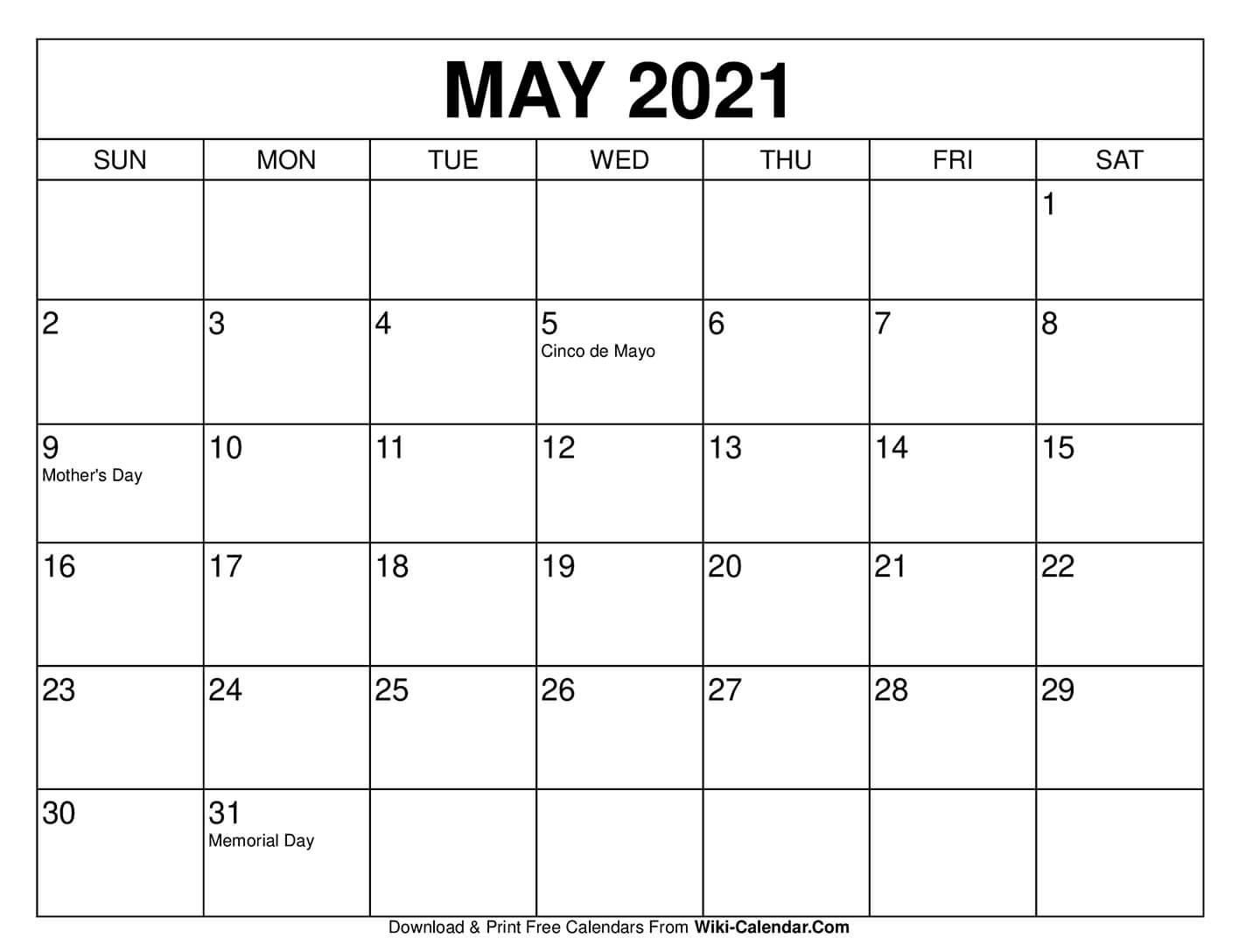 MAY 2021 CALENDAR
We even have May Calendar files ready to download and print posted to our website for the next three years. So feel free to explore our website and view, download, and print all twelve months of 2020, 2021 and 2022.
MAY 2022 CALENDAR