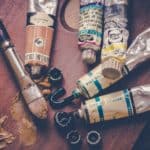 Moving Fine Art to Your New Home
Originally posted on https://advancedmovingservice.com/residential-commercial-moving-services/moving-fine-art/
Moving fine art requires tact, skill, and knowledge to prevent the art piece from being destroyed. But what if the work is destroyed before the move? In October 2019, the most famous and elusive Britsh artist, Bansky, had a masterpiece titled "Girl with Balloon," sold at a Sotheby's auction for $1.4 million.
Immediately after the sale (pretty much right after the gavel struck), the art piece destroyed itself. The frame had constructed within it a shredder and shredded the art piece. The piece was destroyed.
After the sale and subsequent destruction of the piece, there was much discussion about whether or not this work of art, which was destroyed, was now worth even more! Since the process itself was a statement (a.k.a. art) was that also art, too? The jury is out on that one.
Photo Courtesy: Sky News
However, not all art can be more valuable destroyed, which is why it's important when transporting or moving fine art that you keep it safe and in one piece.
Moving fire art can be stressful, and ensuring that your piece of art, whether it's an oil painting, a sculpture or a Bansky, is moved properly is important.
PACKING FINE ART FOR YOUR MOVE
Whether you're moving to a new office or to a new home, packing fine art for a move should be done with the utmost of care. Your art may not have cost you $1.4 million, but most keepsakes, sculptures or paintings are worth more—as in they are priceless. So you want to make sure that your art pieces are treated with respect and packed and transported safely to your (and their) new home.
Here's how moving fine art can be done.
USE THE RIGHT BOX
You want to make sure that when you're transporting or moving your fine art that you use the right box to store it. Finding the right box to keep your keepsakes in is a must. If you pack your art in a poorly designed box or a box that is not durable enough, you risk harming your work of art.
You can purchase boxes at your local shipping store, at your local convenience store or from a professional mover.
PACK THE BOX CORRECTLY
You want to make sure that you pack your box correctly. This means that if you have a fragile vase or a fragile sculpture you use packing peanuts, or wrap it with wrapping paper designed for moves.
When moving, these are things that you may overlook or not find important. You may just stack as many framed pictures into a box without wrapping or packing peanuts, but that's not how you should ever transport fine art. Protecting your prized possessions when you're moving should be a must.
Invest. Invest. Invest.
If it's something that you care about, then make sure that you invest properly. Paying for the right kind of wrapping for your paintings is important.
Packing Paintings
You will want to wrap your art in specially designed wrapping or you can also wrap it in unprinted (plain) brown paper. This is because you don't want any ink to bleed on to your paintings.
You will want to add corner protectors. You can find these in any craft store. These will prevent damaging the edges of your fine art.
Packing Sculptures
Objects, like sculptures, that are shaped in a peculiar and awkward way should be packed safely and securely. Sculptures, antiques, and other items should be protected by using either packing peanuts or foam padding to fill in the spaces in the box. These paddings will help your art from getting damaged during the move.
On top of this, you will also want to wrap these priceless items with bubble wrap and make sure that you pack them in the box with enough space to add several inches of protective foam or packing peanuts.
USE  A PROFESSIONAL MOVER
Moving fine art requires tact and knowledge to prevent the work from being harmed. Do you have what it takes? Better yet, if you want your move to go well, contact a mover who can professionally help you move your fine art stress-free.
A mover will not only have all the packing supplies you need but will have the talent and experience to ensure that your fine art is packed and moved without a blip. You can rest assured that your items will arrive on time and in good shape.
If you need help moving fine art, you can always call an expert mover like Advanced Moving Service.
If you have questions, feel free to give us a call at (407) 880-4515.