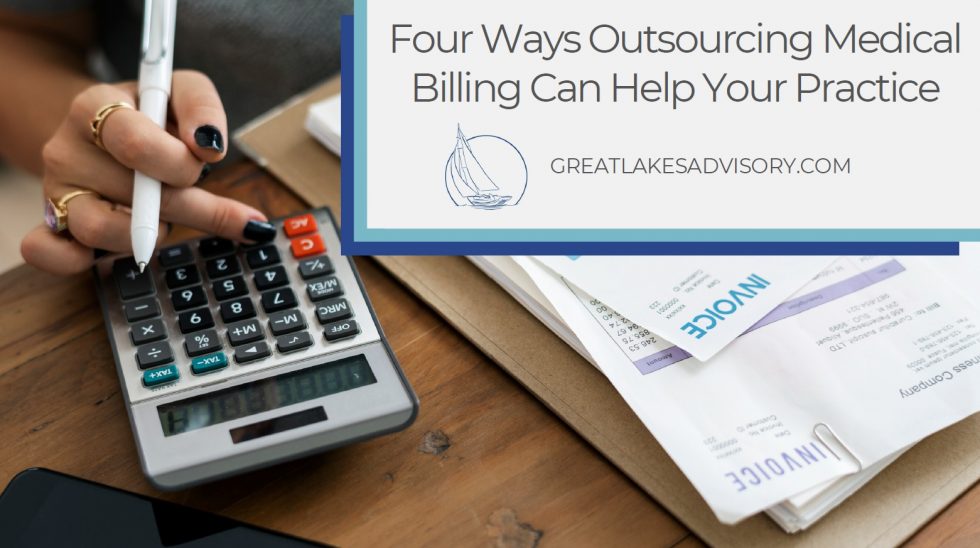 Four Ways Outsourcing Medical Billing Can Help Your Practice
Proper revenue cycle management protocol is vital in order to keep your medical practice alive and thriving. After all, your clinic generates revenue from your billable claims.
However, finding talented medical billers can be both challenging and expensive. It takes time and money to recruit, interview, and train good medical billers. Once you hire them, you will have more expenses in the form of wages, benefits, office space, equipment, and taxes.
With this in mind, you may want to consider outsourcing your medical billing to a medical billing company.
By outsourcing your medical billing, you can save your practice time and money directly and indirectly in several ways.
Here are four ways that outsourcing your medical billing can help your practice.
1.) Increase Cash Flows
From studies detailed in their eBook, The Complete Guide to Medical Billing Services, the Advanced Data Systems Corporation discovered that medical practices could boost their revenue by as much as 30% through outsourcing their medical billing.
There are several reasons for this.
First of all, medical billing companies have a simple business model. These companies dedicate capital resources with the sole purpose of helping medical practices collect payments from insurance companies (approximately 75% of practice revenue). Because of this, they use superior billing technology and hire expert staff members to limit denials, increase collection rates, and improve the time of payment.
On top of that, most medical billing companies charge fees as a percentage of collections. By doing this, they align their interests with yours; the more revenue they can capture for you, the more money they make.
They also work to get you paid faster. The faster your clinic gets paid, the quicker the medical billing company gets paid.
Your front desk staff will earn you more revenue as well, as they will have more time to focus on collecting co-pays and outstanding patient balances (the other 25% of your income).
For some practices, however, it makes less financial sense to outsource billing to a medical billing company.
Let's look at an example.
You have a choice between outsourcing to a medical billing company that charges 6% of collections or staffing a department (medical billing specialist and an accounts receivable / denials specialist) to handle your medical billing in-house. The latter choice would run you $120,000 per year in employee costs (each profession earns an average of about $50,000 in compensation plus benefits, taxes, training costs, and additional office space).
If your practice collected $1,000,000 this year, you would pay the medical billing company $60,000; that is $60,000 less than you would spend in-house.
However, if your practice collected $10,000,000 this year, outsourcing to a medical billing company would cost $600,000 in fees, which is 5x as much as you would spend on a two staff, in-house billing department. Depending on your billing staff's productivity, a two staff department is likely insufficient to manage $10,000,000 in collections. Still, it also might not require increasing your billing staff by 5x to service.
It is essential to create a comprehensive analysis of the impact on collections and expenses for each choice to determine if outsource versus in-house will net you more profit.
2.) Reduce Errors
Coding errors and denials lengthen the days a claim flows through your revenue cycle and ultimately into your bank account. Coding errors can also result in lost revenue. A Medicare report from 2008 discovered that medical practices abandoned approximately $236 million in aggregate revenue due to under-coded claims.
Medical billing companies use software that scrubs claims to detect coding errors before they process with carriers. When insurers receive more clean claims, there are fewer cases of denials and claims requiring additional information. The result is faster and more accurate payments.
3.) Spend Less Time and Money Recruiting and Retaining Talent
There is a high demand for medical billers but low supply relative to the number of physicians. Currently, there are over 220,000 medical billers compared to approximately 1.1 million physicians in the United States (approximately 46%, or 506,000, are independent physicians).
Hospitals typically have much larger budgets than independent practices. With more capital resources available, hospitals are in a better position to hire and retain the best medical billing talent. Consequently, you may have to spend significant resources on recruiting quality medical billers for your practice.
Once you hire a skilled medical biller, you also have to dedicate resources to retain him or her. Due to the high demand for medical billers, they may flock to an external practice if they are unsatisfied with compensation or the work environment of your clinic. Comparatively, a medical billing company is a vendor, so the relationship is at your practice's discretion. The onus is on the medical billing company to consistently provide value and retain you as a client. It is in their best interest to maintain your relationship, so they maximize their revenue and keep their client acquisition costs low.
4.) Improve Patient Engagement and Satisfaction
Billing issues are a frequent cause of patient questions. They want to understand your practice's charges, insurance coverage, their responsibility, and other related items.
A medical billing company is an excellent resource for support here. You can lean on their support staff to train your team on how to handle common billing questions. For more complex billing questions, you can guide patients to speak directly with the medical billing company. Your front desk staff will become less burdened with these questions, leaving more time to assist patients with other issues and deliver outstanding customer service.
As the conversation shifts from billing to greeting the patient, your patients will feel more important in the eyes of staff and physicians. This shift helps develop and strengthen long-term relationships with your patients.
Should You Outsource Your Medical Billing?
Outsourcing medical billing makes sense for many practices; however, the difference in revenue and expenses will ultimately drive your decision. In addition to the cost-benefit of outsourcing, we also recommend properly vetting the medical billing company to confirm they have expert experience within your specialty. By performing this due diligence, you will avoid a costly mistake and becoming misled by historical results that do not apply to your clinic's specialty.