EXPERIENCE A BIRD'S EYE VIEW WITH THE NEW DJI FPV
Originally Posted On: Experience A Bird's Eye View With The New DJI FPV (drdrone.ca)
Using flying drones to shoot footage has been a revolutionary tool in recent years for filmmakers, firefighters, and inspectors alike. But while most drones give you the footage via a screen on a remote controller, you rarely get to be able to see exactly what the drone sees in the same way that you might in a video game or with virtual reality goggles.
Now, however, DJI has revolutionized the drone industry yet again with the release of their brand new FPV drone. This new drone is quite different from their usual products, as it's primarily meant to be flown using first-person-view through a special set of goggles. The DJI FPV redefines the way you fly a drone and shoot footage. Read on to find out more about this cool new drone and how it can help you capture that perfect shot.
WHAT IS FPV?
FPV stands for first-person view flying, which is a prominent method used to control drones. Before the release of FPV drones, getting a bird's-eye view while racing through the air was usually limited to things like movies or video games. FPV has allowed pilots to maneuver quadcopters, hexacopters, and other drones in a brand new way.
While FPV is traditionally associated with FPV racing drones, the DJI FPV drone is different. This dynamic drone is meant for helping you better visualize the drone footage in order to capture cinematic FPV video. Unlike many DJI drones that display the view of the drone on the screen of a remote controller, the FPV drone uses first-person-view through the DJI FPV Goggles V2.
MAIN FEATURES
DJI FPV Goggles V2
The DJI FPV drone is meant to be used in combination with the DJI FPV Goggles V2, giving you an immersive and thrilling experience for your flight. These FPV Goggles provide digital image transmission with low latency, strong anti-interference, and strong immersion. They also provide HD video transmission up to 120fps, revolutionizing first-person-view on high-speed flights. When fully charged, they can provide up to 110 minutes of flight.
Audience Mode
You don't have to fly alone with the DJI Audience Mode. This special mode allows you to set other DJI FPV Goggles V2 units to your aircraft channel, giving other users the ability to see your footage right alongside you.
Transmission System
This FPV drone stands out from the crowd thanks to its ability to transmit high-quality video across long distances. The DJI FPV isn't limited by poor video transmission or hard-to-use remote controls. Thanks to OcuSync 3.0, an ergonomic remote controller, and an innovative motion controller, you'll be able to fly the FPV with ease.
OcuSync 3.0
DJI drone users will no doubt know and love the legendary OcuSync video transmission system which is found on the DJI Mavic 2, the Mavic Air 2 and the DJI Mini 2. DJI FPV goes one step further with the new third generation OcuSync 3.0, giving you even better transmission distance with lower latency. Adapted specially for the needs of FPV flying, OcuSync 3.0 gives you up to 10kms of transmission range and an incredibly low latency of only 28ms.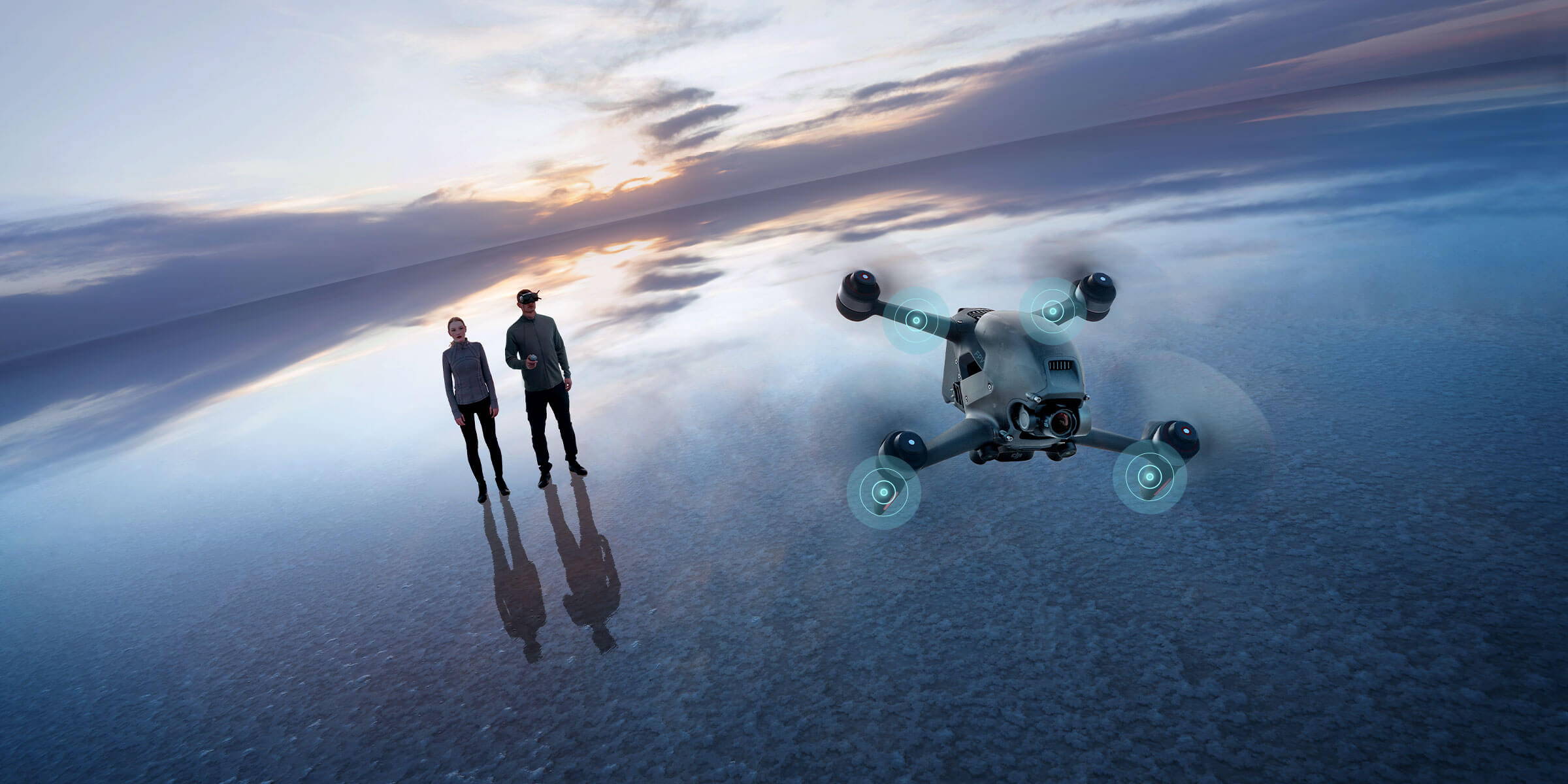 This combination means that your video transmission will remain stable and ensure high performance over much longer distances. It also improves upon the bitrate of the video downlink, raising it to 50mbps. This allows you to more quickly download the footage so that you can get started on making your movie masterpiece.
The way that OcuSync 3.0 works is through a dual band system operating on either the 2.4GHz or 5.8GHz bands. The video transmission system automatically and seamlessly switches between the two bands. The FPV drone is also equipped with high-gain antennae that support the three onboard transmitters as well as four onboard receivers that reduce stutter and video compression artifacts. This technology serves to enhance your signal and ensure a reliable and stable video feed throughout your flight.
Remote Controller
The DJI FPV drone also comes with a brand new redesigned remote controller that features an ergonomic design that'll fit perfectly in your hands. You can easily use the Hall effect joysticks to delicately and quickly maneuver the FPV drone, as they're highly responsive and accurate. The remote controller also has a convenient switch layout with dedicated controls for positioning the gimbal, controlling the camera, switching between flight modes, and using the Smart Return to Home feature.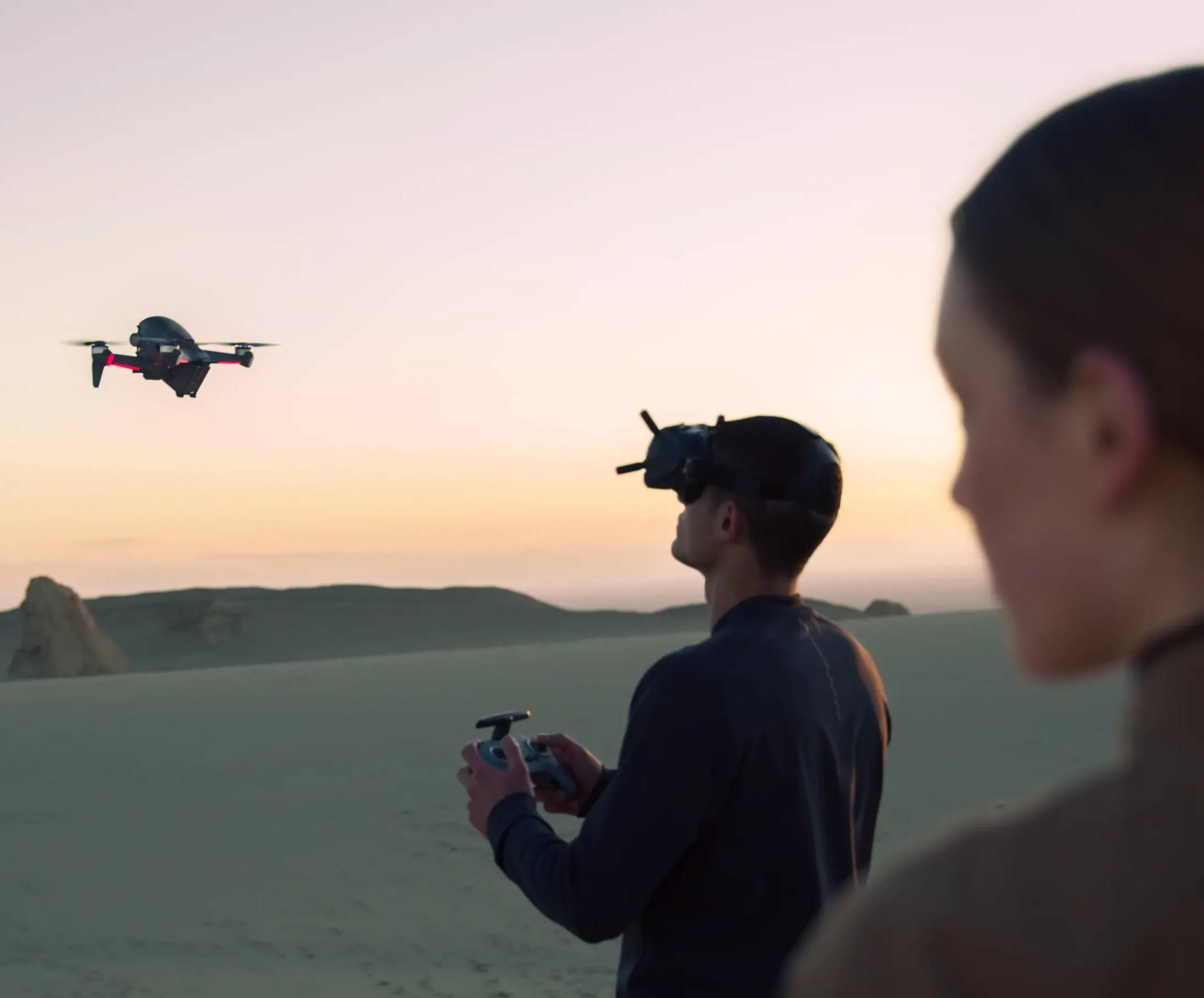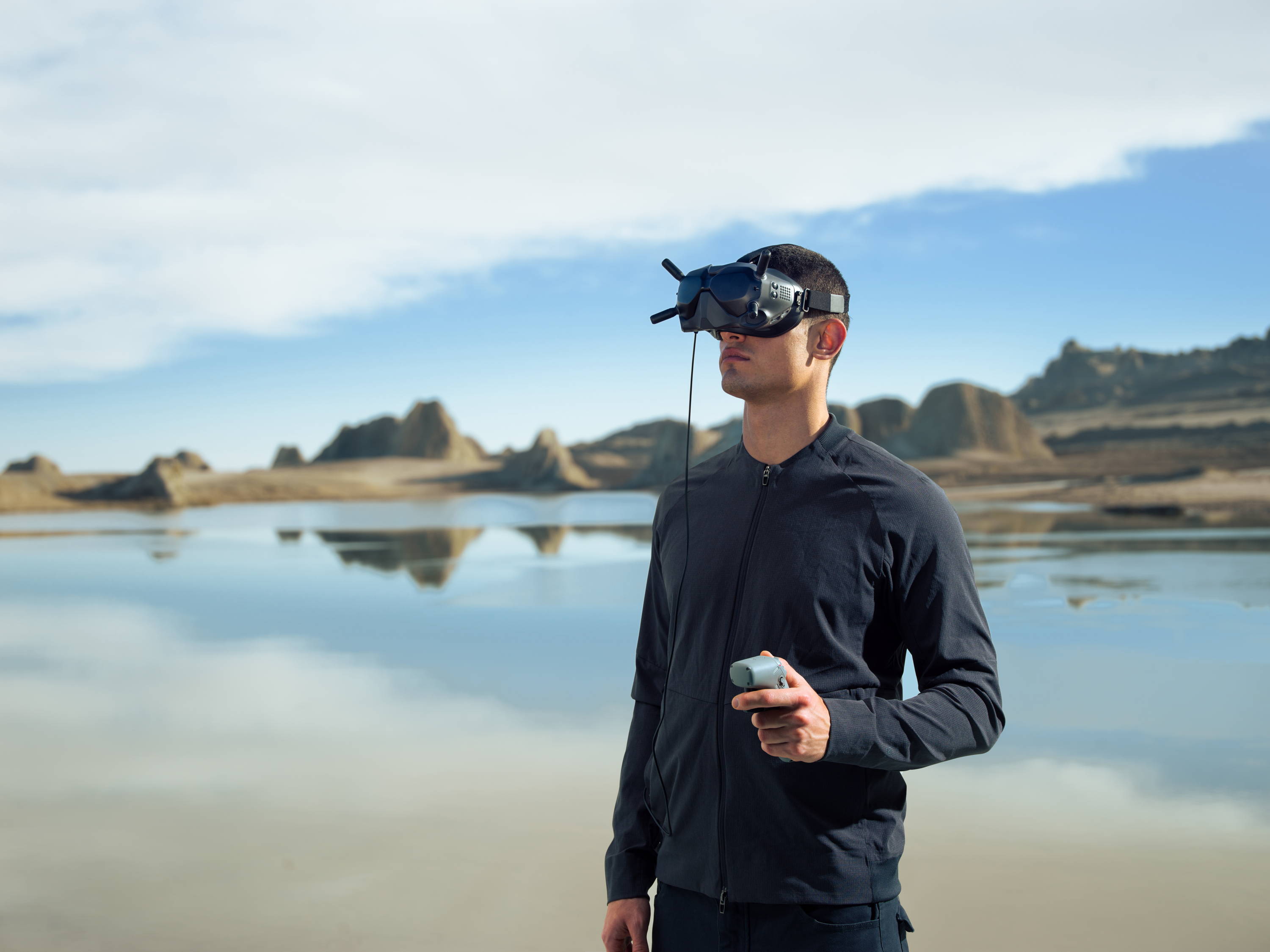 DJI Motion Controller
One of the coolest features of the DJI FPV is that you don't even necessarily need the remote controller to operate it. DJI has also released a new motion controller that you can buy separately from the FPV drone that allows you to fly the drone using nothing but hand movements. The motion controller has a convenient trigger for acceleration as well as ergonomically placed buttons, giving you the ability to easily fly the drone with only one hand.
Flight Modes
The DJI FPV drone comes with three different flight modes for novice, experienced, and intermediate fliers alike. New users can begin with one of the more simplified flight modes as they get used to the FPV, then transition to one of the more advanced modes to unlock its full potential.
N Mode
N mode is best suited for new users, giving you traditional flight controls while also enabling safety features like obstacle sensing. When flying the FPV drone in N mode, users can get used to maneuvering the drone and getting a hang of the different flight controls.
S Mode
S mode is perfect for intermediate users, as it features a unique hybrid of simplicity and stability. When flying in N mode, users can operate the FPV drone with simplified controls while still shooting dynamic footage with the signature look of FPV flight.
M Mode
M mode allows you to use the DJI FPV drone to its fullest potential, making it the ideal mode for experienced pilots. Pilots can set their own custom parameters with M mode and shoot footage based on their own specifications. This mode also has the added benefit of allowing the FPV drone to go from 0 to 100km/h in only 2.0 seconds.
SAFETY
The DJI FPV drone features some of the latest and most advanced DJI safety features that ensure your FPV drone lasts you a good long time. These safety features are not going to be found on any other custom or off the shelf FPV racing drone, but are unique to the DJI FPV.
Obstacle Avoidance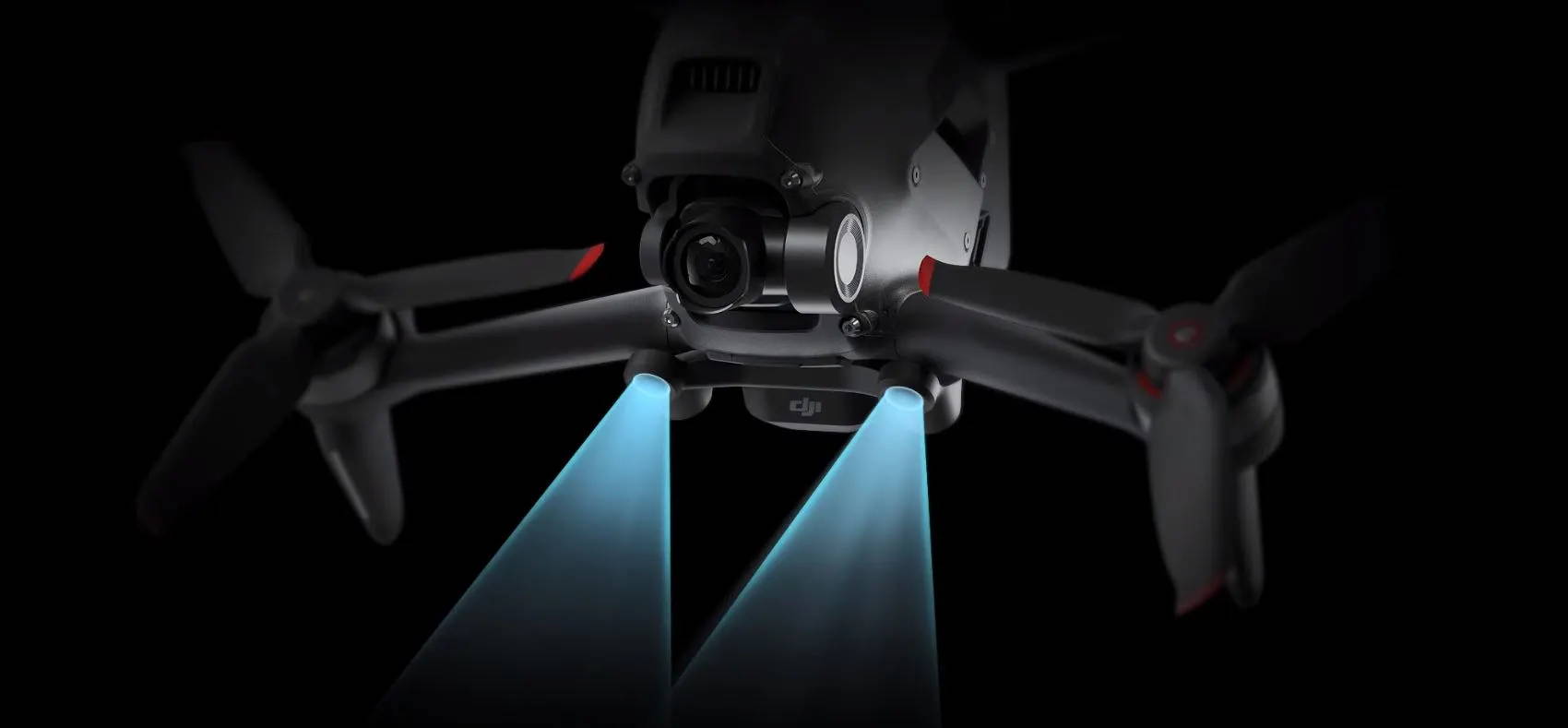 Forward Sensing
ToF Sensor
Downward Sensing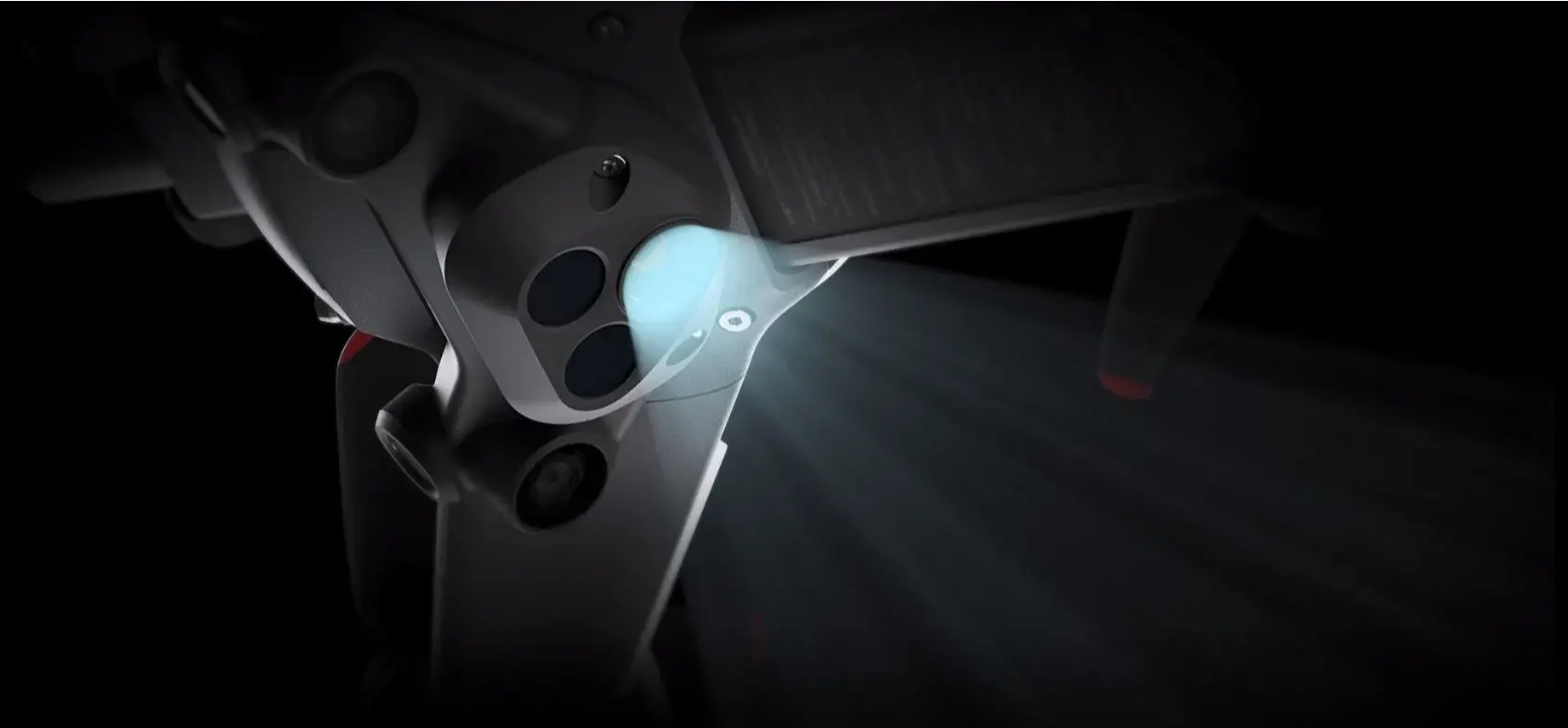 Auxiliary Bottom Light
Like all DJI drones, the DJI FPV is equipped with obstacle avoidance technology that can help you keep from crashing the drone into things and ensure flight safety at higher speeds. The FPV drone features both forward and downward obstacle avoidance sensors in addition to a ToF sensor for positioning. And, if you're looking for help landing the FPV drone in low-light conditions, the auxiliary bottom light will illuminate the landing zone so that you can bring it down safely.
Flight Safety
The DJI FPV drone comes with additional safety features such as Smart Return to Home and Low Battery Return to Home. With the use of Smart Return to Home, you can bring the drone back to the starting point with the touch of a single button. Low Battery Return to Home is helpful in ensuring that the drone doesn't peter out on you mid-flight. It will also automatically return in the case of the signal getting disconnected.
The FPV also comes with an onboard Automatic Dependent Surveillance-Broadcast (ADS-B) receiver that notifies the pilot anytime there's a manned aircraft in the area. This useful feature further ensures the drone's safety by giving you enough time to maneuver safely out of the way and avoid potential crashes with other aircraft.
Emergency Brake and Hover
The DJI FPV has one final safety feature that is useful for beginner and advanced pilots alike. FPV flights can often get you into situations that are tricky or intimidating to maneuver. With the use of the emergency brake and hover feature, you can halt the aircraft with the press of a single button. This one-touch stop will cause the drone to stop and hover within seconds of activation regardless of the speed of the aircraft or which mode it's in.
VIDEO
Camera
A drone is only as good as its camera. Luckily for DJI users, the DJI FPV drone is equipped with a wide-angle camera that can shoot up to 4K resolution at an astonishing 60 frames per second. It also supports up to 120Mbps video bitrate, which means that the footage you capture with the FPV camera is going to be clear and sharp. You'll also be able to capture a 150-degree field of view, giving you those high-quality wide-angle shots that every filmmaker is after.
RockSteady Stabilization
The DJI FPV features something else that will make your footage even more cinematic than ever. One of the downsides of high-speed drones is that the footage can often turn out choppy when making sudden turns or maneuvers. With this FPV drone, you get RockSteady Electronic Image Stabilization technology that allows for the smoothest of footage no matter how aggressive your maneuvers.
DESIGN
Aerodynamic and Modular Design
The DJI FPV stands out from other drones for more than just its easy-to-use controls, intuitive features, and ability to capture stunning footage. It also features a sleek aerodynamic design that's both attractive and functional. The modular design works with powerful and efficient propulsion to give you an FPV experience unlike any other.
You can easily replace the main parts of the FPV drone like the gimbal camera unit, landing gear, and top shell of the aircraft. This makes repairs more convenient and means that you won't be forced to spend hundreds of dollars to replace it just because of a single damaged part. You can also take advantage of DJI Care Refresh, giving you coverage for a wide range of damage and allowing you to fly your drone with greater peace of mind.
DJI VIRTUAL FLIGHT APP
If you're nervous about getting started with flying the FPV drone, you don't have to worry. The DJI Virtual Flight app allows you to practice flying without actually using the drone. All you have to do is connect your DJI FPV Goggles V2 and remote controller, and you can practice flying in lifelike, simulated scenarios. This allows you to get your sea legs and master flight in a virtual environment with absolutely zero risk.
DJI FPV COMBO
Unlike other FPV drones on the market, the DJI FPV Combo gives you the most for your money. The DJI FPV Combo comes with the DJI FPV drone, DJI FPV Goggles V2, and a few accessories that help you get the most out of your flight. For only $1,699, you'll get all of the features you need to charge and store the FPV before and after your flight. You'll even get a special headband and foam padding with the goggles to ensure comfort while wearing them.
BUY DJI FPV TODAY
DJI is constantly releasing new drones, cameras, and accessories that make flying even easier and allow you to film higher-quality footage from the sky. If you're looking for a new DJI drone to add to your repertoire, look no further than the DJI FPV.
The DJI FPV Combo is a great deal that can allow you to get a bird's eye view of the sky as you capture dynamic and stunning footage. With a pair of DJI FPV Goggles V2, a remote controller, and your brand new FPV drone, you'll soar through the sky like never before. This first-person-view allows you to better visualize the footage as you're shooting it, putting you in the audience's seat as you're filming and ensuring you get the full experience.