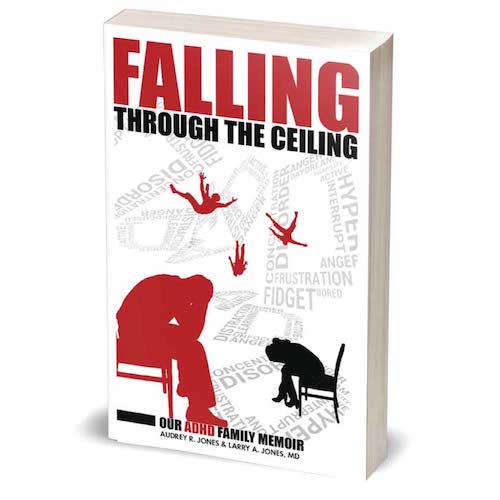 Enable Tables Media, Inc's Founder Dr. Larry Jones Featured on Attention Talk Radio
Dr. Larry A. Jones, the creator of Enable Tables Media and specialist in ADHD Life Coaching, is a special guest on a national ADHD podcast.

FOR IMMEDIATE RELEASE
Charlotte, NC, March 23, 2021 – Founded in 2020, Enable Tables Media, Inc, is a North Carolina educational Non-Profit. Enable Tables Media is the culmination of Larry A. Jones, MD, and Audrey Jones' passion after writing their book, "Falling Through the Ceiling: Our ADHD Family Memoir" to include the provision of educational enrichment for at-risk children through school-based and/or community-based mentoring along with the coaching of parents, families, individuals, and groups.
Attention Talk Radio hosted by Jeff Copper, ADHD coach, is designed to help adults and children diagnosed with or impacted by attention deficit disorder or its symptoms in life or business who are stuck, overwhelmed, or frustrated. Dr. Jones is featured on the episode entitled, "ADHD and Black Lives: Culture Matters". From the podcast "We know ADHD doesn't discriminate. It impacts all races, genders, and ethnicities."
The question is, are Black lives underserved and/or underrepresented?" In this episode, Jeff Copper (digcoaching.com) interviews ADHD coach Larry A. Jones, MD, MBA, (enabletables.com) around ADHD culture, the need for awareness, and the necessity to inspire thought leaders in the Black community to become educated about the impact of untreated ADHD. If this description evokes a strong feeling, emotion, or curiosity about how Black lives with ADHD are treated, you need to listen to this podcast to learn important and significant insights. After listening to this powerful interview, you will be inspired to help the underserved gain greater awareness of how ADHD can impact their lives.The podcast series helps adults and children get unstuck and moving forward by helping to open their minds to pay attention to what works.
2020 spawned a reassessment of many aspects of everyone's daily lives. Enable Tables Media, Inc has honed its focus on the parents, students, and teachers that have been hurled into this tornado of change. For many, this abrupt change has caused financial disruption, anxiety, and frustration with an exponential increase in parental responsibilities. This adversity also presents an opportunity for improvements, especially in the area of education, and an opportunity for increased parent-teacher cooperation, leading to better advocacy for the needs of the student.
Enable Tables Media, Inc has established mentoring partnerships with: Communities in Schools (CIS) Charlotte Big Brothers Big Sisters of the Central Carolinas and Center of the Future Academy. "
The webinar series "Education Village Conversations" was launched on the Enable Tables Media YouTube Channel  (https://enabletables.com/media/) after recognizing that families must build education support systems beyond just parents and children. The pandemic's effects on fragile education systems require the realignment of relationships that must occur. After the assessment of the needs of disadvantaged students' families, our series provides programs that are experientially based presented by experts from across the country.
Education Village Conversations is a unique series that explains how COVID-19 has upended public education and outlines the importance of Attitude, Approach, and Action (Triple "A" Alignment) as necessities for success with virtual education. Communication, Organization, and Accountability are highlighted as easily implementable tools that are paramount for inclusion in the students' toolbox.
Free coaching evaluations are available to families that need help implementing these tools by registering at: https://enabletables.com/adhd-coaching/.
Based on the evaluation, professional coaching is provided on an income-based fee schedule. These services are provided by Dr. Jones, a pediatrician, and certified ADHD/Life Coach. He works with parents, families, and individuals to set goals that are achievable. He focuses on a stepwise approach to get results quickly. Dr. Jones provides the tools, support, and structure to accomplish those goals. This personalized coaching is provided in a private nurturing environment to propel the client to success by developing their inner strengths.
Falling Through the Ceiling: Our ADHD Family Memoir Larry Jones & Audrey Jones, Book Distribution: Ingram Book Group || Amazon.com
Attention Talk Radio is the leading site for self-help Internet radio shows focusing on attention deficit hyperactivity disorder, including managing symptoms of attention deficit disorder, adults with ADD, or adults who have children with ADHD. To learn more about Jeff, go to digcoaching.com. To learn more about Jeff, go to www.digcoaching.com.
TASTE of Success Coaching: https://enabletables.com/adhd-coaching/.
Contact Info:
Name: Larry A. Jones, MD, MBA – Executive Director
Organization: Enable Tables Media, Inc
Address: Enable Tables Media, Inc, 8611 Concord Mills Blvd #352 Concord, NC 28027
Email: [email protected]
Phone Number: (980) 428-6426
Website: www.enabletables.com
Facebook: www.facebook.com/Fallingthroughtheceiling
Twitter: www.twitter.com/EnableTables
Instagram: www.instagram.com/fallingthroughtheceiling
Originally Posted On: https://syndication.cloud/enable-tables-media-incs-founder-dr-larry-jones-featured-on-attention-talk-radio/