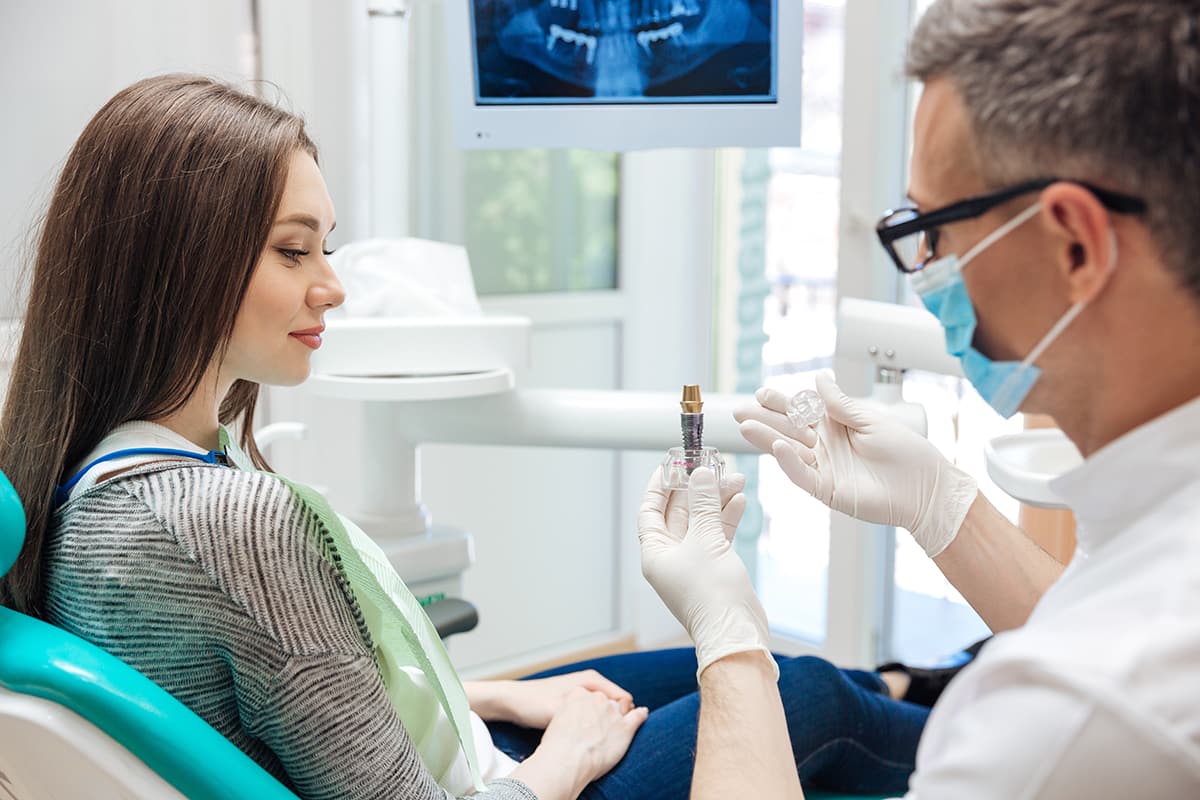 Do Dental Implants Hurt?
Do dental implants hurt? Most dental implant patients report that they didn't feel pain during the procedure, and afterward, the discomfort was minimal. We know that when you're considering surgery, your focus may be on the pain, but dental implants are likely worth any discomfort that you'll experience since they give you a natural and lasting smile, one that lets you live and eat without concern.
About Dental Implant Surgery
Dental implant surgery is not something that happens at one time. It is a process that will take several months. The first step involves the dentist making an incision in your gums and placing an implant into your jawbone with a screw. With the implant positioned in the jawbone, it can replace a tooth's root. The dentist will suture the gum area with stitches. Then, you'll wait for the implant to heal, which can take anywhere from three to six months. As it heals, your jawbone will form around the dental implant. To ensure that you can still function normally, your dentist will place temporary crowns in your mouth.
Once the implant has had time to heal, your dentist will place an abutment onto it. This is an extension of the dental implant, and it will be the base for your new tooth. To create a tooth restoration, your implant team will take an impression of the abutment.
Do Dental Implants Hurt, and Is Dental Implant Surgery Painful?
When you hear the words "drilling" and "screwing," it sounds painful. Do implants hurt as much as you'd think? The good news is that placing an implant is easier for your dentist to do than it is for them to extract a tooth. Also, you will likely receive a local anesthetic during the procedure. This means that your mouth will be numb, but you'll be awake. You shouldn't feel pain during the surgery, especially if your dentist is working with healthy gums and tissue, but you may feel some pressure, poking and vibration from the drill. Along with this, the part of the bone where your dentist will place the implant doesn't have very many nerves that sense pain, decreasing the possibility of your feeling anything during the procedure.
Will You Feel Pain Following the Surgery?
After the numbing agent wears off and for several days following the surgery, you may experience some discomfort. Keep in mind that having an implant is a major dental procedure. However, you should be able to manage the pain well with Ibuprofen or other over-the-counter painkillers. Most people report feeling discomfort in the cheeks, chin or below the eyes. Your skin and gums may bruise. Also, plan to feel pain near or at the site of the implant. You can expect to continue your daily routine after your implant surgery without problems.
The truth is that most dental procedures are painless, but since it's something happening in your mouth, you may feel anxious or fearful about it. Dental work can be a pleasant experience when you have a dentist who you trust that provides you with detailed information.
Follow-Up Steps
After your dental implant surgery, use an ice pack for a few days to decrease swelling. Your dentist will likely advise you to eat soft foods after each part of the surgery for 10 to 14 days. To clean and soothe irritated mouth tissue, rinse gently with a warm saltwater solution for several days following the implant.
When Do You Need Dental Implants?
Dental implants include titanium, a material that fuses with your jawbone. They are an affordable option, and when you have a dental implant, it won't make noise, damage your bone or slip. Dentists recommend implants when you have one or more missing teeth, enough bone to secure it and healthy oral tissues. You may also choose to have them if you don't want to wear dentures and would like to improve the way that you speak. Remember, you will need to commit a few months to the implant process, so it's important to be patient.
Are You Ready for Dental Implants?
If you're ready to improve the look of your smile, then consider getting dental implants in Sacramento, California. Not only will they give you the feel of your natural teeth, but they also look natural. With options like All-On-4, which uses just four implants, and impacted teeth removal, we are a full-service dental provider. Contact us at 866.930.5837 to learn more.