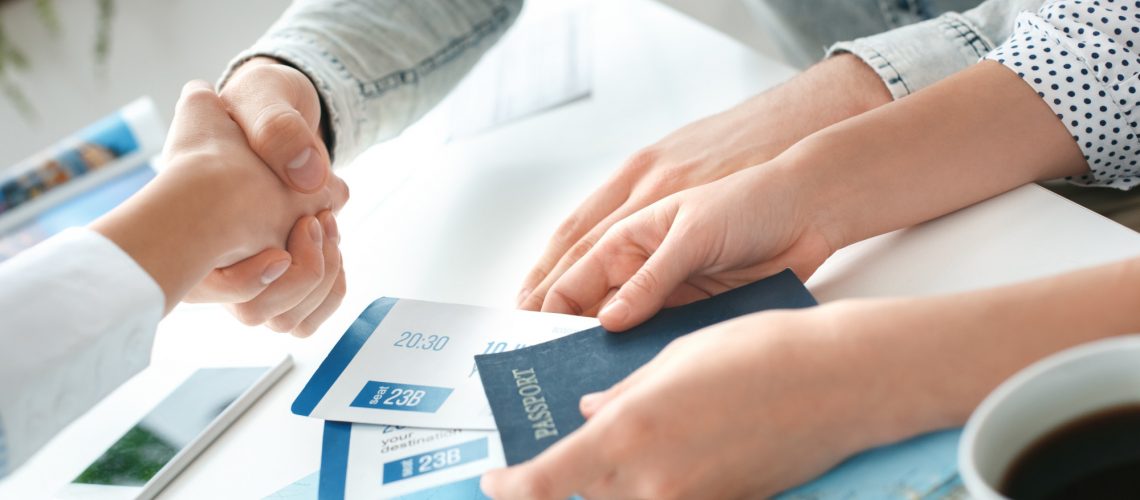 Curious about How to Become a Travel Agent? We Can Help
Does the idea of helping people plan vacations, and maybe traveling more yourself, appeal to you? Becoming a travel agent could be a good fit for you.
The benefits of being a travel agent are very appealing. You can work from anywhere doing what you love with a minimal investment. You may even score discounted travel opportunities.
But figuring out how to become a travel agent can seem confusing at first.
What training do you need? How do you find clients? How long does it take to build your business?
Getting the basics of being a travel agent under control doesn't have to be scary. Keep reading to learn 10 tips for becoming a travel agent.
1. Consider Your Background
What experience do you have that makes you well-positioned to be a travel agent?
You don't need specific experience or a certain education to work as a travel agent. But any related travel or hospitality experience, personal or professional, gives you an advantage.
Having extensive personal travel experience gives you real-world knowledge of planning and vacationing.
2. Narrow Down Your Specialty
Many travel agents specialize in certain types of travel, clients, or experiences. Having a niche helps you tailor your services and target your marketing.
Just because you choose a niche doesn't mean you have to turn away other business. It simply means you position yourself as an expert in that type of travel.
By having a specialty, you can attract more of that type of client. Maybe you specialize in Caribbean cruises, Disney vacations, or luxury travel.
People who want that type of travel may choose you over a general travel agent since you spend so much time dealing with that type of travel.
3. Learn the Basics
Even if you have personal travel experience, you'll need to learn about being a travel agent. Finding the best deals, using technology, and marketing your business are all areas you'll need to learn.
You can take certification courses for becoming a travel agent, but they're not necessary to start your business. Consider if you want to invest in those courses and certifications to gain the knowledge quickly.
4. Establish Your Business
With the basics decided, you're ready to start your business. Some travel agents work for established agencies.
Others work on an independent basis, creating their own businesses.
You might choose to partner with an established company to have the support and experience while still giving yourself the flexibility of running your own business.
When you work for yourself, you can run your business as a sole proprietorship. You can also incorporate or become an LLC. These options give you legal protection.
A licensed tax professional can help you decide which option is best for you. Each option has different legal obligations and tax considerations.
5. Create a Marketing Plan
Your marketing plan lays out how you plan to stand out from other agents. It describes how you plan to find clients and grow your business.
Online marketing is the fastest and easiest way to reach potential customers. Plan your website and social media strategies for growing your business.
Use your planned niche to identify your target clients. Use that information to shape a marketing plan that appeals to those customers.
6. Build Your Online Presence
Social media lets you interact with travelers and build relationships. You can respond directly to people when they post on your page and start growing loyalty.
You can also showcase your travel expertise on social media. Highlighting destinations, providing travel tips, and sharing new developments in the travel field lets your followers know you understand travel. It also shows that you stay on top of the trends.
Social media also encourages sharing. If you get your travel agency followers to share your posts, you can get them to help you find new clients.
7. Build Relationships
You want to sell travel, but the best way to do that is by building relationships, not by pushing deals.
Your customers can find deals anywhere on the internet. They can sign up for alerts or browse for deals themselves.
But what they miss from that is travel expertise.
Think of yourself as selling the experience and your expertise instead of selling trips. Keep that in mind when you first meet potential clients. That first interaction sets the tone for the entire relationship and may determine if the client works with you.
Take the time to learn what your clients really want and need. Then find ways to give those things to them.
Research shows that 90% of travelers want a personalized experience when they travel. That starts with you and the relationships you build with your clients to help them plan the personalized travel experiences they want.
8. Consider Certifications
Getting a certification in the field adds credibility to your business. You don't have to be certified to run a travel agent business. But you may find it helps you grow your client base.
Travel agent certifications may vary in their requirements. Some require continuing education to maintain the certifications.
9. Continue Your Education
The travel business changes all the time, from the hottest locations to the cheapest ways to see them.
Requirements to travel to different locations also change, including passport and visa requirements.
Staying on top of those changes and trends lets you best serve your travel clients. Never get comfortable in your experience. You can always learn something new to better serve your clients.
10. Provide the Best Experience
The experience you provide each client affects the success of your business. People frequently ask for recommendations in the travel field. If you nail your customer service, you set yourself up for lots of recommendations for your current clients.
Having an efficient process streamlines travel for your clients. Since people go to travel agents to make travel easier, that efficiency is crucial.
Quick, clear communication is another crucial characteristic of a travel agent. Customers want answers quickly, especially if they have a problem with their trip. Give customers multiple ways to contact you, and respond as soon as possible.
Always aim to provide your clients with more value than your competitors. What can you do to make the experience unique and memorable so your clients come back?
How to Become a Travel Agent
Now that you know how to become a travel agent, what are you waiting for? Even if you don't have travel experience, you can build your business as you go. Setting yourself apart through branding, building relationships, and providing quality experiences helps you be successful.
Are you ready to become a travel agent? Learn more about partnering with us to earn some of the highest commissions in the industry working as a travel agent.