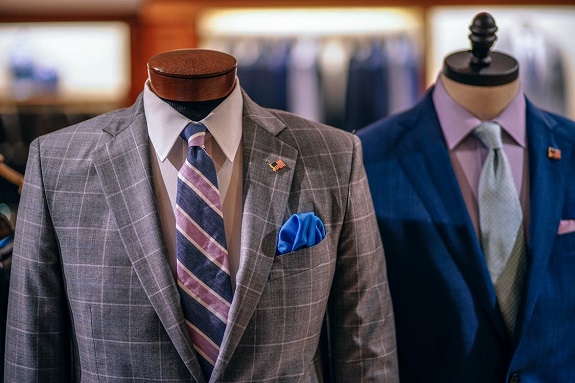 Corporate Clothing Trends For Men
Originally posted on https://theguycornernyc.com/2019/07/22/corporate-clothing-trends-for-men/
Men's fashion is gaining a lot more attention in the modern-day. Fashion weeks are embracing more male collections and the media is giving a lot more cover to the latest men's style trends as well. Casual ensembles are great, but one place whereby men have the potential to look their best is in the workplace. There is nothing better than looking suave in a sophisticated business suit. Businesses need to give a lot of consideration to the corporate clothing they choose. Not only does it have an impact on their company's image but also how their employees feel too. If your employees feel great then they are much likely to work better as well, and thus everyone benefits. Read on to discover the best men's workwear fashion trends for 2019 in order to gain some ideas and inspiration.
Fitted suits
Gone are the days whereby wide legged trousers and slightly oversized blazers were the norm. Don't drown in your clothes, look for body hugging garments. But don't be mistaken; this doesn't mean that you should wear tight suits. Nobody wants to see a bulge when they turn up for work in the morning! Make sure your suit is tailored to perfection. Go down the fitted route, but make sure you have enough room to breathe and maneuver comfortably during your long working day.
Utilitarian
Utilitarian means to consider the usefulness of something rather than the beauty. This trend is perfect for the workplace, especially with accessories. Of course, you want to look good, but you need to be practical too. Simplistic designs with the necessary practicalities, such as pockets, offer the best route to go down. If you concern yourself with the beauty before all else then you run the risk of overdoing it. You will look like you've tried too hard. What use are studded side panels on a blazer if you have no place to put your keys?
Soft fabrics
As we're in summer, the need for lightweight and soft material heightens. After all, nobody wants to spend all day at work disguising their sweat patches! When buying work wear it can be very tempting to go for hard and harsh materials. However, these can be uncomfortable and they crease easily as well. If you opt for soft materials then your employees will feel at ease in their clothing and they will also look great too. Your workers can also finish this off with men's business bamboo socks and other luxe and comfortable materials that will give them confidence in the workplace.
Purple
And finally, the color for 2019 is definitely purple. A deep purple suit looks intriguing and highly stylish. It moves away from the boring and traditional greys and black, yet at the same time it's not too vibrant and 'in your face' for corporate clothing. Another great thing about purple is that it is associated with wealth. A lot of people remark that when considering psychology it is a great color for sealing the deal with sales and alike.
The four trends mentioned in this article are worth considering if you are looking for an update in your business's corporate clothing. The trends are ideal for creating a suave and sophisticated look; making your employees feel better and your company look more professional.