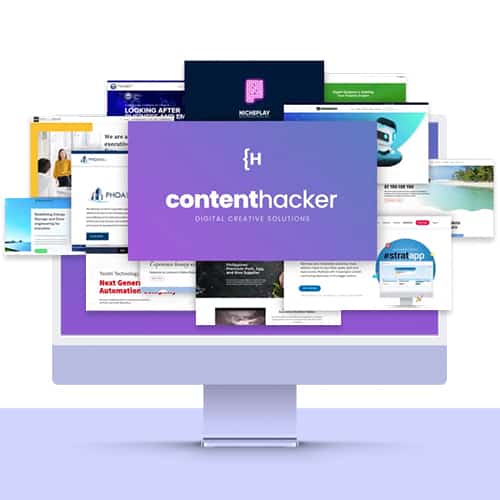 Content Hacker Unveils New Website and New Service Offerings
FOR IMMEDIATE RELEASE
Manila, Philippines, 7 July 2022 – Content Hacker, a digital marketing agency based in the Philippines, announced the launch of its new company website along with its new service offerings.
Introducing: Content Hacker's Rapid Web Design Service
There is a growing demand for an online storefront and digital presence for SMEs. Content Hacker aims to support the massive influx of growing digital businesses with the launch of our rapid web design service.
We understand how challenging it is for small businesses and startups to create a website from scratch. In just 15 days, Content Hacker can provide our clients with results-driven website designs. With the Rapid Website Service, we hope that it will allow SMEs to reach their goals and embrace digital transformation faster than ever.
Top-of-the-line cloud servers for blazing-fast websites
Content Hacker has partnered with a platform-as-a-service provider to bring only the best-in-class, top cloud servers such as Amazon Web Services, Google Cloud Platform, Digital Ocean, Linode, and Vultr.
With this new service offering, we can quickly deploy top-of-the-line dedicated cloud servers across the globe. We can also seamlessly scale up server specifications depending on your needs without the migration or configuration hassle.
Real-time campaign data from a customized reporting dashboard
Our clients can now say goodbye to manual monthly reports with our customized reporting dashboard that's tailored for all their digital campaigns.
With this service, Content Hacker will be able to provide a more sophisticated platform for their clients with automated campaign management and real-time reporting tools that will track their KPIs.
From SEO tracking, social media marketing, to Google Ads, and email marketing to workflow assignment, our customized reporting dashboards will let you manage your campaign data in one unified and intuitive platform.
Artificial intelligence for SEO and inbound marketing campaigns
Content Hacker's proven expertise in SEO and content marketing is bound to get even better with the launch of our artificial intelligence API, which uses the same neural engine used by search engines.
With this cutting-edge technology, we can now quickly, comprehensively, and accurately analyze top-performing pages and content and efficiently figure out the winning content structure for content or page.
"With all these new services and improvements, the entire Content Hacker team looks forward to serving you better," said Slye Joy Serrano, CEO and Head of Technology at Content Hacker.
"Our wealth of expertise in digital marketing, content marketing, and server management will ensure that we'll be working hard to create more exciting service offerings for our clients," Serrano added.
Coming soon are Content Hacker's conversion rate optimization, e-commerce SEO, and local SEO service offerings.
About Content Hacker: Content Hacker is an award-winning inbound marketing firm based in the Philippines. We offer inbound marketing services such as content marketing and search engine optimization. We also offer creative and tech services such as UI/UX and website design.
Media Contact: 
Slye Joy Serrano
Content Hacker
UB1, 111 Paseo de Roxas Street, 111 Paseo de Roxas, Makati City, Philippines
+639190945281

Originally posted On: https://syndication.cloud/content-hacker-unveils-new-website-and-new-service-offerings/