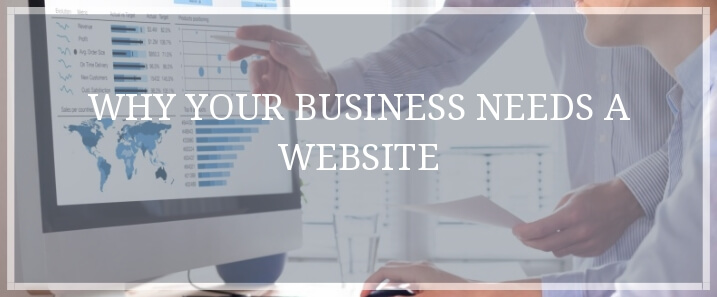 The Missing Ingredient: Why Your Business Needs a Website
Originally posted on https://www.thewebally.com/the-missing-ingredient-why-your-business-needs-a-website/
If there is one thing your business needs, it's a website. Based on studies, current trends predict that over 51% of purchases will be made via mobile devices by 2021.
Maybe up until now, you've done well with your networks, circles of influence, social media, events and/or consulting. At the same time, you've known deep down inside there is a missing ingredient – a website. You want more free time to spend enjoying your life.
A website works for you 24 hours a day seven days a week and it doesn't need to sleep as we do.
Connection, communication, consulting, cultivation of relationships are all possible with a business website. Let's explore why there are more reasons than one as to why you need a business website.
The Missing Ingredient: Why You Need a Business Website
We're sharing the most compelling reasons why you need a business website. We are also giving you helpful tips, tools, and technology to make it simple and easy for your business website to start and grow.
In today's hyper-connected world, having no website could mean losing business. You and your team may have some insight into why you need a business website.
However, when is the last time that you took a deep dive into digital marketing, business websites, and the essentials for success in today's online world? We are almost positive that a lot of what we share here will surprise you. Here are the basics of why you need a business website.
Start Simple
The basics of setting up your business website initially include a hosting site and website builders. There are many options out there for hosting solutions and business website builders and templates. There is no need to break the bank.
Some of the cheapest website builders you want to know are hosting and template options such as Wix and Squarespace. These website builders will help you start creating easily and effortlessly.
They are both simple to use even for a non-traditional website creator or designer. The beauty of it for the non-coders is that there is no coding required here. They offer user-friendly options at every turn.
They also offer incredible templates by themes, industries, and categories that allow you to simply input text, images, and videos. You will find yourself with your first website in no time.
Branding Enhancement
As the old saying goes, you never get a second chance to make a first impression. You may want to think of your website as your first impression because often times it is. A business website gives you a visual platform and digital location where you get to control what you present visually to people.
Your business website will include the theme you select, your colors, your bio, your writing, your testimonials, what you offer, FAQs, your location, and email to name a few parts that will help you enhance your brand and credibility.
Enhance Credibility
In today's online world with increasing information at our fingertips, it is important to enhance credibility. By having a website, you automatically increase your credibility. Your business website provides information to help people learn about you.
One of the biggest fears people have is fear of the unknown. When you have a business website, it helps alleviate this for people. They may see information about your business, your biography, your blog, testimonials, where you are located, and more without even talking to you face to face.
Not only may you include information about you, but you may also easily add backlinks to press features, videos, and testimonials to help build your online presence.
Attract People
The primary reason you want a website is to attract people, create value, and engage people in a deeper relationship e.g calls to action and conversions. Did you know that over 81% of people will do research online before deciding to make a purchase? It gives a whole new meaning to "window shopping".
That is why it is essential that you are clear on who you are, what you offer, and who your target market is. You also want to be sure you are communicating this clearly on your website.
The ability to attract people is increased when you know who your target market is. It is easier to position the information when you know who you are speaking to and what you are offering them. Think about what pain points you alleviate, what problems you solve, and what solutions you offer.
So, if you have a business website, you will attract new people, create a relationship, set yourself up to grow your business, and save time.
Save Time
Who doesn't love to save time? Think about how much time you may currently spend on phone calls, networking events, and face to face meetings. Maybe you do an experiment this week or for the next month to track it? A website will give you the ability to dramatically reduce that especially with initial overviews, about, and FAQ sections.
You may want to think about what time you spend manually now on initial client information. You may also incorporate Google Forms as an intake process via your website via a button. You will also want to think about how your business adds value.
Add Value
The missing ingredient may be a business website, but you don't want people to simply come to your website and bounce off within less than 30 seconds. You want to get people to your website and keep them there.
You get people's attention by adding value. Let's say you have a consulting firm. You may want to creatively express yourself, and your value by starting a blog and contributing to it regularly. You may want to tie themes on your blog to what you offer so it also increases credibility and shares value upfront.
If you have a blog, it will increase the know, like, it trust factor and keep people on your website longer. It will also make it likelier they will return. This then increases the probability of them working with you and spending money.
Get Social
People may find your website via Google, but that isn't the only way. Another great way to add value and invite people to visit your website is via social media platforms.
This could be sharing short stories, posts, testimonials, sneak peeks, highlights, and behind the scenes on social media. Each Social Media platform offers different features, interactions, and demographics. If you aren't on any platforms yet, you may want to outline a strategy and start with 1-2 platforms. Each social media platform also offers a way to integrate your link or website.
If you don't integrate social media platforms with your website, and vice versa, you may be not only missing out on social proof but also on conversions. If you miss out on conversions, you miss out on more people, impact, and money. This could range from .5% to 8%+ on various platforms and search engines like Google.
Speaking of which, you may be curious about how to have your business website be Google friendly.
Google Friendly
With all the websites out there, how is it possible to get your business website on Google? For starters, you may be particularly interested in setting up SEO and/or improving SEO from the start to improve rankings on Google.
This includes everything from strategically outlining your content with themes, keywords connected to your target markets, blog posts with keywords, consistent content creation, credible backlinks, and tracking your metrics on Google.
You will want to track Google Analytics to improve the experience people have when they visit your site. Google Analytics offers extensive data at your fingertips to track on your business websites like users, sessions, bounce rates, session duration, traffic sources, goal setting, conversions, and more.
Did you know that the average person spends over 4 hours a day on their phones? You will also want to increase your exposure, visibility, and access via a mobile-friendly site.
Mobile Friendly
Perhaps you get to the point that you've set up your hosting, template, target market, and adding value. You will want to make sure your business website is mobile-friendly as well.
With people spending over 4 hours a day on their phones, it is likely their first impression of you may be via a mobile website first. You also don't want to miss out on making the first impression a great one with your business website.
Lucky for you, to help make this simpler than you ever thought possible, Wix, Squarespace, and WordPress and other business website templates and tools often include easy adaptability process between the desktop and mobile website.
E-Mail Marketing
There is another compelling reason why you need a business website, and that is e-mail marketing. Maybe you are ready to connect with customers directly with personal messages. If so, email marketing may be nextfor you.
You may find it interesting and surprising that over 59% of Business to BusinessMarketers said e-mail is their best marketing channel for revenue generation. As a result, you definitely want to pay attention to this channel.
Email marketing works because you are connecting with people who already chose to connect with you on a deeper level by subscribing to your email list.
It is also a great way to keep people on your website engaged and offer more value. It is very simple to give them an invitation to opt-in to a freebie with even more value at the end of your blog post. This could be a free guide, webinar, whitepaper to name a few options. This then makes it easy to transition to e-commerce with online offers among others.
E-Commerce
The natural flow for your business website after e-mail marketing is e-commerce. This offers a deeper way for your community and clients to connect with you. This could be guides, online courses, and online sales for physical products to name a few options.
A great brainstorming session could be sitting down and writing down what blogs, guides, online courses, or physical items you could share and sell online to people.
Many businesses now start as solely an online business. They see the lower overhead as highly advantageous vs. investing in a brick and mortar. Some of those businesses never open a brick and mortar due to the ease and success now of solely e-commerce options.
The basics of what you will need will include an online storefront, shopping cart, and payment processor.
This will help your business with security, insights, sales, and return on investment. You will wonder how you ever survived without e-commerce with your business.
The Missing Ingredient: Why You Need a Business Website
You may see clearly now from every angle why you need a business website. It functions 24/7, attracts people to your business, saves you time, enhances credibility, increases exposure, offers digital options for sales, and more.
Imagine the connection, communication, and community that could form with time the more you apply this information. When you think about it, figuring out why you need a business website isn't complicated. It's simple.
You likely agree now that you need a business website, and it is the missing ingredient. However, what action will you take next? The importance lies in implementation. You will want to think about the next action item you will take and by when.
Don't you owe it to your business to take this seriously? Don't you owe it to yourself? Don't let this simply be another blog post. Take action now.
Please comment what was your favorite tool and tip down below!
Check our blog for more on Digital Marketing, Website Insights, SEO, E-commerce, and more.