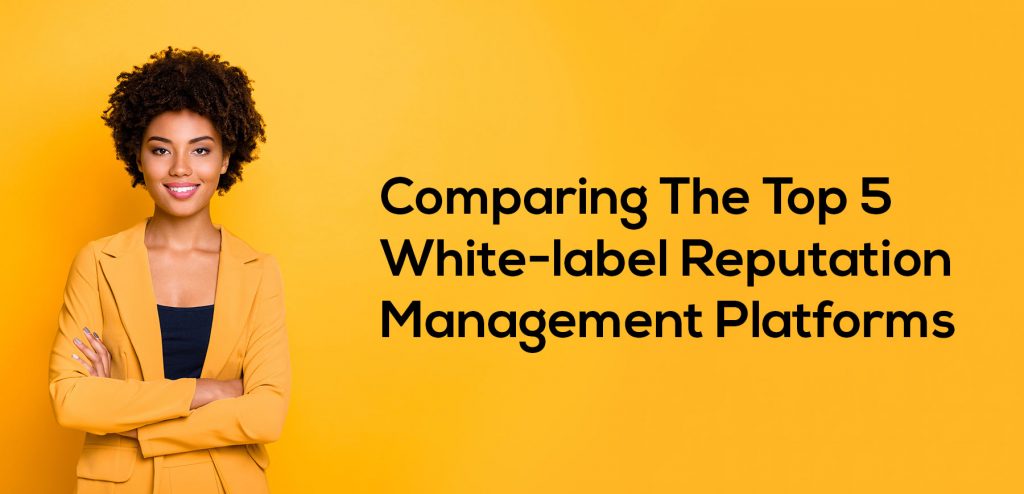 Compare White Label Reputation Management Software
We've talked extensively about reputation management and its importance due to changes at Google in terms of organic search placements and the growing importance of Google My Business. There's also the growing trend of customers seeking out business reviews prior to hiring them, making a purchase or visiting their store. Over 84% of people trust reviews as much as a friend's personal recommendation and over 30% of people admitted to not doing business with a company due to their negative or lack of reviews.
If you're a digital marketing agency, SEO specialist or online marketer, you may be on the search for the best white label reputation management software to begin collecting reviews for your clients. Well, you're on the right track. Today, we're going to look at our top five recommendations for review & reputation management platforms. We'll compare prices, features as well as the direction we think each platform is heading in. For full disclosure, I work for one of the companies listed below (Arrivala Review & Reputation management) but for this article, I am attempting to be as unbiased as possible.
Our criteria for review was simple. Find the top 5 businesses that checked off the following requirements:
Must be 100% white-label
Must offer automated review collection
Must have been in business at least 1 year
Must openly publish pricing (we're not looking for platforms that tell us pricing 'depends' on the client)
Must have some kind of API integration
We got to work hunting for our top five and in the end, here was the list that we decided qualified as worthy of a deeper look:
Grade.us – Starting at $400/month
Gatherup.com – Starting at $39.99/month per client/location
Arrivala.com – Starting at $49.99/month (up to 10 clients included)
Reviewshake.com – Starting at $199/month (includes 10 clients)
Flyte360.com – Starting at $35/month per client
The Stage Is Set – Let's Dive In
Grade.us – Starting at $400/month
Grade.us offers a very nice feature set for their reseller plans. They offer the standard necessities such as multiple locations, send review requests by text or email, review filtering based on positive/negative experiences, and nice reporting options to see how your feedback growth is coming along.
The features that I really liked about Grade.us that sets them apart from other white label review platforms in this comparative article is their ability to respond to Google reviews directly from within the Grade.us control panel as well as the ability to auto-post reviews to social media channels such as Facebook and Instagram to generate business content.
The downside of Grade.us is the obvious price-point. Their entry level plan begins at $400/month which is a tough pill to swallow for many small businesses or entrepreneurs trying to grow their digital marketing capabilities and expand into reputation management. The plan does include up to 10 sub-accounts so once you actually get to 10, the cost is really only $40/month per user. That's still on the higher end but more reasonable. The tough part for some people will be eating that $400/month cost until you get to the 10 sub-accounts.
Gatherup.com – Starting at $39.99/month per client/location
Gatherup.com is another well-known provider in the white-label reputation management space. They offer a solid feature set that includes what we've come to expect from this type of software. Ability to request reviews by email/text, review monitoring, general reporting, etc..
To be honest, while the Gatherup.com platform does seem to work well, there's nothing they offer that I would consider a bell or whistle. It's pretty bland. Furthermore, while their price point does start off at $39.99/month per client, it doesn't include many features. You can't even get text message review requests at that price point. In order to really get their feature set, the cost is $75/month per client per location. That's pretty pricey.
When it comes to trying to resell this software to your clients and having to pay $75/month as the reseller, there's not a lot of room in there for you to make a profit in my opinion. For that reason, I'm not a big fan of gatherup.com.
Arrivala.com – Starting at $49.99/month (up to 10 clients included)
Arrivala is another well-known provider in the white label review & reputation management software space. The core services they offer include review collection via text message/email, automated review follow-up, reporting, kiosk mode, etc.. Those are pretty inline with the other software providers we're comparing in this article.
The two features that I really liked about Arrivala that these other service providers did not provide is a "Reviews For Charity" add-on. Arrivala has the ability to automatically donate a small amount of money to charity for each review you receive. You pick the amount of the donation and they offer several charities to choose from. The other feature I was impressed by is the multiple review flows. They offer two separate paths you can send your customers down to generate reviews. With these additional options, I could definitely see it resulting in a higher review conversion rate.
The only downside I found on Arrivala is they do not currently offer the ability to reply to reviews directly in their control panel. That being said, at the price point of $49.99/month and including up to 10 sub-accounts, it's hard to beat their price to feature ratio. That's only $4.99 per sub-account. There's a lot of room for profit for resellers.
Reviewshake.com – Starting at $199/month (includes 10 clients)
Reviewshake.com is another provider of white-label review collection services. Overall, I really like their feature set and they have some nice bells and whistles. They have all the necessities as well such as review collection via email/text, reporting, unlimited review profiles, and of course completely white-label.
The feature I really liked from Reviewshake.com was their customization options of widgets that could be embedded on websites. I don't put too much importance on widgets as I don't believe customers necessarily go to websites to find reviews. Rather, they go to third party websites like Google because they know that reviews posted on a business's own website could likely be handpicked. With that said, I do know this is an important feature to some users so it would be nice to offer widgets from a reseller perspective.
The price point of Reviewshake.com bothers me for reasons similar to Grade.us. Their entry-level plan starts at $199/month. If you actually have 10 clients right off the start then that price could be bearable as it is essentially $20/month per client but if you're just getting started offering reseller review collection and don't necessarily have 10 paying clients immediately ready to jump on board, then $199/month could be a big negative.
Flyte360.com – Starting at $35/month per client
Flyte360.com is a service that barely made the cut for this article but it did so because of a couple of unique features that other white-label review collection services do not offer.
Those features: International language support & custom sub-domain.
Flyte360 is one of the only platforms we found that is currently providing white-label solutions in multiple languages. For resellers who have clients ready to implement review collection but speak different languages, this would be the only solution available that we could find.
Secondly, a nifty feature of this platform is they allow you to brand your control panels with a unique subdomain such as reviews.yourbusinessname.com. Our other platforms on this list simply use a generic domain to white-label that platform. While this feature is not really essential and maybe a non-factor to many, some resellers may appreciate it.
Outside of those two features, their price point is in the mid-range of $39.99 per client, a price that I don't feel is warranted based on the feature set.
The Conclusion
After reviewing all five of these white label review collection services, I can undoubtedly say that Arrivala offers the best value of features to price point. At only $49.99/month and including up to 10 sub-accounts, there's a lot of mark-up potential in there for resellers to really turn a profit and make it worth it for them to do so.
As far as overall features, I do really like what Grade.us is offering and if you can swallow the $400/month entry-level price point then they definitely offer a couple of features that Arrivala does not and could be beneficial to clients.
I hope you enjoyed this article and are more educated on what's out there in terms of white-label review collection for your clients. This is a major growth industry and also one with tons of profit potential for your digital agency or marketing business. If you have any questions for me, shoot me an email at [email protected].
Happy reviewing!