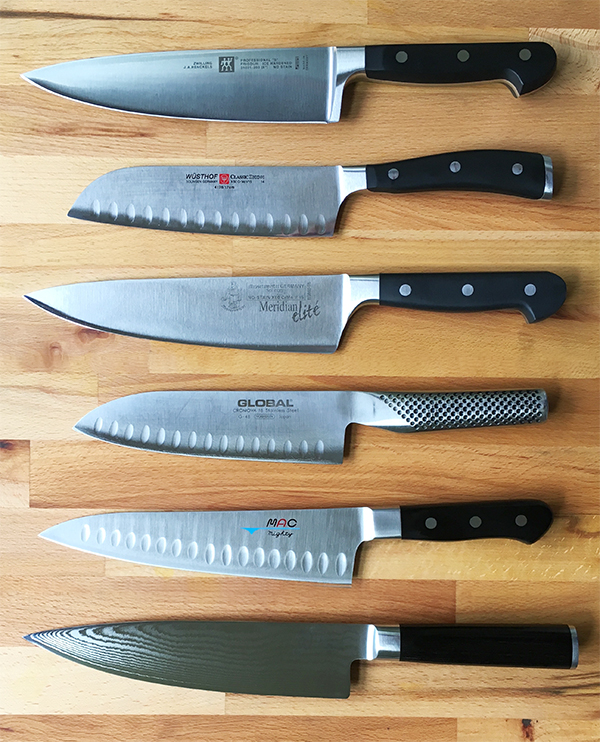 Best Chef Knives — Six Recommendations
Photos by 
Nate Ouderkirk 
Originally Posted On: https://kitchenknifeguru.com/knives/best-chef-knives-six-recommendations/
Here are six recommendations that cover some of the best chef knives around—each produced by a different world-class knifemaker. This short list is designed not only to highlight quality chef knives, but to give you a sense of what's out there (a lot!) and help you find the knife that's right for you. (Please read my article How to Buy a Great Chef Knife to get more backstory.)
Best Chef Knives Overview
Manufacturing quality kitchen knives, especially hundreds at a time, is no simple task. It takes high-grade steel, skilled tradesmen, rigorous quality-control systems, and, ideally, your own heat-treating facilities (a very expensive proposition). Not all knifemakers are up to the task, especially a lot of newbie companies springing up like wildflowers. The kitchen knife brands in the list above—Henckels, Wusthof, Messermeister, Global, MAC, and Shun—all have proven track records and lifetime warranties. Some have been making knives for hundreds of years.
The first three brands are centered in Germany, the last three in Japan. I have purposely contrasted German chef knives to Japanese in order to expose you to the two major approaches to kitchen knifemaking in the world today. Most chef knives you come across today are either from one tradition or the other, or are a blend. If you're curious and want more on this, click on down the page.
The chef knives I'm sweet on for this article range from $100 to $160—though if you monitor the ever-fluctuating prices you may grab a deal. They are by no means the top of the heap—for price tags in kitchen knifedom can get pretty steep, quickly getting into hundreds (or even thousands) of dollars.
If you're concerned about moola, please remember that your best chef knives, depending on how hard you use them and how well you take care of them, can easily last 25 years or more. I'm not exaggerating. Plus, they're the single most important tool in your entire kitchen. (What would compete, your large sauté pan?) If you dollar-cost average the price of one of the most expensive knives on this list (say, the Shun Classic for $150), over 25 years it would cost you a whopping $6 per year! So try to see the BIG picture.
If you're in a hurry—do not pass Go, do not collect $200—go straight to the end of this article to Pros and Cons or Final Wrap-Up.
Best Chef Knives Testing — Malarky
Although I own all six chef knives on this best chef knives list and have used them to chop onions, quarter cantaloupes, slice tomatoes, and more—I have not officially "tested" them. Huh?
Yep. I have declined to put these knives through a series of, supposedly, quantifiable kitchenistic tasks and use their perceived performance as a basis of rating each knife. Why? Because I don't think it's accurate or, in the long-run, truly useful to the consumer. Because, in the end, the main thing you're testing is just how sharp the factory edge is. And, while it is more than nice to buy a chef knife with a razor-sharp factory edge—on average, the factory sharpitude of your new knife, even if you hone it religiously, will probably only last a year or two max. Not 25 years. Not even five.
So why make the sharpness of the factory edge the end-all criteria for whether or not a chef knife works for you? Especially if there's another blade you love in every other way except that it doesn't happen to be quite as out-of-the-box sharp.
No matter where you live, you can ship your favorite chef knife off to a top-notch professional sharpener and they will give you an edge sharper than most factories. There, problem solved. But other, more permanent, characteristics can't be so easily tweaked. Like the feel of the handle. The weight. The size of the blade. The look and style of the knife. These you can't change. . .so why not be happy with them?
Don't get me wrong, some kind of testing, including sharpness, can be useful. A quick perusal of Reviews of Professional Knife Sharpening Services will demonstrate I can be a manic tester. And don't get me wrong again—you definitely want a chef knife that can take a fine edge and hold it. But in a review designed to help you choose a life-long kitchen partner (i.e. chef knife), absolute sharpitude from the factory shouldn't be the only event, the prime criteria, for choosing one knife over another. Especially since razor sharpness can so easily be gained later on if necessary.
(Nevertheless, I do address the odds of maximum factory sharpitude near the bottom of this article under the heading Best Chef Knives Mostly Likely to Emerge from the Box Scary Sharp.)
Stainless Steel vs. High-Carbon Stainless Steel vs. Carbon Steel
All of the knives I recommend are stainless steel or as current marketers love to declare, "high-carbon stainless steel." Is there a difference? Not much. All steel has carbon and all stainless steels have very similar amounts of carbon that might vary only by .5 percent. There's not a dramatic difference (as far as the carbon's concerned) between stainless steel and high-carbon stainless steel. . .it's more in the name.
On the other hand. . .there is a huge difference between "high-carbon stainless steel" and just plain "carbon steel." Carbon steel lacks a healthy dose of chromium (10.5 to 30%)—which is the element that allows stainless steel to resist corrosion. Thus, carbon steel can rust pretty darn easy while stainless cannot. On the other, other hand. . .high-caliber carbon steel can take a finer/sharper edge and hold it for a longer time than most stainless steels.
Soooo, as in most things in life (except chocolate), there are always trade offs. . .
OK. . .off we go!
• • •
Henckels Professional S Chef Knife, 8-Inch
BUY NOW $90–150 @ Amazon

Zwilling J.A. Henckels is one of the largest knifemakers in the world and has been around since the 1700s. They produce at least 24 different lines of knives (if you include Henckels International), so it's especially important to be clear what model you're buying.
The Henckels Professional S is one of their top-tier lines and is manufactured in Solingen, Germany where their core factories are located. Henckels also has factories in Spain and, as a newer development, in Japan as well. It's in Japan where they produce one of their latest creations, knives designed by Bob Kramer, the American bladesmith who has set the bar high for kitchen-knife quality.
The Professional S is forged from one hunk of steel—and with a bolster, a full-tang, and a three-rivet handle, it's as classic as it gets. Although the handle's been made to look and feel like wood, it's not. Wood handles are no longer the norm (although they're making a comeback!) and most manufacturers assume customers would rather have the longevity offered by a synthetic material. (Below: Henckels Pro S handle close-up)
I inherited a Pro S chef knife from my Mom and it has been one of the mainstays of our kitchen. I've always loved the feel—nicely balanced with a little heft, but nothing that tires my hand out (for the record, I don't spend hours prepping). I got it professionally sharpened many moons ago and with regular honing its kept it's edge. Believe it not, it can still slice tomatoes. This is proof the steel (though by no means the hardest out there) has been properly heat-treated.
In order to be up-to-date for this review, I took a close look at a brand new Henckels Pro S to compare to my older one. No surprise, Henckels has upgraded in the intervening years, converting the finish on the handle to matte (much hipper) and making and the blade thickness a touch thinner (to compete with the Japanese invasion). Otherwise, everything else seems unchanged—same blade shape, same handle, same great feel.
I confess, I was curious about mildly testing the factory-edge sharpitude of this new Pro S because, to the touch, it appeared quite decent. So I ran it through my newsprint magazine cutting test (see Reviews of Professional Knife Sharpening Services) which it passed with flying colors, easily slicing full half moons. While this is only one, solitary knife, it's definitely a good sign.
The Professional S comes in two sizes, an 8-inch and 10. (There's also a 6-inch, but that's too small for an all-purpose blade.)
Please be aware that Henckels makes a very, very similar model of chef knife, the Henckels International Classic, which is manufactured in Spain and goes for less than half the price of the Professional S. Although it's a respectable forged knife, it's not hewn from the exact same steel as the Pro S, does not go through the same heat treatment, and isn't as beautifully finished. (Below: Henckels International Classic chef knife—in a photo it appears identical to the Pro S.)
The International Classic has garnered some positive press because it's an especially good bang for the buck. It deserves it. Nevertheless, for the long-term, and if you appreciate finer finishing, I think the Pro S is a better investment. And rest assured, if you were to compare them side by side, handle them both in your hands, you would be able to tell them apart.
FEEL FACTOR: Handle girth: average / Weight: 8.75 oz / Total length: 13.25 inches
The Henckels Pro S is the heaviest and thickest of the roster of knives in this review (it pretty much ties with the Messermeister Meridian Elite Stealth in weight)—but it's really not all that heavy or thick. Most home cooks are accustomed to this weight and enjoy the way its gentle, gravitational pull helps them when they slice downward. But some may opt for lighter and nimbler. The only time I've noticed the thickness of the blade slowing things down a tad is when doing horizontal slices into an onion (the first series of cuts out of three when dicing an onion like a pro). For the remaining, vertical, slices, it's not much of an issue.
See my Best Chef Knives Specs chart at the end of the reviews to compare specs for all the knives. (Note: All specs listed for Henckels are for the latest model.)
MORE OPTIONS
• Henckels now makes the Pro line (no "S") that sports a stripped down bolster which makes the blade easier to pinch grip as well as sharpen. The blade also has a slightly different shape—a steeper curve to the belly and a longer flat area. (See photo below.) Contrary to the International, the Pro is made in the same German factory as the Pro S, touts the same level of quality, and it's price reflects it: Henckels Pro Chef Knife, $100–150 @ Amazon / Sur la Table
• If you'd rather have a classic-shaped blade (as in the Professional S), but like everything else about the new Pro, you can get the Pro "Traditional."
Henckels Pro Traditional Chef Knife, $110–150 @ Sur la Table
• If you prefer to buy Wusthof—which I discuss below—they make a very similar model to the Professional S: Wusthof Classic Chef Knife, $125–160 @ Amazon / Sur la Table
Wusthof Classic Ikon Santoku, 7-Inch
BUY NOW $120–170 @ Sur La Table / Amazon
Wusthof is the other of the "Big Two" German knifemakers and some pros swear by it over Henckels because they feel the quality is higher. Not sure if this perception is justified, but it's probably aided by the fact Wusthof has been family-owned and run for almost 200 years. Interesting enough, both Wusthof and Henckels are manufactured in Solingen (along with dozens of other blademakers) which is one of the knife-making capitals of the world.
I recommend looking at the Wusthof Classic Ikon santoku as a contrast to a traditional chef knife because:
1) it's a santoku, Japanese-style blade, which many home cooks prefer. It gives you the width of a longer knife without the more cumbersome length. And it's noticeably thinner and lighter than your standard, German 8-inch chef knife. This thinness gives you less resistance when slicing through dense materials like carrots and squash. A big plus!
2) the Classic Ikon curved handle might feel better in your hands
3) it looks cool.
Whether or not you like a bolster is up to you, it is no measure
of quality. . .
Like the Henckels chef knife above, this santoku is fully forged and has a full tang. But, unlike the Henckels, it does not host a full bolster. Whether or not you like a bolster is up to you, it's no measure of quality—but not having one will make the knife easier to sharpen.
The Classic Ikon santoku also features a scalloped edge that is all the rage—to, theoretically, keep food from sticking. (This is most effective for only certain kinds of slicing, but it sure looks cool.) Because this model is in the Japanese-style, but made by a German knifemaker, I would call it a hybrid. (Henckels makes santokus as well.)
If you like the santoku style, but don't care about the Ikon's curvy handle and would like to save some cash, check out the santoku Wusthof makes in the Classic line. The feel will vary slightly (because of the different handle), but the blade itself will be exactly the same. You're paying extra for the handle.
FEEL FACTOR: Handle girth: slim / Weight: 7 oz / Total length: 12 inches
I love using this Wusthof santoku to slice up melons, mince onion for guacamole, and to perform pretty much any other kitchen-knifeian task. The only time I feel it's compact size gets slightly overwhelmed is when fine-chopping large quantities of zucchini, carrots, and other veggies.
Though the curved handle is a touch slimmer than your average chef knife (aka the Henckels above), it's ergonomically satisfying. It's also lighter—but definitely doesn't feel like a toy. Plus, I must admit, I don't mind the oohs and aahs I get when wielding it in front of guests. (So shallow, I know.)
Although I have had this knife professionally sharpened, I distinctly remember it being very sharp straight from the factory. I acquired three Wusthof blades around the same time—a santoku, a nakiri, and a chef knife—and the two Japanese hybrids were noticeably sharper than the chef knife. All three had been sharpened using Wusthof's patented PEtec sharpening system (using laser guides for accuracy and consistency). But I think because the santoku and nakiri are thinner blades, the PEtec system gave them finer/sharper edges. No complaints here!
Don't forget to peruse my Best Chef Knives Specs chart at the end of the reviews to compare specs.
If you want to learn more about all things Wusthofian,
make sure to visit Wusthof Knives—a Buyer's Guide.
SANTOKU KNIVES
Two of my Best Chef Knives entries are, technically speaking, not chef knives at all. They're Japanese-styled santoku blades (santoku means "three virtues" in Japanese). But I have included them as alternatives to the standard 8-inch chef knife for those of you who feel intimidated by a larger knife, or simply prefer using a smaller-sized blade. For the majority of kitchen tasks, you might not miss the extra inch and appreciate the smaller footprint.
I easily slice up large onions, yams, and honeydews with my santokus (although if you feast on large watermelons all summer long, you might prefer a larger knife). It's amazing how many tasks I can get done with a "three virtues" blade—but I am cooking for a family of three. If you're prepping meals from scratch five-nights-a-week for a family of four or more, then I would point you towards a standard 8-inch chef knife (or maybe even longer). It's better suited for the pure volume of food. (By the way, even though santokus lack a pointy chef-knife tip, I rarely miss it.)
If you go the santoku route, please be aware to buy a 7-inch and nothing smaller. Most models come in two sizes, and the smaller (around 5-inches) is definitely not long enough to serve as your mainstay kitchen knife.
Messermeister Meridian Elite Stealth Chef Knife, 8-Inch
BUY NOW $125–150 @ Amazon / 9-inch, $130–170 @ Amazon
Messermeister knives, like the name sounds, are rooted in Germany—manufactured in the very same German town (Solingen) as the preceding knives from the Big Two. While Messermeister is not as familiar a name as Henckels and Wusthof, they're no less revered for their quality. As a matter of fact, their forging process (Meridian Elite is drop-hammer forged) is closer to the older style of doing things than either Henckels or Wusthof.
The Meridian Elite Stealth makes my Best Chef Knives list for a couple of reasons:
1) it's highly recommended by Chad Ward in his book An Edge in the Kitchen as being super-sharp. It comes from the factory with a highly polished edge that Ward claims is superior to any of the "big-name knife brands" and will hold it for a substantial amount of time
2) it has a partial bolster which makes it easier to sharpen (and is a nod to Japanese knives).
Messermeister has been a trailblazer in German kitchenknifedom. They were the first to produce a forged chef knife without a full bolster (yes, before Wusthof and Henckels), and. . .the first to sharpen their blades to a sassy 15-degree angle. (The old German standard being 20-22 degrees.)
The blade on a Stealth chef knife is about 25 percent thinner and (thus)
10 percent lighter…
They're also the first to manufacture an alternate version of their premium forged lines which they name "stealth." The blade on a Stealth chef knife is about 25 percent thinner and (thus) 10 percent lighter than the traditional model. Less resistance while slicing and less weight to fatigue your arm. A home cook might not notice much difference. But a pro, wielding the blade eight hours a day, surely should. Cool idea, to offer the customer a choice!
I definitely prefer the Stealth version of the Meridian Elite and that is what I recommend. I found the thickness and weight of the original a bit unwieldy. Nonetheless, some cooks love the feel of a weighty blade and may not mind the thickness. More power to them—they can acquire the original. (For the record, the original Meridian Elite 8-inch is a little over an ounce heavier and almost a millimeter thicker than the Stealth.)
FEEL FACTOR: Handle girth: average to slim / Weight: 8.38 oz / Total length: 13.5 inches
As you would assume, this puppy feels very similar to my beloved Henckels Pro S except that the Messermeister's handle happens to be slimmer. (This is true for both the Original and the Stealth.) So if you enjoy the feel of a traditional German chef knife, but wouldn't mind a more svelte handle, you might prefer Messermeister over Henckels. I'm on the fence myself—it depends on the day. (Below: Henckels, Wusthof, and Messermeister—the Messermeister sports the widest blade and, along with the Wusthof, has a half-bolster for easier sharpening.)
Along with the slender handle, the Meridian Elite Stealth's blade is ever-so-slightly thinner (than the Henckels Pro S) and ever-so-slightly wider at the heel. Plus, the overall weight is lighter by almost half an ounce. So what do these subtle differences mean? 1) You're getting slightly less resistance. I've already discussed this, so, by now, you should know what that means. 2) More chopping dominion—the spine stays above the food. 3) More mobility, less clunkiness. These are all positives in my book and warrant giving the Messermeister serious consideration.
Performance-wise, the Messermeister has put me in a pickle and is one of the most glaring reasons I refuse to judge these six recommended knives strictly by their factory edges. Let me explain. . .
I've acquired three different Messermeister forged chef knives: two 8-inch chefs—the original Meridian Elite and the Stealth; plus, a 9-inch Oliva Stealth (see the box below). All three blades are of the same caliber—the Oliva distinguishing itself with an olivewood handle.
See my Best Chef Knives Specs at the end of the reviews to compare more specs.
Out-the-box, the Oliva sliced a tomato effortlessly while with other two had problems. Because the cutting edges (on all of the Messermeisters) were thin and finely ground, and the blades beautifully polished, and, good old Chad Ward was so enamored of them, I figured the Meridian Elites might still have possibilities. So I tried steeling them with a ceramic hone (only half-a-dozen swipes per side) which probably put what's called a miro-bevel on end of the edge and allowed them to slice through 'maters just like the Oliva. Problem solved.
Is this what a consumer should be prepared to do? No, of course not. But if a knife or two slips by a high-grade knifemaker's quality control, it doesn't necessarily mean that manufacturer's knife line is categorically inferior to that of another manufacturer. It all depends. The most important thing for the consumer to do is get as educated as possible and not judge solely by a single knife's sharpitude. Especially if there are other aspects of a knife's design that make them sweaty (yeah, I know, time to visit a therapist).
Messermeister Oliva Elite Stealth, 9-inch
BUY NOW $165–200 @ Amazon


Wow, am I a sucker for the olivewood handle. I was so taken by its beauty, the earthy feel of the unfinished wood, and the comfort of its curviness, that I almost swapped out the Meridian Elite in this list for the Oliva. Actually. . .I would have—if I hadn't already taken all the group photos.
As for the rest of the knife—forged stainless-steel blade, high-grade finishing—Messermeister quality is all present and accounted for.
FEEL FACTOR: Handle girth: average to chunky / Weight: 7.75 oz / Total length: 14.75 inches / Width at heel: 2 inches / Spine thickness: 2.7 mm
As you might guess, the handle on the Oliva not only looks different, but feels quite different from the Meridian. It's bigger, it's chunkier, it's more to hang onto. As a matter of fact, it sort of ties with the Shun as chunkiest handle in this list of knives. I absolutely love it. . .but I probably lean towards heftier handles. Although, in general, I'm not very fussy and I find my hand easily adapts to the shape of whatever it's holding (as long as it's sharp!).
Another unexpected benefit of the Oliva Elite Stealth, 9-inch (the only size Oliva I've sampled so far) is that, even though it's long, it's light. At 7.75 ounces, it weighs even less than the 8-inch Meridian Elite Stealth and Henckels Pro S. This is mainly due to the fact that the Oliva is constructed with a partial-tang—i.e. the steel from the blade does not run all the way through the handle to the end.
Full-tang used to be one of the must-haves in a quality chef knife, but those days are long gone. We're not butchering buffalo haunches here. So if you're in the market for a longer chef knife, but are concerned about arm fatigue, or simply have an aversion to weighty cutlery, the Oliva 9-inch is an excellent option.
I've only got two quibbles:
1) Balance: The balance on the 9-inch is tipsy toward the blade. I rarely, if ever, notice. But if you're finicky about balance, then it might bug you. For what it's worth, the 8-inch Oliva should be more evenly balanced because there's an inch less steel in the blade to tip it forward.
2) Finishing: The olivewood handle, from the factory, is virtually unsealed. So you must make a habit of rubbing it with mineral oil to protect it. You can use the same exact oil you should be using on your wooden cutting boards.
The Oliva Elite only comes in Stealth.
German versus Japanese Chef Knives
OK, I've touched on this already, but let me spell it out more clearly: The main differences between a German-made and Japanese-made chef knife are: 1) the thinness of the blade, and 2) the steel they're made of. As a general rule, German knives are thicker than Japanese and hewn from steel that is not quite as hard. This is a design choice, not a manufacturing defect.
Let's talk about thin. A thin Japanese blade feels a) lighter in your palm and b) glides more easily through food—especially denser stuff like potatoes, pork loin, etc. While you may grow to appreciate the smoother slicing, it's not the sort of lightening-bolt event that's going to make you jump up and down crying, "Eureka, eureka!" It's subtle. On the other hand. . .the lack of weightiness will immediately make an impression on you. And it will take you a while to totally acclimate to it. That's OK, it's worth getting used to.
In addition—a thinner blade makes the knife a bit more delicate, easier to permanently bend or (believe it or not) break through prying or torquing.
Let's talk about steel. Steel is a monster topic, but the Cliff Notes version is that the make-up of steel and the way it's heat-treated can affect the way that steel behaves considerably. The steel in a German knife will tend to be tough and able to withstand abuse, but won't be as hard as Japanese steel. Thus, the cutting edge will wear down more quickly and need to be sharpened more often. Japanese steel will tend to take a finer edge and hold it longer. But because its hardness also makes it brittle, it's more likely to chip or crack under stress (i.e. mistreatment). It's simply not as pliant or forgiving. You must take greater care.
Neither steel is perfect. So it's up to the cook to understand what kind of knives they need in their kitchen and be aware of their strengths and weaknesses. For what it's worth, I use both German and Japanese chef knives and rarely am I conscious of specifically choosing one over the other. But when I am conscious of it, there's a very good reason.
What does all this mean in the real world?
If you happen to knock a Shun chef knife (Japanese-made) off the counter on to a ceramic tile floor, you'll be lucky if you don't break a tip. Seriously.
If you can't be bothered to regularly steel/hone your knives, a Japanese chef knife will probably stay sharper for a longer time. (But if you hone regularly, you won't notice as much a difference.)
If you power through a chicken joint with a German knife, you will temporarily dull the edge, but probably not hurt it. But if you try the same trick with a Japanese blade (especially the last two in this list), you will seriously risk cracking or chipping an edge.
Moral of the story? German and Japanese chef knives both have their day. But don't buy a Japanese knife unless you're ready to care for it. Otherwise, you risk being sorely disappointed.
Global Santoku (G-48 or G-80), 7-Inch
BUY NOW $90–130 @ Amazon / Sur La Table
Global revolutionized the kitchen-knife world in the 1980s by creating a series of high-performance knives that were on the cutting edge of fashion (forgive the pun), yet still affordable. Like traditional Japanese knives, they're extremely light with a thin, razor-sharp edge. Yet in overall shape and design, they often owe as much to Western tradition as Japanese. That's why I call them Japanese hybrids in that they graft one tradition of knifemaking onto another.
Most of Global's knives are not forged, but made of a high-quality stainless steel that has been tempered and heat treated to new levels of sophistication. Global uses their own proprietary steel which they dub Chromova 18. Although its composition is very similar to the steel used in the German-made knives in this list (X50CrMoV15), that doesn't mean it performs identically. There's a lot more to steel than just a list of condiments.
If you review my Best Chef Knives Specs chart, you'll see that the G-48 santoku is the thinnest and lightest of my recommended knives. This hints at why it's so good at slicing (and doing everything else, for that matter) and why many professionals, like the late Anthony Bourdain, have a thing for the Global brand. It also doesn't hurt that Global knives have long had a reputation of coming from the factory uber-sharp.
While the shape of the blade on the G-48 (G-80) is similar to the Wusthof santoku, the balance and feel is quite different. To say nothing of the styling. No major knife brand stands out as so stunningly modern. Also—although it appears the knife is made of a single piece of steel, it's not. It's actually three—the blade, and two sides of the handle which have all been welded together. (Interesting detail: Global injects the perfect amount of sand into the hollow handle to make it balance correctly.)
If you prefer a more Western-styled chef's blade, Global has plenty of those also. Try a G-2 (shown above) or a G-61. The manufacturing process and quality are identical to the G-48 santoku.
FEEL FACTOR: Handle girth: slim / Weight: 6 oz / Total length: 11.75 inches
Even though it looks like it might be slippery, the pebbled handle grips quite well. It's been specifically designed to hug your fingers. I don't like slippery knives and this is not one of them.
I've owned this santoku for over a decade and have had it sharpened only once by my favorite professional sharpener, Seattle Knife Sharpening. That would attest to the fact that Global's steel holds its edge very well indeed. I'm embarrassed to admit I treasure it's sharpitude so much I resist doing much chopping with it, but save it mainly for slicing. Which it does amazingly! (Crazy, I know.)
Again as with the Wusthof santoku (or any knife with less than an 8-inch blade), if you chop up large quantities of vegetables on a regular basis, you will feel a bit overwhelmed. It will cost you more time. That is the main liability of a slightly shorter blade. But. . .if you perform this kind of prep work, say, only once a month, I wouldn't worry about it. The Global santoku can carry the day—probably a touch easier than the Wusthof.
Watch my video, How to Chop an Onion Like a Sous Chef, to see the G-48 in action making quick work of the kitchen's favorite root vegetable!

KitchenKnifeGuru eBook—
Kitchen Knife Basics

For all you eBook junkies who would rather snuggle up with with an iPad than click and scroll on a computer. Kitchen Knife Basics ($7.95) has got all the core material from the KitchenKnifeGuru website, but in an easy-to-read format that only an eBook can offer. You'll learn about the most common edge styles for kitchen knives, what a hone (or steel) is and exactly how to use it, how to find and choose a quality sharpening service that's not expensive—and much much more. You can even download a sample if you just want to get a taste!
MAC MTH-80 – Professional Series Chef Knife with Dimples, 8-Inch
BUY NOW $120–145 @ Amazon
MAC knives are one of the best kept secrets of the consumer kitchen knife market. Professionals rave about them with celeb chefs like Thomas Keller and the late Charlie Trotter unabashedly endorsing them as the ultimate cutting machine. But ask your average home gourmet, and odds are they've never heard of them. That has changed some in the past few years due to internet marketing, but MAC is still under the radar.
Japanese designed and manufactured, like Global, they're a new breed of kitchen knife, a hybrid—that incorporates the harder and thinner Japanese steel with a Western-shaped blade. They're not as stylish as Global, but probably even sharper. And (like Global) they're also not forged, but highly machined.
Shop Related Products
Tojiro DP Santoku 6.7″ (17cm)$72.00 (374)
Global SAI-01 Chef's Knife, 7-1/2″, Silver$175.00$249.00 (30)
Victorinox Swiss Army Cutlery Fibrox Pro Kni…$139.95 (952)
Idahone Fine Ceramic Sharpening Rod (12″…$43.90 (354)Ads by Amazon
The MTH-80 Professional is the workhorse of MAC's various product lines and I'm guessing it's the most popular because it offers the maximum sharpitude for your dollar. Plus, the welded-on bolster creates an unusual combination of super-thin blade with added weight that keeps it balanced in your hand more like a German-style knife. According to Gourmet Magazine, a MAC MTH-80 compared to your average chef knife is "the difference between a minivan and race car." Care to take one out for a spin?
(Note: Please be careful not to confuse the MTH-80 Professional with the TH-80 – Chef Series 8-Inch Chef Knife with Dimples, a lower-level model that goes for $40 or more less.)
FEEL FACTOR: Handle girth: slim / Weight: 7 oz / Total length: 12.75 inches
The MTH-80's handle is on the slim side. For your average gal, and guys like me with smaller hands, this might be perfect. But if your chefing hand is large-ish and you want the handle on your chef knife to fill it, the MAC might, literally, leave you empty handed. (Below: MAC and Shun handles—Best Chef Knife with the smallest grip area next to the largest.)
Also: the shape of the blade on a MAC MTH-80 differs from your typical Western chef knife—it's narrower at the tip, then gradually widens out to the heel. It's not as consistently wide as its German cousins, closer to what the Japanese call a gyoto. The narrowness makes it nimble for slicing, while the width is still there where you need it most, close to the handle. But if you are accustomed to a more evenly broad blade, you're going to need to make adjustments.
I don't want to harp on this, but it's worth noting: Of all the knives in this list, the MAC is the most guaranteed to come from the factory with a blistering sharp edge and keep it. Yes, MAC's manufacturing formula helps—but it's also their rigorous quality control. The head of marketing for the U.S. told me that in recent holiday seasons, they can barely keep up with orders. Why? Because they will not allow customer demand to put undo pressure on quality. They'd rather maintain the brand's integrity, than sell more knives. Music to my ears. . .and not a strain you hear much in this age of instantaneous factory to market.
Final note: From the MAC warranty materials: "Do not cut on hard items (bones, frozen foods, shells, squashes, cheeses, chocolate)." Do you need any more proof that you must be mindful with a Japanese blade—this one in particular? Revel in the sharposity, but treat it like a lady.
(And if you're ready to compare fine points between knives, don't forget my Best Chef Knives Specs chart at the end of the reviews.)
Miyabi Kaizen II Paring Knife,
3.5-Inch
BUY NOW @ Sur La Table
Yeah, I know, this is supposed to be about chef knives. But this is one gorgeous paring knife that will skin a peach like there's no tomorrow. Damascus-patterned steel wrapped around the latest hi-tech core that will take a fine edge and keep it. I bought one for myself a year ago and I still get a secret little thrill every time I slice up an apple. It's light, but stays in your hand because the handle has some girth.
Miyabi, as the name suggests, is a true-blue Japanese knife manufacturer acquired by Henckels in 2004. The majority of Miyabi knives available in the U.S. are Japanese/German hybrids—thin Japanese blades designed in the shapes/functions Westerners are accustomed to (chef knife, paring, boning, etc).
Of course, if what you really need is a chef knife, then scope out the Miyabi Kaizen II which is often on sale. The Miyabi brand exudes so much quality and style that soon I'll need to add it to the list as Recommendation #7.
Shun Classic Chef Knife, 8-Inch
BUY NOW $115–170 @ Amazon / Sur La Table
Shun, along with Global, is one of the most popular and well-known Japanese brands in the U.S. of "A." It's no wonder their flagship line, Shun Classic, is very attractive and very sharp. They're manufactured in Seki City, Japan, which, along with Solingen, is another knife-making capital.
Don't let the beautiful Damascus design on the blade fool you—it's much more than a pretty face. Sandwiched between 32 layers of swirly-patterned softer steel (16 layers per side) lies a slim, hard core that creates the edge. At Rockwell 61, it's harder than all the knives on this list. Which gives it the ability to hold a 16-degree edge for a very long time.
The sandwiched construction—derived from samurai swords—has a dual purpose. First, and foremost, it protects the hard but brittle core and allows the knife to flex without cracking or breaking. Second, the 16 layers on each side host the intricate Damascus pattern that embellishes the blade.
DAMASCUS STEEL
Traditionally, "Damascus steel" referred to a centuries-old technique (from the Middle East) of melding layers and layers of metal, not only to decorate, but to forge incredible strength, flexibility, and sharpitude into a sword. It could empower you with the ability to slice your enemy's saber in two. . .that kind of thing. This Damascus technique was, supposedly, lost. As of late, the term Damascus has been more widely used to describe a patterned visual effect created with very thin layers of steel. More style than structure. But the legend of Damascus's cutting power still lives on and there are master bladesmiths who feel they are rediscovering it.
FEEL FACTOR: Handle girth: average to chunky / Weight: 7.38 oz / Total length: 13.5 inches
I must admit when I first unpacked my new Shun 6-inch chef knife a few years back, I was stunned at how light it was. For someone accustomed to weightier German blades, the lightness felt almost chintzy. Silly me. Over time, I've now come to fully appreciate the way the lean, sleek blade can slice through denser foods with less resistance than my thicker German knives. Don't get me wrong, I'm not ready to abandon ship—but it's great to have Shun as an option.
Another reason the Shun Classic is on this Best Chef Knives list is its babelicious Pakkawood handle. Pakkawood is a man-made laminate, similar in construction to plywood, except that it's many more layers sealed under super-high pressure with a resin. It's easy to care for, highly water resistant, and just like natural wood, no two handles are identical.
Along with it's beauty, the shape of the Shun handle, derived from traditional Japanese blades, reads distinctive to Westerners. The rounder, D-shaped contour fits certain cook's hands better than those of other knives. So, if a typical Western-style knife handle has never felt comfy enough, here's another way to go. (Below: Shun Classic chef knife handle close-up)
Of the three Japanese-made blades, the Shun is the largest blade in total square inches. If you look at the "Width at Heel" number on my Best Chef Knives Specs chart, it won't be evident. But if you combine the Shun's width with it's actual blade length (longest of all the knives), you can begin to see just how sumptuous the blade is.
What does this mean in practical terms? For one thing: If you chop a lot of veggies in your kitchen, the Shun's spine will ride hide and not get lost in the mound of choppings. This will hold true for the Henckels and Messermeister as well who take up similar amounts of real estate. And, if instead of the Wusthof santoku, you opted for one of Wusthof's standard chef knives, it would hold true for it as well. These are broad, high-riding knives which allow for bountiful scooping (of those mounds of chopped vegetables) into soup pots. So if that's your schtick—put these knives at the top of your list.
Want to see to the Shun Classic chef knife in motion? Watch How to Cut a Pineapple Like a Pro where KitchenKnifeGuru wields a six-incher on an innocent pineapple!
Best Chef Knives Specs
HenckelsWusthofMesserGlobalMACShunWeight (ounces):8.7578.38677.38Blade length—actual
cutting edge (inches):7.636.637.636.757.888.19Overall length (inches):13.251213.511.7512.7513.5Width at heel (inches):1.811.691.941.811.941.88Thickness at spine (mm):3.02.52.81.92.62.2Handle length—grip area
(inches):4.134.254.134.253.754.63Handle girth:averageslimavg to
slimslimslimavg to
chunky*HRC (hardness):575857-5856-5856-5960-61*Rockwell Hardness (or HRC) is an internationally recognized system for evaluating the hardness of steel. Most kitchen knives run somewhere between HRC 56 to HRC 61. The higher the number, the harder the steel.
Back to Top
Visual Comparison of Chef Knives Only
Notice how the MAC's handle and blade shape stand out from the rest.

Overall Length
Left to right from longest to shortest in overall length.

Width at Heel
The knife with the narrowest width at heel (Wusthof) next to the widest (Messermeister).

Best Chef Knives Mostly Likely to Emerge from the Box Scary Sharp
OK, I still can't resist giving you some kind of broad roadmap regarding the cutting performance of these recommended knives out-of-the-box. (You know you want it, don't you?) So lets make a prioritized list.
The data for this list comes from informally testing the factory edges of brand-new knives, as well as professionally-sharpened edges of used knives, on 1) ripe greenhouse tomatoes, 2) news print, and 3) other veggies and fruits (including melons, onions, carrots, etc.). Plus, 4) using the knives in various everyday kitchen-knife tasks, 5) understanding their construction and the make-up of their steel, and 6) gathering opinions through the kitchen-knife grapevine. (Below: Best Chef Knives onion-cutting tests)
The knives grouped in twos are too close to call. The biggest noticeable difference in probability of factory-edge sharpitude should be between the three main groups.
1) MAC MTH-80 – Professional Series Chef Knife
2) Global Santoku (G-48)
—————————
3) Shun Classic Chef Knife
4) Wusthof Classic Ikon Santoku
—————————
5) Henckels Professional S Chef Knife
6) Messermeister Meridian Elite Stealth Chef Knife
Just remember: No matter what knife you buy—after it has been used for a year or two, and then sharpened by a quality professional sharpening service—it's cutting performance will be very very close to every other knife on this list. What matters most in the long run is high-caliber sharpening followed by zero abuse and regular honing. These will guarantee kitchen-knife nirvana. Not the ultimate chef knife. . .

MORE RECOMMENDATIONS
Haven't had enough? Check out bargains on chef knives at Quality Kitchen Knives on Sale.
PROS AND CONS — Best Chef Knives
Henckels Pro S Chef Knife
Pros:
– Classic design and feel
– Durable, tough steel; can withstand hard/tough foods; hard to chip, crack, or break
Cons:
– Weighty (although this is both a pro and a con depending on your preference)
– Softer steel requires sharpening more often
BUY NOW. . .
Wusthof Classic Ikon Santoku
Pros:
– Stylish, unusual design
– Curvy ergonomic, handle; slimmer than traditional
– Compact, but broad blade
– Durable, tough steel
– Thinner blade; less resistance and sharper factory edge
Cons:
– Not as easy cutting cumbersome veggies/fruits or chopping large quantities
– Softer steel requires sharpening more often
BUY NOW. . .
Messermeister Meridian Elite Stealth Chef Knife
Pros:
– Classic design; but slightly thinner and lighter
– Slightly wider/longer blade than Henckels
– Slimmer handle
– Durable, tough steel; slightly harder HRC than Henckels, might not need to be sharpened as often
Cons:
– Weighty (but slightly less than Henckels)
– Factory edge might need minor honing/touching up
– Softer steel requires sharpening more often
BUY NOW. . .
Global Santoku (G-48)
Pros:
– Modern, distinctive design
– Thin blade (less resistance), but pretty durable
– Light feel
– Slim handle
– Reputation of super-sharp factory edge
– Steel a blend of East meets West—hard, but not overly brittle
– Compact length, but full width
Cons:
– Handle a touch less grippy
– Must be a touch more careful than with traditional German knife
BUY NOW. . .
MAC MTH-80 – Professional Series Chef Knife with Dimples
Pros:
– Hybrid East-meets-West design
– Thin blade (less resistance)
– Nimble and light feel, but full length
– Slim handle
– Reputation of razor sharp factory edge
– Harder steel, thus finer cutting edge and better retention
Cons:
– Must be extra careful because of thinness and harder steel (bones, etc.)
– Cannot use on hard, dense foods like autumn squash, block chocolate, etc.
BUY NOW. . .
Shun Classic Chef Knife
Pros:
– Beautiful Damascus blade and Pakkawood handle
– Largest blade, ideal for chopping; lighter than comparably-sized Western knife
– Substantial, non-Western style handle
– Reputation of very sharp factory edge
– Hardest steel of all knives in this list, thus best retention
Cons:
– Must be extra careful because of thinness and harder steel (bones, etc.)
– Cannot use on hard, dense foods like autumn squash, block chocolate, etc.
– Don't drop on hard floor or porcelain/steel sink!
BUY NOW. . .
FINAL WRAP-UP — Best Chef Knives
Most Heft
If you like a weighty knife, the Henckels or Messermeister will probably please you most. They're forged German steel through and through and will feel the most solid.
Most Indestructible
Same as above—Henckels and Messermeister. While there is nothing to be gained by beating up your kitchen knives, these will put up with the most abuse.
Light and Nimble
The MAC, Global, and Wusthof should be at the top of your list if your need a-gile, mo-bile. . .
For Smaller-Size Hands
If you have smaller hands and want your knife to fit snuggly, the Wusthof, MAC, and Global should be your first picks. The handles on all three are more streamlined and less bulky.
For Larger Hands
If you have a larger hand or simply enjoy a meaty knife handle, the Shun wins hands down. . .followed by Henckels and Messermeister. The handles are long and the width of the blades should keep your knuckles from banging the countertop. (Actually, the Global will work pretty well in this regard as well—it's pretty roomy.)
Most Beautiful
The Shun and Global would be hard to beat. The Shun is designed in classic contemporary; the Global in high-tech modern. The Wusthof also, with it's curved handle, has some extra swish. (And rest assured, there's no sacrifice of performance for looks in any of these knives.)
Most Traditional
If you love tradition, or know you want a knife with a classic look and feel that will never go out of style, the Henckels is your man (or the Wusthof Classic). These are the closest to a vintage chef knife.
Master of Sharpitude
Finally, if you crave sharposity, if you're aching to get your tired chef hands on one of the meanest slicing-and-dicing machines on the planet—go with the MAC. You will not be disappointed. (Though Global should give it a run for the money.)
Six up, six down! As you can see, there are a lot of wonderful knives out there. Hopefully this short list of best chef knives has given you a taste of the possibilities. Remember, stay with quality brands—there's no free lunch—and stay with what feels and works best for you. It's your body. It's your kitchen. Have fun cooking!