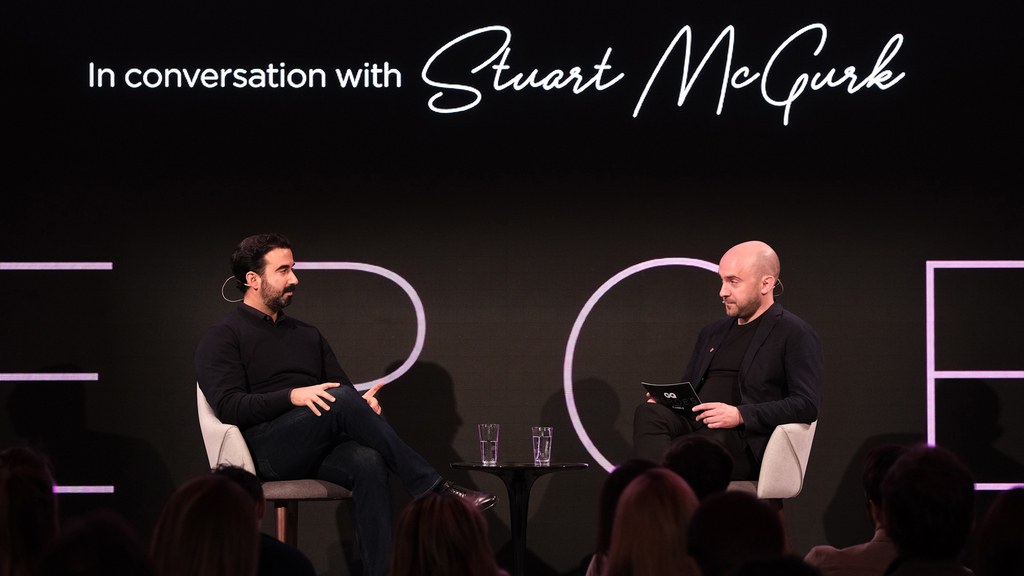 Ayman Hariri: 'Free doesn't exist on social media'
Originally posted on https://www.gq-magazine.co.uk/article/ayman-hariri-interview
When it came to curating the lineup for GQ Heroes, there was one tech entrepreneur we knew we just had to hear from. Ayman Hariri is the cofounder and CEO of the next-gen social network Vero, the platform providing an antidote to the Facebook, Instagram and Twitter fatigue we've all started to feel so strongly. As someone looking to radically reframe and restructure how we engage with social to make it align more closely with real life, Hariri is one of the most cutting-edge voices in the digital world right now. His platform is based on a no ads, no algorithms model and is committed to supporting incredible creatives in making content people genuinely care about.
---
Originally posted on YouTube by British GQ
During his conversation with GQ's Associate Editor Stuart McGurk, Hariri pointed to the problem of "free" social, whereby the user becomes the product, their data a currency. "We're focused on creating a platform that is an alternative to everything else by not having to give up on our principles at all and by concentrating on our users, who are our customers in this case," he said. McGurk and Hariri spoke about Vero's plans to introduce a subscription model in the very near future, where users will pay a tiny annual fee to use the app, although Hariri made clear that for now, "We're giving it away for free for life for anybody who registers." (You can join GQ on Vero here in under a minute.)
"We think that people's privacy is priceless, that their data is priceless. [Other networks] have taken advantage by putting a shiny object called free in front of users, when really free is nonexistent," said Hariri. "The underlying purpose of these platforms is really to mine data." Vero, on the other hand, plans to introduce a subscription model that gives users access to an ad free, algorithm free, data mining-free experience of social. Vero has become a digital home for artists and creators, with an limitless supply of incredible content to explore. Think short films by the likes of Zack Snyder, a mini documentary series from Jack Guinness exclusive insight into podcasts and a wealth of recommendations covering places, music, TV, film and books from inspiring tastemakers.
There's no spam, no bots. Just genuine interaction. "People ask me whether Instagram or Facebook are our competitors and the way I think about it is, actually, my competition is the damage that they've done," Hariri continued. "They're able to understand so much about you, there's a red line that's been crossed many many times and we felt that there was a need for an alternative."
Ayman Hariri in conversation with Stuart McGurk
© James Mason

It's a project that's been years in the making, with five million registered users now tapped into Vero, from big names such as Yahoo Finance, Paramount Pictures and Ozwald Boateng to a diverse range of thriving creative communities made up of thousands of people across the world. A big one is photography, for example, with legends such as Rankin and Greg Williams leading the way. And it's still growing. "We're not hiring thousands of people to build a new app in the blink of an eye," said Hariri. "We're taking our time because we feel like features that have been built into these apps today are messing with our minds, messing with the way that we feel about ourselves." So which does he see as particularly dangerous? "Filters that let people change the size of their noses," he said, "and the way that these apps influence people to perceive their own lives, their need to perform for a crowd rather than just connect up with their friends"
How did he come up with the idea for Vero? "I got into social quite late and when I did I noticed that my friends were acting quite strangely, in a way that I didn't recognise in them in the real world. I mean even events dinners that we went to, they were just blatantly exaggerated," Hariri explained. "We're social creatures. We want to connect with each other… But it's being taken advantage of. It's the engine that's driving these platforms to only get to know as much about you as possible in order to serve you an ad, not to cure cancer and not to eliminate wars."
© James Mason

The talk finished with a big question from McGurk: "Facebook has been embroiled in nothing but controversy the past few years, what with all the data breaches. Imagine I gave you Mark Zuckerberg's job, what would you do?" Hariri told McGurk that at this point, he doesn't think Facebook's issues are solvable, because "When you start down the path having free as part of your model, it becomes really difficult to change that. You end up with some people that pay, some people that don't."
Hariri has been taking the long view, making sure that Vero is clear of anything potentially harmful by being patient. "We haven't taken outside capital investment, which allows us to really be true to our concept, that the real social network is the one that exists in the real world. Our job is to try to put that online," he said. "What we strive to do is remind people that what's important is connecting with other people with similar interests, because you can learn something, you can be inspired."
Follow GQ on Vero for exclusive content and commentary from GQ Heroes, for all the latest music lifestyle news and insider access into the GQ world, from behind-the-scenes insight to recommendations from our Editors and high-profile talent.
Find out more about Vero at vero.co