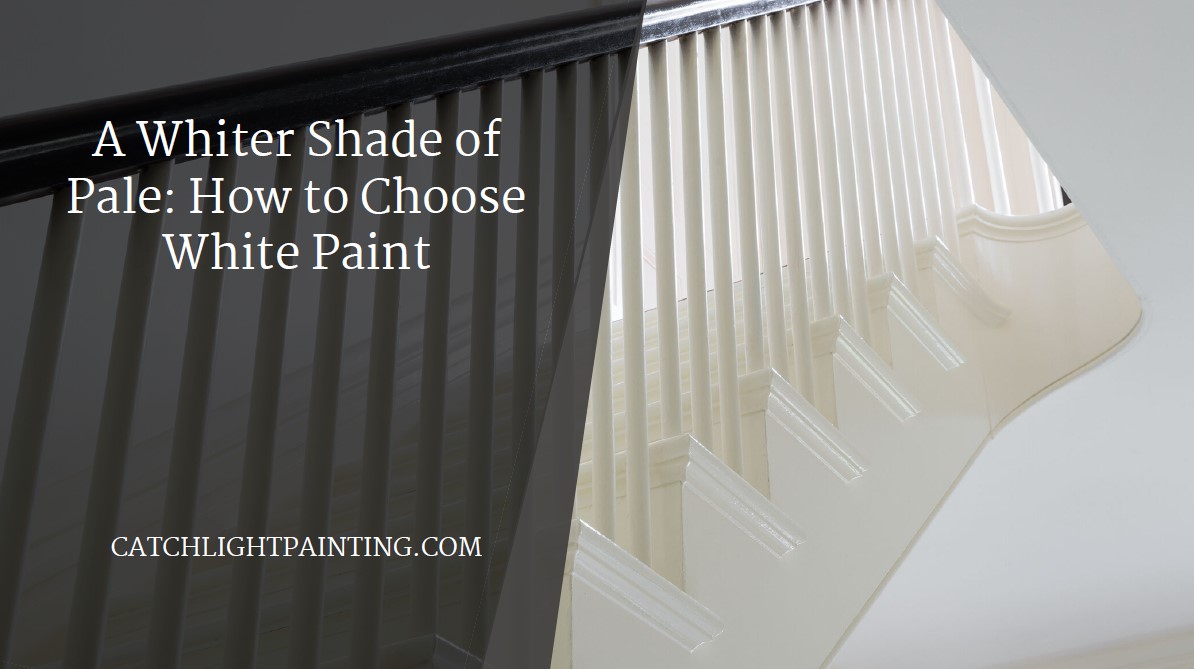 A Whiter Shade of Pale: How to Choose White Paint
If you're considering painting the interior of your home, one of the most important decisions, and often the most stressful, is which color to choose. Color trends come and go, but what remains true is that color can dictate the entire mood of a room. Regardless of current fashion, you'll want to choose a wall color that you can live with for years to come.
This is one of the reasons that the color white has been so popular over the years. Its classic look can be paired with almost any furniture and accessories, and its reflective quality makes a room appear larger and airier. Sounds like the simplest color choice, right?
Wrong. Here at Catchlight, we work almost exclusively with Benjamin Moore, which has 150 shades of white paint. Why so many? Each white has an undertone, or a tiny speck of color that is almost undetectable, but makes each white a nuanced, situational color. These undertones are red/pink, blue, yellow, and green/gray. How do you know which is best for your interior painting project?
To help you choose among so many shades of white paint, we've identified important factors to consider:
The Amount of Natural Light
Geography, and the light that is inherent in different regions of the country, is an important factor to consider. Northeasterly locations like New York and New England tend to emit a lot of gray light, so it's best to find a shade of white paint that balances the cooler gray. In the south and southwest, in places like Miami or Phoenix, the light has a lot of blue filtered through it, causing some whites to take on a pinker cast. In these locales it's best to choose a cool white paint to temper that warmth.
The direction of a room and the natural sunlight that comes through the windows also affects how white paint appears on a wall. In a room facing north, the light tends to be on the colder side with gray and blue hues, so a warmer white will work best. In a room facing south, the sun is much brighter, perfect for a cooler shade of white paint. In eastern- and western-facing rooms, the light changes throughout the day. They are both typically brighter in the morning and dimmer in the afternoon, but rooms facing west tend to take on a golden hue as the sun goes down.
Once you've determined the type of natural light that comes into the room, you want to consider the amount and type of artificial light you use. According to Remodelaholic, "What looks like a safe bright white on a paint chip card can look dirty white or even cream in artificial lighting." Rooms without a lot of natural light do well with a white that has gray or greige undertones. A room with a good amount of sunlight will do better with a cool or true neutral white, which will keep the room from taking on a yellow or pink tone.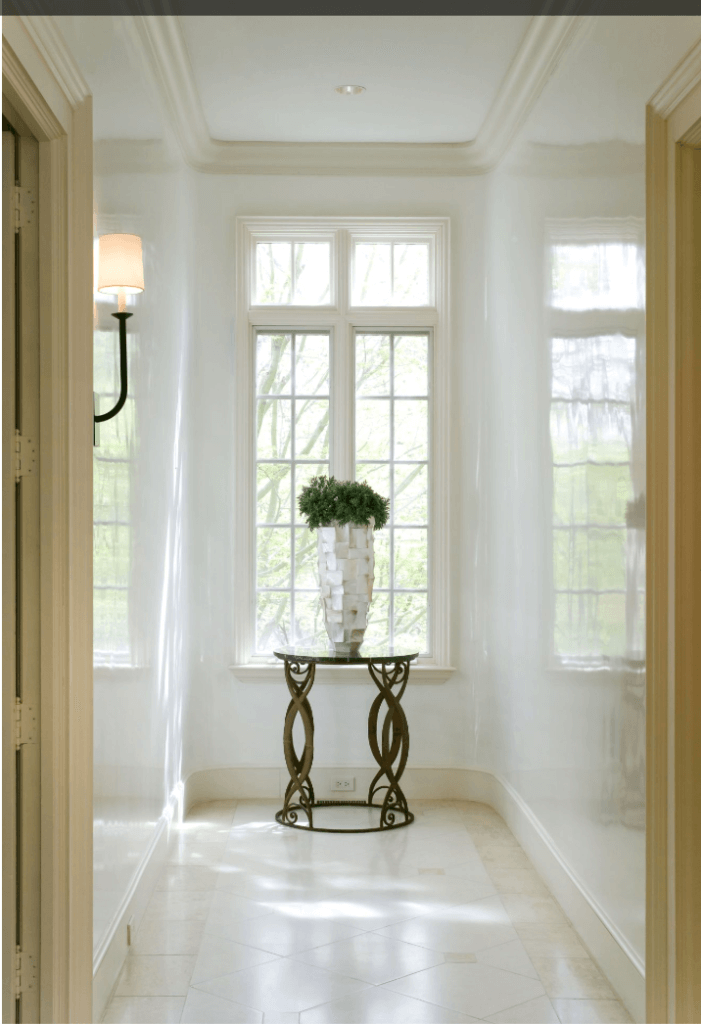 Matching Your Room's Function and Existing Color
How you plan to use your newly painted room is an important consideration when choosing white paint as a color. Kitchens and living rooms are more conducive to warmer tones than an office or a bedroom. The style and color of your furnishings should also be considered, as the reflective quality of white paint can pull from the furniture and return those colors back into the room.
Don't forget to consider the impact of floor color. Our client and friend, Remodelista's Justine Hand, pointed out that the color of your floor can also affect the look of your white walls. "I wanted a warm, welcoming white in my hallway, so I turned to one of my favorites, Crisp Linen by BM. I used it to great effect at my Cape Cod cottage, which had black floors. However, when I used this same paint in my Newton hall, it picked up the orange tone from my varnished floors and appeared way too yellow."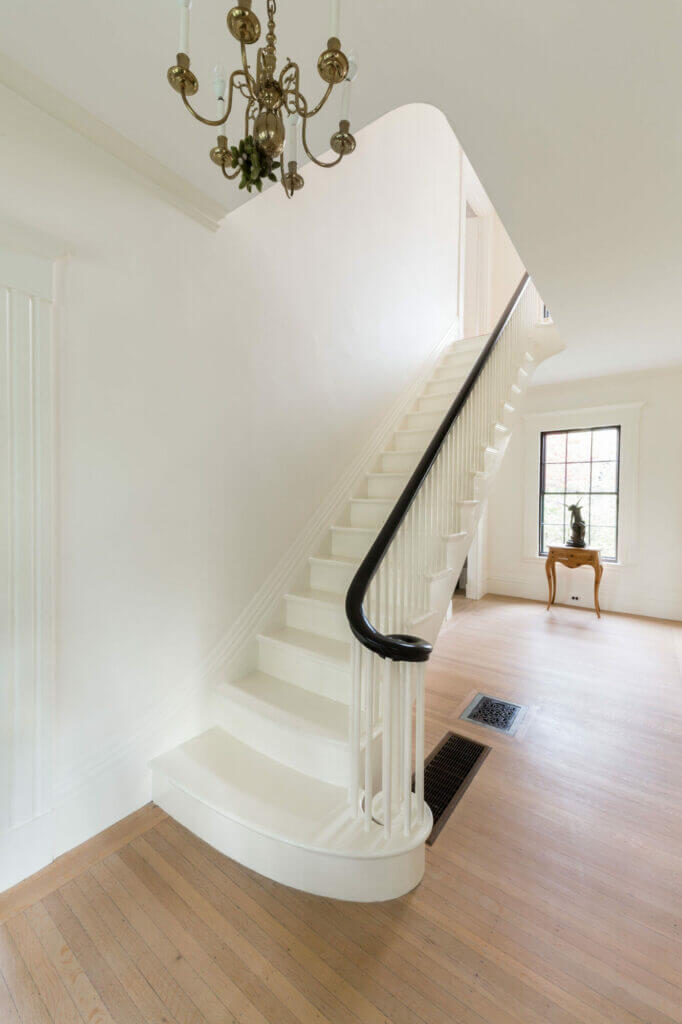 Don't Forget About Trim
A good rule of thumb is to keep your trim shade simple. The differences in whites are hard to detect on trim. "Choose a white that has an undertone of your wall color," says Justine Hand. "It will still read as clean white, but the overall effect will feel more cohesive." Some people prefer to use an un-tinted white, feeling it will add depth to the room and make the wall color shine. However, that contrast against colored walls can be jarring, and can actually make the room look smaller.
If you plan to paint your entire room white, it's not necessary to choose a different shade of white paint for the trim and ceiling. Instead, consider a different finish. A popular finish combination is semi-gloss trim with eggshell walls and a flat ceiling, but a general rule is to give the trim a finish with more shine than the walls. If you do choose a white with a glossy finish, whether for walls or for trim, remember that whites can take on a yellowy tone with lacquer finishes, especially if it already has a yellow undertone.
In rooms like kitchens and living rooms, you might consider choosing different shades of white paint, one for the walls and one for cabinets or bookshelves. The contrasting whites will add interest and depth, highlighting some of the room's most important features.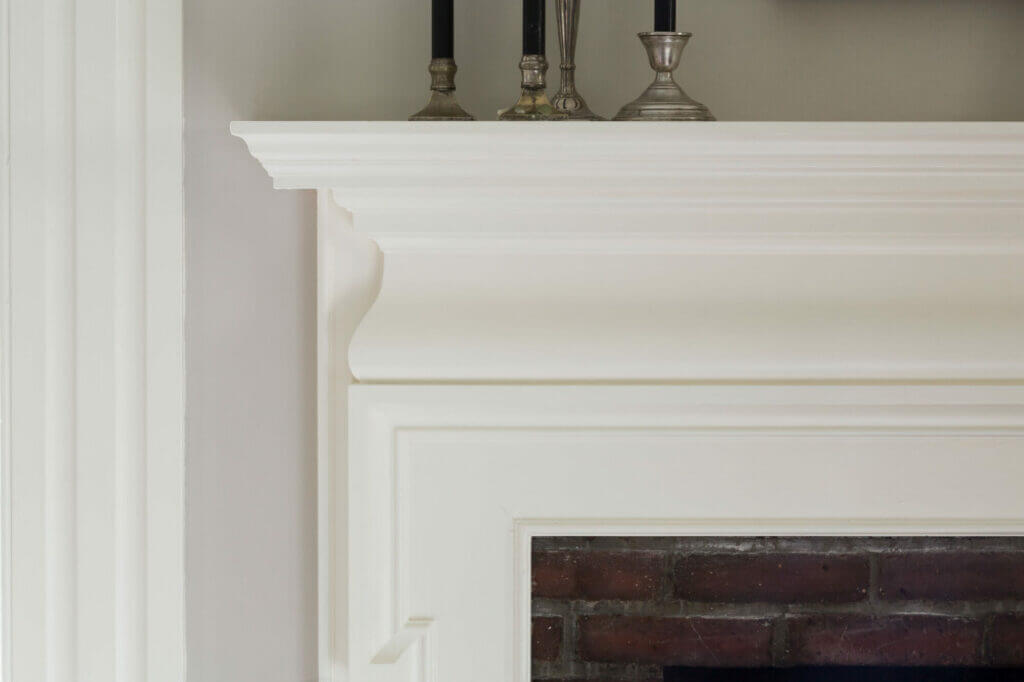 So, How to Choose The Right White Paint?
You've assessed the natural light in your room and the function of the space. Now, it's time to look at paint samples. But how do you begin when there are 150 whites in Benjamin Moore alone? Whether you go to a paint store or ask us to bring color samples to your home, we like the simple advice that appeared in a National Post article: "Bring a piece of white paper with a square cut out so you can focus on the color you're considering without being influenced by those around it." The undertone of any white paint should show up just fine against the plain white of paper.
Narrow it down to a few shades you think will work, then try them out in your home. It is important to see how they work in different parts of the room and at different times of day. In a Consumer Reports article, an artist and textile designer from Georgia named Susan Hable revealed that "she puts five or six [paint chips] at a time [up in a room], stacking them vertically near the trim of the door." We're happy to help you by bringing our many sample decks to your home. If you prefer a larger view, we can paint a moveable canvas or poster board or we can paint straight onto the walls. Whichever approach you choose, you'll want to be able to make direct comparisons.
Picking the right white for your home is not always such a simple choice. British author Gilbert Chesterton summed it up perfectly, "White…is not a mere absence of colour; it is a shining and affirmative thing, as fierce as red, as definite as black." We couldn't agree more! Call us at Catchlight. We'll help choose just the right color white paint for the way you want to live in your home. And when it comes time to get the job done, we guarantee you'll be delighted with the results our interior painting crews deliver.