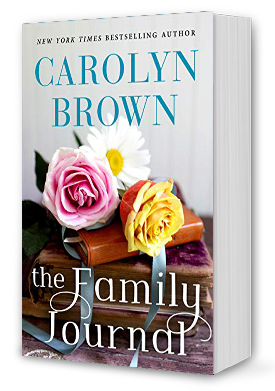 Author Carolyn Brown Returns To Her Roots For Her Hundredth Novel
With silver hair tied in a knot on the top of her head, a sweet tea infused southern accent, and pithy one-liners, Carolyn Brown is exactly who you would expect to write heartwarming stories of love, loss, and friendship. As she releases The Family Journal, her landmark one-hundredth novel, Brown reflects on the ups and downs of her career.
"For twenty-five years I collected rejection slips. I do believe I have enough to wallpaper the White House. I don't mean that little two holer down at the end of the path in Grammie's back yard, but the one in Washington, D. C."
Raised by a single mother and blind grandmother, Brown credits maternal influences for her persistence. "My mother was the strongest, most fearless woman I've ever known. I've always said that she would face off with the devil and expect to put the flames of hell out with a cup of water."
Brown spent decades dedicating herself to her craft. "I knew in my heart and soul that writing is what I was supposed to be doing." So with a typewriter that her husband, "Mr. B," purchased second-hand at a garage sale, Brown continued to write until she was published.
Finding success later in life, Brown has gone on to sell millions of copies of books and climb national bestseller lists. This month, the same typewriter that she began with will be on display at the Johnston County Chickasaw Bank Museum alongside memorabilia from Te Ata, Gene Autry, and Blake Shelton. Just as her fellow artists are known for deep ties to their communities, Brown praises her southern heritage for her creativity.
"Texas-born and Oklahoma raised, moving from one state to another, making new friends, raising children and participating in all their events, growing older and I hope wiser instead of just wider—those things have definitely influenced my writing."
Another important hallmark of Brown's stories is the small towns. The author says these places have a heartbeat all of their own. "Everyone knows everyone else, knows what they are doing and when…and reads the local newspaper every week to see who got caught."
To navigate the ins-and-outs of her fictional southern settings, Brown keeps an old Texas map covering her writing desk. But shortly after finishing her latest novel, she had to say goodbye.
"I put my map to rest in the back of my file cabinet. It's been with me so long that I couldn't bear to throw it away. It's in too many pieces to tape back together, but there are marks on it showing settings for my books for the past several years."
Readers shouldn't worry about Brown running out of ideas just yet. "I have a brand new map on my desk now!"
The first stop on her continuing journey is Comfort, Texas in The Family Journal which introduces readers to the Andersons. Featuring a single mother who moves back to her hometown in hopes of keeping her teenage daughter from trouble, the novel shows the importance of returning to your roots.
"My hundredth novel is a story is about several generations of strong women in the past, a mother who's at her wit's end in the present, and a young daughter who represents the future. It's family from the emotional first scene to the last."
For more information about Carolyn Brown and her newest release The Family Journal, visit the author's website at https://www.carolynbrownbooks.com/.