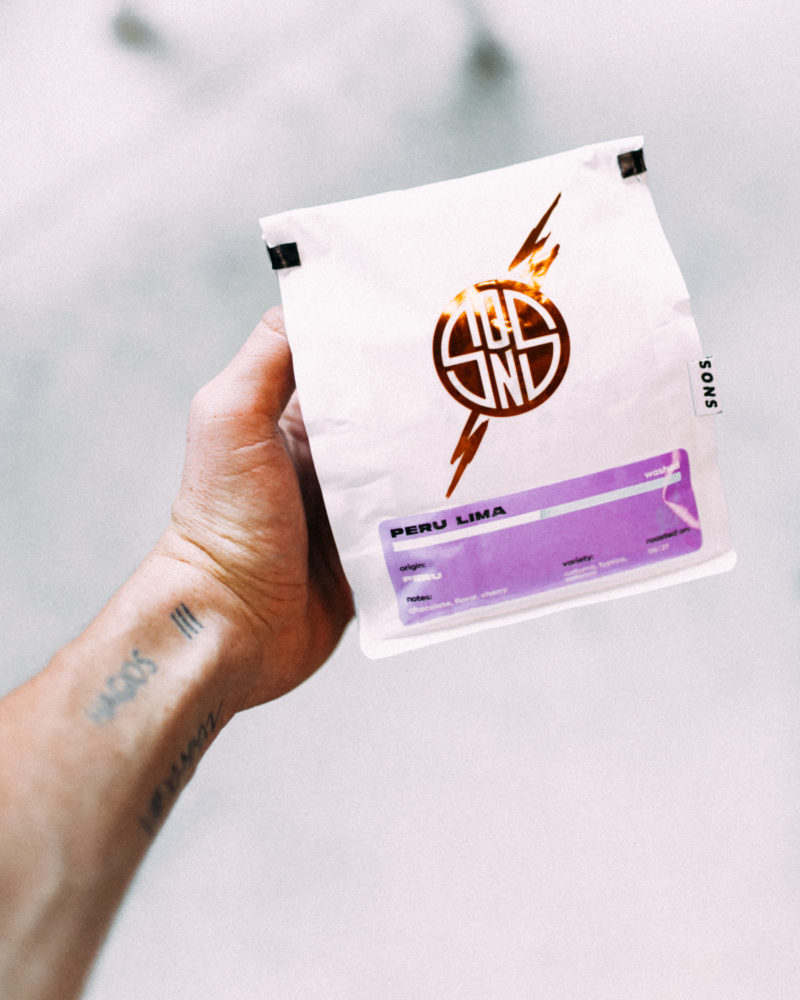 An Update from Sons – Roasting, New Logo, the Future
Originally posted on https://sonscoffee.com/update/
Hey friends. We have some updates! As you know, over the past 17 months, we have created something really special. A coffee brand that we dreamed about for years.  We went on a journey to launch a coffee company that did things a little different and had a lot of heart and intentionality behind it. Since incorporating our company in late 2017, we have evolved into an amazing, growing brand that not only serves coffee, but sources it, roasts and so on. So we want to share a little bit about what we're growing into. 
WHY WE STARTED
When we started, our goal was to create a culture where we would refuse to stay the same or to do things without a real purpose.
OUR MISSION IS SIMPLE:
"IF WE'RE GOING TO DO IT,
WE MIGHT AS WELL DO IT BEST.
AND IF WE HAVE TO GO SOMEWHERE,
WE MIGHT AS WELL GO WHERE NO ONE ELSE HAS."
We knew that in order to carry that mission, we had to be incredibly selective in who we hired and every decision that was made. Often times, we would interview 7-10 people in order to hire the right person that would add to this culture.  We have been creating our culture, our values, our vision and most importantly, building up and empowering a staff that we trust can take us to the next level.
FROM SHOP TO ROASTER
Throughout this time, we have changed a lot of things in our original shop, Sons of Liberty Coffee in Downtown Fort Worth: more seating, a supply shop, tacos…the list goes on. We have been developing systems that make us as efficient as possible and to care for our customers as best we can. Recently, we have been spending most of our time outside of our shop, tucked away at our new roasting facility, working to make the best coffee.
FOR MORE THAN 6 MONTHS, WE HAVE BEEN MEETING WITH SOME OF THE BEST ROASTERS IN THE COUNTRY AND ROASTING DAY IN AND DAY OUT
With all of this being said, we have been working hard in the background over the past year and a half to get us to where we are now. We are by no means satisfied of where we are today. We plan on staying hungry and innovative. It is who we are. We say all of this to share more of who we are.
OUR NAME: SONS
This is us moving forward. If you have been to our shop, you have seen our goals and beliefs of who we are. We were fascinated by the Sons of Liberty. They refused to stay the same. If you know the story, they were a group of young people who fought for what they thought was right. They refused the tax increase on teas made by the British. This simple act led to the the freedom of our nation as well as the change from tea to coffee as the drink of choice in America. If it was not for those guys, we would still be sipping tea in the mornings. They were unwilling to compromise.
BUT OUR NAME HAS MUCH MORE MEANING…
We decided to go with the name Sons for our roaster and overarching brand. Not only does it tie in to the Sons of Liberty, but it has a lot more meaning. Sons are known to be the ones that carry the family name, tradition and legacy. Sons are the ones that are known for pushing things forward and building on what they were given. Choosing the name Sons for us meant that every one of us, man or woman, is meant to carry a name and a legacy. We are all here to make things better and to push things forward.
CHOOSING THE NAME SONS FOR US MEANT THAT EVERY ONE OF US, MAN OR WOMAN, IS MEANT TO CARRY A NAME AND A LEGACY
As we have become a roaster and are growing, we have decided to move forward as Sons. We believe that we have a standard to carry and a name to live up to. And our goal is that whoever is part of our family, whether that be our customers or our employees, that they too will choose to carry the name well and push it forward.

OUR VALUES
These encompass who we are and what we do every single day.
GENEROSITY
You're not great by being great. You're great because you make those around you great by giving of yourself.
HARD WORK
We will work our hardest. Or what's the point of showing up?
PASSION
If you're going to do it every day, make sure it's something you love.
CURIOSITY
By asking more questions, we learn to go where no one else has.
Lastly, we realized that if we are going to do this, we might as well do it the best. We will work harder every day to make sure that we live out these values well.
THE FUTURE
We will keep on with our mission which leads us to doing what has never been done in coffee. We are going to give you the best cup of coffee every time you visit a Sons location or when you order Sons Coffee at Home.
Shhh…. don't tell anyone, but a new Sons location may be in the works.
AS CLICHE AS IT SOUNDS, YOU ARE THE REASON WHY WE'RE DOING THIS
You are all part of our name and we cannot wait to bring more people along the way.
So go on…
CARRY THE NAME
PUSH IT FORWARD