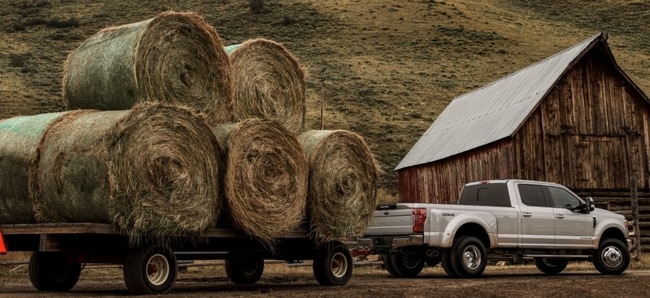 An Overview and Comparison of the 2021 Ford F-250 and the 2021 Ford F-350
Originally Posted On: Vehicle Overview and Comparison: 2021 Ford F-250 & F-350 (eckenrodford.com)
When you're hauling heavy machinery or a deluxe camper for a weekend away, you need a truck you can rely on. Since 1903, Ford Motor Company has been manufacturing powerful trucks. They're one of the longest standing truck brands in America.
Ford has a line up of 6 different trucks to choose from. The two super-duty models that stand out for most businesses and individuals are the Ford F-250 and F-350.
With this vehicle overview, you'll find out which truck fits your needs best. Both models are dependable, eye-catching, and designed to get you through the toughest jobs. Regardless of how demanding and heavy your payload or trailer is, the F-250 and F350 can handle it.
Buying a new truck can be both exciting and stressful. You want something reliable and designed to fit your unique needs. The good news is truck hunting doesn't have to be. Check out this deep overview and comparison of the 2021 Ford Super Duty F-250 and F350.
The Super Duty Vehicle Overview
Ford has a range of great-looking and dependable trucks ranging from the sleek but modest Ford Ranger to the powerfully robust Super Duty Series. The Ford Super Duty family began in 1999 and consists of the F-250, F-350, and F-450 but not the Ford F-150. The most popular options for cost, reliability, and versatility are the F-250 and F-350 models.
These trucks feature a heavy-duty chassis with additional suspension components. This gives the Super Duty trucks a greater payload and improved towing capabilities. The Ford Excursion, a full-size SUV also uses the same chassis as the Super Duty lineup.
You can customize any Super Duty truck in the series to be a bare-bones workhorse or a comfortable luxury-filled towing machine. This versatility is a major draw as it allows some individuals and businesses to save money on the cost.
The 2021 Ford F-250 and F-350 boast impressive engines, reliable transmissions, and powerful towing capabilities. These trucks weigh in at three quarters of a ton and a full ton, respectively. It's no surprise these trucks have best-in-class power and torque.
Both models offer several trims and truck configurations for a greater variety of customizations.  This also includes impressive off-road capabilities with the Ford Tremor package. You have the ability to literally build your heavy-duty truck around your work.
Ford Super Duty Interior Trim Levels
Both the Ford F-250 and F-350 have the same cab and trim options. You can choose from a regular, super, or crew cab for both trucks, as well.
There are 6 different trim levels available for both trucks. They range from the basic XL to the highly comfortable Limited. Here's a closer look at each.
XL
The XL is the Ford Super Duty's base model, starting at $35,925 for the F-250 and $37,440 for the F-350.
This trim comes with automatic high beam halogen headlights, 17-inch steel wheels, Roll Stability Control via AdvanceTrac, and extendable side mirrors. Air conditioning, hill-start assist, two 12-volt outlets, and manual door locks and windows. The vinyl bench seat offers 40/20/40 split seating.
The XL also comes standard with Bluetooth, Wi-Fi, USB ports, and the Ford Sync infotainment center.
XLT
The XLT is about $5,000 more and comes with 18-inch alloy wheels, remote keyless entry, powered tailgate lock, and power locks, side-mirrors, and locks. You'll find cloth upholstery, two 100-volt outlets, under-seat storage, and the Ford Co-Pilot360 driver aids.
The XLT doesn't skimp on Ford technology as it comes with a Sync 3 infotainment center, USB-C port, navigation, and satellite radio.
Lariat
The Lariat starts at $48,905 and $50,070 for the F-250 and F-350, respectively. This trim comes with heated and power-folding mirrors, a leather-wrapped steering wheel, and upgraded 18-inch wheels. The front bucket seats are power-adjustable and complete with leather upholstery.
Enjoy comfortable dual-zone climate control, powered rear window, and an 8-inch infotainment center. The other technology you'll find in a Ford Lariat matches that of the XLT trim.
King Ranch
If comfort and convenience are a necessity, the King Ranch will fit your needs starting at $61,290 and $62,805, respectively. Headlining trim features include remote start, heated/ventilated leather seats, and LED bed lighting.
Enjoy power-adjustable mirrors and pedals, memory settings, rain-sensing wipers with de-icing abilities, a heated steering wheel, and Ford's Ultimate Trailer Tow Camera System with 360-degree viewing. The King Ranch editions have a rear backup camera, wireless phone charging, and a Pro Trailer Backup Assist Package.
Platinum
This trim level will boost your wheels to 20-inch alloy and quad-beam LED headlights. Advanced safety features include adaptive cruise control, collision warning, and brake support.
The comfort-side of this trim includes heated rear seats, upgraded leather upholstery, and multi-contour front seats for added support. This trim removes the adjustable pedals and replaces them with retractable running boards.
The Platinum trim level is just over $67,200 for both the F-250 and F-350 trucks.
Limited
What sets the Limited edition trim apart from the rest is the standard diesel engine. Inside, you'll enjoy dual-colored leather seating, adaptive steering, and power-adjustable pedals. There's a 2-panel sunroof, up fitter switches, and a retractable bed step.
Any features found in the higher trim tiers are customizable for the lower-end trims.  A few other optional luxury bonuses you can add to both the F-250 and F-350 include:
Drop-in or spray-in bed liner
Skid plates
Tonneau cover
Storable loading ramps
Backup alarm
Console vault
The two trucks offer the same bed box sizes. Choose from the shorter 6-foot 9-inch bed or the longer 8-foot bed. These F-Series Super Duty truck trims will make getting your job done easier, safer, and much more comfortable.
The Ford Super Duty Engine
Despite their differing sizes, both the F-250 and F-350 offer the same three engines.
The first engine option is a 6.2-Liter Boss SOHC V8. This engine has a 385 HP capacity complete with a durable 430 pound-feet of torque.
The second engine option is the powerful 6.7-Liter Power Stroke V8 Turbo Diesel. This engine offers a 450 HP capacity, can tow up to 20,000 pounds, and has a whopping 1,050 pound-feet of torque.
The third engine is the 7.3-Liter Gas V8. This engine offers a 430 HP and maximum torque power of 475 pound-feet. It can tow up to 19,500 pounds in a fifth-wheel/gooseneck.
These two engines come with the option of a 6-speed or a 10-speed automatic transmission. The 10-speed is readily available in the F-350 and F-450 models but you can configure the F-250 with a 10-speed.
The two Super Duty trucks come with rear-wheel drive with all-wheel drive as an additional option. The transmission can support rear-wheel and 4-wheel drive options. The Super Cab and Super Crew cab options are available in full-time 4-wheel drive.
What many don't know about the 2021 F-250 and F-350 engine is it has bi-fuel conversion. The engine can run on gasoline along with a secondary fuel such as propane or compressed natural gas (CNG).
You have a lot of flexibility when it comes to buying a new truck from the Super Duty line. The F-250 and F-350 have a lot of important common features. Since both have the same engine options available, you'll find they both perform exceptionally well.
Now that you're familiar with the similarities, let's check out the differences between the two models.
The Ford F-250 Rundown
The Ford F-250 is the smaller of the two Super Duty trucks and typically doesn't require any kind of special license to drive. While it boasts the same powerful engine as the F-350, it's better suited for slightly smaller projects.
Towing Capacity
The most noticeable difference between the two trucks is the F-250 has a lower towing capability. If you're planning to use your new truck for towing heavy payloads, you'll want to consider the F-350.
That's not to say the F-250 doesn't have an impressive payload. This truck can tow up to 18,500 pounds and has a payload of 4,270 pounds.
You can, however, configure the F-250 build to tow more efficiently if needed. The F-350 has a greater number of high-power configurations making it a better option for heavy towing and more.
Fuel Economy
The fuel economy of the F-250 depends on the engine. The 6.7-Liter Power Stroke V8 Turbo Diesel averages 51 MPG in the city and 46 MPG on the highway. This averages the MPG at around 49 MPG.
The gas-based engines do not have an EPA suggested MPG due to the vehicle size class. Many are finding the MPG is in the low 20s on the highway and possibly upper teens when driving in the city.
The F-250 has 39 and 42-gallon fuel tank capacity options for both diesel and gas engines.
The Drawbacks 
The main drawback to the F-250 is it doesn't tow as much as its F-350 counterpart. The Tremor package allows the truck to drive surprisingly smooth on the pavement but isn't as smooth off-road. The Tremor tackles off-road adventures well but it's incredibly bumpy and harsh.
The available trims of the F-250 are not impressive. The base trims offer very little while top trim options are expensive compared to other truck brands of similar caliber.
The Ford F-350 Rundown
The F-350 is a slightly larger and beefier truck. While it shares many of the same features as the F-250, there are a few notable differences that set this truck apart.
One of the most noticeable differences of this Super Duty model is it comes with dual rear wheels. The cost of the F-350 is slightly more than the F-250 but not by much. If you're a business owner in need of a commercial vehicle, the F-350 is a great option.
Towing Capacity
The Ford F-350 Super Duty is a lean mean towing machine with best-in-class ratings for towing. It can tow upwards of 37,000 pounds with a gooseneck trailer. With the dual rear wheels, you can haul a maximum payload of around 7,850 pounds.
The F-350 has a 4-inch rear block which is over an inch larger than that of the F-250. It features a suspension specifically designed for efficient and powerful towing. The F-350 has a tighter rear spring and a reinforced midsection, making it more durable for towing heavy loads.
If you need a highly robust truck with a high towing capacity, the F-350 is the better option.
Fuel Economy
Due to its vehicle class, the F-350 doesn't have an EPA-given average MPG. You can expect the F-350 to have comparable if not slightly less MPG than the F-250. The diesel engine, however, will get better fuel economy than its gas versions.
The Drawbacks 
The most notable drawback of the F-350 is its interior and trim levels are disappointing and expensive. Like with the F-250, the Tremor off-road package also isn't impressive when off the pavement. It's bumpy and loud.
Some states will require a commercial vehicle license (CDL) for the F-350 due to its high towing capacity. Insurance and vehicle registration rates will also be more expensive than the F-250.
The Benefits of F-250 and F-350
The 2021 Ford trucks in the Super Duty lineup are incredibly durable and powerful. Both are big trucks and drive as such. To make driving them a little easier, you can equip your new Ford Super Duty with:
Co-Pilot360 safety technology
10-speed automatic transmission
Blindspot alert
Automatic high beams
Automatic emergency braking
Lane-keeping assistance
The cabin is surprisingly quiet for such a large and powerful line of trucks. It also has a ground clearance of 10.8 inches and a wading ability of around 33 inches.
A Final Vehicle Comparison: Which Is Best For You?
This vehicle overview should give you a good idea of the similarities and differences between the F-250 and F-350. Anyone needing optimal towing capacities for heavy projects should consider the benefits of the F-350. If you don't need something that robust, the F-250 is a great truck with equally impressive capabilities.
Have questions or want to learn more about the 2021 Ford Super Duty lineup? Let's get in touch and we'll get you driving a new Ford Super Duty truck today!