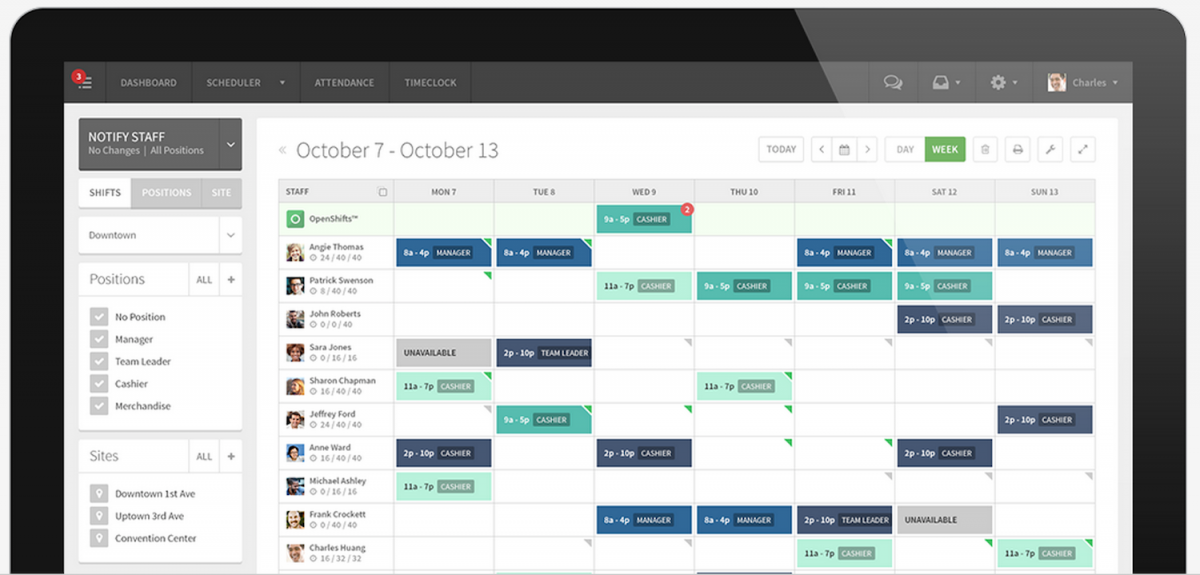 An employer's guide to scheduling software
Originally posted on https://www.besttechie.com/an-employers-guide-to-scheduling-software/
As a business owner, it's crucial that you find a way to pay your employees at every pay cycle without delay. Timesheets might work well for a while, but as your business grows, timesheets and all of the paperwork that goes with them can be an administrative mess when the end of the financial year rolls around. Furthermore, manually entering the time worked by your employees and scheduling shifts makes it difficult to keep track of employee attendance as your business grows and you hire more people.
One way to stay on top of payroll and employee attendance is to install labour scheduling software that reduces the workload for managers. Basic software allows managers to schedule shifts and employees to enter the time they worked with ease. Nowadays, there is a wide range of tools available for business owners looking to improve their employee scheduling procedures. However, with so many great employee scheduling software packages available, it's important that you take the time to choose a solution that will meet the needs of your business.
Let's take a closer look at just some of the features that you should look for when purchasing employee scheduling software.
Payroll reporting
One of the most useful features of modern scheduling software is that they include payroll integration. This works great for generating EOFY reports and tracking daily, weekly, and monthly activities. This integration can also help when having to send out employee payslips and other financial reports. With every pay cycle, payroll officers simply need to review the entries for any omissions or anomalies and then submit the payroll to accounting for processing.
Attendance reports
When it comes to efficient scheduling, reports generated by the software can be used to track peak business times, so you can effectively schedule employees when there is more work to be done. This helps managers to avoid having to send employees home early because they have too many staff on the clock when there is not enough work. Having software that can generate reports to compare productivity with employee attendance saves money and can help you to be considerate of your employee's time as well.
Editing functionality
Installing employee scheduling software that allows managers to edit the schedule after it has been submitted is something that you should look for. If employees forget to clock in or out or if managers need to edit the schedule for any reason, this functionality makes it easy for managers to make changes as needed. Also, having this ability means you don't have to spend additional time revising mistakes for payroll purposes.
Application for leave requests
Consider choosing a software package that will allow your employees a certain amount of interactivity as well. Some important functions of your scheduling software are time-off requests and availability. A program that allows employees to request time off and to input their availability can be priceless for managers. When the scheduling menu pops up and managers set schedules, times, where employees will be unavailable, are automatically blocked out, so managers only schedule their employees when they are available. This functionality can single-handedly get rid of those pesky post-it notes stuck everywhere listing everyone's leave requests and availability.
Compatible with mobile
Finally, most software packages come with a mobile-friendly app for both employers and employees to use. When looking for employee scheduling software, consider packages that will allow you to work from mobile devices. Managers with access to scheduling software can plan schedules from anywhere and employees will get updates to their schedule directly to their phone, meaning they are always up-to-date with the latest roster.
Focusing on functionality with employee scheduling software
Your employee scheduling software should ultimately focus on providing everybody at your company with more functionality. Managers should have a full range of built-in functions to plan their schedule around the most needed time to create the most efficient and effective schedule for employees. Employees should also be able to communicate their needs to employers through these programs with ease. Features such as reminders and a messaging system that communicates information between managers and employees can also be very useful. With the right scheduling software, you can save time, money and ensure your business is running as efficiently as possible.