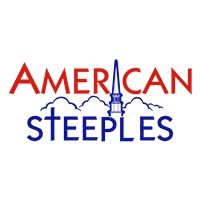 American Steeples and Baptistries Launches New Website
FOR IMMEDIATE RELEASE
Wedowee, AL, February 22, 2021 – Proudly operating as a family-owned business, American Steeples & Baptistries is excited to announce the launch of their new website. Providing church solutions including steeples, baptistries, crosses, and more, the new website streamlines the browsing process for customers.
The website showcases their impressive nationwide work portfolio and a wide variety of product designs are now available to browse. The clear menu structure allows for a more organized and comprehensive aesthetic.
American Steeples & Baptistries is proud to be more than a production company. Brian and Holly Strickland, the couple behind the business, are the backbone of all operations and believe holding strong personal and professional morals and values are attributable to the company's success.
"It's our faith and passion for Christ that has guided us through each and every project. Our strong beliefs and values are reflected in this company," Strickland said.
American Steeples & Baptistries works with houses of worship all around the United States to provide unique church steeples, steeple accessories, cupolas, baptistries, and crosses for churches. Many products are customizable to meet specific requirements and custom build inquiries are also accepted.
American Steeples & Baptistries LLC.

American Steeples & Baptistries is a family-owned and operated business that is dedicated to creating magnificent church solutions. Their Christian faith and strong ethical values guide them through producing customized church accessories. American Steeples & Baptistries is based in Wedowee, Alabama, and serves communities nationwide. Learn more at https://www.americansteeples.com/.
Media Contact:
Katie Brown
Account Coordinator, Inner Spark Creative
Phone: (334) 826-7502
Email: [email protected]
###