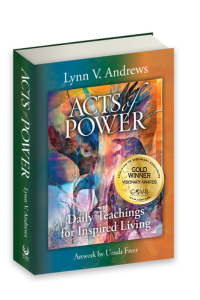 The Coalition of Visionary Resources Names Acts of Power: Daily Teachings for Inspired Living by Lynn V. Andrews
Visionary Non-Fiction Books in the 2023 COVR Gold Winner Visionary Awards
FOR IMMEDIATE RELEASE
August 17, 2023 – Coalition of Visionary Resources (COVR) is honored to announce that Acts of Power has been named COVR Gold Winner in this year's COVR Visionary Awards. Each year COVR gives Visionary Awards to entries selected from among the best products in the Mind Body Spirit industry. Both COVR members and non-members were eligible to enter the competition.
Acts of Power, is a brilliant daily companion offering 365 days of wisdom and inspiration.
The late Lynn Andrews was the author of 21 books, card decks and workbooks chronicling her amazing adventures into the world of spirit, the real-life worlds of her native teachers and their profound wisdom of ancient spiritual worlds, including New York Times and internationally best-selling Medicine Woman series.
The COVR Visionary Awards were judged by both the retail members of COVR and the general public. Votes from COVR's retail members accounted for 60 percent of the total score. Votes from the general public made up the remaining 40 percent. The final scores result from the application of a proprietary algorithm developed by COVR administration. The change, made by COVR's Board of Directors in 2015, has provided more entrants the opportunity to leverage the marketing potential of their entry by conducting a social media campaign or email campaign that draws their audience to vote for their entry.
COVR is the trade association for the Mind Body Spirit industry. It supports the success of members by providing education, mentoring, discounts, and targeted networking. The COVR Visionary Awards are given to outstanding individuals, companies, and products in the Mind Body Spirit industry. These awards are the only awards of their kind in the industry.
The company's website at lynnandrews.com offers additional information about Acts of Power which can be purchased at lynnandrews.com, Amazon and Barnes and Noble.
For more information contact: [email protected].
Media Contact: 
Kahndi Smith
Lynn Andrews Productions
Cave Creek, AZ 85327
Originally posted On: https://syndication.cloud/the-coalition-of-visionary-resources-names-acts-of-power-daily-teachings-for-inspired-living-by-lynn-v-andrews/