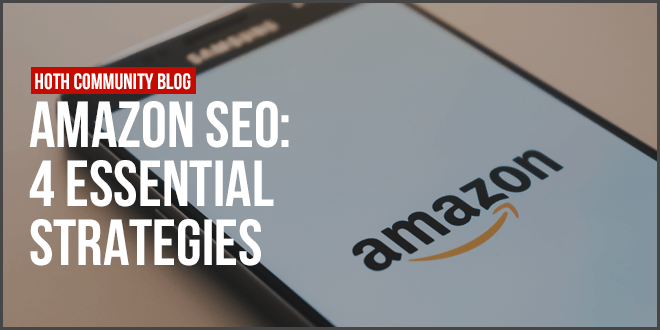 Amazon SEO: 4 Essential Strategies To Rank Your Products
You and your team have developed a great product.
It solves problems. It's unique and intuitive. It makes life better for people.
But when people search products, your solution remains buried in the results beneath inferior imposters.
It's demoralizing. It feels completely unfair. But in today's article – I'm going to show you exactly how to fix it!
Why You Need Amazon SEO
The web's largest everything retailer is becoming a flourishing keyword search beast. So now potential consumers are hiding in plain sight.
Consider this:
You need an Amazon SEO strategy. Pronto!
But where do you start?
Don't sweat it, I've got you covered. From keyword research to product listing and optimization hacks, get ready to have your entire Amazon SEO strategy revealed to you here!
Amazon Keyword Research: Find The Right Targets Without Paid Tools
For any SEO campaign, keyword research and selection is a critical first step. There are a ton of premium tools out there on the marketplace, but that doesn't mean you HAVE to use them.
There are as many as 5 alternative strategies to doing Amazon keyword researchwithout using paid SaaS solutions. Below are three of my favorite tactics.
Amazon Search Autocomplete
Leveraging the autocomplete function of Amazon's search box is easy and obvious but is often overlooked or misused.
In digital marketing, we all tend to complicate strategy because easy solutions feel "too good to be true." But in the case of autocomplete, that's hardly the case. The Amazon search box is the best place to begin your keyword research.
Amazon Autocomplete, by function, helps consumers find what they want. But it also helps marketers discover dynamic keywords.
Install Keywords Everywhere on your browser to increase the impact of your autocomplete research efforts.
Keywords Everywhere displays CPC stats and competitive data on keywords. It peppers your research with potent stats. You'll be able to view CPC and volume stats on drop down suggested Amazon search terms.
Soovle – The Amazon Keyword Tool You've Missed
Whenever I bring up Soovle, people think I'm pushing a new cooking method. While many old school keyword researchers know Soovle, it's still a drastically overlooked tool.
Soovle offers a search engine autocomplete experience from over 15 search engines. It displays autocomplete search suggestions from platforms such as Amazon, Google, Bing, Overstock, Walmart, and Yahoo!.
You can combine Soovle with Keywords Everywhere to enhance the fruits of your labors with keyword volumes, too.
Hover To Uncover With Amazon Quick View
It may sound like I'm referencing an episode title from the hit Fox show, Bones, but I'm really talking about the benefits of installing Amazon Quick View in your browser.
Amazon Quick View works as a Chrome extension. AMZScout performs Amazon product research. You can nab their tool here.
AQV gives immediate access to imperative search data. To activate AQV display, you need only hover over the product. A small window will open up that displays a slew of related keywords.
The HOTH Keyword Extraction Tool
Shameless Plug: Try using the Keyword tool here on The HOTH to find even more keywords.
Amazon SEO: Helping Customers Find You To Buy
At the heart of it, Amazon SEO is not all that different than SEO on Google, Bing, or any other search engine.
You have a select number of fields in your product listing that you need to add your keyword phrases.
There are character count limits you cannot go over.
Your title and descriptions need to inspire the searcher to take action on your listing.
But the strategies change a bit when you are doing SEO on Amazon because it is a product finder, not a webpage finder.
Here are three of the most important areas to optimize leverage for SEO success on Amazon.
Product Title
Similar to search engine optimization, the product title is an incredibly relevant ranking signal for Amazon SEO. The length of your title tag will vary based on your product category, but here is a run down of the prioritized order of items you will want to include in your title.
Brand Name
Feature
Material
Key Ingredient
Product Type
Model Number
Size
Package Count
Color
Flavor
Hat tip to the Amazon Product Page Style Guides for the reference.
Here's an example of a pretty effective product title.
Backend Keywords
If you are an SEO professional who has cut your teeth in Google optimization, you will likely laugh when you see that Amazon allows backend keyword tagging for products.
Welcome back to SEO 1999-style, friends!
The backend keyword limit is around 250 characters, and Amazon strongly recommends using every last character. Unlike the meta keywords field, we have all come to ignore these days, Amazon's backend keywords are unique in the following ways:
No repeating keywords for improved density
No commas to separate your list
No multi-word phrases
To get a leg up on your competition, however, you might want to try taking advantage of synonyms, plurals, or other brands in your product niche.
Brand Field
As previously mentioned, Amazon is a product finding search engine. Because of that, your brand name is much more important to your success on Amazon than it is in traditional search engines.
For every product you optimize for success on Amazon, make sure your brand name is correctly spelled. In general, this is just good practice. But doing this will also help Amazon associate the products you want to sell with other products produced by the same company and increase your exposure in brand filtered results.
Amazon Content Optimization: Convert Your Customers With Class
You figured out what your customers are searching for on Amazon.
You optimized your product title to be seen as relevant in those searches.
Now it's time to convert your searchers into customers. Learn more about how to optimize the content included in your Amazon listing.
Use Bullet Points
For those of you who have done traditional SEO for years, think of your bullet points as having the same potential benefit as your H-tags. Word on the webs is that Amazon indexes the content in your bullet points, so optimizing them can help improve relevance and drive up clicks from the results.
As a best practice, try to use 1 keyword phrase per bullet point. Don't be spammy, it'll turn off your potential customers.
Product Description
Amazon offers two types of product descriptions: Enhanced Brand Content and regular product descriptions. Traditional search engines will index both of these content types, but for your Amazon SEO efforts it's best to focus on the regular description.
In short: let your copywriter tackle the enhanced brand while you optimize the regular description. Keyword optimization should be done on both, with priority for visibility in Amazon being placed on the regular description.
Next Steps For Domination In Amazon SEO
In this blog post, we went over a lot of the area's SEO professionals can leverage to optimize their product listings on Amazon for keyword searches. All of this optimization work can be done effectively and efficiently without the need for premium tools.
Keyword research can be done using The HOTH Keyword Tool or through adding Keywords Everywhere to your browser and leveraging one of three tactics.
Keyword insertion can be optimized in the product title, backend keywords, and brand field to maximize relevance to a searcher's query.
Content optimization can be done with strategic keyword insertion in the product description and expert copywriting for the Enhanced Brand Content.
But just because you handled every optimization area doesn't necessarily mean you will be permanently set up for success on Amazon.
In addition to a well-optimized page, you are also going to need to have competitive pricing, Good conversion rates, lots of reviews, and quality images. Even the most skillful SEO won't be able to overcome any of the four obstacles to success listed above, but if you use these tips, you'll greatly increase your chances of ranking in Amazon.
Good luck!