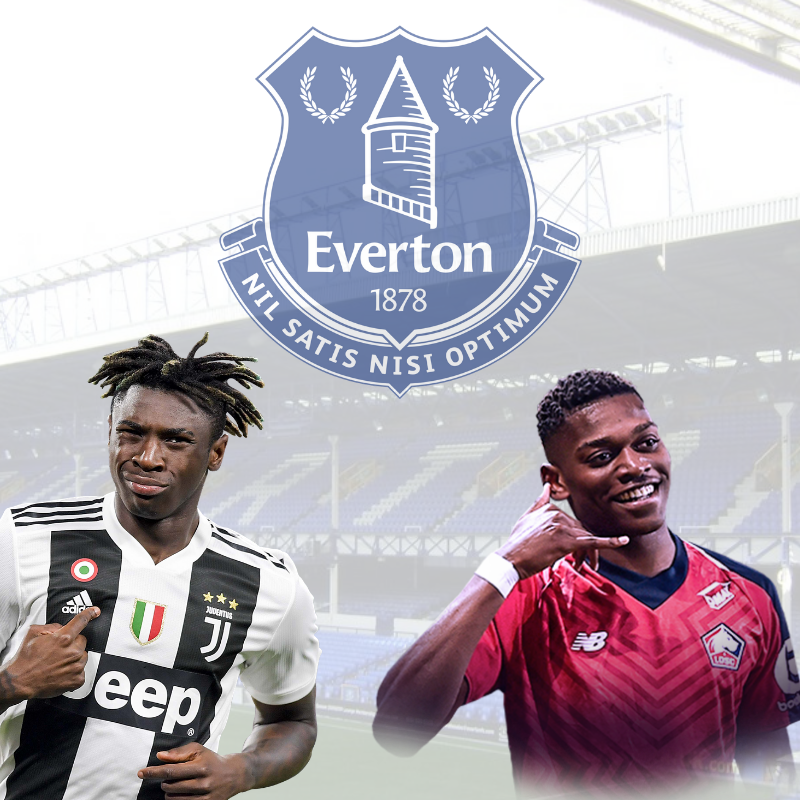 Who is the Bigger Talent? Breaking Down Moise Kean and Rafael Leao
Everton have been linked with Moise Kean and Rafael Leao this summer. We take a look at which player would be the better fit for Everton.
I know there's been much discussion about Moise Kean and Rafael Leao as two wonderkid strikers linked to Everton.  In my previous article for Toffee Targets, I identified what I thought Silva wanted in a striker and looked at the names Everton have been linked with (and others) to identify who I thought made sense.
Seb Haller was one (who is since off the board), with Kean and Leao the other two (and Jean Phillip Mateta lagging bit behind as he's not quite at the same level). I thought Kean may be slightly ahead of Leao development-wise, but they are both tremendous talents and Everton could do well with either.  Here were my initial notes:
Rafael Leao
Rafael Leao at Lille also has size (6'2"), pace, skills, and is only 20 years old.  In his first top flight season, while he didn't crack the lineup for a few months, he fared well in over 1200 minutes in Ligue 1.  Incidentally, he signed with Lille on a free from Sporting Lisbon after the incident where supporters attacked members of the club.
He's shown some ability in the air as well as some ability to get outside, run at players, and create for others. Don't believe he can step in and lead the line quite yet at Everton, but he's not far off and considerably more skilled and versatile than Calvert Lewin with massive potential. Rumor is that Lille are asking for 25M and Everton may indeed pay it almost on potential alone (obviously it seems as though the price has gone a bit higher!).
Moise Kean
Moise Kean is young, but he's got the talent to be a world class striker.  He's got decent size (6'0") along with pace and power. His goal record as a young international is impressive.
He showed promise on loan at Verona and his output in limited minutes at Juventus is excellent. He takes decent care of the ball despite often playing at a frenetic pace and although he can be a bit ambitious with his play – his passing in particular – he's still learning even if he's already a solid top flight player.
He can hold the ball a bit, but he's still not had a ton of time at the top flight between Juventus and Verona as a true center forward. While he has mobility, I'm also not sure he can press effectively in line with Silva's tactics, at least not immediately. But the potential is enormous and if he's available for anything under 40M, Everton have to think long and hard about it.
In the article, I specifically looked at 4 categories of abilities: Goal-scoring, Linking with Midfield / Hold up play, Target play / Aerial Duels, and Mobility / Pressure.  Below is how I see Leao and Kean in each area:
Goals
Both are exceptional for their ages with impressive track records in scoring.  Looking at the numbers over the past two years across all competition, a few stand out.  Leao's shots on target % is incredibly high and is higher than almost any of the strikers we compared him to.
Upon review of film he is patient and composed when shooting. In general, he is more relaxed on the ball and he is more efficient in creating quality chances for his teammates than Kean.  Conversely, Kean can better break opponents down with the dribble and often attacks at a rapid pace. He has shown lots of different ways to put the ball in the net and probably faced better defensive competition at Juventus and Verona than Leao.
It worth noting that in the most recent season, Kean is averaging almost a goal a game in all competitions and converting at close to a 30% clip, which would put him higher than any of the strikers Everton have been linked with. Both put pressure on opponents, especially in transition, and show good decision making.
Linking with Midfield / Hold Up Play
Kean is probably a bit stronger, while Leao is a bit taller.  Both are already good with their interaction with midfield and ability to hold up the ball, but both could be truly exceptional, albeit in different ways.  Kean really leans into his defenders using his lower body strength to hold them at bay and get himself into more advanced positions. He shows good movement up top and upon receiving the ball, often plays quick, short passes to his teammates to continue the build up.
He reminds me a bit of Michy Batshuayi in that respect. Leao comes back for the ball a bit more and uses his arms and length to keep defenders at a distance when engaged. Leao is more patient than Kean and is more likely to pull a defender forward and play a ball behind him to a charging teammate.
Both are comfortable in and can drift into wider spaces. Kean tends to play a bit more directly when he has the ball in the attacking third and out wide. He can cross a ball well and statistically creates a higher volume of chances than Leao, partially due to him making more appearances in a wider role.
Target Play / Aerial Duels
Both are still raw and inconsistent as one would expect of a couple of the youngest players in their respective leagues.  Leao has played a bit more of a traditional target role and has had a bit more service.
He gets his head on more balls than Kean, but both have decent win % over the past season and I expect both to improve dramatically in this area in the upcoming years.  Nevertheless, both are still inconsistent and have growing to do before they can dominate PL teams in the air.
Mobility / Pressure
Both have pace and strength.  Leao plays in a slightly more defensive system than Kean, although neither Lille nor Juventus press as often as Everton does under Silva.  Neither player has outstanding pressure numbers, but seem willing to work and certainly have the raw ability to be effective as the CF in a more aggressive defensive system.
Conclusion:  Who would you rather have at Everton?
This is a tough question to answer and it likely depends on your preference.  I think Kean has shown tremendous ability to put the ball in the net. He's more direct than Leao and maybe even slightly more unpredictable with the ball at his feet.
He can go by defenders with tremendous skill, pace, and power. As he gets stronger and more comfortable in a system, I think his hold up play with continue to improve and he'll be very difficult for any defender to deal with.
Leao on the other hand is so smooth with the ball and when he fully grows into his body, he may be able to take his aerial game to another level.  Pair that with his wonderful ability to get the ball on the net as well as his patience, poise, and creativity with the ball in finding his teammates, and you've got an elite center forward.
My personal feeling is that I like Leao's game a bit more and think it would fit in better in the current Everton side now and in the future, but either would be terrific signings for Everton.
As always, make sure you follow us on Twitter @ToffeeTargets for more up to date Everton transfer news.
Also, give me a follow on Twitter @RyanWil02979819 for my Everton views and analysis. Check out my post on Strikers Everton Should Sign.