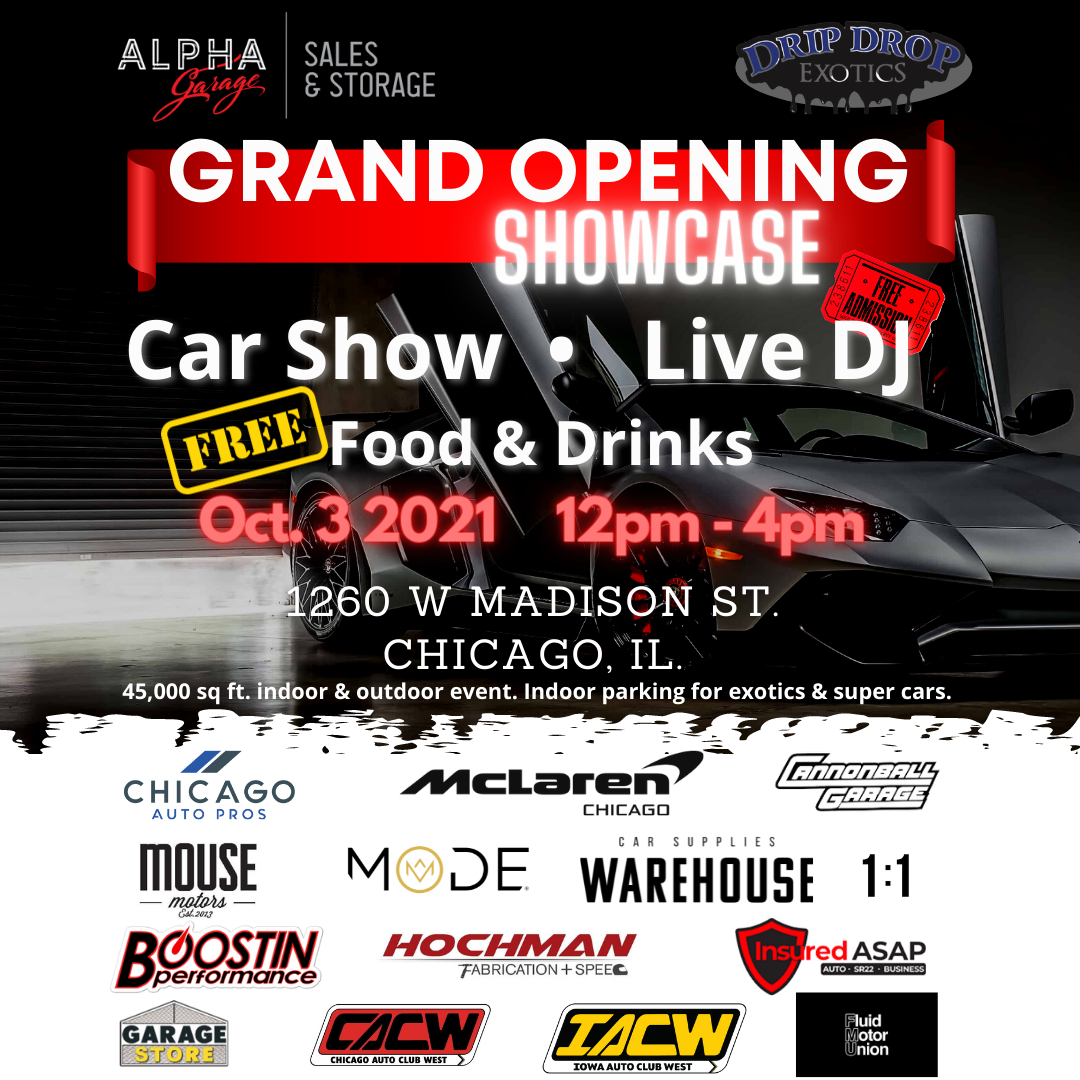 Alpha Garage to Hold A Free Classic and Luxury Car Show During Its Grand Opening
Alpha Garage Storage, a classic and luxury car storage facility in Chicago, has announced a free classic car show during its grand opening. The event will bring together classic enthusiasts and luxury car owners. The grand opening event will also include a free classic car exhibition, food, drinks, and music. You can find more details about Alpha Garage Storage at: https://www.alphagaragechicago.com/.
FOR IMMEDIATE RELEASE
Chicago, IL, September 28, 2021 – Alpha Garage Storage, a premier luxury and classic car garage in Chicago, has announced today that it will hold a Free car show during its grand opening on October 3, 2021. The car show attendants will be treated to an exotic and classic car exhibition, free food and drinks, and music from a live DJ.
The founders of the Chicago luxury and classic garage plans to use this event to showcase the various modern and secure facilities that members of the garage will access.
The exotic and classic car exhibition, which will be the highlight of the free car show, will take place inside the facility's 45,000 square foot, climate-controlled garage in West Loop Chicago. Exotic and classic car enthusiasts will be treated to Bentleys, Rolls Royce, and a classic 1978 Firebird, among other high-end classic vehicles.
The event is also a chance for classic and luxury car lovers to network with fellow enthusiasts. The Alpha Garage Storage grand opening event promises to help the event attendees network during a scheduled socializing session. Classic car lovers around the world can join in the conversation by following the Facebook event page.
"It is important to us that luxury and classic car owners and enthusiasts meet and network, and that is why we shall invite all attendees to share drinks in our private lounge. We have designed the Alpha Garage Storage's members lounge to be a place for enlightening classic car conversations and business networking. It will also be a place where members can run away to come and work in a quiet environment." The Alpha Garage Storage Operations Manager said.
Finally, the attendants will experience Alpha Garage's pioneer remote video car access technology. Members who park their cars at the garage can have the chance to access their cars via smartphones or personal computers. The operation manager said that this initiative's goal is to give car owners peace of mind when they know that their car is safe and in good condition.
"Your car will be secured under our high-quality security system and monitored under 24-hour surveillance. We also allow members to check their cars using our video access platform remotely. With such, you can rest assured that your vehicle is getting the Alpha Garage Storage's tender care without driving down here." The operation manager added.
About Alpha Garage
Alpha Garage Storage is a secure facility for classic, exotic, and collector vehicles in Chicago's West Loop. The members-only garage provides secure parking for classic and exotic cars using modern technology to prevent theft, damage from exposure to harsh climatic conditions, or mechanical neglect.
"As Chicago's premier luxury and classic car garage, we provide more than a place to park your vehicle securely. Memberships within our facilities also enjoy the following perks: car cleaning, ignition checks, and private lounge access to work or socialize with like-minded car enthusiasts," the company's Media Manager said in an interview.
Contact Information
Alpha Garage Storage
Contact Name: Khalil Abderrhaman
Address 1260 W. Madison St Chicago, IL 60607
Email: [email protected]
Phone number (312) 598-3001
Website: https://www.alphagaragechicago.com/
Originally Posted On: https://syndication.cloud/alpha-garage-to-hold-a-free-classic-and-luxury-car-show-during-its-grand-opening/