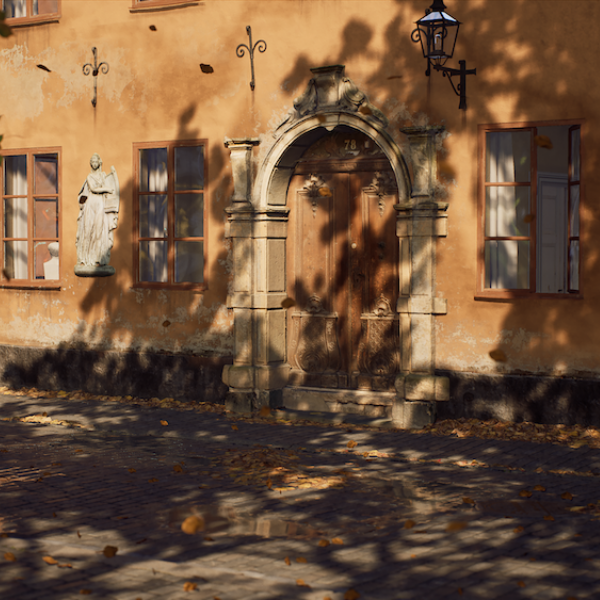 Advance Your Environment Art with Photogrammetry
Photo from vertexschool.com
Originally Posted On: https://blog.vertexschool.com/advance-your-environment-art-with-photogrammetry/
Are you someone who has taken an interest in video game environment art? These artists are known for expressing their creativity and setting the scene for video games. If you've started working on your skills and you're looking to achieve a more professional look, then you will love learning about photogrammetry. Here's how photogrammetry can advance your art, software you may use, and how you can learn more!
What is Photogrammetry?
Photogrammetry is the science and technology of obtaining reliable information about physical objects and the environment. This process uses recording, measuring, and interpreting photographic images and patterns of electromagnetic radiant imagery.
This is basically fancy lingo that means the person takes 3D information from photographs. The process involves overlapping photographs of an object and converting them into 2D or 3D models. Photogrammetry is used not only in video game design, but other fields of work to create topographic maps, meshes, point clouds, or drawings based on the real-world.
Types of Photogrammetry
There are two main types of photogrammetry: aerial and terrestrial. Aerial photogrammetry is the process of a person using a drone to take photos from an aircraft or drone. Typically, the photos are taken as the aircraft or drone moves along its flight path toward the desired object.
Terrestrial photogrammetry is also known as close-range photogrammetry. This type is where the camera is on the ground, either mounted on a tripod or pole. The camera can also be handheld.
Photogrammetry in Video Games
When photogrammetry is used in video games, the designer photographs from multiple angles to recreate a realistic 3D asset. The artist will then use specialized software to finalize the textured 3D mesh version of the real world. With this technique, an artist can create a realistic city model or other type of setting for the game. It is also commonly used as a basis to create fantasy worlds.
To create these realistic appearing worlds, artists use special software. Some of the best photogrammetry software has been used to create games like Call of Duty. Here are a few of the most common ones used in the industry that you should be familiar with:
Autodesk ReCap Pro
Autodesk ReCap Pro is known for being one of the best. It converts photographs into accurate representation 3D models. The software can be used for both aerial and terrestrial photogrammetry. It is also a great option because the multicore processors allow for faster scanning and high precision GPS technology. The results of these processors are higher quality 3D photo reconstruction accuracy.
Agisoft Metashape
Agisoft Metashape is a professional software that is primarily used for geographic information and game development. The software can also use both aerial and close-range images, which can then be generated into a 3D mesh. The advanced version of the software also has the ability to edit 4D models, which involves recording in 3D and manipulating the footage within the software.
Meshroom
If you're a beginner and just looking to get started, then Meshroom is one of the best free options available. Meshroom utilizes a node-based workflow and is able to produce the text mesh structural build of your 3D model. Each step is connected for an easy way to generate a model, but you can also work on each node individually.
Learning One Software
These are just a few of the many software available. If you're a beginner or intermediate artist looking to advance your work, then it's important to become proficient in one software before moving on to the next. Having an in-depth understanding of the foundation of photogrammetry will be far more beneficial for creating professional meshes than trying out different software.
If you're looking to truly level up your art and learn more about photogrammetry, then one of the best steps that you can take will be finding a mentor. While you may not have a mentor available locally, taking a photogrammetry course online can be highly beneficial. This will give you access to someone who can simplify the process for you from the comfort of you own home.
With Advanced Environment Art Bootcamp, you'll have a professional in the industry walk you through everything you need to know about photogrammetry for games. The course is designed to have you go through the full process of modeling and sculpting environments in Unreal using photogrammetry.
Advanced Environment Art Bootcamp Overview
You'll begin the course by learning the scanning process and a basic blockout. Once you've mastered this task, then you'll learn how to create materials, meshes, and modulars. This will help you create a unique scene in Unreal. By the end, you'll have produced a portfolio-ready environment, and you'll also have the knowledge and tools necessary to continue adding to your portfolio.
By the end of the course, you'll:
Know how to create your own scanned assets, from capture to in-game asset
Know how to properly use scanned assets in a modern AAA game development pipeline
Have mastered your workflow and realism with the use of photogrammetry
Have created your own unique scene in Unreal, with unique modules, meshes, and materials
Course Breakdown
This course is broken down into 6 easy-to-understand modules. Here is a bit of what you can expect:
Module 1: Introduction and How to Start Scanning
Module 2: Blockout
Module 3: Create Tileable Materials
Module 4: Create Tileable Meshes
Module 5: Create Unique Meshes
Module 6: Create Modular Pieces
Module 7: Setup in Unreal
Module 8: Finalize the Scene
Take the Next Step
Learning the foundation of photogrammetry to achieve realism in your games doesn't need to be a lengthy process. With a professional holding your hand through the process, you'll have a portfolio-ready scene in no time. You'll also have access to Teaching Assistants to answer any questions that you may have.
Are you ready to level-up your skills in a quick and easy-to-understand format?