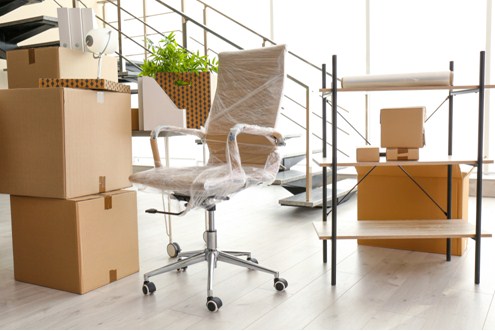 adamdeloach/the-ultimate-office-moving-packing-list
The last thing you want to do when you move offices is leave something important behind. Avoid that by using this moving packing list.
When switching office locations, the process can become stressful due to all of the important things that must be taken into consideration. For example, when moving from one office to the next, you don't want to forget client documents or files. Whether your current office is small or large, it's still easy to forget something or accidentally leave something behind.
To ensure that nothing's forgotten, you'll want to have a moving packing list to guide you along the way. A moving packing list will help you stay on track when packing up all of the office files, equipment, and other items. When moving from one location to the next, a packing list is the best way to relieve the stress of not knowing if everything's packed or not.
Not all offices are the same and some offices have different types of important equipment. However, with our moving and packing list, any type of office will be packed up and ready to go without leaving anything behind.
Start with the Files
When packing up your office, it's always best to start with the most important items. This is why you want to start with the files. Starting your packing process by organizing and packing your files is a great way to ensure that none of them are lost or forgotten in the move.
When sorting through all of your important files and documents, it's a good idea to create 3 separate categories. One category should be for all the important files you need to keep. Another should be for recycling and the last for shredding.
Although it's ideal to recycle all of your unneeded files, some might contain sensitive information on them, which will need shredding. For all of the files that you need to move with you, place them in boxes with labels. For example, if you have a pile of inventory files, place them in a box labeled, "Inventory."
Pack the Equipment
Your next step is to pack up all of the office equipment. If need be, contact a professional moving company to help move your expensive office equipment including computers, fax machines, copiers, and more. If any cables or wires need to be removed from the equipment, be sure to use zip ties to prevent them from tangling.
You should also label all cords and plugs to prevent confusion during the unpacking stages. You can also keep the wires with the equipment they go with if possible. Remember, you're disconnecting all of your devices so it's best to have your data backed up before doing so.
Back up your data from each device to ease and worries about losing vital information during the move. When packing all of the office equipment, use the original boxes that they came in. If you no longer have these boxes, then you'll want to be sure to use high-quality moving boxes.
Check The Gaylord Box Exchange for the perfect boxes!
Pack the Desks
Packing the desks is something that you should have employees begin to do before moving day. Each employee desk should be packed up by the employee who uses it. Give your employees a heads up and a timeline of when they need to be done packing up their desks.
If desired, give your employees a guidebook of how to properly pack up their desks. All broken items should be trashed. This is the perfect time for employees to do a full clean-out of their desks.
Any dried up pens, broken paperclips, and other unneeded items should be tossed. Once all employees have emptied their desks, you can then begin to pack them up with the other equipment. Any important paperwork and equipment from an employee's desk should have a label on it including the employee's name.
All Personal Items
Let your employees know that any personal items that they have on their desks, such as photos, coffee mugs, and other things should be packed up first. Instead of trying to move personal items with everything, have employees take these items home.
Once the move's finished, employees can then bring their personal items back into the office.
Pack All Decor Items
Once all of the important stuff is packed up, the last thing you have to worry about is all of the decor items. When removing all decorations from the office, try to narrow down what you'll take with you to your new space. There might be some items that are worth donating rather than keeping.
Only bring with you what you know you'll use in your new office space. If there are any valuable art pieces, be sure to purchase insurance on these items. Artwork pieces that are valuable may not be covered by the moving company's insurance.
And you'll want to have a way to replace any damaged or lost items. You'll also want to be sure to pack them in the correct way.
Use bubble wrap and boxes made specifically for artwork. Any live plants that you have in the office may need to be transported by you personally. Many moving companies won't transport live plants.
Keep This Moving Packing List Handy!
When switching from one office space to another, moving all of the office equipment and supplies can become overwhelming. Keep this moving packing list nearby when you're ready to make the move and keep your stress levels as low as possible.
We hope this packing list was helpful during your office move. For more helpful posts, be sure to visit us daily!