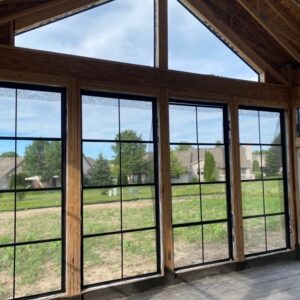 Get Your Porch Ready For Spring with DIY Vinyl Windows
Originally Posted On: Get Your Porch Ready For Spring with DIY Vinyl Windows – Porch Windows Direct
Your porch or patio is a transitional space that connects you to the outdoors when summer arrives. There are many different configurations in people's homes that range from completely enclosed spaces (often called four-season rooms) to screen porches and open stone patios or wooden decks by the pool. The possibilities really are endless when you design your outdoor living space or simply enclosing your porch area to extend your indoor living space for 3 seasons or more.
Do-It-Yourself Solutions
Flex vinyl glazing makes the vinyl strong and flexible. Our glazing can be hit or leaned on by a child or pet and still maintain its form. With this patented technology you'll never have to worry about golf balls, baseballs, or hail damaging your window. Our windows are truly DIY products.  Most likely, if you can handle a screwdriver, drill, and a level, you can install these custom-built products.  These are very lightweight, due to the memory vinyl insert instead of the glass insert, and install easily.  You get most all of your questions answered about Memory vinyl windows and doors at the video below.
How Do I Order
It's easy with Porch Windows Direct. If you've been thinking about vinyl window and door solutions for the porch or patio, just click on our products below to configure your own. If you need help, you can always just Contact Us.
EzVue Trapezoid Fixed Panel Memory Vinyl Window$149.00
EzVue Memory Vinyl Door$596.00
EzVue Rectangle Fixed Panel Memory Vinyl Window$67.00
EzVue Memory Vinyl Windows$185.00
Quick FAQ's About Memory Vinyl Windows & Doors
You've probably been researching how to upgrade the doors and windows on your porch or nation space for a long time now. Potentially all winter long. Below are some of the most common questions. You can read all of our FAQ's by clicking HERE >.
What colors of vinyl do we offer?
We offer Clear, Light Gray, Dark Gray, and Bronze vinyl colors.
What frame colors do we offer?
The standard frame colors are White, Tan, Clay, Bronze, and Black.
What types of screens do we offer?
Porch Windows Direct sells standard fiberglass mesh and premium screens.
Do I have to leave the bar in the center of the vents?
Yes. All units over 30 inches in width require a spreader bar. If the unit is under 30 inches then the bar is optional and must be noted on the order if they are not wanted.
Do Twin Units and Triple Units come pre-assembled?
No. Twin and Triple Window units come field mulled. They will require some assembly.
How do I determine the hinge of a door?
The hinge side for inswing and outswing doors is always determined from outside looking in.
Are all doors installed from the exterior?
No. Inswing doors are installed from the interior side of the room.
Transform Your Outdoor Spaces With EzVue Porch Windows
You've learned a little bit about our product. They are affordable, easy to operate and install. Porch Windows Direct will transform a standard screen porch, sunroom, covered patio, or covered deck, into a multi-season room, that you will be able to enjoy for most of the year. Our lightweight but heavy-duty vinyl windows and doors are uniquely designed and custom-sized to fit existing openings without expensive reframing, making it easy to enclose your outdoor spaces.
When open, they let the breeze in, with an incredible 75% ventilation. Closed, they provide protection for rain, snow, wind, bugs, dust, and the summer sun. Your porch will become an extension of your home or cabin that can be occupied nearly year-round.
Porch Windows Direct can ship your order directly to your home ready to be installed.