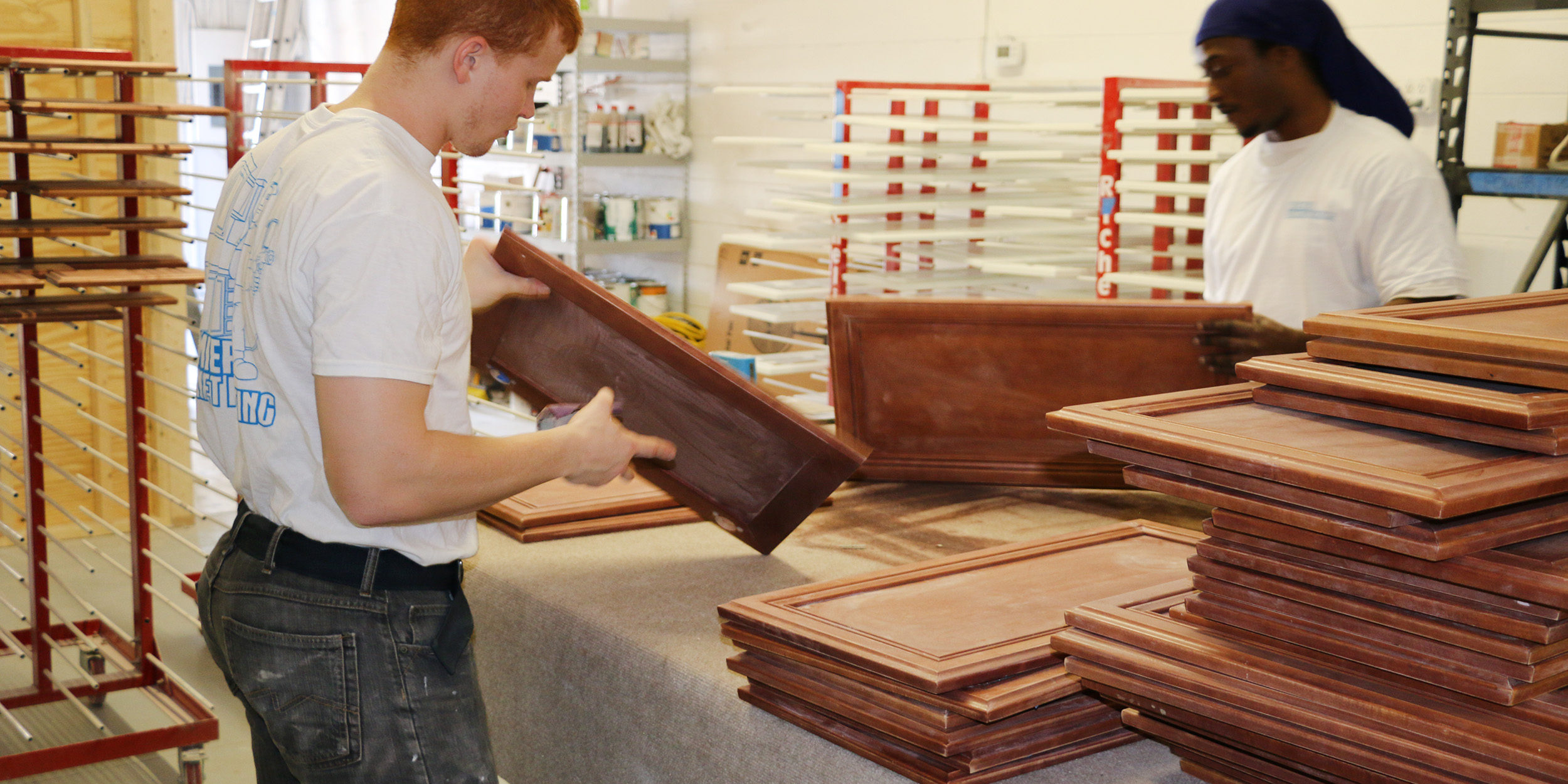 9 Questions to Ask Your Cabinet Painter Before They Start Painting
As a homeowner, you want to make your house comfortable and eye-catching. But many renovation projects can actually add value to your home.
And few give you quite as much return on your investment as minor kitchen renovations.
In fact, resurfacing and repainting the cabinets and changing the hardware and handles can earn more than 83 percent return on investment. That's money in your pocket and a potential increase in resale value!
But the key to any good renovation is finding an experienced contractor to handle the job. So, where do you start looking for a reliable cabinet painter?
Schedule an estimate with several local companies and ask them these questions:
1. Are You Insured?
Before you let anyone work on your property, you need to make sure they have valid insurance in place.
Most contractors provide their own liability coverage. This way, if anything gets damaged while they work, their insurance covers the cost of repairs. Without the insurance policy, your homeowners' coverage would have to pay for damages.
But liability coverage is only the beginning.
Contractors with employees working under them must have workers' compensation insurance. If one of their team gets injured on the job, the insurance covers the cost of medical treatments for the injury.
If the contractor doesn't have coverage, you could be liable for damages. Remember, a broken bone can cost well over $7500!
If a contractor doesn't have coverage for either liability or workers' compensation, look elsewhere.
2. How Long Have You Been in Business?
Experience matters, even when it comes to painting and refinishing your cabinets. Different finishes require different types of prep-work and some paints work better on certain types of wood.
Knowing what works and what doesn't allows your contractor to turn your boring kitchen into a space you'll love.
Look for a company that's been in business for at least a few years. The longer they've been in business, the happier their customers are. Businesses don't last if their customers are unhappy with their services!
3. Do You Have a Portfolio I Can Look At?
The best way to decide if a company is worth working with is to look at their past work. Ask for their portfolio or examples of projects they've done. Most reputable companies will have a lot of photo's you can view online. The very best will have samples they can bring to your home upon request.
Take the time to go through any and all examples they provide. If you like the colors, textures, and finishes they used on other projects, they'll be the right fit for your renovation.
4. What Types of Paint Do You Use?
When it comes to paint choice, there are tons of options. Only an experienced contractor will know what works best for your space and cabinet material.
Ask about the types of paint they use and whether the paint holds up to routine cleaning and cooking. For cabinets they shoud at least use a product that meets the specifications of the Kitchen Cabinet Manufacturing Association (KCMA). This is the criteria set forth by cabinet manufactures.
Some kitchens will need a different type of paint based on the type of cabinet material. The cabinet painter will be able to explain why a certain choice is right for your home. If the company recommends something off the shelf from a big box store then you should look for another company.
5. What Do I Need to Do to Prepare?
Most often, all you'll need to do to get your home ready for painting is to clear off your countertops. But the better you prepare your kitchen, the faster the job gets done.
Have your painter explain what you need to do to get ready. The day before the appointment, make sure those steps are taken care of.
If not, it will just slow the team down and make your renovation take longer than estimated.
6. How Will Your Team Take Care of My Home?
Unfortunately, some companies hire people off the street as long as they're willing to work. They don't take the time to carefully screen each cabinet painter. This means they often get inexperienced people who don't know how to properly care for a client's home.
At very least, a painting company should promise to lay drop cloths in the kitchen to protect your floors. They should also know how to keep your walls and appliances clean and free from new paint.
If they can't do these basic things or aren't willing to tell you how they'll keep your home safe, keep looking.
7. Do You Have References I Can Contact?
Experienced painters have worked with a long list of customers in the past. Many of them are happy to sing their praises and share their experience with the company itself. They often leave online reviews on sites like Google, Facebook and Yelp.
Ask every company you get estimates from for references. Otherwise, search online for reviews about the company.
If customers are happy with work performed over a year ago, you can expect the same durability and service with your project.
8. How Do You Apply the Paint?
Reputable companies know that you can't brush and roll cabinets to get a factory like finish.
If a painter says they use standard paint brushes on cabinet doors, consider working with someone else. Paint brushes leave visible streaks along the surface. This ruins the sleek finish and makes the cabinets look unprofessional.
Ideally, your painter will use a fine finish paint sprayer. The cabinet doors and drawer faces must get sprayed to leave a smooth finish. The trim and cabinet framing should also get a fine spray finish for the absolute best results.
9. Who Will Be Doing the Work?
The person giving you an estimate may not be the one doing the actual work. While this won't affect the quality of the paint job, it's still helpful to know who to watch for.
Before signing up, make sure you know who will be working at your home. If the company's employees will be doing the work, you'll be fine. But if it's a third-party contractor the company hires, proceed with caution.
The best refinishing companies only let their employees into clients' homes. These people get screened for reliability and trustworthiness. If they pass muster, they're hired on and can be trusted to treat your home with respect.
Hire the Right Cabinet Painter
Your kitchen is the heart of your home. That's why you need to find the right cabinet painter to renovate the space and bring your dreams to reality. These questions are only the starting point.
Work with a contractor you can trust. Schedule a free estimate with our experienced team today. We'll make your kitchen look like-new without putting a strain on your budget.