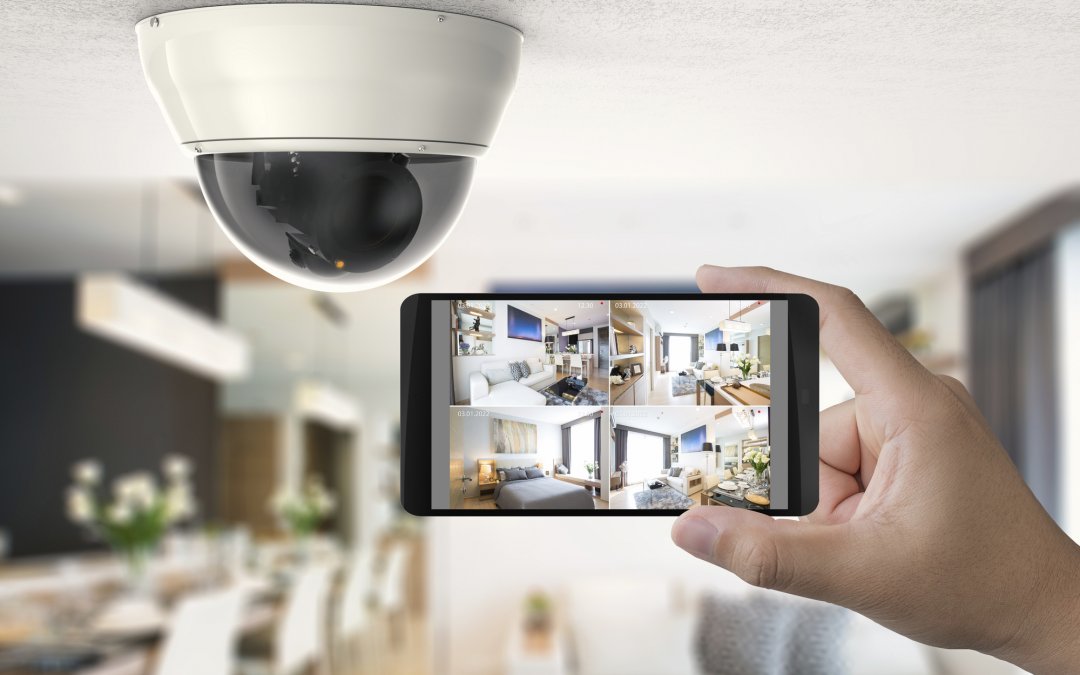 The Best Surveillance Camera Systems: 11 Fantastic Options
We live in an unpredictable world, and while you might try to think the best of people, not everyone has the best intentions. Because of this, home surveillance camera systems are on the rise as people make a further strive towards safety and privacy. Home security cameras have never been more widely available and affordable than they are today, which is why it's a great time to get a security system for yourself.
Here are 11 of the best options to choose from, and why these security systems will help you sleep soundly at night.
Arlo Pro 3
If you're looking for a camera system that'll put CCTV cameras to shame, this is the one for you. It's a rechargeable indoor-outdoor security system with all the features you could ever want, including night vision, motion detection, alerts, weatherproofing, and two-way audio. It also hooks up to a very simple-to-use app so you can check on the status of your home at any time.
When you buy the Arlo Pro 3 system you'll get two cameras and a hub that's required for use. It's not the cheapest option out there, but for the features it packs in, it won't disappoint.
Arlo Pro 3 has a built-in siren to scare off intruders and alert you right away, and the 2K streaming quality is unbeatable by the majority of competitors. The system has smart alerts, which can determine whether a movement in front of it is a threat or just a leaf blowing in the wind. It also has Alexa, Siri, and Google Assistant support, and has a built-in USB drive so you can expand its storage.
If it's in your budget, don't sleep on the Arlo Pro 3. It'll keep your house safe to a whole other level. You've got the best locks, so complement those with a truly impressive camera.
Ring Floodlight Cam
Ring is among the king of the security game with their video doorbells, and of course, their cameras. They've now released a floodlight camera — a security camera attached to the bottom of a set of floodlights that will light up your yard and make sure you get a good shot of any intruders who might come by. This is a great option for an outdoor camera system, especially if you're already a part of the Ring ecosystem.
The Ring Floodlight Cam is hardwired into your electrical wiring to avoid needing charging or taking up an outlet, making it a lasting and sturdy choice. It works as a replacement or complementary light for one of your outdoor lights while also featuring a fully-functional camera that hooks up to the Ring app, allowing you to view footage immediately.
The adjustable lights shine at a bright 3,000 lumens, and the camera captures 1080p video. It has a two-way microphone installed so you can hear from it and speak through it. It's highly customizable through the Ring app and detects movement through a 270-degree radius, which can also be edited through the app.
If you need an outdoor camera and some outdoor lights to boot, consider the Ring Floodlight Cam. Combine this with some high-security locks and you'll have the safest home on the block.
Wyze Cam
The exceptionally cheap price tag on the Wyze camera may leave you skeptical, but this is an extremely reliable indoor security camera. It's compact and sleek, while coming with all the features you need from a security camera. You can easily get a few of these and hook them up around your house for cheap, all-over protection of the rooms in your house.
The Wyze Cam has a static, manually-shiftable base that you can raise and lower, and will alert you when it detects movements. It has a MicroSD slot to expand onboard storage and comes with free cloud storage.
The camera records in 1080p, has Alexa and Google Assistant support and offers motion alerts and night vision built-in. Like most cameras, it comes with a two-way microphone and hooks up to a handy app. Wyze also has a time-lapse mode, allowing you to see footage in a whole new way.
If you want something affordable and feature-heavy that you can plaster your house in, or you're just looking to dip your toes into the security camera market, go with the Wyze Cam.
Neos SmartCam
The Neos SmartCam is another affordable option for home security. With a similar price point to the Wyze Cam, you'll get all the features you've come to expect in a clean white package that won't stick out.
Nos SmartCam has an adjustable base, letting you point it at whatever angle you need. It records in 1080p, has noise and motion detection alerts that'll set off a recording and go right to your phone, and has pretty exceptional night vision. The app also allows you to download clips straight to your device with a single tap, a feature that comes in handy if you need to quickly share the footage with someone.
This is strictly an indoor camera and comes with a MicroSD slot that allows you to expand your storage. It also plugs into the wall, making for easy setup. The Neos SmartCam really is like a sexier-looking cousin to the Wyze Cam, and for a similar price, you really can't go wrong with either.
Swann 1080p Smart Security Cam
The Swann is a great choice. It doesn't require a subscription-like many other options, including Ring, and it's extremely easy to install and get going. It works with Swann's SAFE app, as well as INDCAM and OUTCAM, so you don't have to deal with an app you don't like.
The Swann doesn't need a base station like Arlo models and has some pretty great features. It's made with weatherproof materials, meaning you can use this camera indoors or outdoor. The Swann records in 1080p and has a wide 123-degree angle, allowing you to see a lot more than your typical security camera.
Swann uses True Detect technology to detect heat signatures coming off anything that moves in front of it, leading to fewer false flags and notification. It'll only alert you if whatever is moving in front of it is likely a human, so you won't be getting a million notifications whenever the wind picks up. It also has night vision, a two-way mic, and has a rechargeable battery for a wire-free experience.
Nest Cam IQ
Security cameras don't get much smarter than this, and this is proven by Nest's tendency to help cops catch criminals. The Nest Cam IQ is excellent at determining whether or not it's looking at a person, and will automatically zoom in on the face of any person it detects — unless it's familiar with that person. The Nest IQ will learn to differentiate from family members who are frequently passing by the camera, and possible intruders, only alerting you of possible threats.
Nest IQ has a 4K sensor that records in 1080p, and a powerful lense that shows you unparalleled detail. It's weatherproof, has a great microphone with noise suppression and echo cancellation, and can be enhanced with a subscription to Nest Aware, giving you 24/7 recording, unlimited cloud storage, and let you save clips and time-lapses right away.
The Nest Cma is a great outdoor camera choice, able to handle temperatures as low as -45°C, meaning it won't give up even in the harshest winter weather. There's also an indoor version of the Nest Cam IQ available. There's a reason Nest is so popular.
Logitech Circle 2
This indoor-outdoor camera from Logitech comes in at a pricepoint between the Arlo and the Swann, and comes packed with features.
It's easy to set up — just plug it into the wall and download the app and you're good to go. It has a two-way mic, advanced motion filtering that can tell what's worth recording and alerting you about and what's not, and records in full 1080p with its 180-degree ultra-wide lens.
The Circle 2 can also effectively transform. The camera can snap off its base and attach directly over a socket, or onto a window thanks to a window mount right on its lens. This lets you get angles you never would have thought possible from a security camera.
The Circle 2 comes in both a wired and wire-free option to suit your needs and instantly encrypts your data as it takes footage, adding that extra level of protection from hackers. The battery is also fantastic, and can easily last up to three months under certain conditions. For indoor or outdoor use, the Circle 2 has you covered.
Amcrest 2K
The Amcrest 2K is a threatening looking security camera that shows you mean business and will ensure an excellent security audit. It's made for outdoor use and can protect against the harshest weather, making it perfect for colder climates. Its 3MP camera captures footage in crisp clear 1080p and is compatible with Alexa and most other virtual assistants.
The 92-degree viewing angle gives you a good view of the room, and it has a MicroSD slot and cloud support. This camera hooks up to the Amcrest app, has an extremely simple plug-in setup, and allows you to view your footage on all your devices, from the PC to phone and any web browser. This camera also has an excellent, heavy-duty metal body, keeping it safe in snowstorms and leaving it totally airtight, meaning no dust or water is going to get inside it.
Top all this off with excellent night vision up to 98ft and this is one of the most durable outdoor cameras you can invest in.
Wyze Cam Pan
Wyze really is the king of affordable and reliable security cameras. The Wyze Cam Pan is an indoor camera with night vision and two-way audio. It has all the features you'd expect, including 1080p, microSD support, and Alexa support.
The Wyze Cam Pan also has motion and sound detection that will alert you when it detects any suspicious movement or sounds, and an extremely helpful motion tracking feature. This camera will detect, tag, and follow any continuous motion in its view, meaning you don't have to worry about sustaining burglary damage from a camera that loses its target. Its base also allows for 360-degree coverage, letting it swivel to that perfect angle.
The Pan Scan mode puts the camera on patrol. You set up to four custom waypoints and the camera will go from point to point searching for motion. It's a very smart and helpful option that will keep you exceptionally safe for its cheap price point.
Hive View
The Hive View is an extremely unique looking security camera that doesn't disappoint. It records clear audio and video, has an application for viewing footage, two-way audio, and is extremely compact.
You can set the Hive View to only record certain types of motion, meaning less annoying notifications when your pet happens to move by the camera. What really separates the Hive View from other cameras is the detachable head. The camera itself is a small cube that can pop right off its stand, allowing you to set it in a covert position rather than having it hang obviously from the ceiling or wall.
Hive View also has what they call a 'when, while, then' option. This means you can, for example, tell the Hive View: When motion is detected, while its night, then turn on the floodlights. It's a handy and useful feature that more cameras should employ.
For a unique looking and affordable indoor camera, look no further than the Hive View.
Picking the Perfect Surveillance Camera Systems
There are a lot of surveillance camera systems on the market today, so hopefully, this list helps you narrow down your options. Whether you're looking for an indoor or outdoor option, all the choices above will keep you safe and help you and your family sleep soundly at night, and vacation without worry.
If you need a reliable locksmith, check out our service page to see what we can do for you. Feel free to contact us with any comments, questions, and concerns.