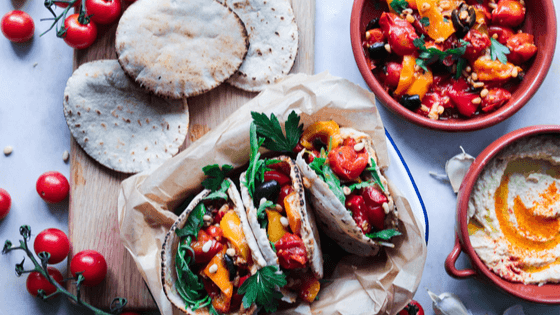 5 Easy & Super Tasty Gluten-Free Lunch Ideas
Originally posted on https://www.bfreefoods.com/au/blog/5-easy-super-tasty-gluten-free-lunch-ideas/
Are you constantly on the lookout for new lunch inspiration that goes beyond a sandwich? Look no further, at BFree we've got some delicious gluten-free ideas using our new Pita Pockets that will have you on the edge of your office chair ready to run to the lunchroom  Not only will these colourful recipes fill you up on the good stuff, which means no more post-lunch crashes!, but these super easy-to-prep meals use ingredients that are already a staple in everyone's home, leaving you more money to spend when the weekend rolls around, what's not to love?! Not to mention how healthy they are, making you feel better after every bite. But wait, healthy eating doesn't stop at noon, keep it going with one of these nutritiously tasty dinners, we've even thrown in a dessert option for all you sweet tooth lovers!
1. Chickpea, 'Tuna' and Sweetcorn Pita Pocket
Tuna and Sweetcorn are a well-established combination, but we're putting a twist on things by adding some chickpeas which give it that extra kick of protein.
Check out the recipe here!
2. Smokey Mediterranean Roasted Veg and Hummus Pita Pockets
This vegetarian dish is colourful and packed with flavour. The roast veggies are marinated in garlic and olive oil which give them that crisp outer layer but are yet complimented by the soft blanket of Pita Pocket giving it that perfect balance of texture. We know your dying to try this one out, click here!
3. Middle Eastern Chickpeas and Tahini Yoghurt Sauce Pita Pocket
The excitement for this one is real! It's the magical combination of roasted chickpeas, dressed in spicy paprika inside a Pita, topped with a homemade yoghurt tahini sauce to drizzle to your heart's content. (This is our favourite!)
Check it out here!
4. Beetroot Based Pita Pizza
We love this healthy pizza base alternative created by Raimee Brook (Raimeeleigh.fitfood on Instagram). Not only are the colours AMAZING, but the combination of roast pumpkin, feta cheese, beetroot hummus and feta cheese make it a dream snack that you never want to end. It's definitely one to try!
5. Ever So Sweet Pita Pocket Dessert
The moment all you sweet tooth fanatics have been waiting for….
Our gluten-free pita pockets filled with mashed sweet potato, vanilla yoghurt, banana and raspberry spread, yup don't worry our mouths are watering too! Topped with pancake syrup, raspberries, cacao nibs, bee pollen, cinnamon and peanut butter this beautiful creation is one that will lighten up any day of the week.
Try it here!