30 Memorial Day Weekend 2021 Restaurant Deals!
Photo by Jakub Kapusnak
Originally Posted On: 30 Memorial Day Weekend 2021 Restaurant Deals! | EatDrinkDeals
Here's our annual roundup of Memorial Day deals for 2021!  Expect things to be a lot closer to normal this year with big discounts at your favorite restaurants, with some special deals or free meals to veterans and active duty military at some spots.  But there's gonna be lots of deals for everyone, and some are good all weekend long, so plan out the holiday now!
To redeem the military offers, you will need to show proof of service.  Before you head out, check with your local restaurant to confirm the military discount is available at your desired location.  Lots of restaurant chains also offer ongoing military discounts, not just for holidays.  For more info on which restaurants have them, click here to go to our EatDrinkDeals Restaurant Veterans and Military Discounts page.
We include links to restaurant websites where you can confirm the deal and find further information.  EatDrinkDeals does not post deals that cannot be verified from a source such as a restaurant website, social media account, or press release.
Email us at [email protected] if we've missed any!
Do you want to have great deals like these emailed directly to you? Click here to sign up for our newsletter!
EatDrinkDeals Memorial Day 2021 Restaurant Deals
Abuelo's
Celebrate with a big ol' Red White and Blue Margarita for $8.95 now through Memorial Day at Abuelo's.  They posted the deal on Facebook.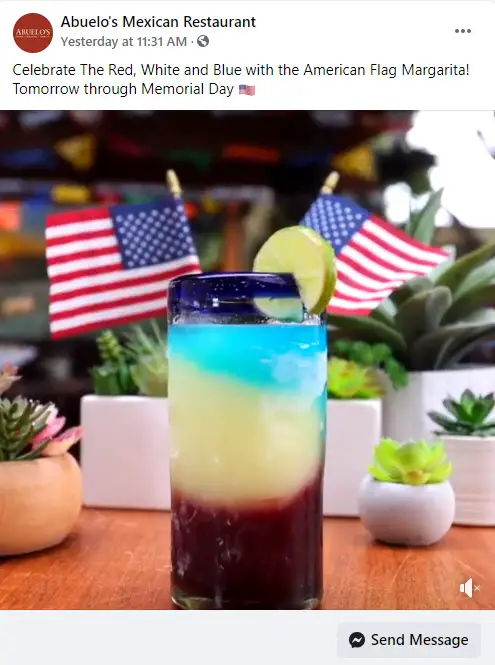 Bahama Breeze
Get tropical at Bahama Breeze with Caribbean Bundles starting at $44.99.  You'll get a choice of entrée and a side, plus salad and Cuban bread.  The bundles serve up to four people and come ready to eat, with options like Jerk Chicken Pasta, Baby Back Ribs and Seafood Paella.  Place your order online at BahamaBreeze.com.
Capital Grille
Have your own luxury cookout at home with takeout options from The Capital Grille.  Order steaks à la carte or choose from an assortment of Steak Grille Boxes starting at $140, featuring four steaks, proprietary steak seasoning and Signature Steak Sauce. Add on accompaniments like Lobster Mac 'N Cheese or Sam's Mashed Potatoes to round out your order. Visit TheCapitalGrille.com for more details.
Carvel
Some ice cream will make any Memorial Day weekend better.  At Carvel, buy one Flying Saucer 6 pack and get another 1/2 off, or get $2 off a Cake 48 oz or bigger or $3 off a sheet cake with these coupons valid through June 10.  CLICK HERE for your Carvel coupons.
Cheddar's Scratch Kitchen
Cheddar's Scratch Kitchen has Family Bundles for takeout to get your Memorial Day going.  Choose from entrées like hand-breaded Chicken Tenders, Grilled Salmon combinations, and get two choices of family-sized sides and a half-dozen signature Honey Butter Croissants.  The Family Bundles start at $24.99. Grab a Hot Fudge Cake Sundae for $6.99 for some dessert, too!  To order online for curbside pickup, visit Cheddars.com.
Chili's
Chili's Margarita of the month for May is the classic Patron 'Rita, which you can get for $5 every day in May.  So, you can enjoy this deal all Memorial Day wekeend!  The $5 margarita is made with Premium Patron Silver Tequila, Triple Sec and Chili's Fresh Sour.  It's available all month long for just $5 in restaurant and to-go (where takeaway cocktails are allowed) at participating restaurants.  Chili's announced the special on the Chili's Margarita page.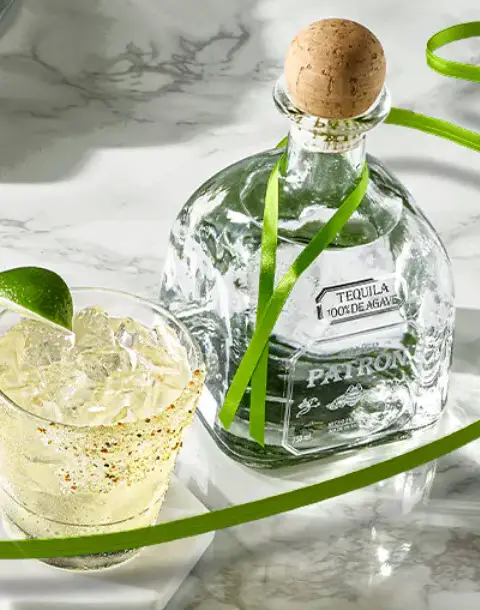 For more Chili's news and specials, like their 3 for $10 menu click here for our Chili's page!
Chuck E. Cheese
Get weekly gameplay all summer long starting at $39.99 with the Chuck E. Cheese Summer Fun Pass!  The pass is valid once a week from May 31 – August 29.  You'll get some extra tickets each week, too.  Basically, these passes pay for themselves after two visits.  Also, you can save some cash if you order online or in the app from May 22 – 30 – get the Bronze Pass for $34.99, Silver for $62.99, or Gold for $79.99.  Chuck E. Cheese posted the Summer of Fun deals on their website.
For other news, like their weekday specials, visit our Chuck E. Cheese page.
Church's Chicken
Get discounts on meals for one or the whole family with these Church's Chicken coupons good through May 30.  CLICK HERE for your Church's Chicken coupons. Then select your state to view your coupons. Most locations have these deals like 2 Chicken Sandwiches and 2 Classic Sides for $8, a 14 piece legs and thighs meal with 3 large sides for $17.99, and more.  Perfect for that pre-Memorial Day gathering when you don't feel like doing the cooking yourself just yet!
Dickey's BBQ Pit
Go with some classic Memorial Day fare at Dickey's with some BBQ deals.  Get $4 BBQ Sandwiches at Dickey's every Monday, or enjoy the Kids Eat Free deal on Sunday.  Plus, you can get 2 Two Meat Plates for $24 everyday.  Normally Two Meat Plates are about $14 each.  Click here to visit our Dickey's BBQ page to learn more.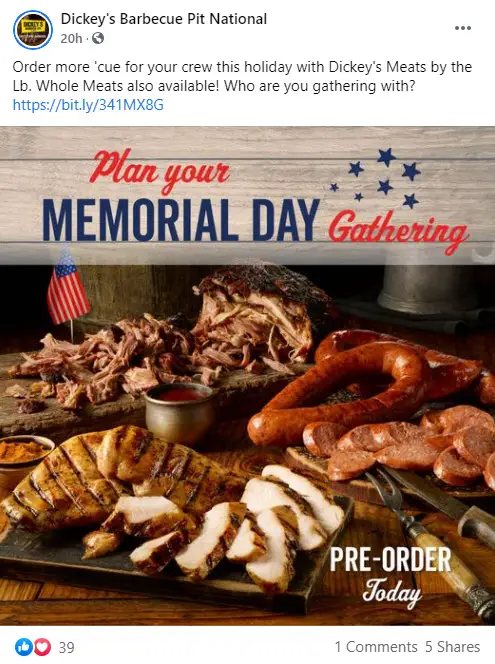 Eddie V's Prime Seafood
Eddie V's has its Black Tie Marketplace with prime steaks and seafood freshly prepared for at-home grilling. Choose from à la carte options, like Chilean Sea Bass or Center Cut Filet Mignon, or Marketplace Boxes starting at $60, featuring four luxe entrees and proprietary sauces and seasonings, such as Lobster & Filet Mignon with Eddie's Black Tie Seasoning. Orders can be placed online at EddieV.com.
Famous Dave's
Here's another BBQ option – Famous Dave's is offering a special Freedom Feast that feeds 4-5 people (or double it to feed 8-10) available for pickup May 28 – 31.  The small version costs $55 and comes with 1 Whole BBQ Chicken, 1 lb. Texas Beef Brisket, 1 lb. Georgia Chopped Pork, 1 Pint of Mac & Cheese, 1 Pint of Cole Slaw, and 5 Corn Bread Muffins.  The big version is double everything, for $99.  For more info or to place an order, click here for the Famous Dave's Freedom Feasts page.
For more info on specials like $3 Burgers on Mondays, click here to go to our Famous Dave's page.
Firebirds Wood Fired Grill
Dine in with a veteran, active duty military member or Gold Star Family and get they'll get a free entree with purchase of another at regular price at Firebirds on Memorial Day  Firebird's posted the offer on their website – select your location and the deal should show up on the front page.  Click here for the details from a sample location, including what forms of ID are allowed as proof.
Fogo de Chao
On Memorial Day at Fogo de Chao, veterans and active-duty military with valid ID get 50% off their meal, and up to 3 guests will get 10% off.  Fogo de Chao posted the deal on its website – select a location and the deal should show up in the Events section down the page.  Here is an example from the New York location.
To learn more about other promotions and goings-on at the Brazilian Steakhouse, click here for the EatDrinkDeals Fogo de Chao page.
Fresh Market
The Fresh Markethas a Memorial Day Grilling kit that can be ordered online now through May 25th at 2:00PM EST and then picked up in store May 28th through 31st.  The Kit is $99.99, serves six to eight and includes:  4 (10 oz) Premium Choice First Cut NY Strip Steaks, 4 Boneless, Skinless Chicken Breasts, 12 oz The Fresh Market Anything Goes Sauce, 28 oz Vegetable Grilling Kit, 2 lb Mediterranean Pasta Salad, 18 oz Ultimate Mixed Berry Cup, and a 16 oz Patriotic Cookie Platter.  Click here if you want to order online.
Honey Baked Ham
Get $5 off any Boneless Half Ham with a Honey Baked Ham coupon valid through May 31.  CLICK HERE for your Honey Baked Ham coupon.  You can of course stock up on all sorts of sides and desserts here, too, so this can be your one-stop shop for all your Memorial Day gathering needs!  For prepaid orders placed online, use promo code 727443 for the deal.
Jimmy John's
If you're on the run all weekend long, maybe you just need some tasty sandwiches.  Get $5 off orders of $20 or more from Jimmy John's online with a promo code valid through June 13!  Click here to start an order from Jimmy's Johns.  Use promo code 5OFF20 at checkout and save $5.  It ought to look like this at checkout after you've entered the code and hit the APPLY button: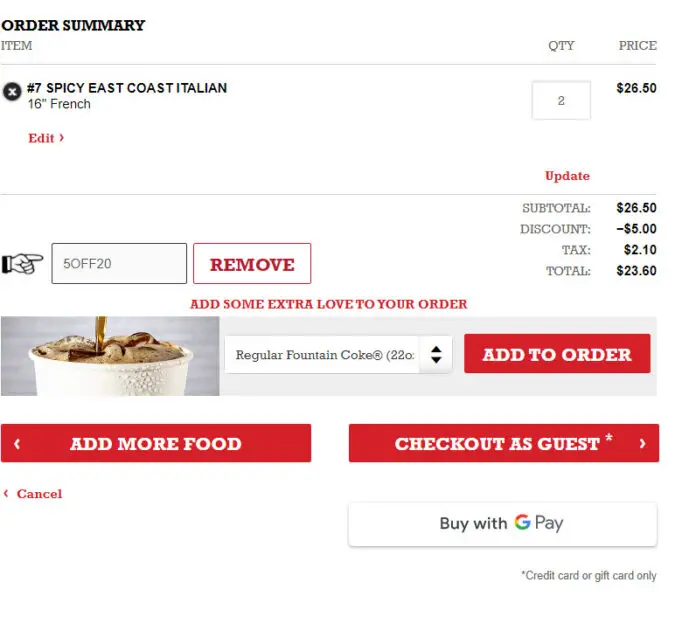 Joe's Crab Shack
Active duty military and veterans can get 15% off their dine-in meal at Joe's Crab Shack on Memorial Day.  The offer is valid for up to a party of 4 people, and alcohol, taxes and gratuity are not included.  Joe's Crab Shack has the details up on their website.
Long John Silver's
Get $2 off any Variety Platter (Grilled or Fried) or $5 off an 8 piece Family Meal with Long John Silver's coupons valid through May 31.  CLICK HERE for these Long John Silver's coupons.  Also, you can get a free Triple Chocolate Fudge Cake with purchase of a Family Meal of the 10 piece or larger variety.  Free Dessert = win!   Long John Silver's posted the deal on Facebook.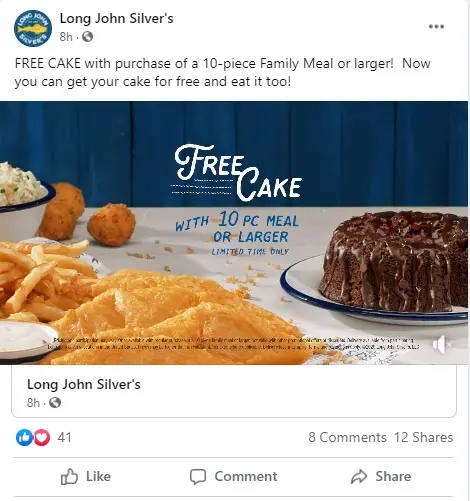 McCormick & Schmick's
At McCormick & Schmick's, active duty military and veterans can all enjoy a 15% discount on Memorial Day.  Enjoy some fine dining at a discount, up to a table of four.  McCormick & Schmick's posted the discount on its website.
Miller's Ale House
Miller's Ale House will be offering military members and veterans 50% off their entrée of choice with proof of service.  Miller's posted the details on their website.
For info on daily specials and more, click here for the Miller's Ale House page.
Moe's Southwest Grill
Moe's Southwest Grill has a Moe Monday special every week for $6.49.  Get a burrito or bowl, chips, salsa and a drink.  At some locations the deal does not include a drink, or may otherwise differ.  Use the Moe's Rewards app to see if your preferred location offers the deal.  It should show up at the top of the menu on Monday's as "Moe Monday Offer".
More info on daily deals and other Moe's news can be found in our Moe's article.
Morton's The Steakhouse
Enjoy Wagyu Beef Burgers at Morton's The Steakhouse for $25 now through May 31 for a classy version of a Memorial Day staple.  Choose from a Snake River Farms Wagyu Burger with caramelized onions, white cheddar, beef steak tomato, lettuce, pickles and sauce, or a trio of sliders with the wagyu beef, prime beef, and kurobuta pork.  The offer is available all day long in the Bar area, or during lunch hours in the dining room.  Morton's posted the National Burger Month offer on their website.
Mountain Mike's Pizza
Get 15% off any large pizza at Mountain Mike's Pizza from May 28 – 31 with promo code USA15.  Here's the Mountain Mike's Facebook post with the code.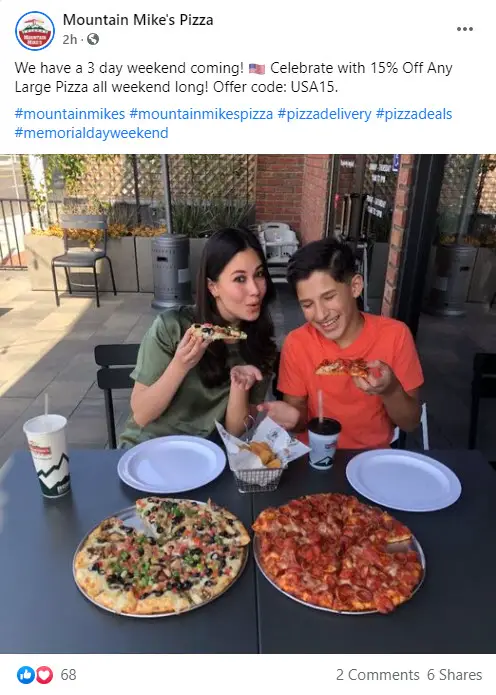 Nathan's Famous Hot Dogs
It doesn't get much more Memorial Day than hot dogs.  Get a World Famous Hot Dog for $2.99 or $1 off a Chicken Sandwich with these Nathan's Famous coupons valid through May 31.  CLICK HERE for your Nathan's Famous Chicken Sandwich coupon, or CLICK HERE for the Hot Dog coupon.
Olive Garden
Olive Garden's got $15 bottles of wine for the holiday weekend – available To Go at select locations, too. Choose from an Olive Garden exclusive Confetti Pink Moscato Blend, a Roscato Rosso Dolce red,  or Moscato Primo Amore white. For more information, visit OliveGarden.com.
Check out our Olive Garden page here for info on other specials, like their $7.99 lunch specials and $5 Take Home entree deals.
On The Border
Get a $1 Kids Meal with purchase of an adult entree at On The Border now through Memorial Day.  On The Border posted the offer on Facebook.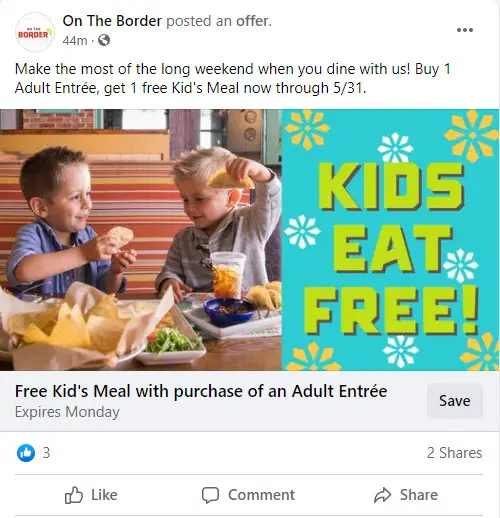 For info on other deals, like how $1 will get you free queso for a year, read our On The Border article.
Original Tommy's
Buy an order of Chili Cheese Fries for only $2.99 with an Original Tommy's deal valid through May 31.  Original Tommy's posted the news on their Facebook page.
Papa Murphy's
Pizzatime!  On all Monday's, buy one large Cheese or Pepperoni pizza and get one free at Papa Murphy's!   To order, visit the Papa Murphys Order Page, select your location, then click on the Classic & Specials tab on the left.  For locations that are participating in the deal you will see it in that section.
For more specials, like $5 Large Thin Crust pizzas on Fridays, click here to read our Papa Murphy's story.
Penn Station East Coast Subs
Get a Snack Sub for just $2.99 with a Penn Station coupon valid through May 31.  CLICK HERE for your Penn Station coupon.  If you're ordering online, use promo code SNACK for the deal.
Red Lobster
On Monday, get Endless Shrimp for $17.99! Shrimp options are Parrot Isle Jumbo Coconut Shrimp, Walt's Favorite Shrimp, Garlic Shrimp Scampi, and Wood-Grilled Shrimp Skewers.  Valid for dine-in, to-go and delivery.  If you get the deal for to-go or delivery, you can get up to four orders of the shrimp entrees.
Red Lobster posted the weekday deals on their website, and on Twitter.
How much shrimp is too much shrimp? There's never enough. It's Ultimate Endless Shrimp Monday and it's only $17.99*

*https://t.co/zf3M4wYiFE pic.twitter.com/1HmCEOx2YD

— Red Lobster (@redlobster) May 24, 2021
For more info on other weekday deals, and Family Meals, click here for our Red Lobster page.
Saltgrass Steakhouse
U.S. military and veterans and up to three more guests get 15% off their meal at Saltgrass Steakhouse on Memorial Day.  They posted the details of the offer on their website.
Shake Shack
Shake Shack is offering a free order of Crinkle Cut Fries with the purchase of a burger or chicken sandwich to guests who are vaccinated now through June 12!  The offer is valid for dine-in guests that have received at least one shot of the Moderna, Pfizer or Johnson & Johnson COVID-19 vaccines.  Show your vaccination card to get the deal.  Shake Shack posted the offer on their website.
Shoney's
Get Shoney's famous Strawberry Pie for just $10.99 from May 28 – 31.  That's a 20% discount from the normal price.  Shoney's put out this press release with the news.
Smokey Bones
Smokey Bones has a buy one, get one free deal on Mondays on BOGO Wings – buy 8, get 8 free or buy 16, get 16 free.  Smokey Bones announced the BOGOs lineup on Facebook.
For more info on this deal and other specials and savings, click here for our Smokey Bones page.
UNO Pizzeria
Get $5 margaritas at UNO Pizzeria valid through May 31 – and maybe grab a pizza while you're at it.  You can upgrade to Patron Tequila for $2 more.  UNO posted the coupon on its Facebook page.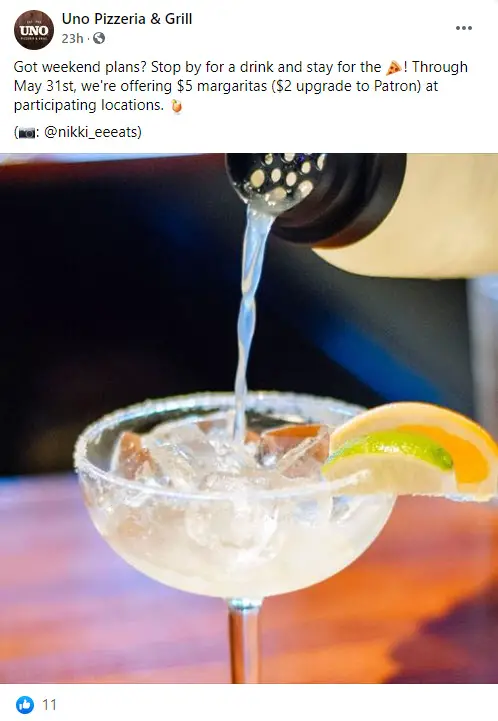 For info on other deals valid outside of the holiday weekend, click here to see the EatDrinkDeals UNO Pizzeria page.
More from EatDrinkDeals
Want to get info on other deals, discounts, coupons and specials from your favorite restaurants?  Click here to see the latest and greatest from EatDrinkDeals!
More Restaurant Daily Deals
Daily deals for all days of the week can be found here:
For more daily and weekly restaurant specials like these, see:  Restaurant Daily Deals
If you're an AARP member, you can get every day discounts at Denny's, McCormick & Schmick's, Outback and more places.  You can find all the details in our story, AARP Dining Discounts.