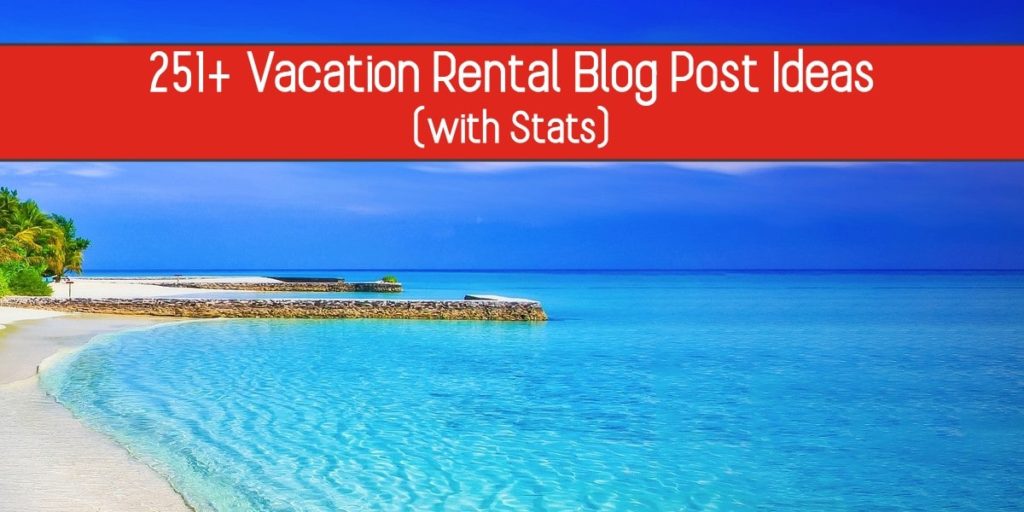 251+ Vacation Rental Blog Post Ideas
Originally posted on https://magneticstrategy.com/blog/vacation-rental-blog-ideas/
In this post I'm going to give you OVER 251 vacation rental blog post ideas that will provide you with enough content to keep you busy for months.
All bloggers eventually fall victim to writer's block and it's the worst feeling when you can't come up with ideas for your blog.
This is especially true for the vacation rental industry. Content in the travel industry is crucial because it allows guests to experience the intricacies of our properties and the unique character of our locations. We want to paint a vibrant picture of what they may experience on their vacation so that they will want to visit again and again.
These blog ideas should also provide a steady stream of prospective guests and travelers coming to your blog for months to come.
Let's dive in!
Here's the list of vacation rental blog post ideas, with each section broken down into smaller, categorized sections.
Ideas About Activities & Things To Do
Since this is the most obvious category, I didn't break it out completely. You know what's available near your properties and in your city. Just try to add a unique spin to the content to make it stand out.
We're not trying to recreate Yelp here.
You could add reviews from past guests (with permission) who have experienced the activity, then include the review in the content.
Include their tweets and Instagram posts about the activity. This breaks up the content a bit and gives your guests a little free publicity.
Things To Do By Season
Best Tours Near [Location]
Things To Do On A Rainy Day
Hot Shopping Spots Within 20 Mins of [Company Name]
Best Fall Foliage Routes in [Location]
Relaxing Things to Do in [Location]
Things to Do by Month
Spring Break Activities in [Location]
Recipes to Make in Our Vacation Rental
Things to Do On Your Next Staycation in [Location]
8 Go-To Resources About Activities in [Location]
Our Favorite Day Trips in [Location]
Our Favorite Scenic Drives in [Location]
Outdoor Specific Activities
If you own a property whose peak season is in the summer then you're going to need some content about things to do outside. Try to curate as many of the best spots as possible and give personal tidbits and rundowns on each of them.
Our Favorite Day Hikes
Most Extreme Hikes in [Location]
Best Local Fishing Holes
Best Free Tubing Hills (Snow) in [Location]
Secret Swimming Spots in [Location]
The Most Challenging Running Routes Near Our Properties
Our List of Running Routes From The Doorstep of Our Properties
Best Ski Slopes in [Location]
Fun Beach Activities
Favorite Golf Courses in [Location]
Best Surfing in [Location]
Activities for Adults, Seniors, & Couples
Dedicate some of your posts to travelers who are looking for activities to do that are more for grown ups. Things like activities specifically for senior citizens, romantic places to eat, date night ideas and the best/safest bars for clubbing and drinking.
Best Activities for Seniors
Romantic Activities for Couples
Wine and Paint Studios Nearby
Recommended Date Night Activities
Best Nightlife in [Location]
Best Wineries in [Location]
Kid-Specific Activities
When traveling with kids it's extremely important to find activities to entertain them as well as the whole family. Ensure you're giving your guests some of your best ideas of activities to do with kids in and around your rentals.
Outdoor Activities for Kids on a Hot Day
Indoor Activities for Kids on a Hot Day
Safest Swimming Holes in [Location]
Kid-Friendly Hikes
Family-Friendly Games to Play in a Vacation Rental
Dog-Specific Activities
When your guests bring their dogs along, they're going to need a place for the dogs to run around after the long trip. Offer up a few places that are well suited to their furry friends.
Dog-Friendly Hikes
Dog-Friendly Activities in [Location]
Photography & Sightseeing
With the rise of Instagram, many travelers are searching for that perfect shot to share with their followers. Send them to a few of the most amazing spots in your city to capture a selfie (just make sure it's safe).
Best Sightseeing Spots in the City
Best Place to View Amazing Sunsets in [Location]
Best Place to View Amazing Sunrises
Most Exciting Wildlife in [Location]
Most Instagrammable Photo Spots Near Our Rentals
"Things to Do" Plus "Tonight"
Research from Google reports that many travelers wait until they have arrived at their destination to search for what they are going to do.
Many even search for things to do tonight meaning there's an opportunity to create last minute deals, mention events or highlight hyperlocal activities.
Things to Do in [Location] Tonight
Things to Do in [Location] Today
Things to Do in [Location] on a Weeknight
Things to Do in [Location] on a Weekend
Ideas for Attractions Near Your Rentals
These are the popular places that people normally want to visit near your properties. However, you'll want to find attractions that are interesting and can create an emotional response and connection to your properties.
Most Exciting Attractions Within 20 Mins of our Rentals
Best Farmer's Markets in [Location]
10 Must-See Attractions in [Location]
Best Bookshops in [Location]
Best Festivals in [Location]
Haunted Attractions in [Location]
Top Museums to Visit in [Location]
Top Art Galleries to Visit in [Location]
Top Kids Museums to Visit in [Location]
X Places to Visit That Won't Bore Your Kids to Death in [Location]
Best Wedding Venues in [Location]
Most Exciting Theme Parks Nearby
Say Yes to Beach Weddings
Underrated Beaches in [Location]
Attractions for Business Travelers
If your guests are traveling for business they're going to need a quiet place to get some work done. Sometimes they just want to get out of their accommodation and see the city.
Offer them a few places where they can print out presentations (do people do that?), send a fax, or grab a coffee and catch up on some emails.
Best Co-Working Spaces for Business Travelers
Places With Free Wifi in [Location]
Classiest Restaurants in [Location] to Take Your Next Client
Local Parks & State Parks
Searching for parks on Google or Yelp can be somewhat overwhelming so here's a chance to create a curated list just for your visitors. This will help them choose which park to visit that already has your seal of approval.
Best State Parks Near our Rentals
Unique Nature Parks in [Location]
Top Water Parks Near [Location]
Top City Parks Near [Location]
Nearby Dog Parks
Most Exciting Theme Parks Nearby
Sporting Events
For many travelers, a local sporting event is a nice way to experience the excitement and passion of a city.
They may have their own favorite team back home or they may just be casual fans (or not fans at all) and not know anything about the sport or the team.
Give them a quick primer on what makes this team special and convince them why they should go to a game.
Have they won any recent championships?
What is the history of the team?
You could even highlight some current superstar players or past legends.
Local Sports Venues Tips & Tricks
Guide to Local Sports Teams
Blog Post Ideas For Restaurants & Food
Ahhh…food. That's half the reason we travel, right? Getting a taste of the local fare is one of the main things that travelers will research while planning a vacation.
Give your guests some insight into your favorite places to eat or share some recipes that can be created with local ingredients and cooked right in your vacation rental.
General Dining
Our Favorite Pizza Spots in [Location]
Best Pizza Delivery in [Location]
Best Breakfast Joints in [Location]
Best [Food Type} in [Location]
Favorite Breweries in [Location]
Romantic Places to Eat in [Location]
Our Favorite Dishes At [Restaurant]
Avoid These Restaurants in [Location]
Best Fast Breakfasts in [Location]
Favorite Bars & Nightlife
Write a few articles that cater to the older crowd and the party crowd. Give them a few choices of places that you'd recommend they go to for a nice martini or live music.
Favorite Bars to Visit in [Location]
Get Drinks for 2 at These Swanky Bars
Specialty Dining, Grocery or Experiences
The organic, farm to table, and gluten free food movements have been popular for several years so don't forget to call out these specialty dining establishments.
Favorite Outdoor Dining
Sweetest Dessert Locations Within Walking Distance of Our Properties
Kid-Friendly Restaurants Near Us
Dog-Friendly Patios Near Our Properties
Best Restaurants for Foodies in [Location]
Top Organic Restaurants in [Location]
Our #1 Recommendation for Farm to Table Cuisine in [Location]
Featured Restaurants That Offer Free/Discounted Kids Meals
Top Food Trucks and Where to Find Them
Our Favorite Coffee Shops Nearby
[Location] Grocery Stores with Local Specialties
Blog Post Ideas About Your Destination
Blogging about your destination is a great way to capture some visibility when travelers are still trying to decide where to take their vacation.
You can get in front of them during the discovery phase while they're trying to decide which activities and attractions are of the most interest to them.
Tourist Traps to Avoid in [Location]
Why You Shouldn't Visit [Location]
Top 5 Attractions or Landmarks to Avoid in [Location]
Weather Advice (Highlight Each Season) & What to Pack
48 Hours in [Location]: How to Maximize Your Time
How to Stay Safe While Traveling to [Location]
Pros and Cons About Visiting [Location]
Best Books About [Location}
Why You Should Have Your Wedding in [Location]
Great Souvenirs to Bring Home from [Location]
Best Time of the Year to Visit [Location]
Stay Safe by Avoiding This Part of Town
History & Facts
One of the best parts of traveling to a new destination is experiencing places that have great stories.
If this historical landmark has volunteers or tour guides, do some additional research by interviewing them to get the inside scoop.
Tour guides and volunteers always have great stories.
Interesting History in [Location]
Cool Facts/History About [Location]
X Weird Things About [Location]
Best Local Towns to Visit That Have Interesting History
Historical Landmarks in [Location]
Myths & Secrets About Your Location
Do you know of any myths or secrets that only locals are aware of? Share this with your guests to get them excited about visiting your properties and city.
Secret Spots in [Location]
X Secrets About [Location]
X Things No One Knows About [Location]
10 Myths Busted About [Location]
Statistics and Research
Creating original research is a great way to set yourself apart from your competitors. This is also a great way to encourage other websites to link to your website which is great for your website's SEO.
(Source: OrbitMedia.com)
Travel Statistics About [Location]
Original Research About [Location]
Blog Post Ideas About Your Vacation Rentals & Properties
If you're a property manager and you have a lot of properties, It can be easy to focus on the newest properties and overlook your most established or unique properties that bring in the most bookings each month.
Instead, try to cycle through all of your properties and dedicate a blog post to the intricacies of each individual property giving each one a featured post on the blog.
Write About Featured Properties
Write About Least Popular Properties
The Weirdest/Funniest Thing That's Happened at Your Properties
Recent Renovations or Upgrades to Properties
Blog Post About Your Nice Kitchens (either your own, or your property's)
Show Off What Makes Your Rentals or Location Unique
Highlight Any Custom Services Your Property Management Company Offers
Highlight Vendor Relationships
Why Guests Should Host Their Family Reunion At Your Property
Create a Photo Post Highlighting the Most Beautiful Weddings You've Hosted
Accommodation Type & Property Type Comparisons
Being an expert in property management puts you in a good position to compare the type of accommodation the competition is offering to what you offer.
Then you can convince your visitors why the type of property you offer is best suited for their vacation.
Hotel vs Cabin
Hotel vs Condo
Hotel vs House Boat
Bed and Breakfast vs Short Term Rental
Why It's Better to Rent a Whole Vacation Rental House than a Shared AirBNB
Why A Hotel Can Never Compare to the Privacy of Our Rentals
Which Is Better? Hotel or Vacation Rental
Convince Guests Why They Should Vacation With You
Convincing guests to travel internationally can be a challenge these days. There's a lot of news about crime, natural disasters, and pollution happening in some of the most desirable vacation destinations.
And the rising cost of airfare certainly isn't helping either.
Creating a persuasive post is one way to attract new guests to your properties.
Why Your Vacation Should Be International This Year
Why You Should Vacation in the US This Year
Here's Why Weekend Getaways Rock in [Location]
These Direct Flight Prices to [Location] Will Make You Reconsider Your Vacation
Target Locals with Staycation Content
Try to attract some of the local travelers that just want an excuse to experience a weekend away without all the hassle of hectic travel and planning out things to do.
Plan Your Next Staycation with [Company Name]
Support [Location] & Local Businesses with a Staycation
Create Vacation Rental Travel Guides
Creating helpful, digestible guides about your properties, the local scene, or tips on how to get the most out of your vacation can be a great way to generate additional leads.
Set this up as an email lead gen resource and you can grow your email list to target guests for return visits.
Quick Reference Guides
Quick reference guides can come in a few different formats but should be packed full of useful information.
They can be downloaded in PDF or as printable guides that guests can take with them on their daily excursions or view on their mobile phones.
These could also be in a blog post format that can be easily shared.
Quick Reference Guide to Wildlife in [Location]
Quick Reference Guide to Exotic Flowers in [Location]
Quick Reference Guide to Hiking Trails in [Location]
The Beer Lover's Guide to Best Breweries in [Location]
Create a Beginner's Guide
Beginner's Guide to Birdwatching
Beginner's Guide to Nature Hikes in [Location]
Guide to Your Offseason
Also, "how to" searches are growing rapidly in search engines (especially YouTube) and don't seem to be stopping any time soon.
Turning your blog post into a video and posting on YouTube is a great way to get in front of a new audience.
How To Guides
"How to" guides are great when you need to outline a process or teach something to your guests that saves them a lot of time researching the topic.
How to Plan Your Destination Wedding to [Location]
How to Plan Your Anniversary Trip to [Location]
How to Plan Your Honeymoon Trip to [Location]
How to Pack When Traveling with Kids
How to Pack for A Surprise Getaway to [Location]
Interviews & Crowdsourcing to Create Blog Posts
Utilizing additional resources and perspectives can be a great way to come up with fresh content.
It also adds a personal feel to the content because you're interviewing people who actually live on or near the city that your guest is considering to visit.
This will give them an inside look at the experience they'll have when they arrive.
Interview Local Business Owners
Set up a quick interview with local business owners in the area.
This gives you some unique content and gives you a chance to meet someone new and possibly create a referral partnership for each other's businesses.
Interview a Popular Local Chef
Interview A Local Photographer And Offer A Discount To Guests
Interview An Interior Designer
Interview Local Business Owners
Interview Staff and Homeowners
Give your guests an inside look at who will be running the show during their stay.
Depending on the situation, you could even provide contact information for the guests to reach out to guest-facing staff.
Interview One of Your Homeowners
Interview Your Concierge
Interview Your Head Housekeeper
Interview Your Guest Services Manager
Utilize Guest Content & Make Them the Star
Giving your guests a little additional attention will make them feel ultra special.
This could even result in some free marketing if your guest decides to share the blog post with their friends and family on social media.
Create a Simple Survey, Quiz, or Poll of Your Guests & Blog the Results
Interesting Stories from Past Guests
Showcase One of Your Guests
Utilize Guest Reviews and Testimonials
Ask for Photos from Guests. Create a Best Photos Post
Blog About a Guest's Inspirational Story
Host a Competition for Best Instagram Photo from Guests
Answer Guests Common Questions in a Blog Format
Crowdsource Content from Experts
Bloggers who write articles about a specific location will have a ton of insight to provide your guests.
If you're feeling out of ideas, you can reach out to local experts to get their opinion, a quote, or even feature them on your site as a guest post.
Create an Expert Roundup
Reach Out to Local Experts and Combine the Quotes Into a Single Post
Seek Advice from Travel Bloggers & Experts – Include in Post
Find Other Bloggers Who Would Swap Posts with You
Review & Rate the Top [Location] Twitter Experts
Highlight the Local Culture
This is especially important if you have properties in an international setting or if you have properties in an area of the U.S. that has a rich heritage of music, history or culture.
Honor the local culture by bringing attention to their unique way of life, traditions, customs, laws, or regional colloquialisms.
Share Local Culture & Traditions
Share a Regional Recipe
Local Legends & History
(For International Blogs) Top Phrases in Local Language
List of Top Local Foods to Try
Archival Footage of the Community
Best Places for Live Music in [Location]
How to Not Look Like a Tourist When Visiting [Location]
Unique Culture or History of Local Area
Review the Top YouTube Channels About the Local Culture
Blog About Current News & Events
Search engines love fresh content so this is one tactic that will always give you new topics to write about.
Create blog posts about the opening of a new business or if there's a big event coming up.
You can give your opinion on it, how it will affect traffic, or if you think it will have a negative affect on your guests' experience.
Your Favorite Local Events
3 Events We're Hosting at [Company Name]
New Restaurants Opening Near Your Properties
New Attractions Opening Near Your Properties
Blog About Operations or Your Personal Travel Experiences
Travelers love hearing about the inner workings of a business and the character of the business owner they're considering to do business with.
Give your prospective guests an idea of what you, the business owner, like to do on your previous vacations, where you've traveled recently, and even how you got into the industry of property management.
This will create a connection with your guests before they even meet you or experience your properties.
A Look Into the Future: What Will the Travel Industry Look Like in 10 Years?
Story About How You Got Into Property Management
Share Your Own Experiences from Traveling
What is the Next Vacation YOU Want to Take?
What Lessons Could Someone Learn from Your Career?
What Is The Toughest Part of Being A Property Manager/Vacation Rental Owner?
How to Get Into Property Management or VR Home Ownership
What Is Your Favorite Way to Spend a Day Off?
What Does Your Team Enjoy Doing Outside of Work?
Behind the Scenes Post
Celebrity Sightings?
How You've Handled the Most Bizarre Guest Requests
Share your most successful year and why it was successful
Blog Posts About Vacation Rental Travel Tips
Create some general travel tips with a vacation rental spin. Guide your guests to your properties from the airport, train, freeway, etc.
You can also recommend several products that you feel guests will need to pack when staying with you (assuming you can't provide these products for them at the rental).
Packing and Traveling
Do your guests a favor and give them a checklist of crucial things they should pack if they're visiting your destination.
What to Pack When Visiting [Location]
What to Pack When Visiting Our Beach Condos
What to Pack When Visiting Our Mountain Cabins
What to Pack When Visiting Our Downtown Lofts
Tips for Traveling with Kids
Create Travel Checklists
Which Products Do You Recommend Your Guests Bring While They Travel
How to Travel with Your Pet (General)
How to Travel to [Location] with Your Pet (Specific)
How to Travel with Golf Clubs
How to Travel with Ski or Snowboard Gear
Transportation Tips
After the initial travel to a new location, getting to your vacation rental can be one of the more stressful parts of your guests' journey.
Simplify this part of their trip by giving them tips on how to find your property especially if your properties are hard to spot, in a busy part of the city, in a remote location or in a foreign country.
Fun Games to Play on the Plane Ride to [Location]
Taking the Subway to our Property in [Location]
Best Transportation Options from [Local] Airport
Use This Local Tip to Save Time at the [Location] Airport
Tools for Travel
I'm pretty sure everyone travels with their mobile phone these days so why not give your guests a few apps that can make their trip that much better?
10 Apps to Help You Manage Your Vacation
6 Online Communities About Vacationing in [Location] You Should Join
Itineraries and Specific Vacation Types
Creating sample itineraries is a great way to give a specific type of traveler a taste of what your vacation destination has to offer.
Even better, it saves them some time if they're booking a last minute vacation.
Put Together a Sample Itinerary for Your Guests: Plan their Trip
Create a Premade Itinerary for Guests (ie The Family Itinerary, The Wine Tasting Guide, etc)
How to Spend a Girls' Weekend in [Location]
How to Spend a Boys' Weekend in [Location]
How to Spend a Family Weekend in [Location]
How to Spend a Couples Weekend in [Location]
Traveling on a Budget
Saving money while traveling is always a good feeling. Doing so allows you to spend more of your budget on better experiences, souvenirs, or food.
X Ways to Save Money on the Road
Save Money by Cooking in Our Vacation Rentals
X Reasons To Book A Long Term Stay
A Fantastic Trip to [Location] With Minimal Spending? Here's How.
Top Free Things to Do in [Location]
Travel Tips for Your Specific Location
If your rentals are in a remote location, high in the mountains, or on the beach, providing specific instructions and tips will provide your guests with a better experience which will most likely lead to better reviews.
Tips to Avoid or Deal with Altitude Sickness
Tips to Stay Cool When Vacationing in the Desert
How to Bundle Up During the Winter Months in [Location]
Local Scams to Avoid in [Location]
Safe Travel Tips for Women in [Location]
Additional Vacation Rental Blogging Tips
Accept a Few Guest Posts from Relevant Local Blogs
Create a Video Walkthrough of Your Most Amazing Properties
Have a Staff Member Create a Recurring Post/Column
Create a Quiz About Your Location
Survey Your Existing Audience/Guests & Turn into Post
Put Together a Blog Post with Gifs Instead of Images
Post About How You Come Up With Blog Post Ideas
Create Some Video Blogs or Vlogs
Create An Infographic for Your Top Performing Blog Posts and Share Them
Combine Your Best Blog Posts Into an Ebook
Lists (Everyone Loves a List)
Video Tours and Write Ups to Go With the Video
Start a Diary
Live Blog From an Event, Parade, Store Opening, etc
Create A Truth vs Lie Style Post
Creative & Inspiring Quotes Related to the Vacation Rental Industry
Creative & Inspiring Quotes Related to Your Location
Create a Podcast and Transcribe the Episodes into Blog Posts
If this feels a little overwhelming, then we can help with our content development services.
Feel free to contact us via Twitter or using the contact us link in the navigation.
What did I miss?
Which of these ideas was the most helpful?
Is there a particular style of blog post that you're going to try?