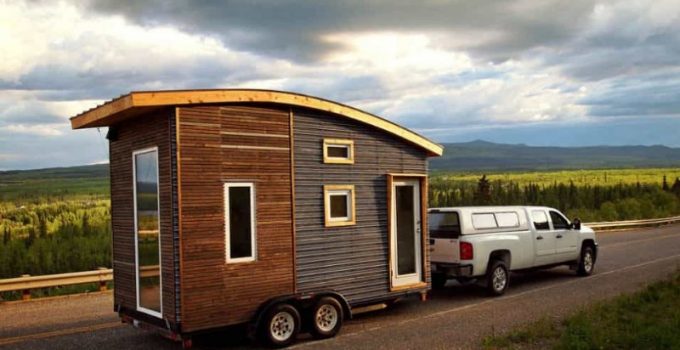 21 Stylish Tiny Homes For Sale You Can Buy Today
Originally posted on https://www.crowsurvival.com/tiny-homes-for-sale/
You've probably seen Tiny Homes on the news or online with all sorts of exciting and innovative designs.
If you're thinking tiny houses might just be the perfect fit for your needs, but you're seriously lacking any DIY skills, then don't worry.  We've pulled together a comprehensive list of amazing tiny homes for sale that you can literally buy with a few mouse clicks at a range of price points.
No matter if you're looking for a tiny house with a solid foundation or you'd rather have the opportunity to wheel it around the country, there's bound to be something to meet your needs.
It should go without saying but building your own tiny home will cost much less than buying one. The big advantage of buying something prebuilt from a well-known company is that you're getting something that is built to a certain standard.
Tiny houses on wheels are technically classed as RVs, which means that they need to be certified by the RV Industry Association. While Tiny Houses that are offered for sale with a solid foundation will be required to adhere to local and state building codes.
CHECK OUT OUR 21 FAVORITE TINY HOMES FOR SALE
1
NUGGET FROM MODERN TINY LIVING
Summary
Cost:prices start at $39,000
Size: 102 sqft
The Nugget is an extraordinarily attractive and impressive feat of engineering. It's a tiny house in every way possible and manages to ensure it can function at full capacity while completely off-grid.
One of the biggest selling points is the size of the thing, it comes in at a very respectable 12 feet in length and tips the scales at a little over 4,500 lbs, so most larger vehicles will tow it with no problems.
Aesthetically speaking, the Nugget looks great, with tactile pine paneling, vinyl floors and a countertop made of hickory wood.
To help ensure the camper can reliably operate off-grid, the tiny house comes with a green composting toilet.
If you'd like to find out more about the company, then take a look at their website here. They offer more than just the Nugget, so it's worth taking a peak.
2
VANTAGE TINY HOME FROM TINY HEIRLOOM
Summary
Cost: prices start from $44,000 to $54,000
Size: 160-230 sqft
If you're looking for a tiny home for sale that puts nature on show wherever you go, then the Tiny Heirloom from intrepid traveler is an obvious choice. The huge windows not only let in a ton of light, but they also make sure you never miss a moment of whatever's going on outside.
We love the fact that the Vantage comes in a range of trailer lengths, 16′, 20′ and 24′. If you further want to customize your portable tiny home, then you can opt for one of the upgrade packages. Not only do these packages affect the aesthetics, but they also allow you to live completely off-grid.
Check out the Tiny Heirloom website for more information on their tiny houses for sale.
3
VISTA TINY HOME ON WHEELS FROM ESCAPE HOMES
Summary
Cost: $48,600 and up
Size: 175 sqft and up
We love the aesthetics of this fantastic tiny home, it blends perfectly with a natural environment and it's massive windows ensure you're getting the most amount of natural light possible.  Not only is it a looker but it boasts respectable dimensions, coming in at 7,800 lbs and a little over 21 feet in length.
If off-grid living is something you'd like to entertain, then you'll be glad to know this tiny house can be outfitted for off-grid living.  If that's not your thing, then it comes with all the standard RV hookups.
If you get a chance to take a look at it in person I'm sure you'll love the natural materials and clever design touches such as cedar paneling and pine interiors.
Storage and living space is generous enough for a couple of single people, with separate bathroom and sleeping areas.
If you'd like to find out more you can take a look at the Escape Home here.
4
CORNELIA TINY HOUSE FROM NEW FRONTIER TINY HOMES
Summary
Cost: $115,000 and upwards
Size: 250 sqft
While this tiny home for sale might cost a little bit more than some others on our list, it's quality finish and attention to detail really stand out.
If you're looking for a tiny home that can help you fulfill your're writing aspirations, then this might be the perfect fit. Originally inspired by internationally renowned author Cornelia Funke, this tiny home is meant to be a sanctuary away from the busy lives we lead, not just for writing, but for any pursuits.
It features a king size bed with a massive view on all sides, encompassing 270-degrees in total. In addition to the bedroom, there's a comfortable living room, bathroom and plenty of space to prepare a meal.
For the readers or authors amongst us, you'll love the beautifully crafted cedar library shelves, either for your own books or for someone else's.
You can either choose to buy this tiny home as an off-grid model or on-grid. It's worth bearing in mind that these homes are not RVIA certified, which means you can't use them as an RV. But you can easily transport them to wherever you want your tiny home to be located.
If you want to find out more about tiny homes offered by New Frontier, then you can see all of their tiny homes for sale on their website.
5
EUCALYPTUS FROM MINIMALISTE HOUSES
Summary
Cost: Starting price of $56,000 all the way up to $120,000
Size: 285 sq ft
I'm sure you'll agree that the Eucalyptus tiny house is a stylish offering from Minimalist Houses. The home is inspired by the California lifestyle and was originally a custom build for a couple. The design turned out so well that it's now part of the Minimalist Houses range.
This one of a kind tiny house is split across two levels and offers all the essentials including a fully functional kitchen, a bathroom with shower and laundry facilities and generously proportioned bedroom on the upper floor.
The Eucalyptus offers a warm palette of colors and well-sized windows which let in a ton of natural light.
Minimaliste Houses is a Canadian company, but they've recently partnered up with Tiny Innovations in order to better deliver their tiny homes for sale to customers located in the United States.
You can read more about there houses here.
6
THE MONACLE FROM WIND RIVER TINY HOMES
Summary
Cost: Starts at $84,000
Size: 240 sqft
We love the Monocle Tiny home manufactured by Wind River, it's a perfect example of a well-executed tiny home that's been finished to an incredibly high standard.
Coming in at just 10′ wide and 24′ long, it's a tiny home on wheels of diminutive stature.
Despite the proportions, it can quite easily fit a queen-sized bed, as well as a bathroom with a bathtub, his and hers closets which include a massive amount of hanging space. Finishing off the package is a set of elegant French doors and aluminum clad windows.
You can see more above wind runner tiny homes for sale here.
7
ROANOKE FROM TUMBLEWEED
Summary
Cost: starts at $54,959
Size: 139 sqft and upwards
Tumbleweed, the manufacturer of several tiny homes for sale, including the Roanoke have a mantra, "Dream Big, Go Tiny!".
They are one of the older producers of tiny homes, starting out in 1999, and have now taken the crown as the biggest producers of tiny houses in North America.
The Roanoke is a beautiful and functional tiny home, with room enough for a double bed, full-size fridge freezer and plenty of loft space. What's more, it's full RVIA certified, which means you could quite happily use it as an RV.
If the Roanoke doesn't suit your needs, then one of the other offerings from Tumbleweed probably will, they even offer plans and DVDs so you can build your own.
You can take a look at the rest of Tumbleweed tiny homes for sale here.
8
THE URBAN PAYETTE FROM TRUFORM TINY
Summary
Cost: $115,000
Size: 358 sqft
We love the Urban Payette from TruForm Tiny, it's one of the best tiny homes for sale anywhere. It boasts a loft space, bump outs, solar paneling and dormers.
Tru From offers three varieties of its tiny homes for sale, each type is available in several lengths, and the outdoor options ensure your tiny home will look stand out and look unique. All three varieties share design concepts with travel trailers, which is a good thing, allowing for ease of transport.
If you take into account all the variety of options there are dozens of ways you can configure your tiny home to look.
All of TruForms Tiny variations have been made by qualified and experienced tradesman and craftsman, meaning your wiring will be installed by an electrician and the plumbing installed by a plumber. There are no cut corners. You're assured a quality tiny home for sale.
Read more about the brand and manufacturing process here.
9
DEGSY FROM 84 LUMBERS TINY HOUSES
Summary
Cost: starts at $69,884
Size: 160 sqft
All of 84 Lumber's Tiny Homes for sale are touted as being a greener alternative to living in a traditional home, with a small footprint and materials from sustainable sources, you'll be having much less of an impact on the environment.
We especially like the Degsy from 84 Lumbers, it features a sleek modern look, and all the amenities you'll need, including cooktops, showers, a refrigerator, and even a composting toilet.
If the Degsy isn't what you want, then you can check out the rest of the 84 Lumber's range on their website, including DIY and semi DIY options.
10
CAYMAN FROM TINY INNOVATIONS
Summary
Cost: from $97,000
Size: 204 sqft and up
If you're looking for a tiny home for sale that's suitable for the whole family, then the Cayman from Tiny Innovations is an obvious choice. It's available in 2 to 3 bedroom configurations, so should be workable for the average family.
The design is smart and makes clever use of space, but can be further customized to meet your specific requirements if that's what you're looking for.
To make the whole buying process easier Tiny Innovations can offer in-house financing as well as the option to trade in your old RV or car.
If you want more information on the Cayman or any of the other Tiny Home they have for sale then you can check our there website here.
11
MINIM MICRO HOME
Summary
Cost: $71,000 and up
Size: 264 sqft
This simplistic tiny home is the equivalent of a studio flat, its award-winning design features no dividing walls, which means the interior feels cavernous. The Minim tiny home has been put together by some very skilled craftsman and can either be built for off-grid living or on-grid, whichever is your preference.
The tiny home is full of surprises, from a 10′ kitchen all the way up to a fully fledged projector and large screen. So there's no excuse for not preparing an amazing meal and then enjoying something on Netflix.
In order to maximize both horizontal and vertical space, the designers have included a pull out bed, which shouldn't put you off as its both safe and easy to use.
If you'd rather have a tiny home that can move, you can even fit it with a trailer.
Overall it's one of the best tiny homes for sale today. You can read more about Minim Micro Homes here.
12
MODS INTERNATIONAL PREFABRICATED TINY HOUSE
Summary
Cost: $36,000
Size: 320 sqft
I bet you didn't know you can buy a tiny home on Amazon? Well, now you do.
The Mods International Prefabricated Tiny House is a very affordable tiny home and comes with most of the things you could want from a tiny home. It comes fully insulated, furnished, and with all the essentials such as kitchen area, bedroom, and toilet.
It's set up for on-grid living with aircon, heating, and lighting throughout. It might be slightly more than other shipping container homes, but this one is ready for delivery and waiting for you.
You can take a look at the tiny home and see more information here.
13
LILLEVILLA CABIN GETAWAY
Summary
Cost: $18,800
Size: 292 sqft
If you're blown away by the price of this thing, just bear in mind that this is a kit and will require assembly. But, if you're handy with a hammer and have a weekend to spare with some mates, then most competent adults should be able to assemble this over the course of a few days.
In my opinion, it's a great looking Tiny House and offers fantastic value for money. It's quite spacious, measuring in at nearly 300 square feet, and it has a loft as well.
Unfortunately, any amenities such as electric and plumbing will need to be purchased and installed separately, so you'll need to factor that into your budget.
To get more information you can take a look here.
14
EXPANDABLE CONTAINER HOME WITH SOLAR ENERGY
Summary
Cost: $24,800 and up
Size: Varies
This is a great looking tiny home and is manufactured by a Chinese company called WZH.
As it takes a modular approach to design, you can always expand your home as you see fit, adding on extra pieces as your time and budget allows. I especially appreciate the inbuilt solar system which is invaluable, especially if you live in a sunny country. You could potentially run this thing completely off the grid.
If you want more information or would like to see the upgrades that are available, then take a look at this listing here.
15
THE ROADHAUS WEDGE RV FROM WHEELHAUS TINY HOMES
Summary
Cost: $80,000 an upwards
Size: 250 sqft
Just because you're living a tiny house, it doesn't mean you need to do without the little luxuries, and the Roadhaus Wedge proves this point. It even features a little deck area so you can enjoy your morning cup of coffee or barbecue at the weekends.
The Roadhaus weighs in at a very respectable 13,000 lbs for the basic model. However, larger and more feature rich models will tip the scale at 25,000 lbs. So it's something to bear in mind if weight is a concern, be careful with the finishing you're choosing.
The various utility hookups are readily available on the underside of the tiny house, so once you have all the essentials plugged in you're all set to enjoy your new tiny home.
Check out the Wheelhaus Tiny Homes website for more information.
16
ALLWOOD GARDEN HOUSE ARLANDA
Summary
Cost: $10,665
Size: 273 sqft
We need to put in another disclaimer, this is another kit, so you'll need to assemble it yourself. Having said that, we love the look of this contemporary and sleek looking tiny home for sale on Amazon.
Whether you'd want to use it to live in, as a guest house, garden office or as a retreat from the kids, you could do much worse than this tiny house.
The biggest issue I can see with it is there isn't a bathroom featured in any of the design options, so you may need to retrofit something to meet your toilet needs. But, as you're saving a ton of money, then this might be something you can stretch to.
Take a look at the listing here.
17
ALLWOOD SOMMERSBY GARDEN HOUSE
Summary
Cost: $8,360
Size: 174 sqft
If you're looking for a tiny home for sale with a completely open floor plan, then the Allwood Sommersby Garden House might just tick all the right boxes.
It's not ideally suited as a replacement home, as it's lacking several amenities such as wiring, a bathroom or insulation. So if you're looking to live in it full time, you still have a bit of work to do to make sure it's up to a decent living standard. However, if you're looking for a tiny home to serve as a studio, office or something else, then this will tick many of the boxes.
It's biggest selling point is the price, which at the time of writing this article was $8,360, which is pretty reasonable.
To see more from Allwood or get more information, you can see the listing here.
18
ALLWOOD KIT CABIN CHLOE
Summary
Cost: $5,790
Size: 123 sqft
How tiny do you want your tiny home to be? At measuring in at a measly 123 square feet, this tiny home is truly minuscule.
Just like all other Allwood products, you're just getting the basics of a home here, basically walls, windows, and a roof. If you want any fancy modern day amenities such as electric, running water, a toilet or even a foundation, then you're going to have to see to these separately.
The truth is that this is really just a glorified shed, but if you're OK with that, and you just want a space to escape to, then the Allwood Chloe will do the job nicely.
You can check it out here.
19
DRAKE BY LAND ARK RV
Summary
Cost: $139,900
Size: 357 sqft
This is a smart looking tiny home for sale that offers plenty of space and styling.
With two lofts, a room that can serve as both an office or bedroom and built-in furnishings, there's a lot to like. Everything is pieced together beautifully and you're getting something that can be lived in straight away for many years.
Check out the website here for more information.
20
THE STURGIS FROM CUBIST ENGINEERING
Summary
Cost: $99,000 and up
Size: 170 sqft
This tiny home makes great use of space with a drop down queen bed, built-in appliances, and configurable areas to meet your specific needs. It's a good looking tiny home for sure.
If you wanted to buy this tiny home for sale, delivery can be made in as little as two weeks, ready for you to start your new adventure.
Have a look at the website here if you want more information.
21
GREENMOXIE
Summary
Cost: $65,000
Size: 340 sqft
If you want to live your life with as little carbon impact as possible, then the Greenmoxie is well worth a look.
Without any further modifications, the Greenmoxie can be used off-grid and it comes with a 1 kW solar system as standard. In order to best use that solar array, the Greenmoxie also comes with an 11kw of storage capacity, meaning you can still enjoy the joys of modern day electrical appliances even if the sun isn't shining.
In addition to the solar paneling, the tiny home comes with a roof water recovery system, and much of the trailer itself has been made from recycled or reclaimed materials.
Check out the website here for more information.