12 BLOGGING BEST PRACTICES, THE ULTIMATE GUIDE
Photo by Kaitlyn Baker
Originally Posted On: https://www.mostlyblogging.com/blogging-best-practices/
Blogging best practices.
Some bloggers believe knowing how to have blogging success is a mystery. No secret!
Peter Nyiri explains 11 effective blogging best practices that will work in 2020.
Blogging Best Practices, The Ultimate Guide
This report is on the state of blogging best practices and its profitability at the end of the 21st century. You will see the best strategies to follow if you want to successfully market your blog in today's highly competitive internet.
Albert Einstein on Blogging's Best Practices
What does Einstein have to do with blogging?
Well, once Einstein FAMOUSLY SAID THAT…
"The definition of insanity is doing the same thing over and over again
…and expecting a different result."
And Albert was a pretty smart guy.
Are the methods you are using right now bringing you results?
Then you need to listen to Einstein and start doing something different.
I am going to show you what that "something" is.
Bring on the blogging best practices for 2020!
11 Blogging Best Practices for 2020
1. Easy Mode Is Over
This is the first thing you need to understand as a blogger in order to master blogging.
Why am I saying this?
Currently there are 1.7 billion websites in the world. Out of these, there are more than 500 million blogs. Over 2 million blog posts are published every single day.
Social media platforms are competing with each other for attention. This means they have to show their audiences quality content or the people will go somewhere else. They've devised ways to make it harder to game their systems and are experimenting to see what they can do to increase engagement of their platforms.
More and more people are aware that you can make money online therefore more people are competing for the same audience.
2. Narrow Your Content
You may have heard about content-focused micro-niche sites. In many instances they outrank big authority sites, because Google loves "topic clusters".
But let me give you a different view on this. How about a site like NameSilo? The only thing you see on their site is domains, domain market place, setting your DNS, free domain privacy, etc. They have 3.3 million registered domains. If you count just $8.99 per domain per year (use promo code privacy0 to get free privacy and $1 off), that is millions of dollars of income a year.
Yes, I know that there are sites like Medium, eBay or Amazon that are all over the grid. But those are not the norm. Instead of being all over the place, concentrate on one thing and sell it to everyone by ranking on top and being an authority.
3. Target Long Tail Keywords
Highly specific multi-word phrases tend to be far easier to rank for than the more generic single keyword or double keyword phrases.
The following diagram is from Ahrefs:
As you can see, targeting keywords with very low search volume (<11) can bring a lot more traffic than targeting their short tail version. Yet this is where most bloggers fail. When your blog has no authority, this is pretty much the only way you can get your foot in the door and start getting some initial traffic.
Blogging On The First Page Of Google, a course in Mostly Blogging Academy will teach you how to use long tail keywords to increase your website traffic.
4. To Improve SEO, Build Authority
You will not be able to apply SEO mechanically (game the system) and get results. SEO is a lot more than just DA, CF, TF, keywords, title tags, URL, meta description. User experience, search intent, expertise, authority & trust are the new SEO.
This is what Google says in How Search Works:
Beyond matching the words in your query with relevant documents on the web, Search algorithms also aim to prioritize the most reliable sources available. To do this, our systems are designed to identify signals that can help determine which pages demonstrate expertise, authoritativeness, and trustworthiness on a given topic.
Google wants to show content that's been written by legitimate experts in their field. This applies a lot more to YMYL (Your Money Your Life) subjects, such as make money and health.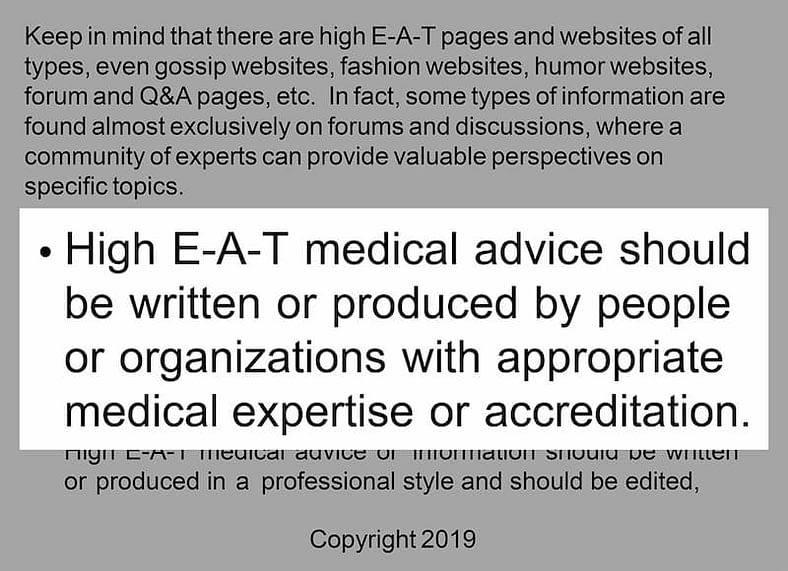 So if you want your content to rank, it needs to be written by people that know their stuff. But did you know that a lot of this gets decided off-site?
"When the website says one thing about itself, but reputable external sources disagree with what the website says, trust the external sources."
So what is reputation based on? Experience of real users, as well as the opinion of other people who are experts in the topic of the website.
Blogging Like A Pro will show you how to build more authority. (You can read the first 3 lessons.)
5. Site Age Is Important For SEO
New blog owner asked on Quora, "How do I drive decent traffic to my WordPress blog (it's been a month since I made it and have only managed to get 231 total views with 11 posts?"
In 2017, SerpWoo published a study about how no new sites (with a few exceptions) were ranked in the top results. "Big brands have won the SEO war. Your domain has to be at least 5 years old to get some serious long term rankings going." I don't agree with this statement 100 percent, but there is a lot of truth in it.
If you were Google and had to make sure that the results you show are high quality, what would you do? The fact is that very few people look past Page #1 of the search results. Therefore if you put brands and aged sites to Page #1, chances are high that spam content is pretty much kept out of view of searchers.
I've seen case studies of several new sites that, with proper strategy and management (UL), are getting thousands of page views at the age of 9 months. Still, the "standard" advice from about blogging best practicees from the blogging gurus and courses to come up with a new domain name and register it needs to be questioned.
Even if your blog is only a few months old, you have an executive decision to make. Are you going to suffer through the Google sandbox or are you better off buying an under-performing, but somewhat aged site on Flippa and build that further? This option could save you a lot of time.
6. Content & Copywriting
When I say content, most people think about content length and in-depth articles. But that is not everything.
Video is EXPLODING right now. If video isn't part of your digital marketing plans, you're missing out.
So if you want to get more traffic from SEO, create and optimize content specifically for YouTube. Also embed video content into your blog posts. This can significantly improve your time on page and bounce rate.
Video & Webinar for Newbies will show you how you can create simple videos with free tools.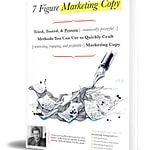 Interesting/persuasive copywriting is an additional factor you need to pay attention to. It is the most profitable skill you can ever learn. Every serious entrepreneur must understand it's principles if they want to reach their goals.
Check out the simple 1-2-3-4 formula for persuasive copy.
7. Support SEO With Social Media
The relationship between social media and SEO isn't at all clear cut… but it does exist, and it can help you rank #1 if you understand it. Research seems to show that social media helps SEO rank.
The reality is that social media plays a big role in helping companies get their content in front of a larger audience. That leads to many things that benefit SEO, including more backlinks, improved engagement signals, and more owned SERP real estate for branded queries.
The use of social media and similar high traffic sites is the main reason that made Mostly Blogging the success it currently is. It is detailed in this post about high DA content submission sites.
8. Build Links
Many site owners find it too painful to build links, because they hate begging for links. There is a mental barrier to overcome before you can be successful at link building and outsourcing is not a cost-effective option.
Yet not building links is the biggest strategic mistake you can make. Content with links ranks much better. In fact it is wiser (and more effective) to write a bunch of guest posts than publishing content on your own blog that no one reads.
9. Avoid Fake Footprints
This is very often forgotten in the heat of action, but your metrics need to be justifiable. What do I mean by that?
You may have 1,000 backlinks… but are they justified by traffic and social shares? In other words, if your site has close to zero traffic and no one shares your content, those backlinks are fake for sure. And Google knows that. This is why you need to have a balance of traffic, social shares and baclinks. This is a reason why building links sometimes "doesn't work".
10. Build An Audience
While an email list is considered to be a preferred audience, YouTube, Instagram, Facebook groups are also a way to build one.
The NameSilo example above clearly shows how an audience translates into income. You don't need millions of people though. If you can get 1,000 people to give you $100 a year, you are already making $100,000.
Effective Email Marketing will show you the basics of how to build an email list and how to write emails.
11. Build Your Sales Funnel
Traditional websites don't convert well these days. They are like a sieve – visitors land, then disappear, never to be seen again.
Therefore make sure you upgrade your blog with a sales funnel. Take a proven funnel structure and figure out how to tailor it. That is the best way to monetize your traffic.
12. Your Blogger Education
More important than ever, it is necessary to learn blogging best practices that actually work. It is also helpful if your education doesn't cost a fortune. This is why we created the Mostly Blogging Academy.
To make it even more affordable, we created an All Access Pass where you get all courses for a low price. There is also a $1 trial available.
Want To Create Your Own Online Course?
We have a tutorial on how to easily create an online course on your own blog.
Readers, please share so bloggers discover these blogging best practices and have more successful blogs in 2020.
If you have any questions, leave a comment below.
I look forward to your views in the comments section. Can you suggest any blogging best practices bloggers should apply in 2020?