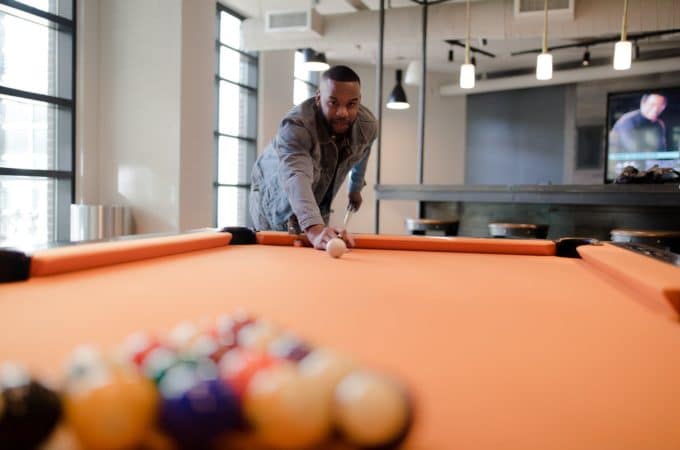 101 Game Room Ideas for Adults, Kids, Gamers, and Everyone in Between
Originally posted on https://thegameroomreview.com/game-room-ideas/
Need some game room ideas to enhance your space?  You've come to the right place!
Game rooms are still extremely popular amongst all generations.  The beautiful thing about game rooms is that they are reflections of your personality and enjoyments – no two game rooms are the same and each person adds their own flavor to their game room.
Whether you are into video games and just want a small PC gaming setup, or you love entertaining and want a foosball table with a home theater, a game room is the perfect place to make it happen.
This article is super long because of how endless the possibilities are when it comes to setting up and decorating your game room.  If you see game room ideas you like, feel free to research it and revisit the article later.  I hope you find an idea for your game room that makes it the best game room it can be!
Game Room Ideas – Table Games
Table games have been staples in game rooms and pubs across the world for some time.  Nowadays, there are even professional leagues and olympic competitions designed around some of these popular games.
If you have a big space to fill, a table game can be a beautiful and fun centerpiece to your game room.
Ping Pong
Ping Pong (also just referred to as table tennis in many parts of the world), is an incredibly fun table sport.  The nice thing about ping pong is that the rules are extremely simple, so anybody with basic hand eye coordination will pick up the game quickly.
Table tennis is a beautiful game, and even an olympic sport, due to its depth.  What I mean is that there are an uncountable amount of nuances that can be mastered in the game and countless ping pong tips out there to make your game better.  Spin control, deception, reflexes, and reading your opponent are just a few skills that master ping pong players acquire over time.
Equipment wise, all you need is a ping pong table, two to four paddles, and ping pong balls.  Many ping pong tables are sold as sets with paddles and balls included, but you should do your research on the best equipment to go with your table anyways!
Pool
Pool is probably the most popular form of Billiards out there.  Back a few decades ago, you could find pool halls lined with pool tables and hustlers looking for a game.  While pool might be slightly past its prime, it's still a fun pastime for many.
Pool is a very casual game in the sense that it doesn't require physical strain, but good players are strategic thinkers and execute shots they see.  There is something very satisfying about the click sound the balls make when they clank together.
Similar to ping pong, pool tables can take up a lot of space so there are some miniature sized options out there for those who are more space conscious.  Pool tables are quite an investment usually, so check out our post on the different types of pool tables if you need to get some research in.
Pool Cue Racks
When it comes to pool table set ups, storage is a very important consideration.  Pool requires the use of cues, balls, and racks to play the game.  When the table isn't in use, it's best to have practical storage options for your equipment.
The most common type of storage is a wall mounted rack.  There are quite a few different shapes, colors, and sizes available depending on the color scheme of your game room and pool table.
The second type of storage that we like to recommend is a floor rack.  Floor cue racks take up more space compared to a wall mount but often times provide more storage and organization space.
Floor racks typically look like normal tables but are built out to store cue racks.  There are, however, floor racks designed to be placed in the corner of a room which can be a great pool storage option as well.
Pool Table Chair
A pool set up in your game room wouldn't be complete without pool table chairs.  A true staple, these chairs are high seats designed for easy entry and exit while your opponent takes their turn at the pool table.
At a minimum, a pool table chair should have a small rack for your cue.  Beyond that, some will have cup holders and trays for snacks.
Pool table chairs come in many different colors and styles, so ultimately you should pick chairs that compliment your pool table and game room's color scheme.
Air Hockey
Ever been to entertainment centers like Dave and Buster's?  Air hockey is a popular and often featured game at places like this.  What makes air hockey so fun is the head to head nature of the game.
I mean obviously in other games you play against somebody, but in air hockey it feels like you are in battle.  Everything from your leaning in posture to your positioning feels like you are in an intense game.
It's also a super easy game to learn.  We've actually written articles on the best air hockey tables and a guide on how to win at air hockey that you should check out!
Foosball
Similar to air hockey, foosball is a great head to head game that can be played 1 vs 1, 2 vs 2, or even 3 vs 3.
Foosball is a great table game for a lot of reasons, but one practical reason is that it takes up less space to play compared to ping pong and pool.  For the most part, players remain stationary and move their arms during play, so there is no need for extra space around the table in addition to the table itself.
If you are new to foosball, check out our post on the best foosball tables which includes a foosball table buyer's guide.
Shuffleboard
Table shuffleboard is another game that is a staple in game rooms and bars across the world.  It's a casual game and the rules are pretty easy to pick up.  We've outlined the rules and how to play shuffleboard in another post.
The shuffleboard table is unique because of it's dimensions.  Most tables at most are a couple of feet wide, and tournament size tables are 22 feet long.  That's an extremely long and skinny table!
The nice thing about this is that shuffleboard tables are perfect to place up against walls.  You can have an incredibly fun, fully functional shuffleboard table that doesn't really take up that much space in your game room.  It effectively will only be 2 or 3 feet shorter of a room!
Combination Table
For those who truly love table games and don't have a ton of space, combo tables are a fantastic option.  There are quite a few all in one tables available that let you switch quickly between games.
The upside of a combination table is obvious.  You can enjoy many different games on one surface that only takes up the space of one table.  The downside of a combo table is that you trade away some quality for flexibility.
For example, the experience of playing ping pong on a combo table won't be quite as good compared to playing on a top notch ping pong table.  That's simply because the engineering of a combo table requires some compromises to be made in order to provide the flexibility to switch back and forth between games.  But all things considered, we think the pros that come with combo tables far outweigh the cons.
We've got a great post on the best air hockey pool ping pong combo tables that you can check out for specific ideas!
Poker Table
For the gambling types, a poker table is a perfect addition to your game room.  Depending on your budget, there are poker table options ranging from less than $50 to super expensive tables that are akin to what you would find in a Vegas casino.
Poker table tops are a nice alternative if you're space conscious or have a card table already.  Poker table tops can be set down just about anywhere to get your game started.
Take a look at our poker table and poker table top reviews to see if any of them are a good fit for your game room.
Poker Chips
If you're going to get a poker table, you're obviously going to want a set of poker chips.  Whether they're plastic or made of a more authentic clay material, look to buy a set of 500 or more to support a poker game of up to 8 players.
Card Shuffler
There's nothing wrong with shuffling cards yourself – but if you want to save yourself a ton of time when playing cards, you're going to want to invest in a professional card shuffler.
They really aren't that expensive and for long card or poker games, the amount of time saved over the course of an evening really adds up!
Blackjack Table
Continuing the theme of gaming – blackjack enthusiasts can invest in a blackjack table or table top.  A game of low stakes blackjack can be a great party game or perfect addition to a casino themed party.  Most blackjack tables conveniently fold for easy storage.
Craps Table
Craps is yet another table game that you'd find in casinos.  While it's less common to find a craps table in somebody's game room, a craps table top or felt can make an incredibly fun addition to your game nights.
Roulette Wheel
The last casino related idea we wanted to share is a roulette wheel.  I'm going to be honest, I don't know any people who regularly play roulette in their game room – but it's a ton of fun to bring out at social gatherings.  Also, they look super cool and are a great decoration piece.  For adult themed parties, roulette can make a great drinking game as well!
Game Room Ideas – Indoor Games
Our next category of ideas revolve around games that are primarily played indoors.  Indoor games are just plain fun and can be a great way to spend time when it's too hot or cold outside.
Board Games
A solid collection of board games is a must for any game room.  No matter what type of person you are, there is a board game out there for you, and they are a great way to make memories with family and friends.
Strategy board games are a great way to break a mental sweat while you have some fun.  You never know, you may catch the bug and become a hard core board game player!  For more casual times, there are plenty of board games out there that require minimal strategy that are still a ton of fun to play.
We've written posts on the best strategy board games and best party board games for adults that you should check out if you need ideas on which board games to try!
Darts
A dart board is great for both casual fun and a little friendly competition amongst friends and family.  Darts can be played both indoors and outdoors but we think it works super well in a game room because a proper set up doesn't take up much space at all.
Really all you need to get started is a dart board and darts – then you're good to go.  There's nothing more satisfying than throwing for a bull's eye!
Dart Board Cabinet
A dart board cabinet is by no means necessary to play darts but it's an accessory that we highly recommend.  First, it provides storage for your dart board and darts while also adding a tasteful aesthetic to your game room.
Second, and more practically, a good dart board cabinet will help protect your walls from stray dart throws.
The one downside of indoor darts is that bad trows may end up damaging your walls over time, so a dart board cabinet helps protecting walls by acting as a backboard outside of the actual dart board.
Electronic Dart Board
An electronic dart board is a great variation of the traditional dart board.  Fundamentally, it's the same game as traditional darts with the added high tech benefits of automated scoring and usage of soft tip darts.  Soft tip darts are great because they are safe for kids and won't damage walls as much compared to steel tip darts.
Hook and Ring Toss
You may have seen this simple yet incredibly fun game at pubs before – like many of the other games on this list it can also be played outdoors but is a great addition to any game room.
The object of the game is simple, swing the ring to try to land it on a hook in the wall or on a backboard.  We've got a great post on strategy and how to play hook and ring toss if you want some tips on how to master this game.
There are some great DIY kits for sale that are honestly just about the same price as going out to the hardware store and buying all of the materials yourself.
Skee Ball
Most people don't realize that skee ball in your game room can be a reality.  Until recently, I had only ever played skee ball at arcades and entertainment centers.
As it turns out, there are now quite a few different options when it comes to full size in home skee ball games.  They play just like the "real thing" that you would find at the arcade and can provide tons of entertainment for adults and kids alike.  Check our reviews of the best skee ball machines if you are in the market for one!
Chess & Checkers Table
While both chess and checkers technically fall under the board games category, we wanted to draw special attention to chess and checkers tables in this post.
A chess table may seem a little old school, but most are super practical and come with plenty of storage space for game pieces.  Depending on the vibe of your game room, a chess and checkers table could be a great addition.
Card Table
Most people just play cards on their kitchen or living room tables.  There's nothing wrong with that at all, but there are also tables out there specifically designed for playing cards.
Since most people don't play cards literally every night, card tables are often very mobile and light.  Design wise, you'll typically see square card tables that seat 4 players close to each other.  Favor a table that can be easily folded up and stored to maximize space in your game room.
Puzzle Table
I'd be lying to you if I told you I didn't secretly love jigsaw puzzles.  Challenging puzzles are intellectually stimulating, but the passive nature of puzzles make it a great activity to do with others who you may want to visit or catch up with.  Hard to beat that if you ask me!
Since some puzzles have over 500 to 1,000 pieces, it can be hard to organize and keep track of everything as you put the puzzle together.
That's why a table specifically designed for puzzles is a nice fit for a game room.  Obviously they are flat surfaces, but they come with storage drawers that are incredibly handy for organization.
Giant Games
Giant games have become increasingly popular in recent years.  As simple as it sounds, they are just bigger versions of the games we already love.  It may seem counter intuitive, but giant games can actually be great for kids as the game pieces are so big that it's less likely for them to be choking hazards.
We're going to highlight a couple of our favorite giant games for your game room!  This is by no means an exhaustive list of the many giant games out there.
Giant Chess
Giant Chess is a super fun take on the timeless game of Chess.  For avid Harry Potter fans, giant chess is like a scene straight out of Harry Potter and The Sorcerer's Stone!
Giant Jenga
Giant Jenga is one of the few games where the giant version actually changes the dynamic of the game.  Traditional Jenga requires players to be a little more tactile since our fingers are relatively bigger compared to the blocks in regular Jenga.
That said, there is no fun lost in Giant Jenga.  It's such an exhilarating moment when the giant tower of blocks finally falls.
Giant Connect 4
Giant Connect 4 is another classic that is made in a giant version.  Despite the size, the big version of Connect 4 is super easy to store and transport around.
Dominoes
Dominoes sets are great to have in any game room.  Any dominoes game can be played on traditional card tables or really any flat surface.
Dominoes has many variations, some of which actually have a unique set designed specifically for that game.  Spinner and Mexican Train come to mind as dominoes games that require a special set.  Games like 42, Straight Dominoes, and Moon are games that only use the basic Double 6 set of dominoes.
Arcade Basketball
Similar to Skee Ball, I was surprised a few years ago to find out that arcade basketball is indeed a possibility for me at my home game room.
Almost all of the arcade basketball games available for sale today are electronic and feature built in games and automated scoring.  Arcade basketball just has that addicting quality to it which keeps players playing for hours and hours trying to beat that last high score.
Size wise, there are plenty of different options ranging from miniature to full size depending on how much space you have set aside in your game room.  Check out this post for a more detailed look at which arcade basketball games for home are out there.
Pinball
Pinball machines are classic game room fixtures. The explosion of the internet and eCommerce have led to even more availability when it comes to niche themed pinball machines.
So, whether you simply love pinball and want a basic machine or you are a hardcore fan and love collecting rare iterations, a pinball machine is a fine addition to any game room.
Old School Arcade
Growing up as a kid, I spent so many hours on the Pac-Man and Galaga machines it's not even funny.  There are so many old school arcade games that still resonate today and are tons of fun to play.
Thanks to advances in technology, old school arcade cabinets are often loaded with thousands of games that you could spend endless amounts of time playing.
Depending on the theme of your game room, a retro looking cocktail arcade table could be an extremely cool add as well.
Golden Tee
For those not familiar, Golden Tee is a modern arcade game known for creative virtual golf course design found in tons of bars and restaurants across the globe.  It's super fun to play casually over beers with friends, and also has a more competitive culture with professional leagues that you could test your skills in.
In home Golden Tee set ups can actually connect to the wider network and participate in games for money, so you never know what adding a Golden Tee machine to your game room could lead to!
Big Buck Hunter
Big Buck Hunter is a personal favorite arcade game of mine.  Even though it's a hunting game, the cartoonish UI makes the game super light hearted and fun target shooting.  The game is designed for 1 to 4 players and turns go by quickly so each person feels like there is constant action.
A Big Buck Hunter console definitely has a steep price, but if you've got the coin your game room will be the one nobody wants to leave.
Indoor Putting Green
You really don't even need to be a golf fanatic to appreciate the fun of an indoor putting green.  Anybody who has played putt putt knows that it's an easy and fun version of golf to play.
For the more avid golfer though, there are actually some extremely high quality indoor putting greens that you can put in your game room to get some practice in when you aren't out on the course.  Check out our post on the best indoor putting greens if you'd like to see our favorite picks.
Golf Simulator
Now an indoor golf simulator on the other hand is definitely for the hardcore golfer.  You'd be amazed at the technology that is out there today – you can get full on practice and play virtual versions of real courses in the comfort of your game room.
Optishot Golf Simulator
I want to highlight the Optishot mostly because of its price point.  It's by far the cheapest full shot golf simulator you're going to find on the market.
Obviously, you are going to get what you pay for.  The technology has problems tracking shots sometimes and the graphics aren't top of the line – but if you can get past this it really is a good value pick and is tons of fun for golfers.
What's great about the Optishot is its ability to connect to Mac and PC computers – so you can run the software through a projector and have an immersive feeling round of golf in your game room.
Trackman Launch Monitor
I hesitate to even include the Trackman in this list because of the price tag, but it's too cool not to even if I'll never personally be able to afford one for my game room.
At a cool $20,000, you could have the most accurate, technologically advanced golf simulator in the world.  Most PGA Tour pros have a Trackman and if you can afford one for your game room, props to you.
For the gaudy price you get a seamless experience, perfectly accurate data on your golf game, and an immersive VR like experience on simulated golf courses.
Golf Simulator Impact Screen
Whether you get the Optishot or the Trackman, a nice addition to your game room golf set up is an impact screen.
Impact screens are designed to display projector outputs and simultaneously be strong enough to take the beating of golf balls being constantly hit into it.
When the golf simulator isn't in use, the impact screen can also be used as a high end projector screen to watch movies or TV shows on.
Indoor Golf Hitting Net
The last golf related item to make this list is a simple hitting net for the golfers who don't need the bells and whistles of a simulator.
Golf hitting nets are incredibly strong and can take the impact of full swings to allow you to get practice in your game room.  The nice thing about most hitting nets is that they are very easy to store, so they don't have to be a permanent fixture in your game room.
Beer Pong
It's no surprise that there are beer pong tables designed specifically to play this popular drinking game.
The nice thing about a dedicated beer pong table is that they are designed to take a beating.  The last thing you want is for an adult beverage (or any liquid for that matter) to damage a card table or a real ping pong table.  Enjoy responsibly!
Game Room Ideas – Entertainment
Entertainment equipment is for just that, entertaining.  This category of game room ideas will take you through everything you need to spend hours on end in your game room.
Surround Sound
When it comes to entertainment set ups in the game room, I can't overstate the importance of a quality sound system.
Whether you are a gamer or just like watching movies, sports, or TV shows, a quality surround sound system will make each experience immersive if properly set up.
If you don't have experience with wiring, definitely look into paying a local professional to handle the set up.  In addition to wiring everything properly, a pro should place each speaker in the perfect place to balance out the sound waves and create the perfect environment for your equipment to do its job.
Receiver
Everybody has their own opinion, but if you are going to splurge on one piece of equipment for your surround sound set up, I suggest going all out on a quality receiver.
The receiver is the central control unit of your entertainment set up and having a quality, easy to use receiver eliminates a lot of headache that can be associated with a home theater.
5.1 Surround Sound System
You'll often hear the terms 5.1 and 7.1 thrown around when discussing surround sound.  The difference between 5.1 and 7.1 surround sound is really quite simple.
5.1 is a six channel sound system that includes a subwoofer, front speaker, then four side speakers.
7.1 Surround Sound System
7.1 surround sound simply adds another set of side speakers to the equation, making it an eight channel sound system with a subwoofer, front speaker, and six side speakers.
Truthfully, both 5.1 and 7.1 systems can sound awesome – but the extra two speakers definitely make a difference if you have the space in your game room.
Subwoofer
Nowadays, there are an abundance of quality subwoofer options for reasonable prices.  This is an area I'd recommend being more budget conscious if you need to be.
Most subwoofers are box shaped and will likely be placed in the corner of your game room with most surround sound installations.
Sound Bar
Sound bars are a great cost friendly alternative to a full on surround sound system.  Most sound bars include two speakers and a subwoofer and have really handy features like Bluetooth, WiFi and USB connectivity.  The multiple input options allow for seamless switching between music, TV, and games.
The other nice thing about sound bars is that they are quite easy to install.  Most are basically plug in and play, and are compatible with a wide range of entertainment systems.
TV Mount
Don't get me wrong, there's nothing wrong with setting a TV on top of a cabinet or entertainment console – but I'm a sucker for mounted TV's.  A proper TV mount gives the room an elegant and modern feel.
Nowadays, quality TV mounts can actually support quite a bit of weight.  Most come with drywall anchors so you don't even necessarily need to find wall studs when hanging your TV, although we'd still recommend you find at least one stud to anchor the mount to.
Be sure to check the weight ratings and compatibility of the wall mount to your TV – and if you are ever in doubt, contact a professional to help mount your TV.
Corner TV Mount
There are some situations when a corner TV mount is the perfect way to add a TV to your game room.
For example, corner mounts work great in game rooms that feature table games, where there isn't traditional seating and most of the socializing is done standing up and while moving around.
Really if your game room is set up in a way that the TV isn't the centerpiece of the room, mounting one in a corner could be the way to go.
Portable Speakers
When it comes to game room sound, most people don't think of portable speakers as an option.
But for those who don't want a full on surround sound system, a network of portable speakers can be a super practical alternative.
Specifically, we like the Ultimate Ears Boom Speaker which can connect to multiple other speakers via Bluetooth and provide a surround sound like experience.  And since they are portable, you can obviously take them for use outside of the game room as well.
Projector
If you are a movie buff or sports fan, a projector is truly hard to beat.  I was surprised to find that you can buy a quality projector for about the same price as a 50 inch flat screen TV.
The "catch" is that it will probably cost a little more to get the projector installed and get wiring done if you are connecting to a surround sound system or need to mount the projector to a ceiling.
But, the hassle is well worth it once all of the installation is complete.  Nothing beats sitting back and watching a flick on a glorious 120 inch projection.
Projector Screen
If you have white walls then a projector screen isn't 100% necessary, but if your game room walls are any other color you'll want to get a projector screen to compliment your projector.
Projector screens come in stands or pull down varieties – stands are more portable, which is nice.  Most game rooms I've been in have a pull down projector screen which is more space conscious.
Video Game Console
I'm not here to stir up the Xbox vs Playstation debate, just to point out that a gaming console can be a great addition to your game room.
In addition to video games, most consoles are equipped with application geared towards entertainment.  So, you can watch movies, Netflix, YouTube, and get access to many other sources of entertainment on an Xbox or Playstation.
Game/DVD Storage
With so many forms of entertainment moving towards streaming, DVD's, BluRay, and game discs are becoming obsolete, but many people still prefer to own a physical copy vs a digital version.
For those people, there are some super modern and sleek storage options.  My personal favorite is a tower that stores PS4 games and has two spots to charge controllers on it.
Gaming PC
Any avid gamer should have a dedicated PC for gaming.  Maximizing PC performance is crucial for optimal gaming – and with a gaming desk and some cool LED lighting you can put together an incredibly cool PC gaming setup in your game room.
We've written a post on how to build a gaming PC for under $1,500 that you should check out if you're looking to build out a gaming PC yourself!
Jukebox
Jukeboxes are on this list mostly because they add a great vibe and aesthetic to any game room.  Most modern jukeboxes are decked out with LED lighting and bluetooth connectivity, meaning you can play just about any kind of audio through these jukeboxes.
Jukeboxes come in all sorts of sizes – a miniature jukebox will run you less than $100 whereas a full size will cost a few thousand.  Vintage jukeboxes can get up to $10,000(!!!) in price.
Record Player
Let's stick with the retro theme for game room ideas.  Similar to a jukebox, a record player is a great aesthetic piece to add to the decorum of your game room.
There's something special and nostalgic about playing an old school record, despite the imperfections of the sound output.  Modern record players have Bluetooth connectivity allowing for multipurpose use.
Virtual Reality
Virtual Reality technology has made leaps and bounds over the past few years.  There are a few VR gaming headsets that provide endless hours of entertainment and fun.  A VR headset is a great addition to any game room – and they're only going to get better and better in quality as time goes on.
Game Room Ideas – Furniture
Every game room has some kind of furniture in it to enhance the primary use of the room.  Generally speaking, you should look for furniture that looks good but also has built in storage to maximize the look and functionality of your game room.
Home Theater Chairs
Home Theater Seating is an area where you won't regret splurging a little bit.  Think about it, if you are going to sit in a chair for hours at a time to watch movies or play video games, you really want to have maximum comfort and ergonomic support.
There are chairs on the market that have power reclining, adjustable headrests, extra lumbar support, USB charging stations, cup holders, built in food trays, and comfortable, breathable leather.  What a time to be alive!
Most manufacturers will sell chairs in sets of 1, 2, 3, or 4, so you can buy the perfect number of chairs to fill your space.
Entertainment Console
Entertainment consoles are extremely practical game room pieces.  Most are utilized for their combination of TV placement and additional storage for cable boxes, audio receivers, books, or whichever other items you need a place for.
Good entertainment consoles are kitted with cable management systems to allow for ease of use and to avoid tangled up messes of wires.
Entertainment consoles come in many shapes and sizes, so make sure you find one that matches the color scheme and overall vibes of your game room.
Refrigerator
I don't know about you, but when I watch movies and play video games I like to crack open a beverage while I'm being entertained.  Mini refrigerators come in a bunch of different colors, shapes, and sizes so you can find the perfect fit for your game room.
Personally I really like how refrigerators with glass doors look because it adds an extra visual layer to the look of it – so it's much less bland compared to a refrigerator with a solid color door.
Popcorn Machine
Popcorn has been a staple snack for watching movies for decades.  It's never been easier to make movie theater style popcorn in the comfort of your own game room.
In home popcorn machines are typically either bar style for placement on countertops or cart style with wheels.  Either make a great and tasty addition to your game room.
Massage Chair
Nothing says luxury like a zero gravity full body massage chair.  There are quite a few benefits to having your body consistently massaged – in addition to just feeling good, over time consistent ergonomic massaging has positive health benefits.  Massage chairs are a great game room compliment for any home theater set up.
Bean Bag Chair
Bean bag chairs are back in style – and these chairs are so versatile and are comfortable to sit in.  They come in many different shapes, colors, sizes, and you can find bean bag chairs filled with old school beans or if you want something more premium, you can find chairs filled with memory foam.
Gaming Chair
Gaming chairs have exploded in popularity over the last few years, and for good reason.  There are quite a few manufacturers out there who make quality, ergonomic designs.
Gaming chairs are designed to be sat in comfortably for hours at a time.  They promote good posture and provide plenty of support so gamers can focus on playing games.  You don't even necessarily need to be gaming to enjoy a gaming chair though – most actually recline quite a bit and can be great for watching movies and relaxing.
We've done a more detailed post on the best gaming chairs available today if you want to do some more research.
Gaming Desk
A gaming desk is a must for any hardcore PC gamer.  In addition to maximizing functionality of your gaming setup, most gaming desks are kitted out with super practical storage capabilities.
Take a look at our article on the best gaming desks – we've highlighted some of the top gaming desks on the market for both mouse and keyboard and controller gamers.
LED Lighting Strips
LED lighting can do wonders for the feng shui of your game room.  What I particularly love about LED lighting strips is how inexpensive they are.  Often times, for less than $20 you can create lighting effects that look like they were made by a professional designer.
Ideas for where to put LED strips to enhance your game room:
Behind your TV
Under furniture (couches and chairs)
Under coffee/side tables
Under shelves
On your wall floor trim
Lamps
Lamps are a classic piece of furniture but often necessary for good vibes and lighting in your game room.  Generally speaking, corner lamps work well in game rooms because they utilize minimal space and are therefore very efficient.
If you have a pool table, a pool table lamp is also a must.  There are generic lamps and also some pretty stylish themed pool table lamps as well.  Just make sure to hang it high enough (at least 3 feet) above your pool table so that it doesn't get in the way.
Posters and Frames
Posters and frames are a great way to decorate and fill up wall space in your game room.  For movie buffs, classic movie posters are the perfect way to add some personality to your home theater.
There are also an abundance of frames and shadow boxes that can display your favorite art, sports memorabilia, or funny quotes to liven up the game room.
Game Room Couch
Many people end up with hand me down couches – there's nothing wrong with that at all.  But, we've found that a good couch is very often a worthwhile investment.
Think about the amount of time you spend in your game room.  A lot of that time is probably spent on the couch.  Whether it's napping, watching movies, or playing games, having a comfortable couch is well worth it.
Throw Pillows
Throw pillows are an afterthought for some, but good decorum is never a bad thing for your game room.  I've always been a big fan of themed game rooms, and throw pillows are a great way to decorate with a theme.
For example if you are a Star Wars fan, these throw pillows are a perfect addition to your couch.  You get the idea.
Pull Out Couch
Nothing is more practical than the pull out couch.  Most pull out couches are comfortable to sit on and provide a place to sleep for guests.  Game room pull out couches are especially nice for those who don't have a dedicated guest room.  The pull out couch obviously converts into a bed for your friends and guests to stay the night.
Game Room Storage
Storage is an aspect of game rooms that may not be sexy, but is nonetheless important.  Proper storage allows you to maximize the functionality and flow of your game room.
Racks
Racks are great for people who still love having a physical copy of a video game or DVD.  There are an abundance of game room racks that provide great storage and are tasteful in design.
Shelves
Shelving is a great way to organize the game room.  Proper shelving is versatile in the sense that it allows you to decide between storage or decorum.  Shelves can also be decked out with LED strips to create a modern vibe.
Bins
Storage bins are super practical when it comes to maximizing space and we think everybody should have at least a couple on hand in their game room.  In addition to traditional storage, bins are great for moving or traveling with video game consoles.  Most storage bins are stackable so they really don't take up that much space when they aren't in use.
Ottoman
Ottomans are one of the most versatile pieces of furniture you can have in your game room.  What you should be looking for in an ottoman is something you can store items in, something you can rest your feet on, and something that looks good.
Thankfully there are quite a few colors and styles of ottomans on the market so no matter what the color scheme of your game room is, there will be a practical option for you out there.
Bar Cart
Present your bar in an elegant way with a bar cart in your game room.  We've seen bar carts work very well in game rooms featuring table games such as pool and shuffleboard.
In addition to complimenting table games, it's also nice to have easy access to adult beverages if you regularly watch sports or movies in your game room.
Coffee Table
A coffee table is another seemingly basic suggestion but its value in the game room can't be overlooked.  Coffee tables pair especially well with sectional couches and typically have shelves or drawers available for super practical storage.
Game Room Themed Signs
No matter what the theme of your game room is, I can almost guarantee there is a sign out there that will fit your theme perfectly.  Anything from an LED lighted, fancy sign to a basic, simple design can add to the vibe of your game room.
Wall Decal
Wall decals for a game room can be a great way to decorate a big wall space that would otherwise be hard to fill.  If you're into sports, Fathead makes sports themed wall decals – if you're more into gaming, there are a ton of gaming themed wall decals on Amazon.
Themed Clocks
Whether you hang a clock on the wall or set it on a shelf, it's a great way to decorate your game room while also making an easy way to check the time.  Similar to many of the other suggestions on this list, there are a bunch of themed clocks that make for great decoration pieces in any game room.
Art Prints
Continuing the theme of wall decorations, art prints are the perfect way to show some personality and decorate walls in your game room.  If you can find prints on canvas, you won't even need to invest in frames to have professional quality art in your game room!
Game Room Ideas for Kids
As a kid, I spent countless hours in the game room playing foosball, video games, and having fun with toys.  A decked out game room for kids is a luxury, and we've got a few ideas to help make your game room the best it can be for kids.  Most of these ideas are secretly fun for adults too!
Forts
There's nothing like a good old fashioned fort made out of couches, blankets, and pillows.  But if you want to save the mess or just simply add to your kids fort empire, nowadays there are forts that inflate easily or come with blankets and anchors included for maximum fun.
Giant Legos
Legos have been a game room staple and been incredibly popular for decades now.  It's the perfect way for a kid to simultaneously have fun and be creative.  But, the gripe people have consistently had with Legos has to do with their size.
The small sized legos can be extremely painful to step on, and worse, are somewhat of a choking hazard for kids.  You have to be really careful when supervising your kiddos lego play time.
That's why we really like giant block sets, which provide a way to creatively build without the dangers that come with traditional Legos.
Flooring for Kids
There are some game room floor types that are able to withstand a beating, but if you have carpet or hardwood in particular, some flooring could be a life saver.
Interlocking foam tiles are the way to go, and they come in a bunch of different colors to add a little pizzaz to your game room.
Kid Proof Covers
We'd be remiss if we didn't include some game room ideas that will help for make the game room a safer place.  Simply adding covers for door knobs and table corners can make the game room a much safer place for kids to play.
Mini Ping Pong
Acquiring a mini ping pong table is the perfect way to introduce kids to the game.  Mini ping pong tables are nice as well because they really don't take up much space and are easy to store when not in use.
We've done a post on best mini and midsize ping pong tables that you should check out if you are thinking about buying one.
Mini Pool Table
Similar to ping pong, manufacturers make miniature pool tables designed for spacial efficiency and introducing the game to kids.  Considering most kids don't even get tall enough to play regulation size pool until they are teenagers, a miniature or table top pool game is the perfect way to get them involved.
Mini Air Hockey Table
Continuing the theme of mini table games, there are some mini and table top air hockey tables out there that are perfect for youngsters who want to get in on some air hockey action.  Introducing your kid to air hockey on a mini table will have them well on their way to becoming a pro!
Mini Combo Table
We've already displayed our affinity for combination tables in this post about game room ideas, and the miniature version is no different.  One of the most versatile combo tables for kids has 10 different games you can play with it, which is the perfect addition for any kid's game room.
Tabletop Bowling
I've always been a fan of games that kids and adults can enjoy together, and tabletop bowling fits that bill perfectly.  All you need to play is a flat surface – the game can be set on top of a coffee table, game table, or even the floor.  Like many of the other ideas on this list, it's a great introduction to bowling!
Fabric Darts
Fabric darts is the safe alternative to real darts – perfect for kids and still lots of fun for adults.  This version of darts uses velcro technology to have balls thrown at the target board stick.  Another added benefit vs real darts is that missing the board doesn't have consequences and won't damage your walls.
Conclusion
There you have it, over 100 game room ideas!  I hope this article has inspired some ideas for you in how to make your game room THE room to hang out in at your home.  If you made it this far, props to you!  Hopefully you found at least an idea or two that you will use in your game room.
If you have game room ideas not mentioned in this list, we want to hear about them!  Let us know what your game room favorites in the comments section below.