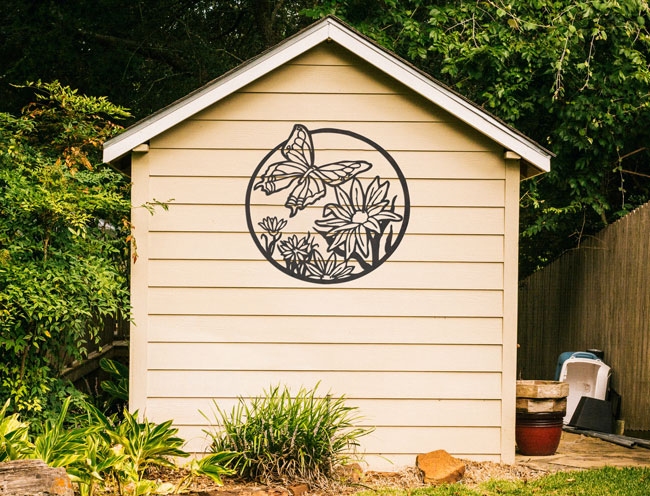 10 Backyard Beauty Boosts Using Metal Decor
Photo from Unsplash
Originally Posted On: 10 Backyard Beauty Boosts Using Metal Decor | CNCDesignShop – Design for CNC
The beautiful brown of rusted-metal outdoor décor adds striking color contrast and visual variety to the green of your backyard. (Yes, metal décor comes in other colors than brown, so feel free to substitute your favorite.) After such a long period of COVID confinement, this year is the perfect time to add a bold stroke of metallic color and texture to your yard, garden, and even your home.
There are two main methods of getting your hands on outdoor metal décor:
Buy finished pieces from an online seller or from a local artisan at a farmers' market.
Make them yourself.
If you enjoy flexing your creative muscles and doing things yourself, making your own metal décor may be just the right hobby (or business) for you to start in 2021. And it's easier than you think if you use specially-designed patterns and a CNC machine. For a link to a free pattern download, keep reading. But first, a few ideas to beautify your backyard with metal décor…
1. Nature-Inspired Yard Art
Nature-inspired metal yard art lets you take a touch of your personality and hang on your garden shed, fence, or house wall. Whether you're into nature landscapes, floral scenes, butterflies, birds, wolves, moose, bears, fish, or other animals, you can find a piece of metal art that suits your style.
2. Garden Stakes
Who says outdoor metal décor has to be only artistic and not have any practical function Metal garden stakes not only look beautiful, but you can use them to identify vegetable rows in your garden, support and protect plants, and even train trees to grow correctly.

Photo from Unsplash
3. Welcome Signs
Welcome messages aren't just for mats at your front door anymore. You can welcome guests to your home and yard with metal signs that feature animals, cowboys, nature scenes, and more.

Photo from Unsplash
4. Privacy and Trellis Screens
Looking to separate different areas of your yard or home with a little flair? Look no further than metal privacy screens that come in a huge variety of sizes and styles, including eye-popping geometric designs and floral patterns.
Free Metal Art Pattern We Promised
By now, some of you must be chomping at the bit to try and create your own metal outdoor art with that free pattern we promised. Just click on the link below, download the free file. Then you can either print the file and use it to cut a sheet of metal by hand (with a plasma torch), cut wood with a scroll saw, or cut metal with a CNC machine. For those unfamiliar with CNC, it stands for "computer numeric control," which basically means a process that uses pre-programmed computer software to tell the machine where and how to cut the metal. CNC machining is a fast-growing hobby and artisan industry that allows anyone to create their own piece of customized metal décor. Download Your Free DXF file

Photo from Unsplash
Photo from Unsplash
And now, back to our ideas for metal décor.
5. Fence Toppers
Add extra height and distinctiveness to any portion of your fence with a metal fence topper. Designs include patterns of trees, leaves, roses, ovals, and more.

Photo from Unsplash
6. Wind Spinners
Have you ever gotten lost in thought while relaxing in your favorite backyard chair and found yourself mesmerized by a wind spinner? I think we've all been there. Now, you can hang your own hypnotic spinner made of metal.

Photo from Unsplash
7. Weathervanes
Metal weathervanes add a distinctive touch to your garden, yard, house, or shed by evoking the rural architecture of America from decades ago. Designs range from bison, raccoons, and wolves to birds, fish, and even pirate ships.

Photo from Unsplash
8. Address Signs
Closely related to welcome signs, metal address signs advertise your address to visitors, mail carriers, and delivery people in a much more interesting way than some numbers painted on your curb. These are perfect examples of metal art that you can custom-make with your specific address.

Photo from Unsplash
9. Coat Hangers
Need some hooks for your guests to hang their coats and jackets on before an action-packed game of backyard football, croquet, or cornhole? Choose from a variety of metal coat hangers with depictions of flowers, animals, cowboy scenes, and more.

Photo from Unsplash
10. Saw Blade Clocks
Sure, everyone can see what time it is on their phones and watches. But maybe you'd still like to add a clock in your backyard that your guests can check with a glance. Circular saw blades make the perfect metal foundation for a striking round clock.

Photo from Unsplash
For More Metal Art Inspiration…
We hope these ideas have fired up your imagination and opened up some of the many possibilities that outdoor metal décor and art can bring to your backyard. To explore more, check out the vast collection of patterns at CNCDesignShop.com.