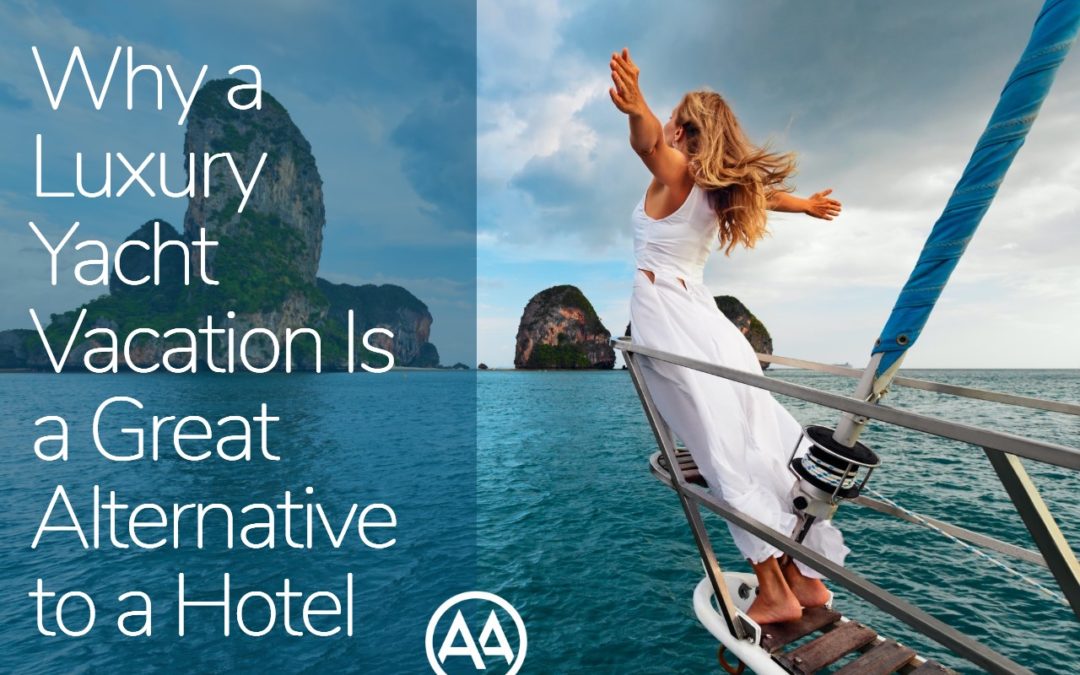 Why a Luxury Yacht Vacation Is a Great Alternative to a Hotel
Photo From Adobe Stock
Originally Posted On: https://assist-ant.com/luxury-yachting-trip-great-alternative-to-hotel-stay/
A yachting trip is much more realistic than you would think. This guide on yacht vacations shows why staying on a yacht can be a better option than a hotel.
We've analyzed the difference between vacationing at a high-end hotel and a luxury yachting trip, and the results are shocking! Many people believe that renting a yacht is out of their price range but this isn't true.
A private yachting rental often works out to be about the same or less expensive than a luxury yacht vacation. Plus there are lots of benefits of renting a yacht that hotels can't provide.
Read this helpful guide as we break down why a yachting trip is a great alternative to vacationing at a hotel in post crisis travel.
Let's Do The Math on Luxury Hotels
To compare the prices between a luxury yacht vacation and a vacation at a typical high-end hotel, we turned to Conde Nast Traveller Readers' Choice Awards for 2019. The readers of Conde Nast Traveller selected their favorite hotels and destinations around the world.
We added up the average cost for a couple to spend the week in one of these luxury hotels. It can go up to $9,353 per week, give or take a few, depending on which hotel you selected. To arrive at this number we selected the rooms with the "best rate" and didn't factor in any additional costs.
Additional costs could make the price of your stay more expensive, especially if you are vacationing during peak tourist season. The hotels at the top end of their list would cost two people $181,000 a week.
A luxurious hotel can be one of the most expensive parts of your vacation. If you are traveling alone or with a partner, you will shoulder the expense. However, if you are taking a family vacation or traveling with friends or clients, you have the capability of combining your spending power.
This is where renting a luxury yacht becomes more affordable. If you are booking 4 rooms at an average luxury hotel, you would spend around $40,000 just for accommodations. Just like that, your vacation begins to look expensive.
How Much Are Yacht Vacations?
Yachts vary in price just like hotels. There are lots of factors that affect the price of yacht charter vacations.
One important factor is the yacht itself. The yacht's design, age, and size affect the price. The location could also affect the price. Locations that see frequent yacht traffic tend to be on the less expensive side.
Of course, if you are traveling during peak season, this increases the price along with how many days your trip will be. It is possible to rent a luxury yacht for as little as $5,000 for a week-long vacation in the Bahamas, Greece, or Thailand.
Other popular locations include the Pacific Northwest, the San Juan Islands, and Mediterranean hot spots like Antalya, Turkey.
Just like hotels, the more extras and amenities you have onboard, the more expensive the yacht. A yacht with personal jet skis, a cinema, or specialty crew members will increase the price.
A private yacht has the license to accommodate up to 12 guests. It's common for 8 guests to rent a yacht together and split the price between themselves.
If you add up the cost of 4 couples staying on board a luxury yacht versus a luxury hotel, the price is usually cheaper.
Luxuries Included With Your Yacht Vacation
Every yacht is different but most luxury yachts include accommodations for 8 people. Larger yachts might accommodate 10 to 12 people.
When you book a vacation on board a beautiful yacht for a week, you can expect to have luxurious cabins, a stately sitting area, a formal dining area, and plenty of areas to catch some sun on the deck. Most yachts offer two deck areas.
Some yachts come with a spa tub, water toys, or other equipment you can use on your vacation. You'll also have the option of having a dedicated crew for your entire vacation including a captain, stewardess, and private chef.
Non-alcoholic drinks, food, and entertainment are usually included. You'll sail past beautiful sites and watch beautiful sunsets or sunrises over the water.
Of course, the more you pay, the more amenities will be included. Larger yachts tend to have more cabins, larger decks, and a bigger crew. Plus if you bring a few extra people on your trip, it may help keep the costs down.
Additional Costs During Your Yachting Trip
Be sure to ask the captain about additional costs like docking fees and fuel. These expenses vary from yacht to yacht and the location of your yachting trip. You should also plan on leaving the crew a tip if they do a good job. A tip of 5 to 15 percent is customary.
At a luxury hotel, you will have to pay for your food and beverage separately from your accommodation. You may even have to hire a venue for a large gathering or pay for entertainment. Food and beverage costs are included on your yachting trip.
While a vacation at a hotel can be fabulous, let's take a look at a handful of ways yacht vacations beat luxury hotel vacations.
You'll Have the Place to Yourself
You just can't beat this first benefit. With a luxury yacht charter, you will have the entire yacht for your party. Unless you rent out the entire luxury hotel, you can't top this.
A luxury hotel is still a hotel. Other guests will be there. There may be noise coming from the bedroom next door or kids running down the hallways. You can't control that. When you visit the pool, there will be strangers lying beside you.
On a yacht, there will be plenty of room for your family or friends to sprawl out. You won't bump into strangers in the hallway or be forced to make polite conversation with other hotel guests.
Privacy is one of the best parts of renting a luxury yacht. It will be just you and your guests the entire vacation.
You'll Have a Private Staff
When you go on a yachting trip, you will have your very own private staff. Hotel staff is very friendly and helpful on a vacation but it doesn't compare to the staff of a luxury yacht.
At a hotel, you will be one of the hundreds of guests the staff helps each day. Good luck trying to get their attention when you need directions or a dinner recommendation.
On a luxury yacht, you and your guests are the only people the staff is there to serve. They exist entirely to help you and make your vacation spectacular.
And you won't have to worry about making dinner reservations when you have your very own private chef. Hotel restaurants are great but a private chef is a foodie's dream come true.
Your chef will plan your meals according to your dietary preferences. If you have any allergies or even if you just don't like a particular food, your chef will steer clear of serving it.
A luxury yacht is carefully stocked with all your favorite food items before you arrive. You'll never have to wait for a table and each meal is served beautifully on a decorated table.
You can even have a chat with your chef or ask him to prepare something special for a birthday or other celebration.
You will be the only VIPs on the yacht that the crew will take care of. Your stewardess will provide drink service, turn down service, and keep the yacht clean and orderly. She will serve your meals, snack, and plan your itinerary.
A Luxury Yacht is Spotless
People who charter a yacht expect perfection when it comes to cleanliness. Yachts have a crew of people working year-round to keep the yacht looking its best. Every corner of your charter yacht will be clean and shiny.
The interior crew on your yacht will pop into your cabins several times throughout the day to ensure the bathrooms are spotless and your laundry is clean and ironed.
During the off-season, yachts are thoroughly cleaned and detailed in a way most hotels never get to do because they are constantly occupied.
The crew-to-guest ratio is much higher on a charter yacht than you would find at a hotel. Also, a yacht has fewer guests throughout the year than a hotel does. For all of these reasons, you can expect your yacht's cleanliness to be perfection.
Yachts Are a Great Way to Travel
A luxury yacht is always sailing to and around its destination. That means there will be so many vistas and sites for you to take in.
When you book your vacation at a hotel, you will spend most of your time stuck in traffic on your way to destinations. If a destination is far away, you might even have to switch hotels and spend the night.
On a yacht, you won't have to worry about driving anywhere. Your captain will steer the ship safely anywhere you want to go and make sure you get to see the most beautiful sites.
The crew will pick a perfect view to anchor the yacht while you enjoy a sunset dinner. Or take you to a nearby island for a beach picnic. This might even be a beach that can only be accessed by boat.
The crew knows the great spots to go snorkeling and fishing. They also know where to see whales or dolphins. Avoid all the crowded tourist destinations and relax. All you have to do is lie back and enjoy the ride.
You'll Have Beautiful Views
Every day the view will be different when you take a yachting trip. You will be constantly on the move. Wake up for breakfast near a tranquil cove. Swim in the water or enjoy water sports during the day.
Snorkel or scuba dive at a nearby reef while your chef prepares a fresh seafood dinner. The captain will anchor near a glamorous marina so you can enjoy a view with your dinner.
Cruise along the coast by day and stop to get off for a little shopping or drinks.
If you don't feel like cruising, you can always ask your captain to drop the anchor. At a hotel, you will have the same view for your entire vacation. Even if it is an oceanfront room, you will be stuck with that same view.
You may not be able to see the sunset from your angle or the many wondrous sea creatures.
A hotel view isn't constantly changing. You will dine at restaurants with the same view. You will swim at crowded beached filled with tourists and other hotel guests.
The Entertainment is Provided
Your stewardess on board your luxury yacht will plan your entertainment. This comes at no additional cost. When you stay at a hotel for a special event of family reunion, you will have to plan and pay for your entertainment separately from your accommodations. This could be a tidy sum of money especially if you need to rent a private venue.
On the other hand, it will be you and your selected guests onboard your yacht. Invite your friends, family, or colleagues for a cocktail party or special dinner. If you meet some friends onshore, invite them back to your yacht for a nightcap while taking in the view.
There may be a restriction on your yacht as to how many people your boat is allowed to sail with but when you are docked this isn't a concern.
Yachts Are Greater Than Hotels
Overall, you are going to have a great vacation whether you stay at a luxurious hotel or onboard a yachting trip. But if you want an exciting experience that is more luxurious than your previous vacation, there is only one way to go.
Choose a luxury yacht as an alternative to a hotel for your next vacation. At AssistAnt Global Concierge, we can help make your vacation an amazing experience.
Book a reservation today and you'll see why once you travel on a luxury yacht you'll never want to travel any other way.