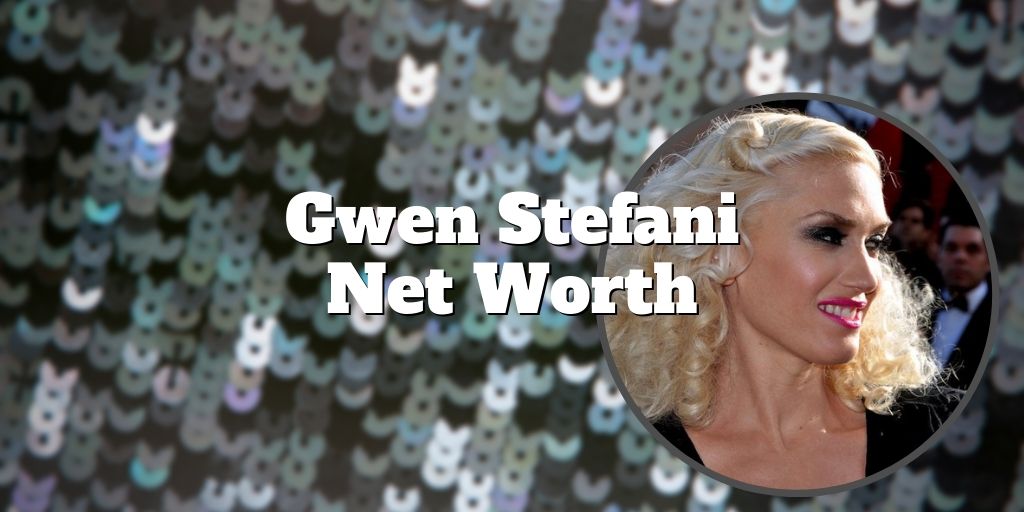 Gwen Stefani Net Worth – Wow, $100,000,000!!
Originally posted on https://investormint.com/celebrity/gwen-stefani-net-worth
Since the 1990s, Gwen Stefani has been a household name in the music industry.
While you may know her because of her solo singing career or her role as a judge on the popular television show "The Voice," you may not know just how wealthy she truly is. By some estimates, Gwen Stefani's net worth is nearly $100 million.
She emerged on the scene in the 1990s as lead singer of the band No Doubt, whose breakthrough studio album "Tragic Kingdom" is still popular on radio playlists around the world.
---
Originally posted on YouTube by NoDoubtTV
Later, Stefani struck out on her own, finding incredible success as a solo artist. She has won many awards for her singing and musical abilities, and VH1 ranked her at No. 13 on its Greatest Women in Music list in 2012.
To call Gwen Stefani a singer, or even a musician, would be to do her a disservice. Certainly, much of her net worth is due to more than just her musical talents, tours and CD sales. But she also has a residency in Las Vegas, a role on a reality television show, a perfume brand, a clothing line and even an animated television series in the works.
Could all of these ventures, added together, have helped contribute to her estimated net worth of nearly $100 million?
Gwen Stefani Rock Star
Gwen Stefani wears many hats, but it is clear that her most important one is that of a rock star.
For over 25 years, Stefani has influenced the global music scene. She recorded six albums with her band No Doubt, which she co-founded, and another four as a solo artist.
Plus, she has toured the world. Her biggest tours included the following:
Harajuku Lovers Tour (2005)
The Sweet Escape Tour (2007)
This is What the Truth Feels Like Tour (2016)
As a solo artist, Stefani has been recognized by a long list of music groups and organizations.
Among her many awards include two Billboard Music Awards, three Grammy Awards, an American Music Award, a World Music Award and a Brit Award.
She is an icon of the 1990s, a trailblazer of the 2000s and an influencer of the modern era, thanks to her more than 8.7 million followers on Instagram.
Gwen Stefani is a bona fide rock star, and she is also a true celebrity known for her family, her music and her style.
>> Rachael Ray Turned Cooking Into Riches
No Doubt: The Gwen Stefani Era
When Gwen Stefani was just 17, she became a founding member of the band No Doubt.
At the time, the group was made up of Stefani as the lead vocalist, Adam Young as the drummer, Tom Dumont as the keyboardist and guitarist, and Tony Kanal playing bass and saxophone.
In the early years of No Doubt, band members practiced in a garage and played at high school graduation parties and eventually small local gigs in Southern California.
By 1990, No Doubt was signed to Interscope Records. The self-titled debut album from No Doubt was largely a commercial failure, something that was blamed on the grunge emphasis in rock music at the time.
The band, on the other hand, had a ska vibe and a cartoony emphasis that was so different from the rest of the music scene. By the time they released "Tragic Kingdom" in 1995, the world was ready for their sound.
"Tragic Kingdom" was a commercial success, with songs like "Just a Girl," "Spiderwebs" and "Don't Speak" firmly cemented in the soundtrack of the 1990s.
The group set off on a tour to further promote their album, and it turned into an incredible 27-month international tour.
No Doubt sold over 16 million copies of "Tragic Kingdom," making it one of the best-selling records ever.
In 2000, No Doubt released the album "Return of Saturn" followed by another album, "Rock Steady," just two years later.
By 2003, No Doubt had enough successful material in their catalog to release a best-of album titled "The Singles 1992-2003."
Around this time, Stefani had already begun exploring her solo career. Although No Doubtwas responsible for the rise of Stefani, her star power went way beyond being the lead singer of a band.
Nonetheless, she almost certainly made several million dollars thanks to No Doubt'simpressive record sales and long international tours.
>> Seth MacFarlane Is A Hollywood Mogul
Gwen Stefani Solo Career
While Gwen Stefani was very much still a part of No Doubt in the early 2000s, she had already begun to explore a new sound on her own.
The culmination of that journey was "Love. Angel. Music. Baby.," a solo album released in November 2004.
The sound was a new take on the music that Stefani grew up listening to in the 1980s, and it gave her a chance to dive headfirst into an upbeat pop sound that was a big departure from the rock of No Doubt.
"Love. Angel. Music. Baby." was a huge success, eventually going on to become multi-platinum in several countries around the world.
While this was Stefani's first solo album, she worked alongside many music veterans on various songs. Stefani collaborated with everyone from Dr. Dre to Tom Rothrock on the album, giving each song a distinct sound.
In 2006, Stefani released her second solo album, "The Sweet Escape." This album pushed her sound further toward dance and electronic music. Singles from this album include "4 in the Morning" and "Now That You've Got It."
Stefani took a break from touring and releasing new music for several years but came back with a splash by appearing unannounced at Coachella in 2014.
She appeared on the stage with Pharrell Williams as they sang a rendition of "Hollaback Girl," one of her earliest and most successful hits.
---
Originally posted on YouTube by Gwen Stefani
Shortly afterward, Stefani began collaborating with artists like Calvin Harris and Maroon 5, dipping her toe back into the world of music and performance.
In 2017, Stefani released a Christmas album called "You Make It Feel Like Christmas," and she promoted it with a live television special with the same name.
Just a few months later, Stefani announced a Las Vegas residency, Just a Girl: Las Vegas, which is set to end in November 2019.
Las Vegas residencies are huge earners for musicians like Stefani. Britney Spears, over four years of shows in Las Vegas, earned over $150 million. There is no doubt that a big part of Gwen Stefani's net worth came from her many shows in Las Vegas.
>> Ron White Is Funny And Rich
Gwen Stefani: The Voice Judge
One of the reasons that Gwen Stefani's net worth is so impressive is because she is involved in so much more than just music.
To promote her album "The Sweet Escape," Stefani served as a mentor in the sixth season of "American Idol."
That small role prepared her for the job of a judge on NBC's popular television show "The Voice," where she earned $10 million for the first season alone.
---
Originally posted on YouTube by ET Canada

Gwen Stefani Fashion Icon
Gwen is famous also as a true fashion icon. She made many of her stage costumes during the No Doubt years, and that turned into a fashion line called L.A.M.B. in 2004.
A later addition to the line, Harajuku Lovers, was more affordable, more commercial and enjoyed by fans.
Her fashion and accessories brand continues to grow thanks to the addition of a fragrance line and her own collection of eyewear.
As Stefani became more famous and more recognizable to the public, she began earning money as a spokesmodel for various brands. She appeared in campaigns for L'Oréal Paris and Urban Decay, among others.
There's no question that these relationships added to her earnings, helping Stefani to further grow her already impressive net worth.
One of the more recent of Gwen Stefani's enterprises is an animated television series starring her and the Harajuku Girls. Together, these characters form a band that plays music and fights evil.
Called "Kuu Kuu Harajuku," the series will eventually be distributed worldwide and no doubt create more wealth for Stefani.
Gwen Stefani Husband and Kids
Since Gwen Stefani has lived so much of her life in the public eye, there is a lot about her personal life that is also public knowledge.
In fact, many of the early songs from No Doubt reflected on the relationship and then breakup between Stefani and her bandmate Tony Kanal. Their relationship was a secret for more than a year, but their friendship is well-documented and continues to this day.
In 1995, Stefani met the lead singer of Bush, Gavin Rossdale.
They dated for several years before getting married in 2002 at Covent Garden in London, and that was followed by a second wedding in Stefani's home of Los Angeles.
The two were married for 14 years before filing for divorce in 2016. Stefani claims the two struggled with irreconcilable differences that ultimately led to their separation.
Rossdale and Stefani had three sons together. They lived together for much of their marriage in a home in Los Angeles that went on the market in 2018 for a whopping $29 million.
Since the two purchased the home for around $13 million, that profit certainly added to Gwen Stefani's net worth.
Although Rossdale and Stefani's divorce wasn't finalized until 2016, they split publicly in the summer of 2015.
---
Originally posted on YouTube by The Insider
Just a month after their announcement, Stefani announced that she was dating Blake Shelton, the country music singer and her fellow judge on "The Voice." The musicians are still together and often make public appearances.
It is impossible to know the exact worth of a superstar like Gwen Stefani. However, estimates of nearly $100 million are probably accurate.
Her career has spanned almost three decades, and she has had an incredibly successful run as part of No Doubt and as a solo artist. Her Las Vegas residency, real estate profits and fashion lines only add to her financial success.
>> How Did Denzel Washington Get So Rich?
How To Build A
Gwen Stefani Net Worth
Gwen Stefani is a rare talent among musicians. From a young age she rocketed into stardom as a founding member of one of the most successful bands in history.
Her massive net worth reflects her popularity and so it wouldn't be fair to assume that just anyone can amass such enormous wealth.
However, you can build a richer future for yourself by making smarter financial decisions today. For example, did you know that every time you swipe your credit card you could be saving and investing over the long-term without lifting a finger?
With Acorns, every transaction you make is rounded up to the next dollar and the difference is invested on your behalf. You don't need to do anything, it happens automatically.