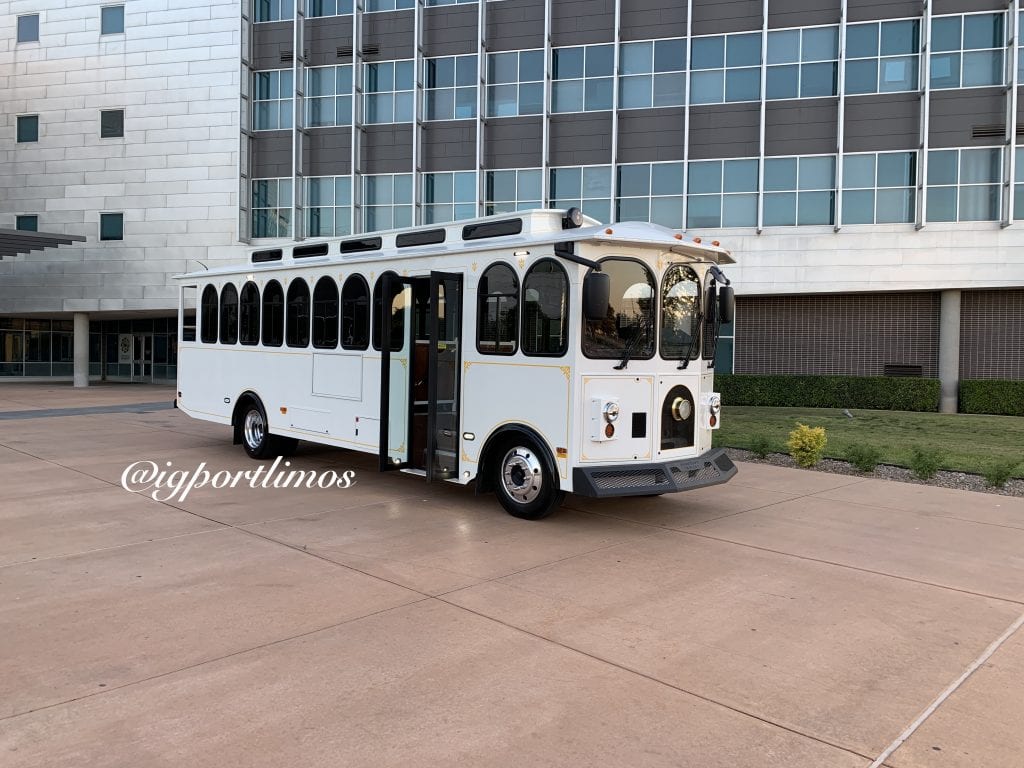 When to Use a Trolley Bus Rental
Originally posted on https://www.igportlimos.com/when-to-use-a-trolley-bus-rental
A trolley bus rental in the Dallas area is becoming more common. So much more, that we added a second trolley to our fleet. We know are proud owners of our original red trolley bus and a brand new white trolley bus! Our trolley bus is used for many occasions in the Dallas area, from weddings to corporate events, the trolley bus does not disappoint. What is the best use of a trolley bus rental?
Weddings
Weddings are perhaps our most common event for trolley bus rental. We have requests from all over the Dallas are for our trolley bus at a wedding. Not only do these vehicles have a vintage look and feel, they are easy to get in and out of, have bench seating and hold up to 35 passengers, depending on which model you choose. The photos are stunning and your wedding will definitely go to the next level with the use of a trolley bus for your transportation needs.
Corporate Events
While a party bus is a very common vehicle for a corporate event, our trolley bus is making up some ground in the corporate world. Corporate transportation is typically thought of as a nice limo, luxury sedan or maybe a party bus for a night out. But, our trolley bus is well suited for a group event of any sort. With a unique experience and design, taking the office out for a fun night will only be improved with the use of a trolley bus.
Group Events
With any group event there are several options. If you are considering when to use a trolley bus rental, this is the time. As you plan the evening or event, consider the size of the group. The seating in a trolley is 28-35 people depending on what model you choose. So, if you have a group of 40, you'll need to consider other vehicles. In contrast if your group is smaller, a sedan or SUV might be a better option.
Christmas Light Tours
Everyone loves to look at Christmas lights. The displays in some of Dallas' top neighborhoods are incredible. Take your entire group for a wonderful night out in a trolley bus to look at Christmas lights. The vintage design and feel is great for the Christmas season. The bench seating works well so that parents can sit with kids and look out the window to view the light displays. Holiday tours do book up quickly, so we recommend booking in October or even late September.The reality is you can use a trolley bus for almost any event you want, the events we listed above are just some of the more common reasons our customers rent a trolley bus.Demand is high for many vehicles, including the trolley bus. The earlier you start the process the better chance you have of getting the vehicle you want when you want it. Although many individuals book two or three months out, many of our clients book six months or more from the event date. This is especially common for weddings and larger events that are planned further in advance. Our company provides the highest quality of service possible and has received many awards for our transportation services in the Dallas area. We are fully insured and our well trained, professional drivers will make sure your event or evening runs as smooth as possible. So, don't wait, schedule your trolley bus rental today!