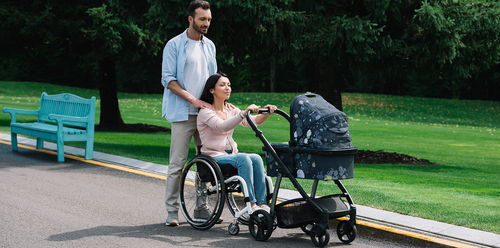 What to Expect When You're Expecting: the Missing Chapter on Wheelchairs and Baby Gear
Photo From Adobe Stock
Originally Posted On: https://evika.io/resources/wheelchairs-and-baby-gear
You have a new baby on the way, how exciting! As a parent- or grandparent-to-be you are, no doubt, wondering about the latest and greatest gear available to help you care for your sweet bundle of joy. While traditional baby gear can present unique challenges for people who use wheelchairs, in recent years there's been a flurry of innovation around accessible baby gear. We've rounded up 5 of the coolest accessible items as well as other ways you can design, adapt or repurpose traditional baby gear so that you too, can know what to expect when you're expecting!
1. PediaLift
With the touch of a button the PediaLift Crib transforms from an ordinary looking crib, to a hospital-grad lifting bed. When elevated, the open-air undercarriage lets wheelchair users place their lap under the structure offering easy and safe access to the baby through sliding doors. The PediaLift has a wide range of safety features and is operated using a state-of-the-art wireless, infrared remote (with a backup control located on the crib itself). The PediaLift is peak, accessible innovation and is the only high tech crib of it's kind on the market. For parents (and grandparents) using wheelchairs, the peace of mind that comes from having a safe and easy way to transfer babies in and out of their crib is truly a game changer.
*Important to note, the PediaLift is not only pricey, but is considered a Class II Medical Device and a prescription from a licensed physician is required for purchase.
If the PediaLift is out of reach, don't fret! Other safe transfer options include lower tech accessible cribs like the Gertie Crib, using a co-sleeper, like this bassinet from Baby Delight and/or modifying a traditional wooden crib. There are tons of comprehensive how-to guides available online that walk you through how to transform a standard crib into an accessible one, like this one from Instructables.com or this one from Wheelchairdaddy.com.
2. Buggy Pod
Originally designed as a stroller attachment, the Buggy Pod has been repurposed by parents in both manual and power wheelchairs, as a wheelchair attachment. The Pod attaches to either the side or the front of your wheelchair, giving you a safe, hands-free, and stylish way to stroll with your baby.
If the Buggy Pod is not your style, and/or you would prefer a traditional stroller; we suggest you look for a lightweight option with a single push bar (vs. two handles), as they are easier to maneuver single-handedly while propelling your wheelchair. Also important for wheelchair users, is the presence of a hand-brake to avoid having to reach and stretch to apply the breaks.
If the thought of pushing or towing around another piece of equipment is overwhelming, that's ok, there are other ways to venture out into the world with baby in tow! Many parents, both able-bodied and those with disabilities swear by baby-wearing. There are thousands of product options when it comes to wearing your baby, but one that stands out for wheelchair users is the Konny Baby Carrier.
3. The Konny Baby Carrier
This stylish and affordable carrier is designed in a way that it does not burden the wearer's waist, shoulders or wrists and, most importantly for those using a wheelchair, it's made from a soft, breathable material that slips on like a t-shirt. This means there are no buckles, ties or straps between you and your backrest, making it a comfortable, easy-to-use, and safe option for your and your baby.
4. Britax Romer Swivel Carseats
No baby gear list would be complete without a carseat! The Romer's 360 degree swivel makes it easy to move the seat from forward to rear facing without reinstalling, and allows caregivers to rotate the seat to the open car door from either position for easier placement and harnessing of your child. This is helpful for people of all abilities, including those using wheelchairs, as it eliminates the need to awkwardly stretch up over the sides of the carseat.
If you can't get your hands on a Romer or other brand of swivel car seat (sorry Canadians but there are none certified in Canada at this time) then we suggest a carseat with low profile armrests like the Diono All-in-One Convertible that fits children from newborn up to 120lbs. The low profile sides not only make it easier for you to transfer your bundle in and out of the seat as a baby, but also for your toddler to climb in and out independently as they grow.
5. Elevating Wheelchairs
While an elevating wheelchair is not your typical baby gear must-have, we've included it on our list as it can be a valuable way to make many of those traditional items more accessible. Elevating wheelchairs, like the Pride Jazzy Air or the PDG Elevation Manual Wheelchair not only allow users to stand, but leave their hands free for baby care. So, whether you want to wash them at the sink in that adorable baby bathtub, gently place them down for a nap in their non-modified crib, or confidently lift them into their carseat in your accessible van, an elevating wheelchair makes doing so safely, well within your reach.
One final item we feel is a must have for anyone parenting from a chair, regardless of how much technology and adaptive gear you collect, is a low-tech quality reacher, like Vive Health's suction cup reacher or a folding option like the Housolution's reacher tool (to throw in your diaper bag). Baby things are tiny and plentiful meaning you will, without a doubt, drop countless soothers, bottles, diapers, tiny socks, booties and almost anything else you use to care for your baby. When battling with items that hit the floor or slip just out of reach, a reacher will be your unsung hero.
![Reacher Tool](Housolution's reacher tool)
This is just a snippet of the accessible baby gear and adaptations available to wheelchair users. Questions about baby gear is just the tip of the iceberg when it comes to parenting, regardless of ability. As a parent (or grandparent) using a wheelchair, you are bound to encounter all sorts of barriers unique to wheelchair users, so don't go it alone! For more information on devices and baby gear modifications as well as general information on parenting (and grandparenting) from a wheelchair check out these great online resources:
And, like always, check out Evika.io to discover even more assistive devices to help you along your wild ride of parenthood!