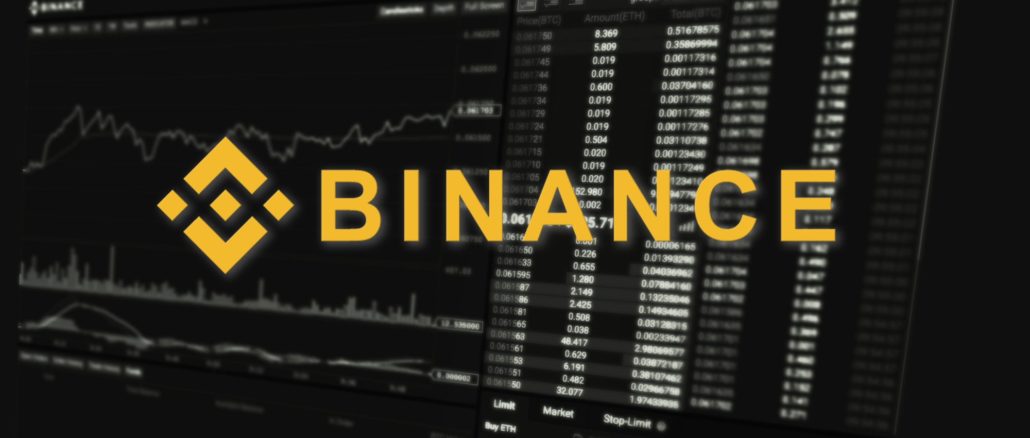 What to Expect to Pay: A Complete Guide to All the Binance Fees
Originally posted on https://www.cryptoryancy.com/what-to-expect-to-pay-a-complete-guide-to-all-the-binance-fees/
Did you know that Binance is ranked in the top five most popular cryptocurrency exchanges in the world, based on trading volume?
With all of the cryptocurrency options available on the market, it can be difficult choosing the right type of exchange for your cryptocurrency needs. With Binance exploding in popularity over the last couple of months, we're looking to teach you how this cryptocurrency can benefit you!
In this guide, we're going to talk about how Binance works and Binance fees. Let's get started!
What Is Binance?
Binance is one of the world's largest cryptocurrency exchanges and has an average of $6 billion of assets traded every seven days! Launched in July 2017, the climb to the top of the cryptocurrency exchange world has been swift for Binance!
Binance is also the name of BNB, which is a type of crypto coin that's used for Binance exchange.
But, how did this cryptocurrency exchange take over the crypto market so quickly?
One of the most talked-about features of Binance is their fees. The fees that Binance offers are low and are very easy to understand, especially if you're new to the world of cryptocurrency.
Is Binance Safe to Use?
If you're new to the world of cryptocurrency, you're probably concerned about the security of this new type of currency.
Take a quick look around the Binance website and you'll notice that Binance doesn't discuss any security information on their website. Rest assured, Binance uses two-factor authentication to keep a user's information safe. This means that once you log into your account, there's a second layer of security added to confirm your authorization to the account. If you want to know more, check out our article about the history of Binance.
What Are the Supported Crypto Currencies?
Another reason why Binance is extremely popular is because of the large variety of coins they support! You can use the Binance platform for several digital currencies, such as:
Bitcoin
Bitcoin Gold
Bitcoin Cash
EOS
NEO
GAS
Zcash
Ethereum
Ethereum Classic
LiteCoin
Ripple
Dash
In addition, Binance also supports a variety of different tokens under ICO listings.
Plus, Binance is great about adding new tokens and coins after they are an ICO, which means that you can purchase these coins and tokens at a steep discount (meaning that you have chances at a greater profit later on).
At the time of this writing, Binance is offering trading pairs in USDT, BNB, ETH, and BTC!
Can You Pay With Debit or Credit?
Yes, you can pay with debit and credit! Binance allows users to make credit card payments and debit card payments for the cryptocurrency they're looking to purchase with Simplex. With a Visa or MasterCard, users can purchase Ethereum, Bitcoin, LiteCoin, and XRP tokens.
Some of the benefits that come with using a credit card or debit card on Binance are:
Only 3.5% transaction fee or $10 fee, whichever number is higher
Both Mastercard and Visas are accepted
On average, you'll only have to wait between 10 and 30 minutes for the cryptocurrency to get to your wallet!
In order to go about purchasing cryptocurrency with a credit or debit card, make sure you take time to check out Binance's official instructions.
What Are the Binance Fees?
Fees tend to vary depending on the type of digital currency, which is why we've broken down the fees that you should expect from using Binance. Here are the fees you should expect:
Deposit Fees
Binance doesn't charge any deposit fee for any crypto asset. Thankfully, Binance has trading pairs with USDT, ETH, and BTC. However, Binance doesn't have a trading pair with fiat.
This means that if you're going to exchange your fiat for crypto, you're going to need to use an exchange. After you use the exchange, you can deposit your cryptocurrency on Binance with no fees! When discussing transfer limits, there isn't a limit on the number of coins you can deposit!
Trading Fees
After you've deposited your cryptocurrency into Binance, you can start trading. However, make sure that you keep an eye on the trading fees! The majority of the time, you're going to be dealing with centralized exchanges, which means that Binance is going to take a percentage of the trades you make.
The number of that percentage that Binance takes varies by two things:
If you hold a BNB token and how much you hold
The amount of your 30-day trading volume
Paying Fees
The base fee that Binance puts on trades is 0.1%, which is both for takers and makers! However, you can reduce this if you choose to hold BNB on Binance; this will reduce your fee by 25%, which will leave you with a 0.075% fee.
If you already are holding a BNB, Binance automatically uses the 0.075% as your default fee. Later on down the road, you can decide if you'd like to turn the BNB setting off. However, it's a great idea to make sure that you check the setting every once in a while to make sure it's still on.
Within the next couple of years, Binance is going to be phasing this discount out. At first, the discount will drop to 12.5%, followed by 6.75%, all the way down to zero percent.
More Trades, Bigger Discount
Another way that you can cut back on your Biance fees is to increase how much you're trading. There are eight different levels of fee discounts that Binance offers. These levels vary depending upon your trading volume for a 30-day period, but these levels are marked as VIP 1 to VIP 8.
Each level of discounts requires that you hold a specific amount of BNB. In order for you to qualify for VIP 1 (the first level of discounts), you're required to hold at least 50 BNB and to have traded at least 100 BTC (over a 30-day period). The VIP 1 discount will lower your taker fee to 0.01% and your marker fee to 0.09%.
Your taker fees aren't lowered until you reach VIP 3, which requires that your account holds at least 1,000 BNB and has traded at least 4,500 BTC.
Taking a look at the largest discount level that Binance offers, VIP 8 requires that your account holds 11,000 BNB and has traded 150,000 BTC in volume over a 30-day period.
If you do go ahead and choose to pay your account's Binance fees with BNB, the VIP 8 level has a taker fee of 0.03% and a maker fee of 0.015%.
Withdrawal Fees
As a general rule of thumb, you should take your cryptocurrency off of an exchange as soon as you possibly can. When you go to withdraw from Binance, you're going to have to pay a flat fee in the asset that you're withdrawing.
Different assets have different fees, but most asset withdrawal fees require half of the minimum you're allowed to withdraw. In the long run, you'll end up paying a small amount in fees if you decide to decrease the number of withdrawals you make.
If you're interested in being able to withdraw without limitation, you'll need to get your account verified. Having a verified account will allow you to be established as a level two user, which will increase your withdrawal limits!
The process that goes into getting your account verified will require you to share your full name, gender, a photo of your passport (or ID issued by the government), and country of residence!
What's BNB?
Binance Coin is referred to as BNB, which is Binance's representative of cryptocurrency. Binance coin is an ERC20 token, which basically means that it's based on the Ethereum blockchain and that it follows the technical guidelines of that platform.
BNB has a trading supply of over 200 million tokens, and once that many tokens are released, no more will be produced. The purpose of a Binance coin is to cover transaction fees.
Binance Coin wants you to pay your transaction fees with their crypto coin, which is why they created the discount programs to use their BNB. However, it's still possible for you to pay your transaction fees with whatever cryptocurrency you're trading with!
Not only does BNB help a utility token, but it's a great asset to have that's set to become valuable within the next few years!
Understanding Binance
It's very clear why Binance has become one of the leading cryptocurrencies in the world. Not only does Binance offer an extremely easy, beginner-friendly platform to use, but their low fees and list of cryptocurrencies attract beginners and veterans alike! We do have a helpful tutorial on How to Use Binance if you'd like to learn more.
Hopefully, you have a better understanding of how to keep your Binance fees as low as you possibly can. Still looking to learn more about Binance? Keep yourself educated on all of the latest cryptocurrency information by visting CryptoRyancy regularly.