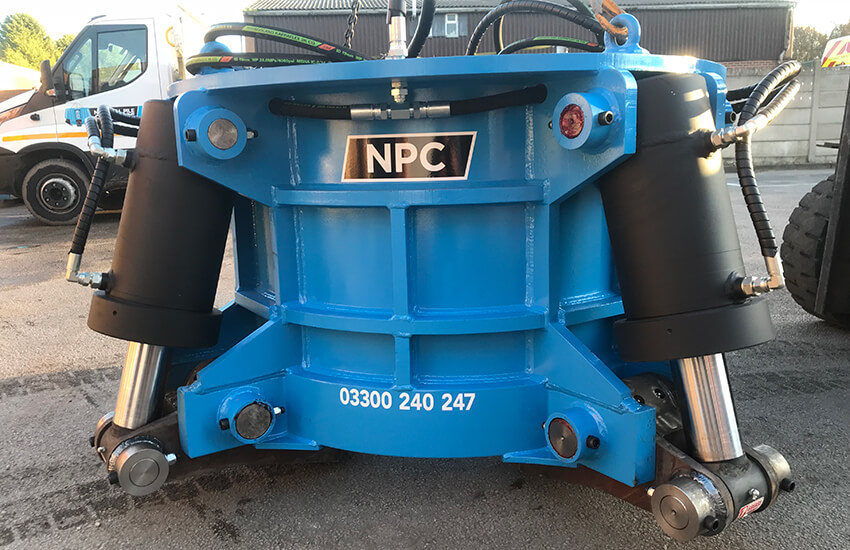 WHAT IS A PILE CROPPER AND WHAT ARE THEY USED FOR?
THE PRECAST CONCRETE PILE CROPPER – JUST WHAT ARE THEY USED FOR?
If you are employed within the construction industry, it is likely that you will have heard of the term pile cropper before as part of your day to day work. However, are you unfamiliar with what this piece of machinery is and how it is used on a construction site?
If you have never worked with a pile cropper before, in this blog post we explain what a pile cropper is and the type of work that it is used for – read on to find out more as we help to get you up to speed!
THE PRECAST CONCRETE CROPPER OR BREAKER CAN BE USED FOR MANY SOLUTIONS
A pile cropper (also known as a pile breaker or pile cutter) is a mechanical device that is used in the reduction of precast concrete piles, of which there are several different types and sizes. For example: augured, bearing, contiguous, secant, CFA, trench and helical displacement of varying sizes generally 300mm to 1200mm diameter.
HOW ARE THEY USED?
Mounted to a 360 degree excavator, pile croppers are used in all sectors of the construction industry, from housing to commercial, public to private, to utilities, road and rail. When lowered onto the pile itself, the hydraulic system operates the jaw(s) which allows the pile cropper to cut the pile and cause the concrete to break away, leaving a level finish as a result.
FURTHER INFORMATION ON PRECAST CONCRETE PILES
A pile cropper can also cut precast concrete piles from 150mm to 400mm square, ensuring that construction workers can get the job done as safely and efficiently as possible. In addition, some types of cropper will easily fit into tight spaces, making it possible to work efficiently in small areas, and also allow for easy removal of cut precast concrete piles to a dumper or designated area.
HISTORY OF PRECAST PILE CROPPERS
In years gone by, concrete piles were reduced using more traditional methods, such as by hand using manual breakers. However, this then gave rise to associated health problems such as HAV (Hand Arm Vibration Syndrome), and laws were then applied to allow the use of only one breaker in a 20 minute shift per day. As a result of this, pile breakers came into development in order to make the task of reducing piles much safer and more efficient too.
The first iterations of pile croppers were developed in Holland, with the Dutch being leaders in the development of the piling industry as a result of having to use precast concrete piles to build on the land that they had reclaimed from the sea.
In the UK, basic cutters became available during the late 1990's, and over a period of 20 years new and market leading equipment has been developed for the various types of piles and applications that are found within the construction industry.
TIPS FOR SAFE AND EFFICIENT USE
When using a pile cropper, it is advised that the piles should be cast higher than the desired finish level. This is to ensure that any impurities or damage at the top of the precast concrete piles is removed as part of the cropping process. In addition to this, it's important to consider whether a protrusion of the rebar (a reinforced steel bar that is contained within the concrete to offer extra stability) is required for the final height in order to allow for construction to take place, or whether what is known as a "flat crop" is needed instead.
In order to avoid damage to piles during cutting, it's important to ensure that the right type of cropping equipment is chosen. This is something that is essential for a successful pile cutting project, especially when specific time frames need to be considered. A common problem that is often experienced during pile cutting is when fracturing or spalling occurs beneath the surface of the concrete. This is something that is very frustrating and time consuming for construction teams to put right, as well as expensive from a financial point of view. Therefore, damage to piles should be avoided at all costs, which is something that using the correct pile cropper for the job can help to avoid.
INTRODUCTION TO OUR COMPANY
National Pile Croppers was established in September 2015 by Directors Lee Aston, Simon Price and Paul Emberton. Bringing a huge amount of knowledge and passion to the industry (based on some 50 years combined experience), they decided to focus on providing a bespoke service to construction customers, by supplying the correct equipment for their individual application on time and at a very competitive price.
Over the past two years, National Pile Croppers have built a completely new range of redesigned and improved pile cropping equipment, all built in house, which has been extremely well received within the market place. All of National Pile Croppers' machinery is available for customers to hire from our depots in Burton-on-Trent and Stevenage, with our aim to be the best at what we do.
FASTER AND LIGHTER MACHINES
National Pile Croppers offer smaller, lighter and faster croppers to their competitors, giving a far superior cut and better productivity at less overall cost. We listen to the comments of our valued clients, making adjustments and improvements to croppers as necessary, even designing bespoke breakers for larger projects as required. In 2018, more new models are planned to be introduced to our fleet too.
INTERESTED AND WANT TO SPEAK TO AN EXPERT?
To find out more about arranging a demonstration or hiring a pile cropper from National Pile Croppers, which can be delivered to clients around the UK directly from our depots, contact Lee, Simon or Paul directly or call the sales team today 03300 240 247.
You can also email [email protected]. We look forward to speaking to you about your pile cutter needs soon!