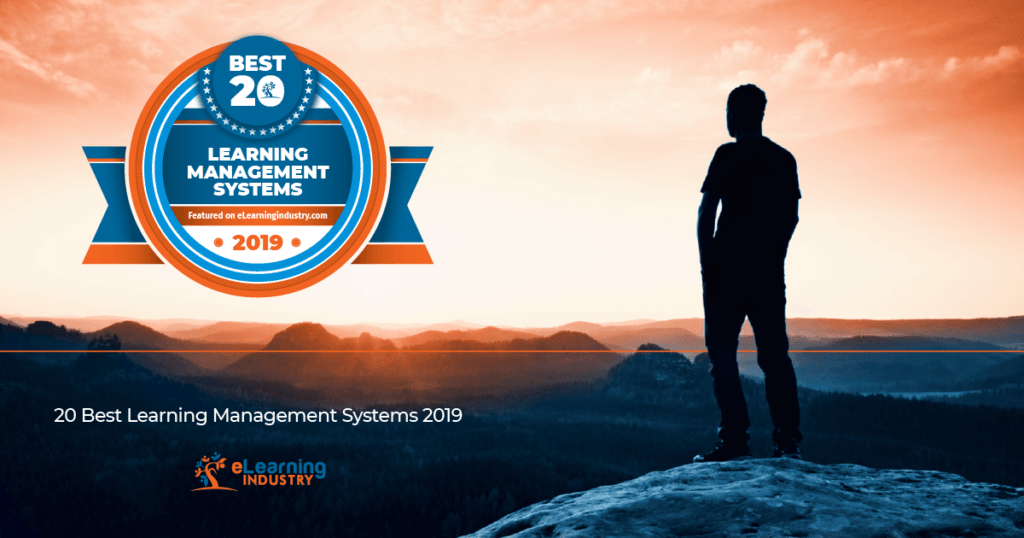 The 20 Best Learning Management Systems (2019 Update)
Originally posted on https://elearningindustry.com/the-20-best-learning-management-systems
There are tons of things to consider when it comes to opting for the right Learning Management System. Need help finding the right Learning Management System? Here is a comprehensive list of the best Learning Management Systems on the market as well as an article about the "Top Things To Consider When Choosing An LMS." First off, here is an introduction to key elements to consider when choosing an LMS after which we transition into a list of the 20 best Learning Management Systems for all needs and budgets.
The LMS market is expected to be worth over $15.72 billion in 2021 [1]. The highest proportion of revenue contribution is expected to be generated in North America [2]. 41.7% of global Fortune 500 companies now use some form of educational technology to instruct employees during formal learning hours [3]. By 2019, roughly half of all college classes will be eLearning-based [4]. It is more than obvious that eLearning has revolutionized and changed the way that we look at knowledge and skill acquisition. Thereby, there is an increasing demand for Learning Management Systems to systematically implement and manage eLearning. With a thousand plus LMS vendors and too many LMS features to choose from, we can definitely say that Learning Management Systems are here to stay!
In this article, we will help you find, choose and compare Top LMS Software in the eLearning Industry. But first, let's take a look at the fundamental criteria you need to keep into account when you are looking to choose an LMS!
Top Things To Consider When Choosing An LMS
The time has come when you need to make a decision and find out what kind of LMS would be the best option for your business. That's a hard one. We've all been there, so it is totally understandable. Is your budget enough to get your own LMS? Should you opt for a cloud-based LMS solution? What if, money-wise, your limit is low and you need to consider trying an open-source LMS solution? No worries, here are the top things you need to consider when choosing an LMS for your business.
What Is The Reason You Need An LMS?
First things first, this is the basic clue that will determine what kind of LMS can help you achieve your goals. There are several ways that an LMS can help a business grow. For example, you might need an LMS for employee onboarding. Actually, this is one of the most common use cases. Several companies decide to use an LMS to support their new employees through their onboarding process. It can help newcomers learn more about your business culture as well as understand standard business procedures,  become informed about your products and services, and acquire certain skills so that they are to be able to deliver when they actually get their first projects, etc.
Another common LMS use case is to increase employee development and retention. An LMS can support your training and development goals immensely. Υou can design courses that will ensure your employees' skill enhancement, offer a chance for them to get informed about new product features or simply help keep them up-to-date with new trends, etc. Another reason you might want to use an LMS is to provide training to your customers. Especially, if your product is software. Also, if you have a company in the tech industry, you might need to assist clients on how they can effectively use your product. Of course, you may take advantage of an LMS to focus on your employees' compliance training, boost your sales enablement to gain more revenue, expand your partner training if you own a worldwide corporation, or even offer exclusive member training.
What Are The Key LMS Features That Fit Your Training Needs?
When searching for the ideal LMS for your company, there are several things you have to consider. You need to identify the factors that will make or break the deal for you when choosing the right Learning Management System. Focus on your unique training requirements. The way you evaluate those parameters is what will help you reach a decision with a good ROI. Pay attention to your training needs and goals in order to pick the right LMS solution without regrets.
Data-Driven Results
Many companies love data-driven results. If you belong to this category, then obviously you'll need your LMS to have tracking and reporting features. The reports will help you get the right results to assess and understand the ROI of your LMS. They will also help you evaluate and assess your training efforts. You'll have the chance to know how long the lessons took, if your employees had to revisit certain topics, or if they need more information about a subject. Reporting will reveal everything you need to make your training courses more engaging and effective.
Tools For Testing And Assessment
Another great feature is the assessment and testing tools that your LMS needs to have. Such a feature is vital for your Learning and Development team, mostly assisting your trainers in knowing how the employees have performed. By using such tools, they'll know if the trainees managed to retain information after their training. In other words, it will help evaluate the success of your training program.
Responsive Learning/Mobile Application
Learning on multiple devices has become a trend in the last few years, so it might be one more feature to consider. In this case, compatibility and multiple-device support should be of top priority to you. Especially, if you expect your employees to do this work on the go. Also, have in mind that LMSs with such features are the most user-friendly.
Customization Options
A big corporation might also consider choosing an LMS that offers customization and branding. Customization options will definitely make your eLearning project more appealing to your learners. Do you want your company logo on the LMS? This is the way to go. Other options could be gamification elements, online training certificates, multiple languages, welcome/enrollment screens, role assignments, content delivery options, dashboards, etc.
SCORM Or xAPI Compliance
You might be in an industry that clings to content that uses these sets of technical standards. These eLearning standards give you the availability to track and trace the results of your learners in your LMS. SCORM compliance is a great feature to have because you can create your courses in any authoring environment and then run it in your SCORM compliant LMS. As a result, no matter where you create your courses, you can use reporting regarding your learners' to that LMS. xAPI compliance is an ideal tool if you need to share learning between multiple applications and systems. xAPI is an integral part of eLearning, especially if you're interested in informal learning and mobile learning. It helps track your learners' progress and, since eLearning nowadays is all about data and personalized learning paths, it will be really useful to you.
Course Catalog Feature
Some companies opt to use a catalog feature when they implement their employee training. You will find endless possibilities, depending on the LMS that you choose. You can create your own directory of courses, search within the catalog by using keywords, location, lecturers, dates, categories, or even explore custom taxonomies. With this feature, you can showcase how many lessons you are planning to offer in your Training Management System. You will also be able to choose which user will get to see certain courses and who will not.
LMS Comparison: Cloud-Based LMS Vs. Open-Source LMS
Most business owners wonder which LMS would be the best option for their needs. If you are in such a dilemma, especially between choosing an open-source or a cloud-based LMS, we hope that this article will clear the air. These LMS options both have a long history. Through the years, things have evolved, features have been added, eventually leading to the following differences.
The Main Benefits Of Using A Cloud-Based LMS
If you opt for a cloud-based LMS solution, one of the pros you get is that there is no installation required. This means that you have faster deployment. When it comes to budget, costs are based on each client's needs, making it more efficient and affordable in certain cases. In fact, a cloud-based LMS has considerably low start-up costs. A cloud-based LMS is hosted on the provider's server, offering data security and maintenance by the provider. You get advanced versions, which may include many more functionalities. Such an LMS is considered user-friendly and also helps you avoid IT hustle. In addition, software updates are automatic, giving you extra features on a cost-free basis. It is also mobile-friendly since it is optimized for responsive design. A cloud-based LMS would be a better option for those looking to deliver training to multiple locations. What's more, client support (offered by the provider's experts) is available 24/7. So, you don't have to worry about maintenance and data security. Finally, it offers subscription plan scalability, making it cost-effective. The greatest thing about it is that most cloud-based LMS providers offer a free trial, so you can try and see if it can cover your business needs in a decent amount of time.
The Main Benefits Of Using An Open-Source LMS
On the other hand, an open-source LMS requires installation and setup. One of the main advantages of an open-source LMS is that it is budget-friendly since you can find low-cost, but also some free solutions as well. Most LMS tools come with a set pricing model, which might exceed one's budget. An open-source LMS is a great choice for small businesses and institutions that are looking for a budget LMS. This type of LMS is installed on the company's server, as a result, the user has to take care of maintenance and data. In case the client needs additional functionalities, there is such availability a la carte. However, if you opt for this type of LMS, you'll need to handle updates manually. Also, keep in mind that support can be found through forums and user communities. As any free thing on this planet, using a free LMS usually gives you limited features and courses. Also, you might not be able to have a large number of users. However, you'll still have a good overview of the software, making it a good, basic stand-alone solution. Since it is an open-source tool, there is availability for modification and enhancements by its users.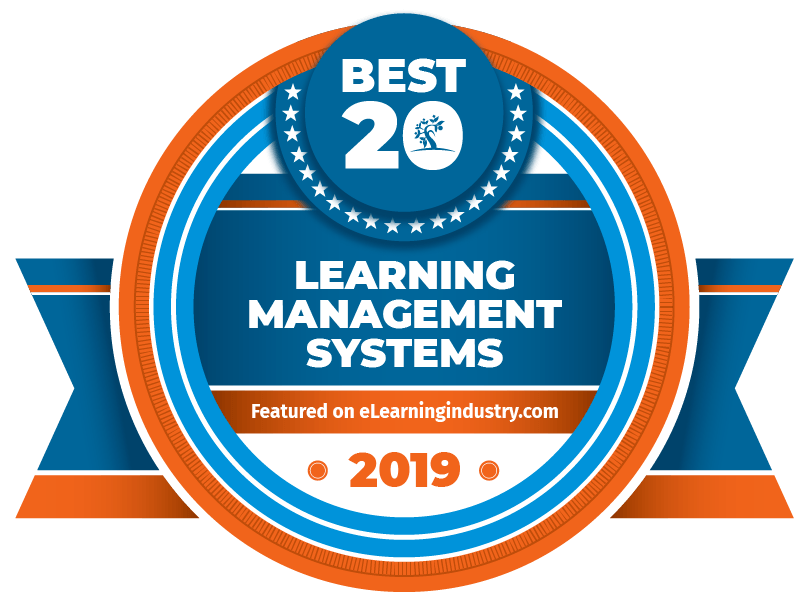 If you are among the 20 Best Learning Management Systems, feel free to add this badge to your website!
15 Top Cloud-Based Learning Management Systems
One of the most effective cloud-based Learning Management Systems. Full control over the eLearning course's setup, delivery and learner progress tracking along with functional features, such as the Fluidic Player, which take learning to the next level. Free 30-day trial available.
Fluidic Player And Intuitive Dashboard
This is Adobe's almighty player that supports any file type, including PDFs, videos, PPTs, DOCX, SCORM, AICC, and xAPI-compliant packages. The Fluidic Player allows for on-the-go note-taking as online learners are going through the materials. This feature enhances knowledge acquisition and aids in revision. A fully functional dashboard informs online learners regarding pending and completed tasks or their performance, compared to their fellow colleagues.
Online, Offline And Mobile
Learning at all times. This phrase captures the true potential of Captivate Prime which gives online learners full flexibility as to their learning pace. Content can be downloaded and accessed offline and the Learning Management System will automatically sync and track progress during the next login.
Setup And Management
Captivate Prime is great for both online learners and online facilitators. Unique features, such as the Smart Enroller, enable eLearning professionals to quickly and effectively assign roles and activities. Organizing content into modules, courses or even whole curricula is a breeze thanks to inbuilt LCMS functionality.
Achievements
Adobe Captivate Prime lands on the 10th position among the best Learning Management Systems based on Customer Experience. You will find them leading on the Top 20 Extended Enterprise LMS (1st), Best 20 Customer Training LMS (2nd), and Best 20 LMS Offering Trial (1st), while they are second on the Best 20 LMS Offering Demo list and 2nd on Top 20 User Experience LMS list.
Plans And Pricing
Various premium options are available. Captivate Prime utilizes a per-registered user pricing model. The price is $4 a month for every registered learner with a minimum number of 10 users in order to get the license. For more pricing information check their website.
Read Adobe Captivate Prime reviews and discover how other eLearning Industry community members have experienced the software.
Highly acclaimed Learning Management System, endorsed by reputable companies such as Thomson Reuters, Bloomberg, and Sharp. Docebo's Learn, Coach and Share philosophy is fully reflected in its practical features. A free 14-day trial is available along with the ability to schedule a demonstration.
Engaging Gamification And ILT Classroom Training Features
Docebo is an ardent supporter of the importance of gamification in learner engagement. Badges, awards, and rankings are applied to increase involvement and course success.
Web Conferencing And Third-Party Integration
Docebo can be utilized together with various video conferencing tools such as Adobe Connect, Big Blue Button, Blue Jeans, and SkyMeeting to name some. Docebo's API enables users to easily integrate third-party applications into the LMS without any additional hassle.
Certification Design And eCommerce
Docebo's user-friendly interface allows course designers to effortlessly manage content for certification testing and retraining. The Docebo LMS Online Training Software can be utilized for selling courses online.
Achievements
Docebo ranks on 17th on the list of the best Learning Management Systems based on Customer Experience. It is also high on the lists of Top 20 Extended Enterprise LMSs (3rd), Best 20 Customer Training LMSs (1st), Best 20 LMSs Offering Demo (3rd), and Best 20 LMSs Offering Free Trials (3rd). Of course, it is included in the Ultimate List Of Cloud-Based LMSs.
Plans And Pricing
Pricing plans are designed to be scalable and accommodate the growing learning needs of enterprise companies. "Growth" is ideal to quickly launch eLearning projects for up to 300 users. The "Enterprise" plan is designed for high-performing organizations looking for an advanced eLearning solution, as it comes with regional cloud hosting, SSO, top-industry SLA, and superior onboarding/implementation.
Check Docebo LMS's customer reviews!
No matter where you are located, training will get to you. The design of Litmos LMS secures worldwide delivery and is enhanced by the features that mobile learning bears. Introduce yourself to a cost-effective method of delivering online training content, combined with powerful track completion and assessment progress.
Online Course Builder, Assessments And Surveys
It allows for a variety of elements to be integrated into your eLearning course. Apart from embedded content creation tools that support multiple formats, you may add online training modules, create online assessments, quizzes, and surveys to get valuable feedback.
Brand Personalization
Litmos's interface is customizable and intuitive, giving you the freedom to keep your brand's equity. In addition, the User Interface is customizable and user-friendly enough to portray your brand exactly as you want.
Easy Reporting
Both simple and in-depth reporting empower you to track the progress. There is also an option so that external managers can have remote access to LMS reports.
Achievements
Litmos LMS holds the 20th position among the best Learning Management Systems based on User Experience, and again 20th on the Best Learning Management Systems based on Customer Experience. They also hold places in the lists of Top 20 Extended Enterprise LMS (4th), Best 20 Customer Training LMS (3rd), and Best 20 LMS Offering Trial (4th). Included in the Ultimate List of Cloud-Based LMS as well.
Plans And Pricing
Charging begins with $4 per active user per month (billed annually) and scales down while the number of users goes up. There are three packages with different pricing, lots of add-ons, and a 14-day free trial.
To take a look at what their User Experience is like, check the reviews on Litmos written at eLearningindustry.com.
Quick and easy, with loads of powerful features and committed support, LearnUpon LMS offers a free trial. This LMS platform is designed to be scalable and device-friendly in order to engage online learners more effectively. Free trials are available for the Basic, Essential, Premium, and Enterprise plans.
Plans And Pricing
LearnUpon offers LMS Pricing that scales with you. No hidden fees, no credit card required. Pricing plans that work for growing businesses. All of their plans start with a free trial. There is no risk, no obligation, and no credit card required. At any time during your trial, you can upgrade to one of their paid plans and retain all of your branding, settings, and information. All of their packages are billed annually; starting at the "Basic €499/mo," going onto the "Essential €799/mo," you can then upscale to the "Premium €1,499/mo" and Enterprise, which offers a variety of premium features.
Achievements
LearnUpon is doing really well so far, ranking 7th best for Learning Management Systems based on User Experience and 4th when it comes to Best Value for Money Learning Management Systems for Small Businesses (SMBs') as well as 2nd on The Best 20 Learning Management Systems Offering An LMS Demo (2019 Update). They also rank 1st on Best LMS based on Customer Experience and 4th when it comes to Best Value for Money Learning Management Systems for Small Businesses (SMBs).
Check LearnUpon LMS, and discover how other eLearning Industry community members have experienced the software.
Redefine corporate training and what you should expect from a modern LMS. Asentia's new innovative concepts in User Experience engage users, reduce administration and cost, and allow your organization to ascend to new levels of performance. Let them show you around their Asentia LMS, and explore how it solves your specific training challenges by booking a demo with them.
Plans And Pricing
Forget the "one-size-fits-all" pricing model, take advantage of Asentia pricing tailored specifically to your organization. Asentia offers multiple product configurations and billing options to meet your specific business (and your budget). Asentia LMS is offered exclusively on a Software-as-a-Service (SaaS) basis. Billing cycle options include month-to-month, quarterly pre-pay, and annual pre-pay, with discount incentives for pre-payment.
Achievements
Asentia LMS ranks 6th best for Learning Management Systems based on User Experience and 16th when it comes to Best Value for Money Learning Management Systems for Small Businesses (SMBs). Finally, it also ranks 5th on the Best LMS Offering Free Demo list.
Check Asentia's customer reviews!
Mindflash is an industry-leading, cloud-based learning management solution for the extended enterprise, enabling large and fast-growing companies to deliver frequent training on business-critical topics to thousands of contractors and channel partners. They deliver breakthrough innovations in the areas of content creation, business analytics, program management, and enterprise integration. Schedule a live demo, and talk to a Mindflash product expert for 15 minutes. Determine whether Mindflash is a good fit for your needs.
Plans And Pricing
For teams launching initial programs, they have a "standard" plan. Offering a core functionality to create, manage and track training effortlessly. For a "premium" price, you will get access to advanced functionality for organizations with global, blended training and distinct content needs. Lastly, there is a complete "enterprise" solution for large programs requiring automated management, and a 100% branded experience. Different pricing for different businesses.
Achievements
Mindflash LMS holds the 6th position on the Best 20 LMS Demos list and the 7th position on The Best 20 Learning Management Systems Offering LMS Free Trials.
Read what Mindflash LMS customers are saying.
An LMS oriented to employee training. By using it, your online training material can be accessed from any device, even when offline, breaking place and time limitations. The LMS offers detailed statistics for keeping track of employees' progress. The list of LMS features that enhance extended enterprise online training goes on, making iSpring Learn a safe choice.
Variety Of LMS Reports
With this platform, you can make use of a variety of LMS reports, ranging from course enrollment and online training activities tracking to course completion rates, all while keeping a constant eye on the progress made by each individual online learner.
Unlimited Storage Space
It may sound like a luxury, but it's a fact that all eLearning projects gather loads of additional online training material; however, even though is not currently being used in your eLearning course, you may want to keep for future use. So you may be pleased to know that iSpring has no limitations on gigabytes or the number of files you can upload. You can upload unlimited content items, such as online videos, courses, or presentations.
Gamification
When searching for ways to make something remote more engaging, gamification is always one of the top alternatives. Badges, points, and leaderboards will give a competitive edge to your online training, creating a sense of community, inspiring, and motivating your remote learners.
Achievements
iSpring Learn has made it to the 3rd position of the best Learning Management Systems based on User Experience and 3rd on the top 20 of the Best Learning Management Systems based on Customer Experience. You'll find their name in Top 20 Extended Enterprise LMSs (7th), Best 20 Customer Training LMSs (7th), Best 20 LMS Offering Free trials (9th), and the Ultimate List Of Cloud-Based LMSs.
Plans And Pricing
The plans available start from $167/month ($1,670/year, or $3.4/user/month). This pricing applies for up to 50 active users. Apart from the fixed packages, there are also tailor-made solutions to be agreed with the vendor.
Also, click to check the reviews for iSpring Learn written and posted by our community members.
Talent LMS promises effective eLearning and the truth is it delivers. One of the easiest to use cloud-based Learning Management Systems in terms of course management features, learning delivery and white-labeling that's also enterprise-friendly.
Mobile Accessibility, Analytics, And Customization
Responsive design enables Talent LMS to be accessed from any mobile device including iPad, iPhone, and Android, eliminating all space barriers. It also provides easy-to-understand analytic reports that inform online facilitators about all aspects of their courses. eLearning course designers have great customization potential with Talent LMS including a custom domain, logo, and theme.
Content Interoperability And Course Management
Talent LMS makes it easy to integrate already owned material into the LMS. Support for the latest industry standards, namely SCORM and Tin Can.
Blended Learning, Communication And Enterprise Readiness
Support for both ILT or blended learning. Abundance in communication and organization tools to include video conferencing, calendar, personal messages, and discussion forums. Mass actions enable automated administrative functions. Course marketplace offers pre-made online training materials on numerous topics.
Achievements
Talent LMS has achieved being 9th on the Top 20 Of The Best Learning Management Systems based on User Experience, while holding the 16th place among the Best Learning Management Systems based on Customer Experience. They also rank in Top 20 Extended Enterprise LMS (6th), Best 20 Customer Training LMS (6th), Best 20 LMS offering Free Trials (5th), and the Ultimate List Of Cloud-Based LMS.
Plans And Pricing
Numerous premium options are available. The free version option is limited to 5 users and 10 courses. Great choice in features per membership plan as well as a choice between monthly or annual pricing packages. The small package starts at $29 per month for support of up to 25 users and unlimited courses. For further pricing options check their website.
Check other eLearning Industry community members' reviews about Talent LMS here.
Touted as a next-generation LMS, by means of making things easier than ever, it enables you to deliver effective employee online training anywhere, anytime. Constructed for getting new employees on board fast and easy, educating and empowering new managers, ensuring compliance within your organization, as well as absorbing any policy change.
Share, Collaborate, Meet
Through this platform, you can make your online training resources instantly accessible, easy-to-find, and easy-to-view on any device. Collect feedback and improve your online training content through collaboration. You can also schedule events, such as a face-to-face meeting, and automatically invite everyone you want with RSVP tracking.
Easy Creation Of Online Training Content
All processes for creating online training resources are quite simple. You may upload videos, add images and text. Questionnaires and quizzes can also be used to get feedback on performance. Use the measurement features, and see how the effect of your online training courses on your audience, and whether they have reached the desired knowledge retention level.
Report, Track, Analyze
Tasks that may seem complex are executed plainly with Looop. You have the ability to generate detailed performance reports about individual learners, groups, or other information about the course content. Also, online training courses can be assigned through push notifications or emails. You can always have your online training material updated, as it is quite easy to collect feedback for future improvements.
Achievements
Loop LMS is acing it so far, holding the top position in the Top 20 Of The Best Learning Management Systems based on User Experience list and the 2nd position is Top 20 Of The best Learning Management Systems based on Customer Experience. It is also on the 4th place on the Best 20 LMS Offering Demo list.
Plans And Pricing
There are pricing plans for small businesses ($299/month), mid-size ($699/month), and enterprise ($1199/month).
Interested in what Looop users have shared about their experience? You can read their reviews here.
Extensively customizable and targeted for quick creation and expansion of a global digital culture, 360Learning has a way of transforming its clients to experts in their field. It also gives them the freedom to reuse already created online resources, plus it leverages available online training content in innovative and interactive formats. Two downloadable guides are also available: "Digital culture at scale" and "Training in an online world."
Quick And Light
For those lacking the experience but who need to create an online training course themselves, 360Learning is cutting down the time needed and adopting many ways to facilitate the process. It is also very easy to upload and browse online training content.
A Globally Accessible, Social LMS
For 360Learning, "global" means always accessible, from anywhere, in common formats, and several languages. These conditions favor social and collaborative learning methods through various channels and features, such as peer-to-peer interactions through online training communities.
Highly Trackable And Secure
The LMS that supports ongoing improvement by providing course statistics, such as attendance and completion rates, and multi-segment data is produced. The aim is to help you upgrade your online training program in ways you couldn't imagine, by raising the standards. Integration with other apps is also possible, with SSL encryption to enhance security.
Achievements
360Learning Engagement Platform holds places in Top 20 Extended Enterprise LMS (7th), and Best 20 LMS offering trial (8th). They rank 8th on the Top 10 Cloud-Based Learning list as well as on The Ultimate List Of Cloud-Based Learning Management Systems (2018 Update).
Plans And Pricing
You can choose from numerous pricing models adjusted by the user, training program, or public MOOC, with declining rates as the number of users increases.
To see what other users think about 360Learning Engagement Platform, check the online reviews.
Coassemble offers a free trial (7 days). Their plans are called Core, Pro, Extend and Author. This is initiated by signing up for a free trial, which gives you the chance to try out their live chat support, built-in course creator, and free eLearning course templates, in addition to their other notable features such as custom branding, learning outcome mapping, and Coassemble API access with their more advanced packages.
Plans And Pricing
Coassemble runs a variety of programs:
Author Plan – 5 Seats – $149/month (Authoring Only)
Core Plan – 100 Users – $149/month (Lightweight LMS)
Pro Plan – 250 Users – $499/month (Authoring tool + LMS)
Extend Plan – 1000 Users – $999/month (Authoring tool + LMS + VIP Support)
Add ons for additional user packs are still available.
Achievements
Coassemble is featured on two significant lists. They ranked 8th on 'The Best Learning Management Systems based on User Experience List' and 3rd on 'The Best Value for Money Learning Management Systems for Small Businesses (SMBs).'
Read what other members in the eLearning Industry community say about Coassemble.
CoreAchieve is an intuitive, cloud LMS that has been developed to maximize usability and affordability for wide-spread distribution. Use CoreAchieve to train internal employees, external customers or both! CoreAchieve is the premier Learning Management Software developed by CorePartners, Inc. CorePartners' team of professionals brings the value of over 20 years of technical and business project experience to each customer engagement. Their collaborative approach with each customer will ensure your business requirements are understood and met.
Plans And Pricing
$299/month will provide your organization access for up to 100 ACTIVE users. For small organizations and/or large enterprises solution please contact them to see their prices. For $1,219 / month, you can provide access for up to 500 ACTIVE users.
Achievements
CoreAchieve is a new addition to our list. They have been previously featured as 13th on the Best 20 LMS Offering A Free Demo list.
Read what other members in the eLearning Industry community say about CoreAchieve 
Skillcast LMS helps you attain a competitive edge by improving staff compliance and engaging your employees with eLearning and tools to build a culture of integrity and compliance in your organization.
Plans And Pricing
Skillcast LMS offers "Library Only," a subscription to any one of our course libraries on your LMS as well as a "Value Package" for a subscription to any one of our course libraries with hosting and delivery on Skillcast LMS. Ultimately, they also offer "Enterprise"—a fully bespoke learning portal for learning organizations.
Achievements
Skillcast rank 7th on The Best Value for Money Learning Management Systems for Small Businesses (SMBs) List and 3rd in Top 20 LMS Based on Customer Experience.
Read what other members in the eLearning Industry community say about Skillcast LMS.
EduMe is a Workforce Success platform used by modern companies across 6 continents to train, engage and communicate with their workforce. By having effective learning and relevant information in the palm of their hands, the workforce at companies like Uber, Airbnb, Vodafone, and Deloitte are empowered to perform at their best.
Plans And Pricing
EduMe pricing includes the following packages: Starter for $ 349/month for 100 monthly active users, Pro for $ 499/month for a minimum of 100 monthly active users and, finally, Enterprise. They do offer discounts for large numbers of users, so you would need to get in touch with them directly for specific enterprise requests.
Achievements
EduMe is featured 11th on The Best 20 Customer Training Learning Management Systems List and 10th the on Best LMS Offering Free Trials list
Agylia works with enterprise, public sector, not-for-profit and membership organizations worldwide. The Agylia LMS is a powerful learning platform with mobile, social and microlearning features that delivers today's modern learning experiences. Fully mobile, Agylia makes digital learning accessible anywhere—even offline.
Plans And Pricing
Agylia Agylia LMS pricing is based on the number of active users that will be accessing the LMS. They operate a sliding pricing scale. As the number of users on the platform increases, the price per user decreases.
Achievements
Agylia features in the Best Value for Money Learning Management Systems for Small Businesses (SMBs) (18th) as well as the 18th place on the Best LMS offering Free Demos and lastly as 14th on Best 20 Extended Enterprise LMS.
Check for Agylia LMS's customer reviews!
5 Top Open-Source Learning Management Systems
Moodle is widely known among open-source LMS solutions. It features detailed guides on how to set up your own Learning Management System, tips on how to create online training courses and teach with Moodle, as well as a large community of Moodle users who interact on various topics. Most importantly, it's entirely free of any charge and it comes with a mobile application as well.
Detailed Guidelines
Moodle features extensive tutorials for various aspects on Learning Management System use, including installation, teacher and administrator quick guides, course setup, and learner progress tracking, activity setup, as well as mobile application guidelines.
Moodle Community
This open-source Learning Management System comes with a forum that covers tips and best practices on a plethora of topics ranging from installation and upgrading all the way to the teaching of best practices and a comprehensive glossary of terms.
Download Section
Moodle's download section offers a great deal of additional plugins for activities and themes.
Achievements
Moodle is among the platforms forming the Ultimate List Of Open-Source LMS.
Plans And Pricing
No premium pricing options are available, as Moodle does not require any subscription fee.
Check the latest Moodle reviews!
An open-source LMS that is here to improve access to online training. Backed up by the Chamilo Association, which aims to promote the software, maintain a clear communication channel, and build a network of service providers and software contributors. Chamilo offers easy-to-use authoring tools for creating online training that meets all learning preferences.
Mobile Friendly
Chamilo offers mobile learning support, it allows users to learn at their own pace and access the online training material whenever they find it convenient.
Online Community
To get support for Chamilo you can turn to its online community, available 24/7, to provide you with the available knowledge to solve a variety of issues you may face.
Customizable Interface
Camillo offers intuitive language and media embedding settings with plenty of options so that you can customize the User Interface to reflect your brand.
Achievements
Chamilo is included in the Ultimate List Of Open-Source LMSs.
Plans And Pricing
Chamilo software products are entirely for free. However, there is a network of official providers who offer professional-level services for organizations that do not have IT/Media/Infrastructure resources in-house to run the platform.
Click here to read reviews about Chamilo.
The Open edX is a tool empowering learners to access online course content, including videos and textbooks, plus checking their progress in the online training course. The Open edX LMS also has a discussion forum and a wiki at your disposal, that both learners and course team members can contribute to. There is also a dashboard through which the online instructor can enroll online learners, produce reports, and administer an online training course as it runs.
Open edX Studio
This is the tool for building your online training courses, creating structure and then adding course content. You also manage the course schedule and the course team, set grading policies, publish each part of your online training course, and more.
Community Support
There's a discussion forum and the Open edX Insights. Those will prove to be of great help, by being a part of the community structure you will benefit from the interactions with experienced members. Open edX community includes webinars, upcoming events, and blog posts.
Accessibility
The emphasis is first on learner-facing interfaces and then content management. Practical guidance is enhanced, for making course teams self-sufficient in producing accessible online training content and identifying accessibility defects. EdX has an eye for finding out accessibility checkpoints and requirements into key business processes.
Achievements
Open edX is placed among the ultimate list of open-source LMS as well.
Plans And Pricing
No premium pricing options are available as it is an open-source, freemium tool.
Read what other members in the eLearning Industry community say about Open edX.
Totara Learn meets all the requirements related to your employees' roles, training needs and objectives through effective delivery of individual learning plans. It provides for rich functionality, which can be implemented quickly and with a significant cost reduction, comparing to proprietary solutions. This award-winning open-source learning platform is designed for helping you to develop, train, manage and engage your staff.
Learning On The Go
Fully responsive in terms of design. The user interface adjusts seamlessly depending on the device. Mobile apps are also available through a partner network, that can be extended or fully-branded to be in harmony with the way your LMS looks and interacts.
Learning Plans
Learning plans are available that show all the learning, competencies, and objectives employees are currently working on. Through learning plans, learners can monitor their progress and directly access their respective online training activities. You may manage the process with approval workflows, comment boxes, and notifications.
Flexible Authoring Options
Totara Learn combines Instructor-Led, self-paced, and social learning all in a single online training course. It is a very flexible system that permits full control over roles and permissions, course progression, group-based online training activities, and much more.
Achievements
Totara Learn is featured in the Ultimate List Of Open-Source LMSs.
Plans And Pricing
Pricing for Totara Learn is based on the total number of active users per year. A range of user tiers is available.
If you want to find out what customers say about Totara Learn, take a look at Totara Learn reviews here.
An open-source LMS that is free for instructors. It makes teaching and learning easier in terms of implementation, adoption, customer support, and success. It is adaptable, reliable, and customizable. Designed to get out of your way and let you do your thing. Its interface and features are crafted to save you time and effort, resulting in getting adopted faster and deeper than many other Learning Management Systems.
Powerful Community
Over 300,000 Canvas users are involved in sharing, collaborating, and shaping Canvas.
Easy To Use, With Personalized Support
Up to the standards of online learners and instructors. Easily accessible from mobile devices as well. A time-saver, that gets adopted in growing rates. Plus, in-house Canvas experts are there to ensure the speediest, most frictionless interactions.
Easy Plug-In For Third-Party Tools
Its extensive open API paves the way for third-party apps to plug right into Canvas.
Achievements
Canvas is valued among the Ultimate List Of Open-Source LMSs.
Plans And Pricing
Quotes and further pricing details are available only upon request.
Click to read Canvas reviews to discover how other eLearning Industry community members have experienced the software.
Get Even More Insight From Our LMS Directory And Top-20 Lists
One of the most prominent dilemmas regarding Learning Management Systems is the choice between cloud-based deployment and open source license. Even after deciding what type of deployment or license you are going to go with, there are many other things to consider as well. Pricing models, specification support, customer type, and additional features are factors you should pay attention to if you want to make the right Learning Management System choice.
You can also get an LMS consultation tailored to your needs in as little as three minutes. This simple 4-step process will help you find the Learning Management System that works best for you. Whether it's your first time with a Learning Management System or you are looking to transition from your current Learning Management System, we are here to help.
There are so many Learning Management Systems out there that the task of finding the right one can prove to be quite difficult. This list contains the best solutions the Learning Management System market has to offer. If used right it can significantly aid you in addressing the respective needs of your online learners. If you have a preference for a specific Learning Management System make sure to submit a review in our Learning Management Systems directory.
Also, don't forget to create a free listing in our Top Learning Management Systems Directory. The process is quite simple and it won't take more than three minutes of your time.
If you need more specialized insight, and your goal is to determine the extended enterprise LMS that is right for you, then you can evaluate your options and invest wisely by taking advice from this list of the Top 20 Extended Enterprise Learning Management Systems. In the same article, you will also find a list of 8 questions that will guide you through the selection process.
If your interest is solely customer training, also check out the article Best 20 Customer Training Learning Management Systems to find out about the features Learning Management Systems should possess in order to facilitate the online training process and keep your customers engaged.
If you are leaning to opt for an open-source Learning Management System and you are intrigued by the possibilities it brings along, check this list of 21 Top Learning Management Systems With Open Source, so that you make a safe choice. Research extensively to find the open-source solutions that meet your expectations.
Are you looking for a cloud-based Learning Management System? Of course you are! Don't miss out on the valuable information that you can find in this list of 20 Cloud-Based Learning Management Systems.
Test driving a Learning Management System gives you the ability to see if the features and functions are worth the investment. That's why this list with the Best 20 Learning Management Systems Offering An LMS Demo, along with 10 questions that can help you determine if the LMS platform is right for you during the LMS demo, can help you evaluate your options and invest wisely.
There a few pointers to keep in mind when you are looking to get a free LMS consultation. How do you decide your must-have LMS features, and which ones can go by the wayside? Are you getting a free LMS consultation, whilst not being sure of your LMS implementation schedule? Can LMS Consulting really help you achieve the best LMS value for money? Learn how to utilize free LMS consultation to your best ability by downloading the Free eBook: LMS Vendor Selection Process Made Easy: Tips To Use Free LMS Consulting To Improve eLearning ROI.
Need help choosing a Learning Management System for your company? It's always best to try before you buy! Delve into this list of the Best 20 Learning Management Systems Offering LMS Free Trials. It'll give you the ability to see if the features and functions are worth the investment. Plus, there are 9 tips to help you make the most out of your LMS free trial.
Last but not least, make sure to check out our new Free eBook: Making The Case For Corporate Training Software: How To Choose And Implement A New Corporate LMS For A Healthier Bottom Line to discover what the best Learning Management System experts had to contribute on the subject.
References