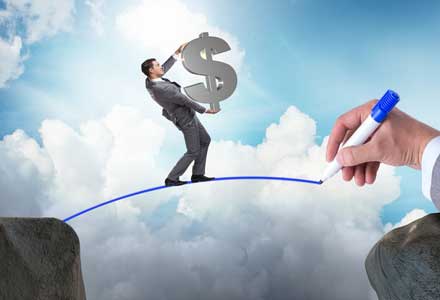 What is a Bridge Loan?
Originally posted on https://www.yourfundingtree.com/loan-types/bridge-loan/
Bridge loans are short-term loans that are used until the applicant (a person or company) secures permanent financing in its place or removes an existing obligation. Bridge lending allows the applicant to meet their current obligations through the use of immediate cash flow. These are short-term loans that last up to one year, with relatively high interest rates. These types of loans usually being backed with some form of collateral, be it real estate or inventory.
Sometimes also referred to as interim financing, gap financing, or a swing loan, a bridge loan is intended to "bridge the gap" for times when further financing is needed but not yet available. Corporations and individuals can both apply for and receive bridge loans, and lenders can customize their offers for many different situations.
How Do Businesses Use Bridge Loans?
Bridge loans are used by businesses when they have to wait for long-term financing but still need money to cover expenses in the meantime. For example, suppose a company is performing a round of equity financing, and it is expected to close in six months' time. The company may opt to apply for and receive a bridge loan so that they may provide working capital to cover their payroll, rent, utilities, inventory costs and any other expenses until the upcoming round of funding goes through.
By design, bridge loans are intended to be short-term financing solutions that can be acquired quickly at a higher cost than conventional loans. They are typically used by businesses as well as real estate buyers, allowing them to buy valuable time until a more permanent and stable form of financing becomes available to them.
These loans can bridge the gap for a business, between their need for capital and the eventual approval and funding of a loan. Businesses which are expecting a large capital investment down the line can use bridge loans to provide all the capital needed in the meantime. Real estate investors, too, can use bridge loans to buy time to renovate or modify a property so that it can be resold for a greater value. Home buyers can even use bridge loans to provide them with the opportunity to buy a new home before their existing home is sold.
What Are the Differences Between Bridge Loans and Traditional Loans?
The faster of the two is definitely the bridge loan. The approval and funding processes both taking less than for traditional loans. However, the convenience of this means these loans tend to have relatively short terms, as well as high interest rates and expensive origination fees. In most cases, borrowers will accept these terms, because they still require fast, convenient access to funds, and they intend to pay the loan off quickly. The high interest rates are necessary because the lender knows that their loan is short term and borrowers plan to pay it off with lower-interest, longer-term financing very quickly. In addition to this, most bridge loans will have no repayment penalties.
The Benefits of Bridge Lending:
Better alternative to obtaining an equity partner
Bridge the gap while conventional financing is unavailable or pending
Use them as a down payment on a build-out project
Let's Get Started, It's Free to Apply, Only Takes 90-Seconds, & There is No Obligation.