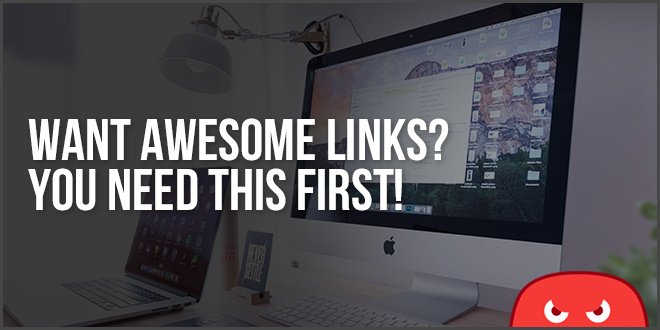 Want Awesome Links? You Need This First!
Originally posted on https://www.thehoth.com/blog/what-is-quality-content/
---
Originally posted on YouTube by The HOTH
Everybody wants killer, juicy, in-content links that drive massive jumps in rankings – But actually getting those links isn't always easy.
…Especially if you don't want to spend a fortune, or you don't have a ton of time.
There is a big problem that most sites have that essentially prevents them from getting these links.
Most people try REALLY hard to build links to their product pages –
After all, that's the page you really want to rank, right?
Here's the problem: The cold hard truth is no one cares about your products and services, so they won't link to them. Editors smell SEO links from a mile away and will either nix them right out or just not publish them.
In fact, it doesn't even really matter what anchor text you use, what's even more important is the actual page that's getting linked.
So how to do start ACTUALLY getting high DA, natural links to your site?
The answer is simple: You need something worthy of linking to!
Then, you can link internally to your product pages to keep the traffic and juice flowing.
Today we're going to walk through what it means to have a linkable asset, show you examples of highly linkable content, and help you start attracting those holy grail links!
Let's go!
What is Quality Content?
The term "quality content" gets thrown around so much in the SEO community that it can almost make you roll your eyes.
So let's get real – How are we going to actually define quality content?
In this context, our goal is to get links to our site, so let's break down what types of content actually achieve that.
Simply put: "Quality content" is content that answers essential questions being asked by the target audience, provides research, important news, or presents a controversial opinion.
Quality content pieces are linkable assets on your site that are so good, other websites naturally refer their audiences to it.
(For more on how backlink quality affects your rankings, check out this great explanation on backlink quality from Neil Patel.)
Let's break down the top content types that attract links:
How to Write Quality Content
Buzzsumo did an awesome study about the types of content that attract the most links and shares.
These are:
News content or updates on new products and developments
Authoritative content that answers questions people search, like "What is [topic]"
Controversial opinion pieces that take a stand on one side of an argument
Original research that provides unique insights
Content that centers around a trending topic and provides practical information
All these types of content are both highly shareable and linkable. I'll provide you with an example or two of each and why they work below.
Authoritative Content
Try creating content that answers questions people actually want to know more about. Authoritative content such as guides and How-To articles are referred to often by publishers.
Why is this the case? Because authoritative content tends to provide valuable information in a way that makes it easy to reference.
Editors don't mind linking to this content because it provides their readers with additional value.
Let's say you wanted a link from a publisher like Forbes: a website with high domain authority and thus a high-quality backlink for your site to get.
I want to show you the type of content that got linked to in an article I chose at random. Here are a couple in-content links from this article about raising venture capital:
The link with the anchor text "lean startup" takes the reader to a guide on how "How to Start a Lean Startup."
This link occurs within an article on venture capital, and startups are what venture capital is raised for, so "How to Start a Lean Startup" is a relevant topic for the editor to link out to.
Notice that when you land on the lean startup guide, to the right of the article is a GIANT AD for this website's software product:
This is the content strategy for getting great backlinks in play:
Not only do you get a boost from the link, but any traffic that clicks through to your content also can continue on to your sales content!
You'll get more backlinks and thus more traffic and sales by putting up authoritative content on your site and making it easy to find your products from that page.
Controversial Opinion Content
Depending on your niche or industry, there are topics under debate that people may fall sharply on either side of.
You can take advantage of the emotional component of taking a stand and write a piece that argues for one side.
This gets linked to from people who agree and even those who don't agree but want to present an opposing view to their audience. Extra points if you can present a controversial opinion on a trending topic.
For example, when Equifax had a major data breach in 2017, this piece from Wired argued that Equifax should be dissolved for failing to protect its customers' data. Notice that it has over 14k shares on Facebook:
It also still has a nice number of backlinks even though the topic has become less relevant over time:
You don't necessarily need to be this dramatic in your piece, though the emotional response it gets can help.
An argumentative piece can be as simple as stating your opinion on problems that your audience is having and calling those problems out.
Research Content
Research pieces present information in a useful and numbers-driven way. Like authoritative pieces, research content answers questions, but you answer those questions by using hard evidence to back it up.
Research content can take a number of forms. For example, you can conduct original research to present statistics and analysis that offer unique insights.
You can also aggregate a number of research pieces from external sources and generate a new "study on the studies."
Do you think research pieces attract backlinks? You can bet that they do.
For example, this case study on how Google reviews impact local rankings managed to attract a large number of backlinks in a matter of days:
105 referring domains in 5 days to be exact:
If you do the work to come up with meaningful statistics that provide insights into your niche topic, this research content is primed to serve as a reference and get backlinks.
News, Updates and Trending Topic Content
If something new comes out or there is a trend on the rise, your ability to provide news or updates to the audience can come in handy.
Whenever Apple comes out with a new version of the iPhone, you can be sure that about 10 million+ pieces of content will come out to talk about it. But you can provide an update on something more specific to your niche.
For example, we keep our readers up to date on Google's Update history.
This page has received a steadily increasing number of referring domains:
Now you have an overview of the quality content that works to get quality backlinks to your site! Check out this great article by SEO expert Glen Allsopp for more examples of content that attract links.
If you want to try a tool that helps you come up with ideas for content, try our Headline Generator Tool.
How To Start Getting FREE Links
What's awesome about starting with linkable content is that over time, you can start to attract free links naturally!
Once your content starts to rank, it'll be seen more in search results and attract additional links as a result of the increased exposure.
Why does it work? Because your content is an easy-to-find reference!
For example, journalists write articles and need content to refer to that supports their piece. They might look for examples, answers, quotes, and studies.
If you rank at the top of the results and provide what they need in your content, it'll be you they refer to.
This is the SEO version of "the rich get richer."
So you essentially multiply the value of your content by getting free links in this way.
How do you start getting some free links?
Rather than just sit there and wait, there a few simple things you can do to kickstart the number of links your content is getting.
1. Promotion
Promotion is a key tactic to getting the initial links that you need to rank.
To get started promoting your new content, share it on social media and tag prominent people in the post who might be interested in it.
For example, this Tweet for a content piece ranking social media and marketing influencers made sure to tag 4 of those influencers so that they'd see it, and possibly share it to their audience:
Thank you! The new #Digitalscoutings Top 100 #SocialMedia and #Marketing #Influencer #ranking is out. Thank you all for your #inspiration and support! https://goo.gl/VwCaQ6  @davekerpen @madalynsklar @guykawasaki @hnshah #AI #ML #VR #AR #BigData #iot #Cloud #smm /Team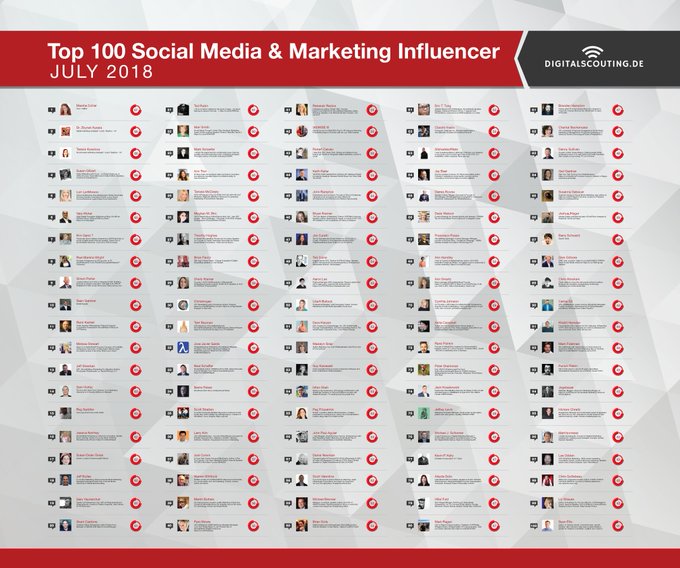 1711:03 AM – Jul 12, 2018Twitter Ads info and privacy17 people are talking about this
You can also try taking out a press release and sharing it with news organizations as another promotion tactic.
Outreach
Do some direct outreach. If you want your piece to get a link from someone prominent, why not reach out to let them know you made it?
If they check out your content and like it, that's free promotion for your piece.
There are different ways to do it, such as through email or social media messaging.
Influencers are inundated with requests for links. So don't even ask for the link. Just make them aware of the content.
For example, we emailed Brian Dean to let him know that we mentioned him in a piece of content about Blogger Outreach and he shared it on Growth Hackers.
This earned us a backlink and an additional 3k views from our target audience of online marketers:
We were then contacted by a podcast for an interview on the Blogger Outreach article.
Being on this podcast earned us yet another link from the episode's page, along with traffic from the show's listeners.
Link Submission
You can submit your content to relevant sites as part of a promotion strategy, including:
There are more submission sites out there, and some are relevant only to specific industries. Submit where it makes sense for yours!
How To Interlink For More Sales
So you have the quality content piece. You've promoted it to get some initial links pointing to it from other sites.
Now you want the traffic and link juice to flow to your product page – and you do that by internally linking!
When you link FROM your standout content piece TO your sales pages, you can turn that traffic into purchases.
As I mentioned in the beginning, this is the better strategy for getting people to your product pages, since product pages don't attract a lot of links.
Internally linking can actually help your product pages rank as well!
This case study from Ninja Outreach shows how internal linking increases traffic.
This one resulted in 40% more traffic as a result of strategically placed internal links:
Interlinking also provides opportunities to turn traffic into sales.
Why does this work? People who search for terms like the ones you'd use to create quality content are often midway in the customer buying cycle. They just need a bit of a push to start considering a purchase.
Here's an example from our own site. Let's say someone is looking to get links with blogger outreach:
Someone searches for how to do outreach and lands on our guide for doing Blogger Outreach
They read the article and learn some valuable knowledge they were looking for
They like and trust us for sharing that useful info
We mention that we provide a guest posting service / blogger outreach service and link them to our Guest Posting sales page.
Both pages get an SEO benefit, and the traffic that landed on the guide turns into customers after being sold on a solution to their problem!
Sure, some might use the information and leave. But if they are a busy business owner who would be a good prospect for us, chances are they'll read this article and realize that outreach and guest posting is a lot of work…and we can help.
So we make sure to mention our guest posting service at the beginning and end of the article to ensure that they at least check it out.
Conclusion
By creating linkable assets, you can get much better links to your site.
Interlinking great content pieces to your product and/or service pages drives people down the funnel and help you get more sales.
This strategy gets you backlinks more easily and for less money than if you tried to rank by purchasing a bunch of links.
Have any questions? Let us know in the comments!