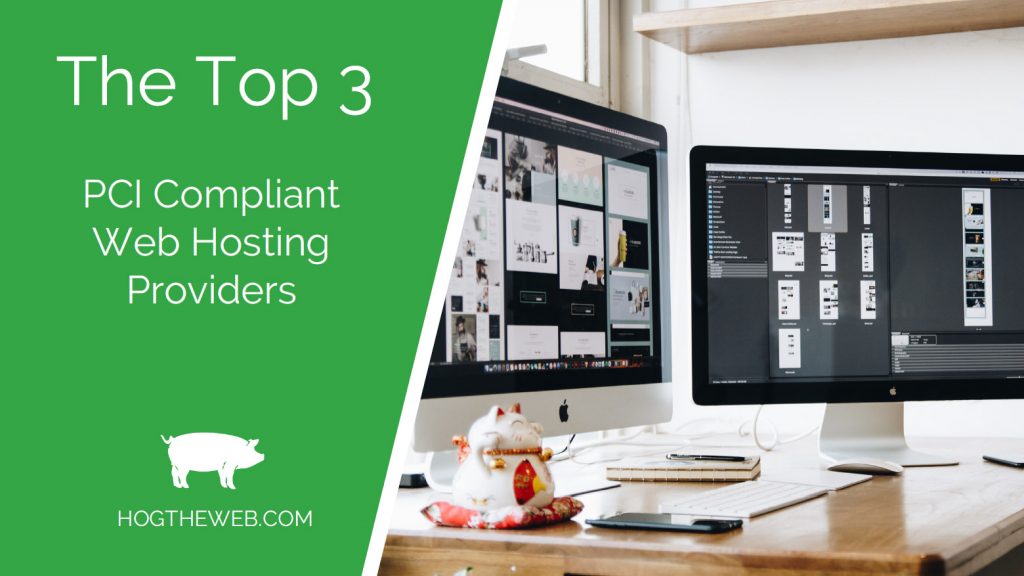 Top 3 PCI Compliant WordPress Web Hosting Providers
Originally posted on https://hogtheweb.com/top-3-pci-compliant-wordpress-web-hosting-providers/
US consumers spent more than $500 billion on eCommerce sites last year. Amazon controls almost half the market. Other retailers must battle it out for customers' dollars.
Many factors encourage customers to buy from a site. Most emphasize trust and security. They also want payment options.
At the center of these concerns is the Payment Card Industry's standards for cardholder data. PCI compliance improves security when you accept credit card and debit card payments.
If you run an eCommerce site, you're not the only one who needs to be compliant. That's why you need PCI compliant WordPress web hosting.
In this guide, we'll look at some of the requirements for hosting that's compliant with the PCI standards. We'll also explore three of the top providers for compliant hosting.
What to Look for in PCI Hosting
As you search for a hosting environment, keep your own responsibilities in mind.
Finding a web host who complies with the PCI standards is just one of the many steps you'll need to take. You'll still need to address issues such as how your company stores credit card information.
You'll likely need to adopt a payment gateway to meet the standards for security. You also have to create and maintain your own information management policies. An assessment questionnaire can help you find the holes in your compliance program.
As a service provider, your web host must do their part as well. When someone buys through your site, your host also touches their payment information. The hosting service you choose has to take the right precautions.
You'll want to look for a host that:
Keeps their system and network up to date with the latest security
Maintains a vulnerability management program to deal with security threats
Implements access control to prevent unauthorized access to data
Creates and updates a security policy for information
You'll need to mirror these efforts in your own company.
With this in mind, which providers are the best of the best when it comes to providing compliance? We've picked these three as your best bets.
When it comes to finding compliant hosting for your eCommerce site, you won't go wrong with Liquid Web.
This hosting provider understands the importance of protecting payment card industry data. One of the services their expert team offers is designing a PCI-compliant environment. Whether you need to secure a site or an app, their knowledgeable technicians are up to the task.
Liquid Web claims the top spot because they go one step farther for their clients. When you sign up with them, you can also select their quarterly scanning service. During the scan, they'll update your site and resolve new vulnerabilities.
They've partnered with Approved Scanning Vendors to supply on-demand PCI scans. With each scan, you'll get three reports. This includes your attestation of compliance.
Liquid Web fully manages this service, which means their team "will help correct the problem, and re-scan if necessary."
If you need to handle card numbers or credit card data, this host can help you go beyond compliance. Protecting cardholder information has never been so easy.
CHECK YOUR SITES SECURITY SCORE FOR PCI COMPLIANCE
• Find Vulnerabilities in the Code
• Detect Malware Infections
• Check Website Encryption
2. InMotion Hosting Offers PCI Compliance Guidance
InMotion doesn't bill its services as PCI compliant web hosting. However, their team does offer advice for becoming compliant with the security standard PCI DSS. Their support page states;
"InMotion Hosting is happy to review the results of the compliance report and help you affect the needed changes.
In most cases, the compliance report will arrive as a PDF document. All you will need to is submit this document alongside a ticket request to our Live Support team."
Their support center goes over compliance and gives tips for passing compliance scans. One of their tips is closing open ports. This points to not only a hosting provider who takes compliance seriously, but one who knows their way around the standards.
What makes InMotion stand out is the security features it offers. SSL certificates are included in your hosting package. This measure can help you meet encryption requirements for card industry data security.
Other security measures offered include automatic backups. A backup can restore your site if it happens to be compromised.
InMotion also includes DDoS protection for sites. A distributed denial-of-service attack occurs when an attacker gains control over Internet-connected devices. They then use those devices to flood servers or networks with traffic.
This overwhelms the infrastructure of the network. The server may go down, taking your site with it. InMotion's security measures help ensure uptime, even in the event of a DDoS attack.
CHECK YOUR SITES SECURITY SCORE FOR PCI COMPLIANCE
• Find Vulnerabilities in the Code
• Detect Malware Infections
• Check Website Encryption
eCommerce Options
InMotion does more than offer security though. They also offer some great features for eCommerce sites like yours. An example is one-click shopping carts, which can be added to your site.
InMotion offers six WordPress plans, each one tailored to meet your site needs. Whether you're starting out or growing a successful business, they have a compliant plan for you.
When you're looking for PCI compliant hosting providers, don't overlook SiteGround. This company offers PCI compliance hosting by default.
With one of their higher-tier plans, you can follow the industry data security standard. The good news is that these plans are still affordable, even for small companies and startups. They also offer managed WordPress plans for those who are less savvy with the back-end of their site.
The company uses secure data centers to achieve better security for eCommerce clients. Their plans offer a dedicated IP address, which is fundamental to PCI compliance.
They also have options for dedicated servers and cloud hosting. You can even elect to buy a virtual private server plan through them. Any of these hosting plans can be made compliant with the PCI standards.
Great Design and Hosting Work Together
Finding PCI compliant WordPress web hosting doesn't need to be like finding a needle in a haystack. These three providers are some of the best.
Of course, finding the right hosting isn't the only step you'll need to take. Great design also supports security and compliance.
If you think your site is due for an overhaul, get in touch with us. We can help you improve security and exceed even the highest of security standards.