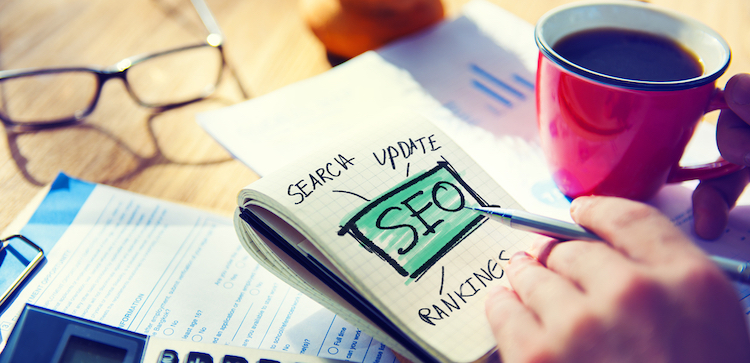 Top 22 SEO Blog Sources for Ranking
Photo From FreeUp
Originally Posted On: https://freeup.net/blog/business-tips/seo-blog-sources/
An SEO blog is a great source for learning how to apply search engine optimization to your website. Search remains one of the top ways customers find your business. The truth is even if you have the most well-designed website, you can't attract new customers and grow your business without proper optimization efforts.
Why Do You Need SEO?
SEO plays a crucial role in business. Without it, you run the risk of never ranking in the SERPs. This means your competitors will always have a better chance of reaching your target audience and earning from it.
Did you know that Google made 3,200 changes in its search algorithm last year? That adds up to about 9 changes every single day. Moreover, factors like social media, email marketing, and technologies such as artificial intelligence and image search continuously influence the way search engines deliver results to its users every single day.
If you're a business owner or a digital marketer, it is critical to keep up with the times. You should be updated on the changes that Googles makes in its SEO standards. Furthermore, you should also stay on top of the advances in the digital marketing sphere at large.
In this blog, we're listing down 22 SEO blog sources that can help you in your SEO journey. Let's get started!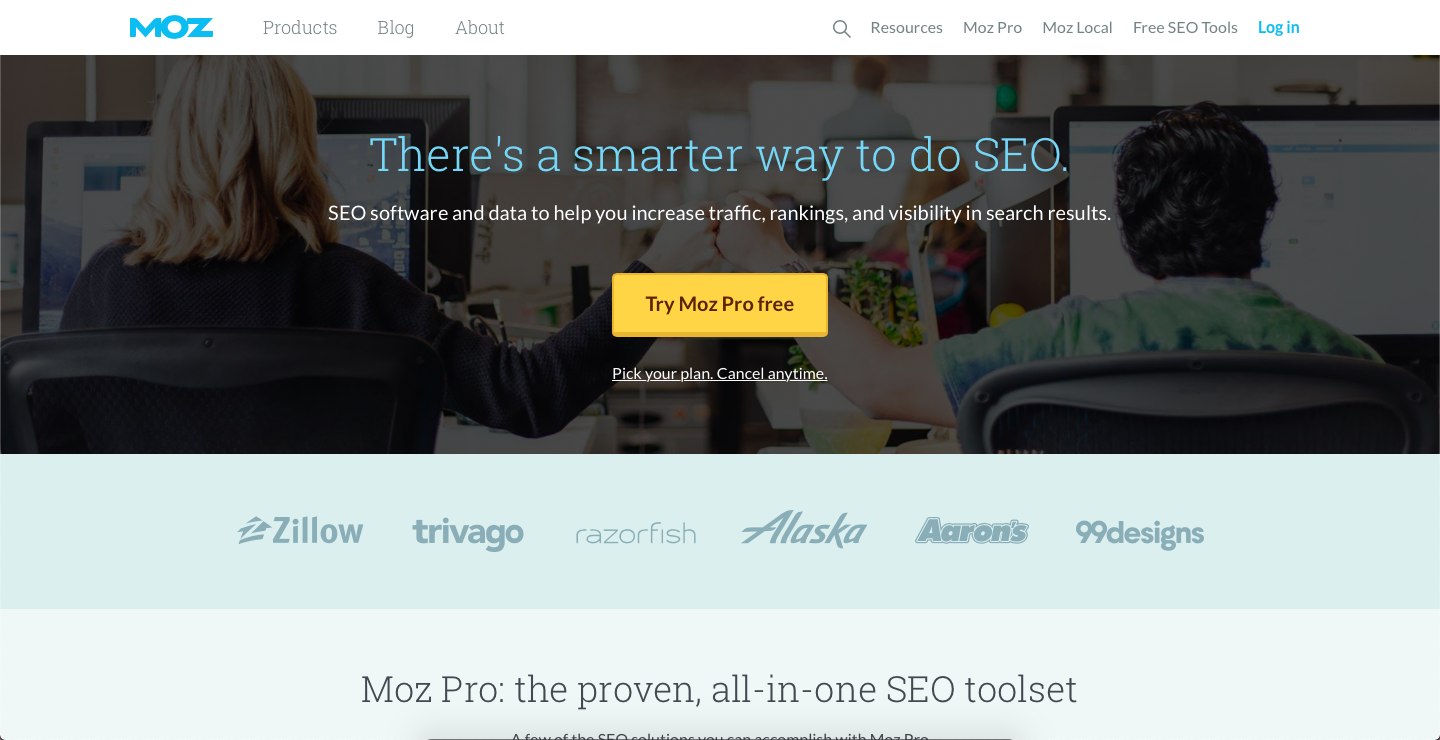 The people behind the Moz blog believe that SEO is the better way to do marketing. They understand that it's one of the least understood and least transparent aspects of digital marketing and so they've taken it upon themselves to simplify it through their blog.
This SEO blog combines the know-how of top wizards, doctors, and other experts to bring readers the best advice, research, how-to's, and insights that will help elevate your SEO and online marketing game.
Here, you can learn about a variety of topics including content and blogging, onsite optimization, keyword research, link building, video, image, and local search, as well as technical issues in SEO.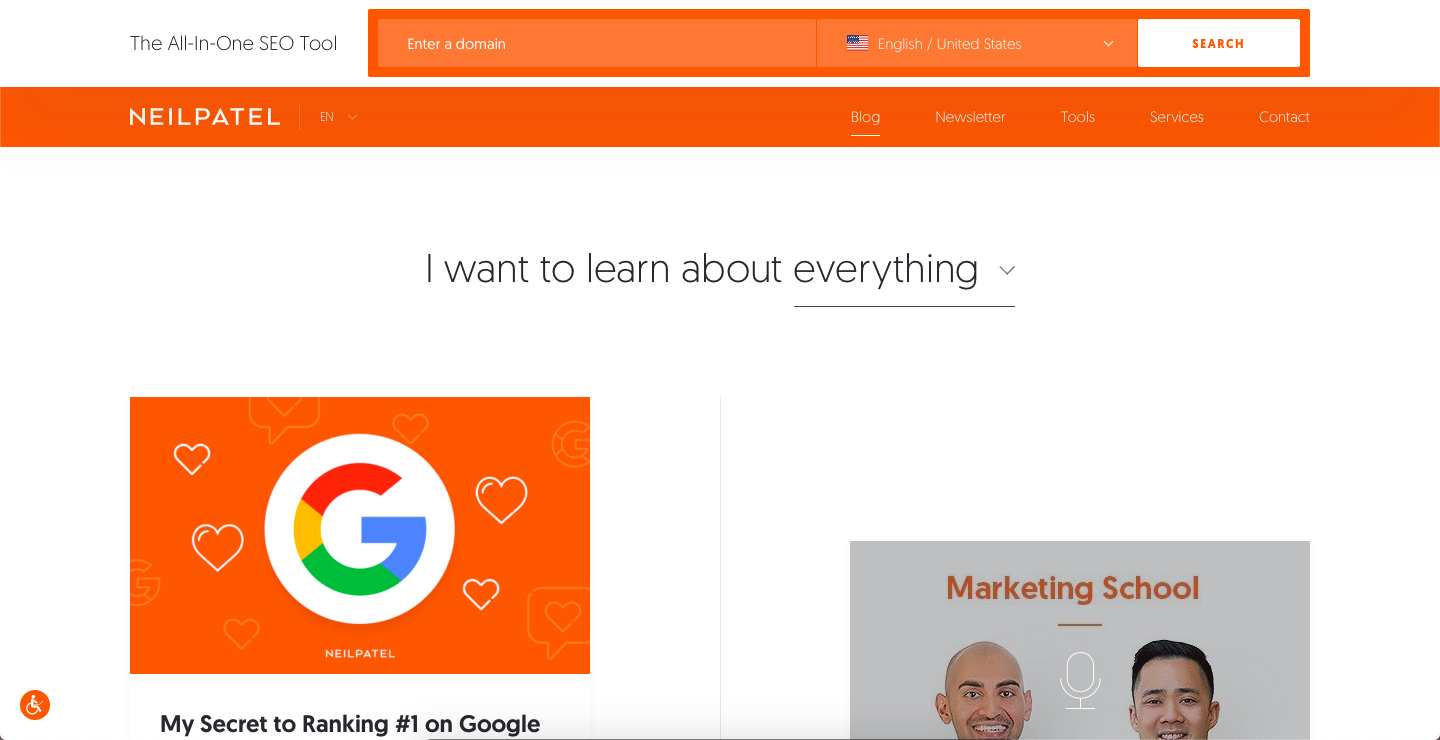 Neil Patel is one of the most influential digital marketers in the world today. He is the co-founder of Crazy Egg, Hello Bar, Stride, and KISSmetrics. If you're looking for an SEO blog that's worth bookmarking then his site is for you. Here, you can learn about how you can grow your business using innovative digital strategies including SEO.
His marketing blog generates over 3 million visitors per month proving that he is the go-to resource for all things digital marketing, SEO, content strategy, community building, and brand development.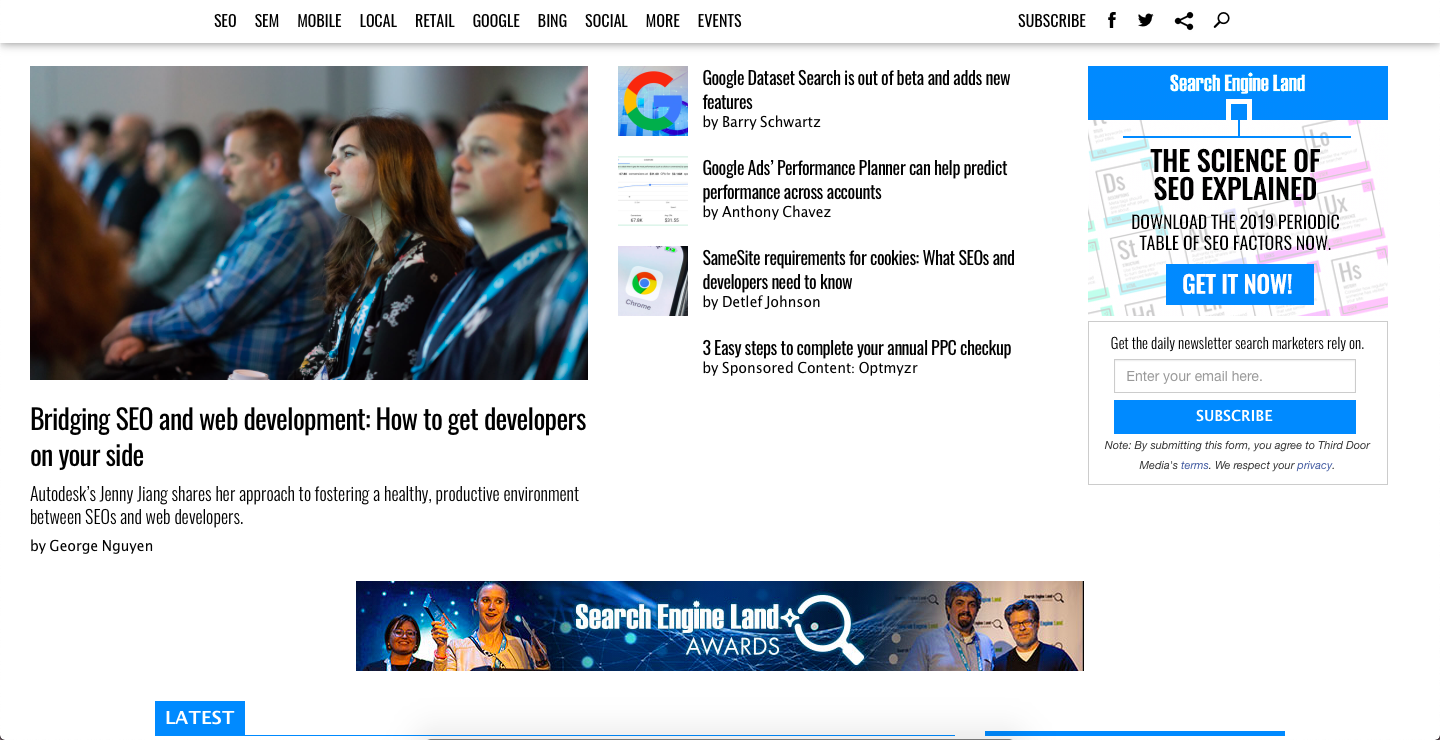 This SEO blog covers all aspects of digital marketing, advertising technology, and the martech landscape. They have daily news coverage which includes breaking stories, industry trends, feature announcements and product changes at popular platforms used by search marketers to reach consumers online.
It also features contributed articles by subject matter experts across all digital marketing disciplines, filled with practical tips, tactics, and strategies for running successful marketing programs.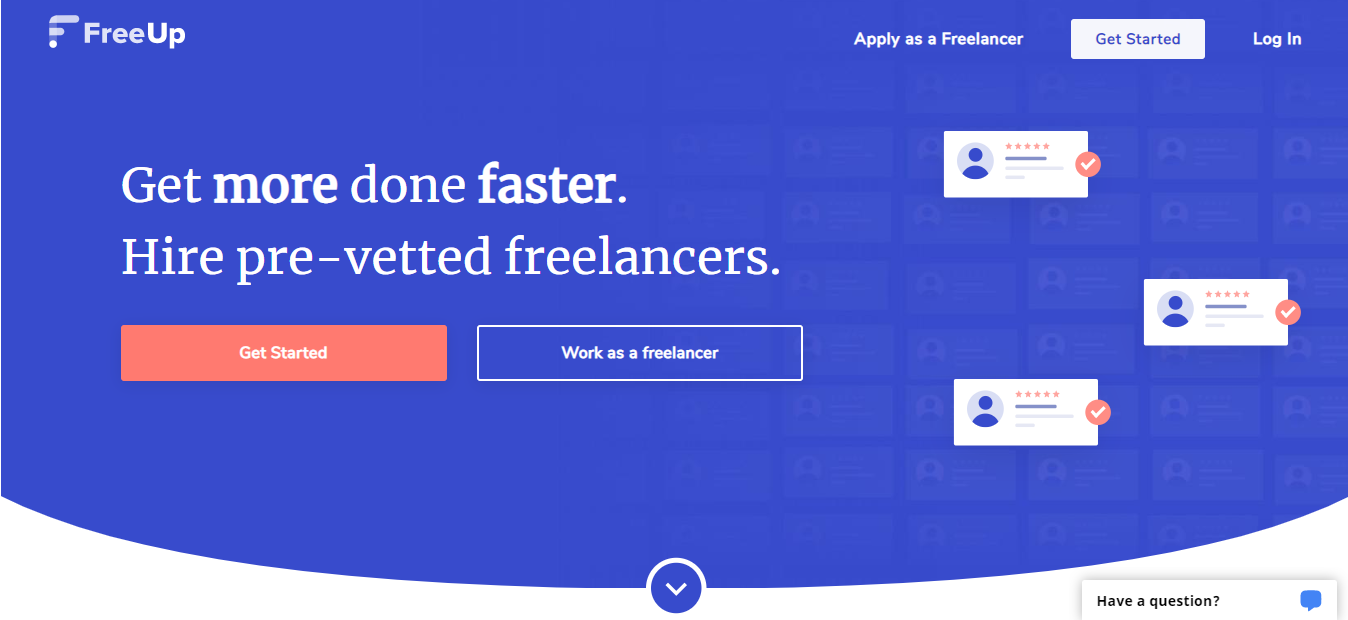 The folks at the FreeUp blog are dedicated to helping entrepreneurs in boosting their business. They understand that SEO is a critical tool in becoming successful in your business. They regularly publish useful tips and guides to keep business owners abreast of the best practices and new trends in optimization. Furthermore, they publish tips on how you can take your business to the next level with the help of freelancers.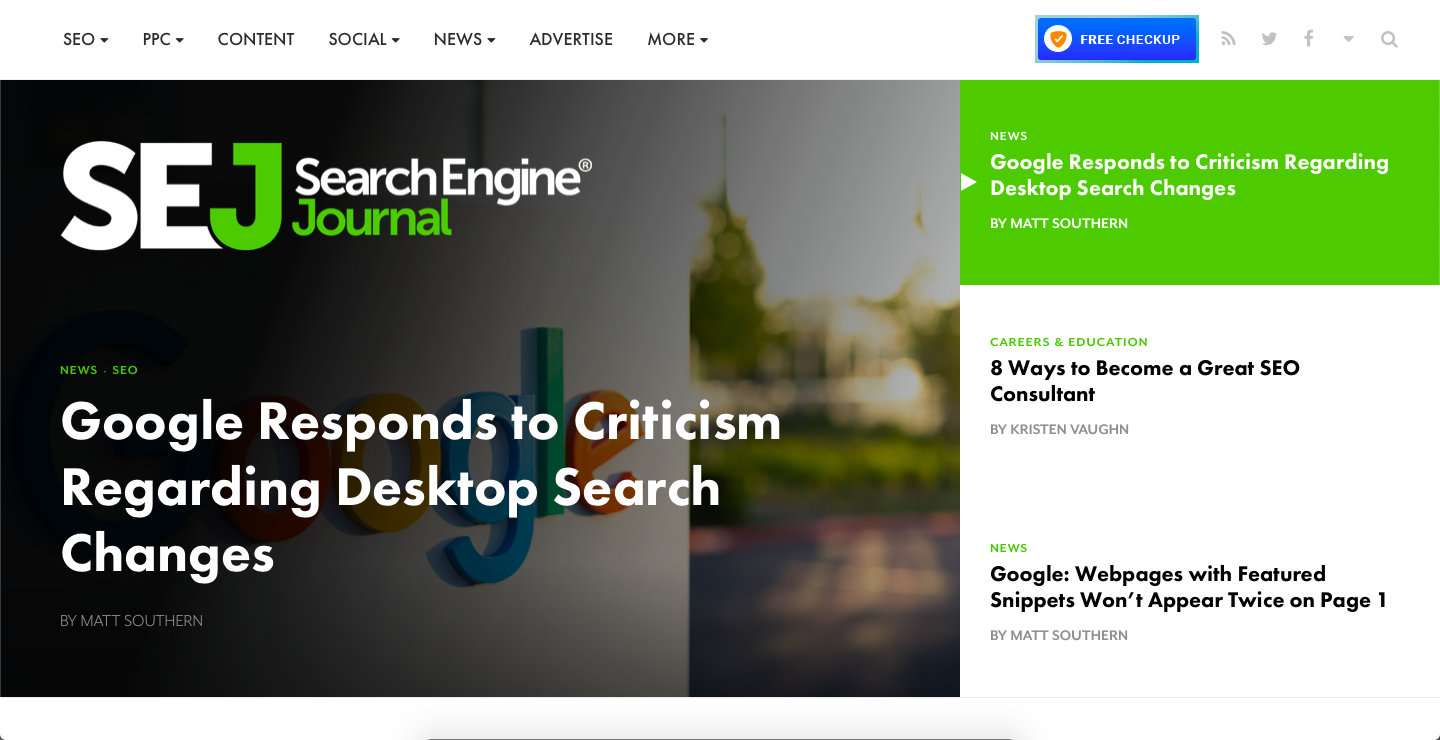 Search Engine Journal is an SEO blog that's dedicated to educating and empowering the SEO community by providing the freshest news and latest best practices via the industry's smartest practitioners.
Launched in 2003, SEJ is unique in its community-based approach to search marketing content. Virtually all of their contributed articles come from real online marketing experts, both independent and in-house.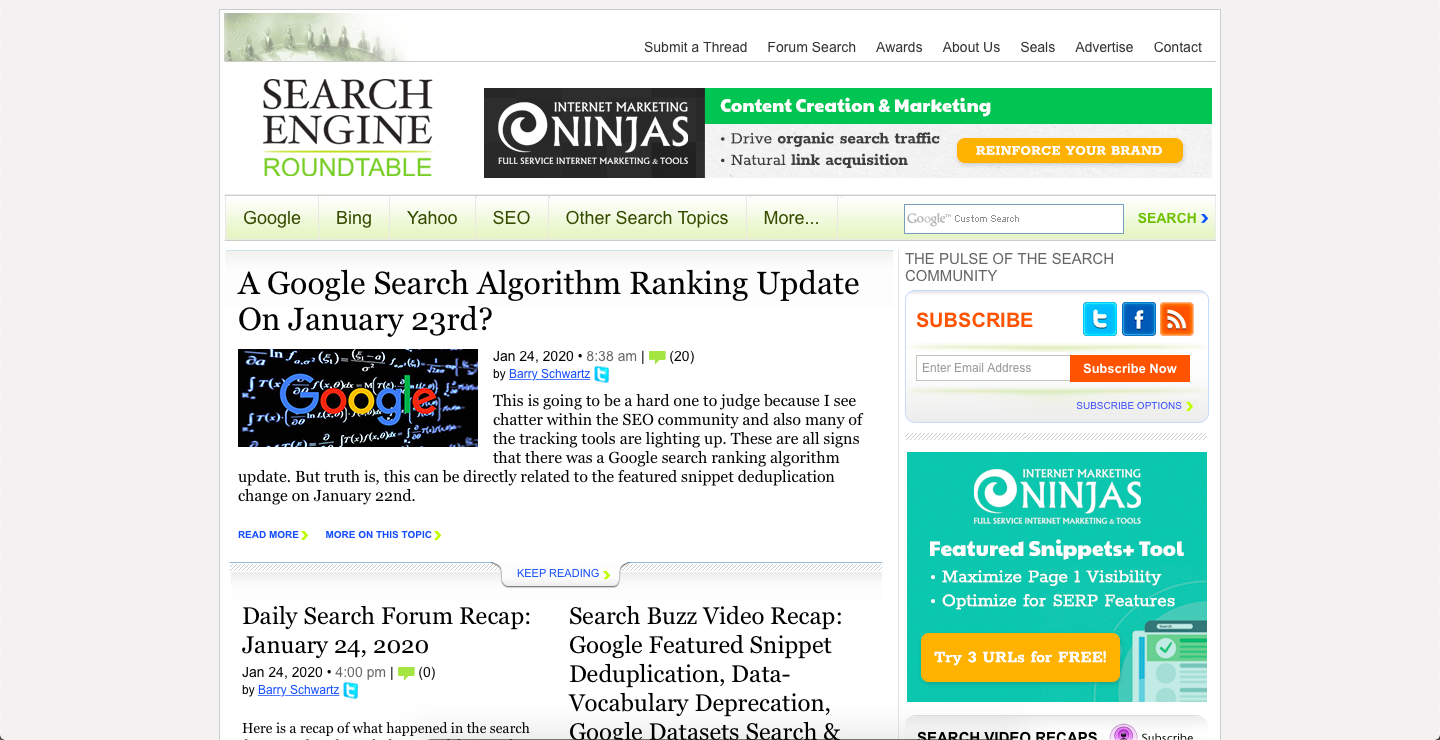 The Search Engine Roundtable aims to report on the most interesting threads taking place at the search engine marketing forums. They aim to provide a single source for readers who don't always have time to scour through forums for answers to their SEO questions.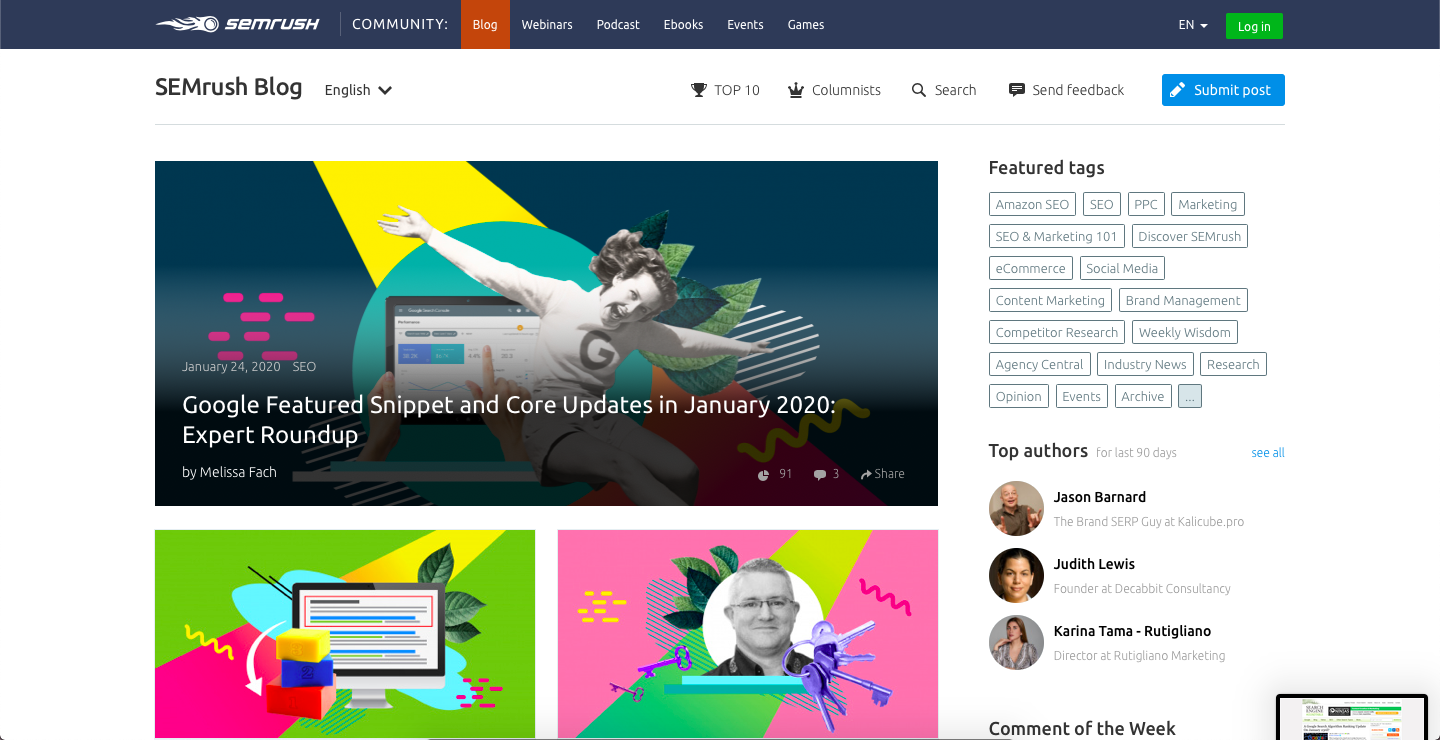 SEMrush started out in 2008 as a small group of SEO and IT specialists united by one mission — to make online competition fair and transparent, with equal opportunities for everyone. After eleven years of trailblazing experiments and constant progress, they've grown into the world's leading competitive research service for online marketing.
Founded in early 2008 as ReelSEO, Tubular Insights is a website and blog focused exclusively on the interplay of online video technology and marketing best practices.
It is comprised of marketers, writers, and online video industry experts who research the latest emerging trends and attempt to offer a road-map to success for marketers and businesses hoping to carve out their niche online using video.
Their mission is to provide objective insight and best practices for all who are seeking to leverage the powerful and growing content revolution that is online video.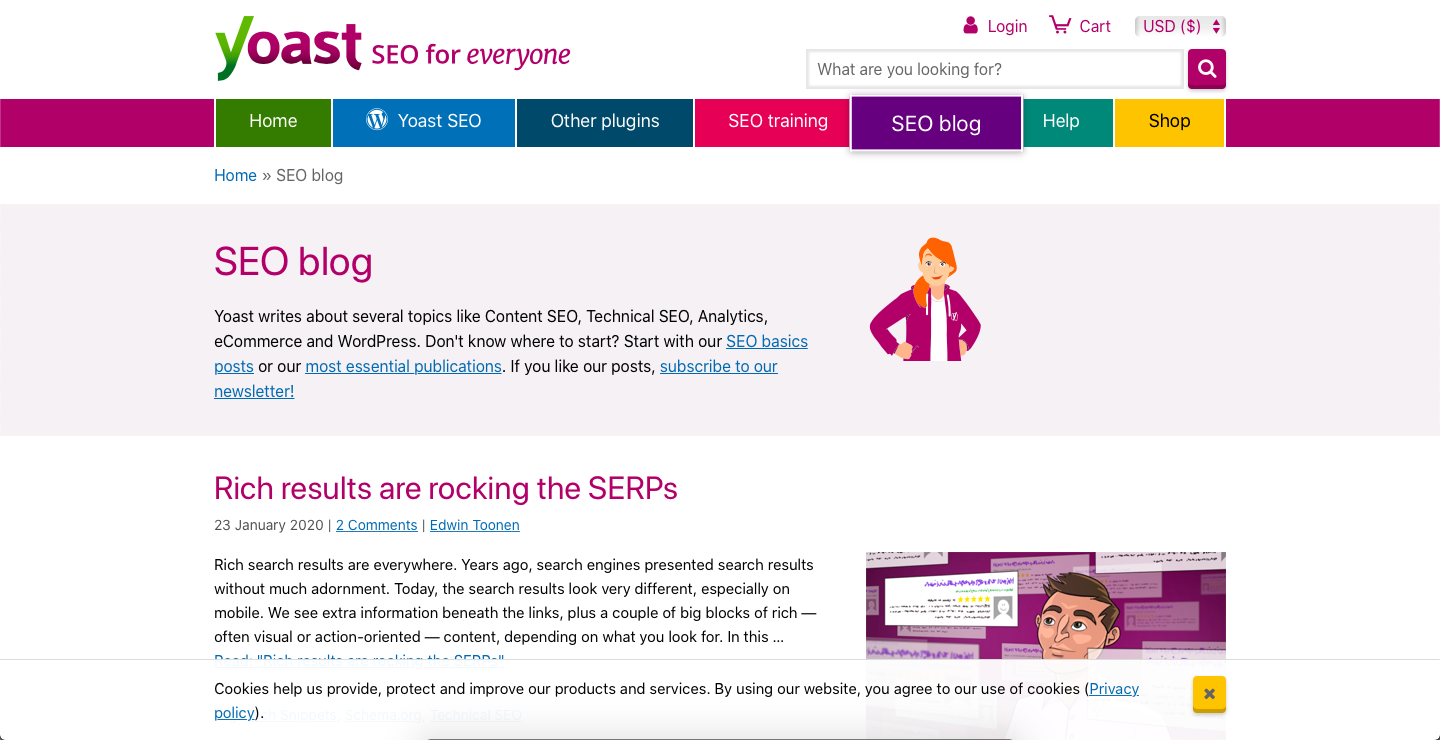 Yoast writes about several topics like Content SEO, Technical SEO, Analytics, eCommerce and WordPress. They believe that SEO should be for everyone. Through their blog and other services, they help create equal chances for everyone in the search results.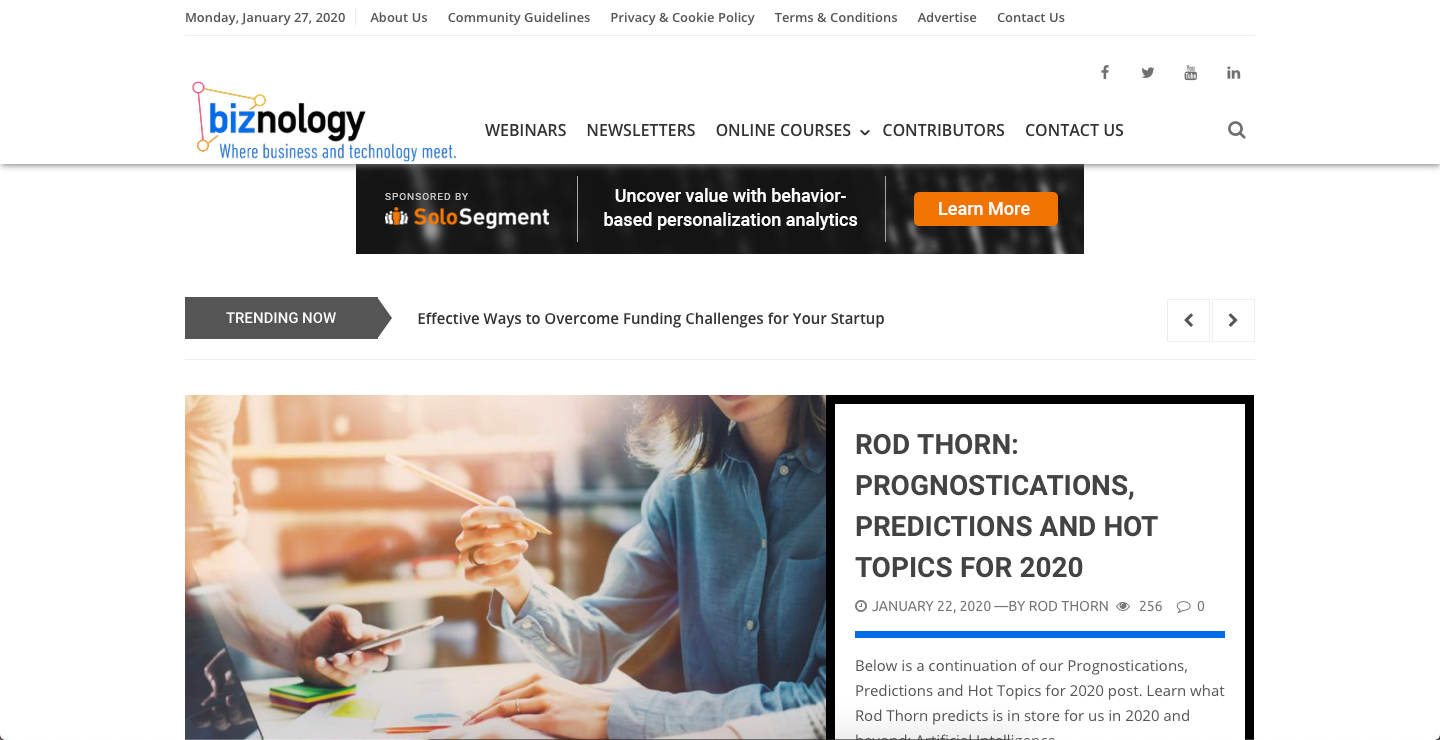 Biznology is a peer-to-peer learning network that helps you make smarter decisions for your business today — and prepares you for what's next. They provide valuable insights, information, and expertise to accelerate business in the digital age through consulting and advisory services, research and publications.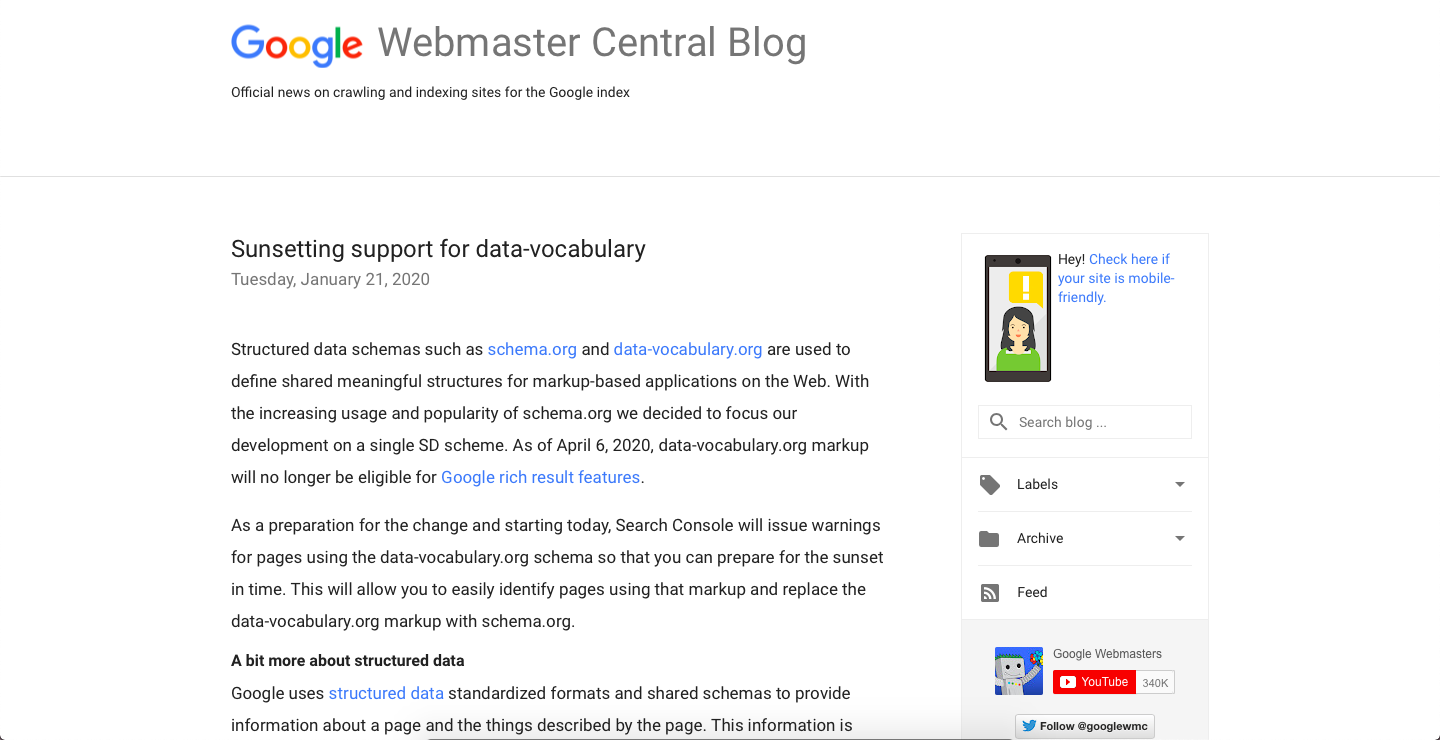 If you're looking for the latest update on SEO algorithms, there's no better resource than Google itself. The Google Webmaster Central Blog offers news and resources to help webmasters make great sites.
They have content for practically everything you need to create an exceptional SEO strategy including crawling and indexing, geotargeting, image search, responsive web design, sitemaps, and more.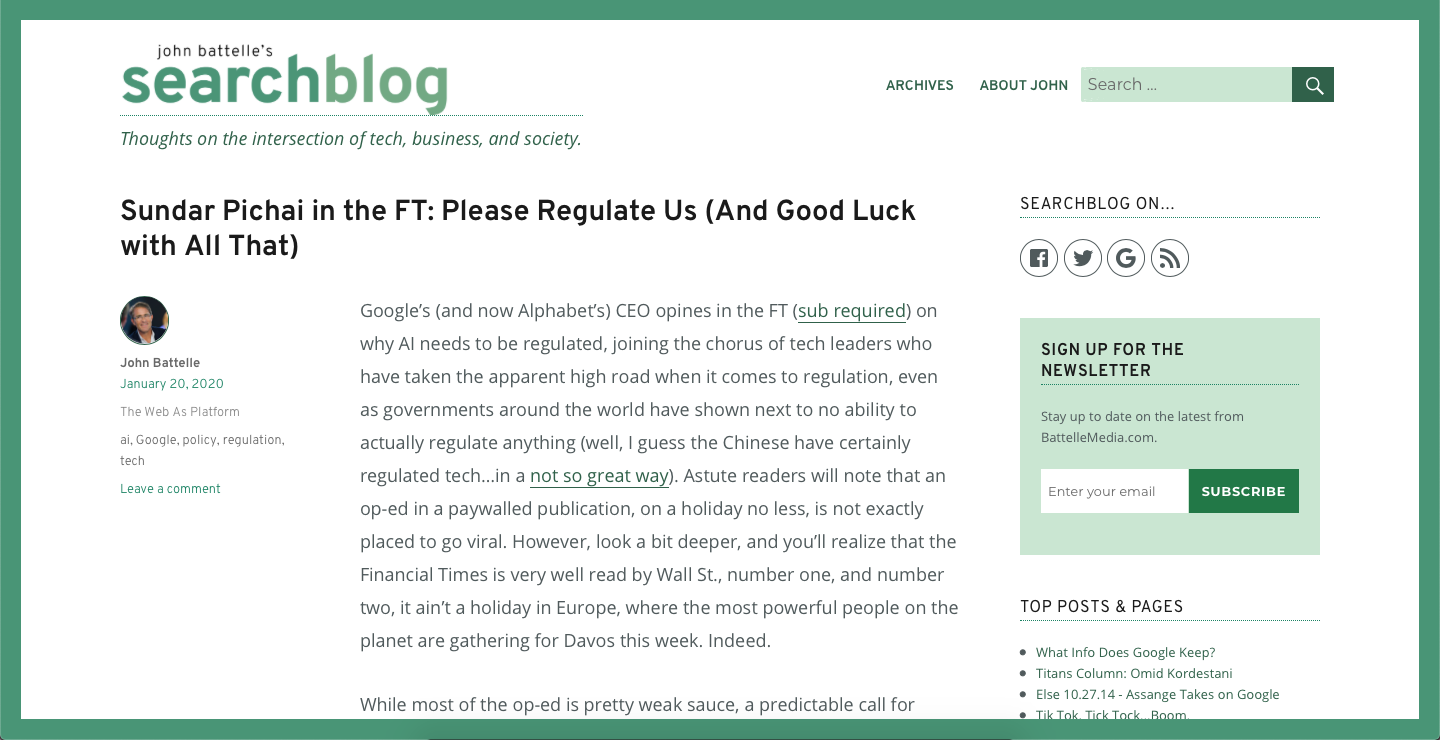 John Battelle is an entrepreneur, journalist, investor, and author who has founded or co-founded scores of media, tech, conference, and other businesses. This includes Wired Magazine, The Industry Standard, NewCo, and Federated Media Publishing. He maintains Searchblog, an ongoing daily site that covers the intersection of media, technology, and culture, with archives dating back to October 2003.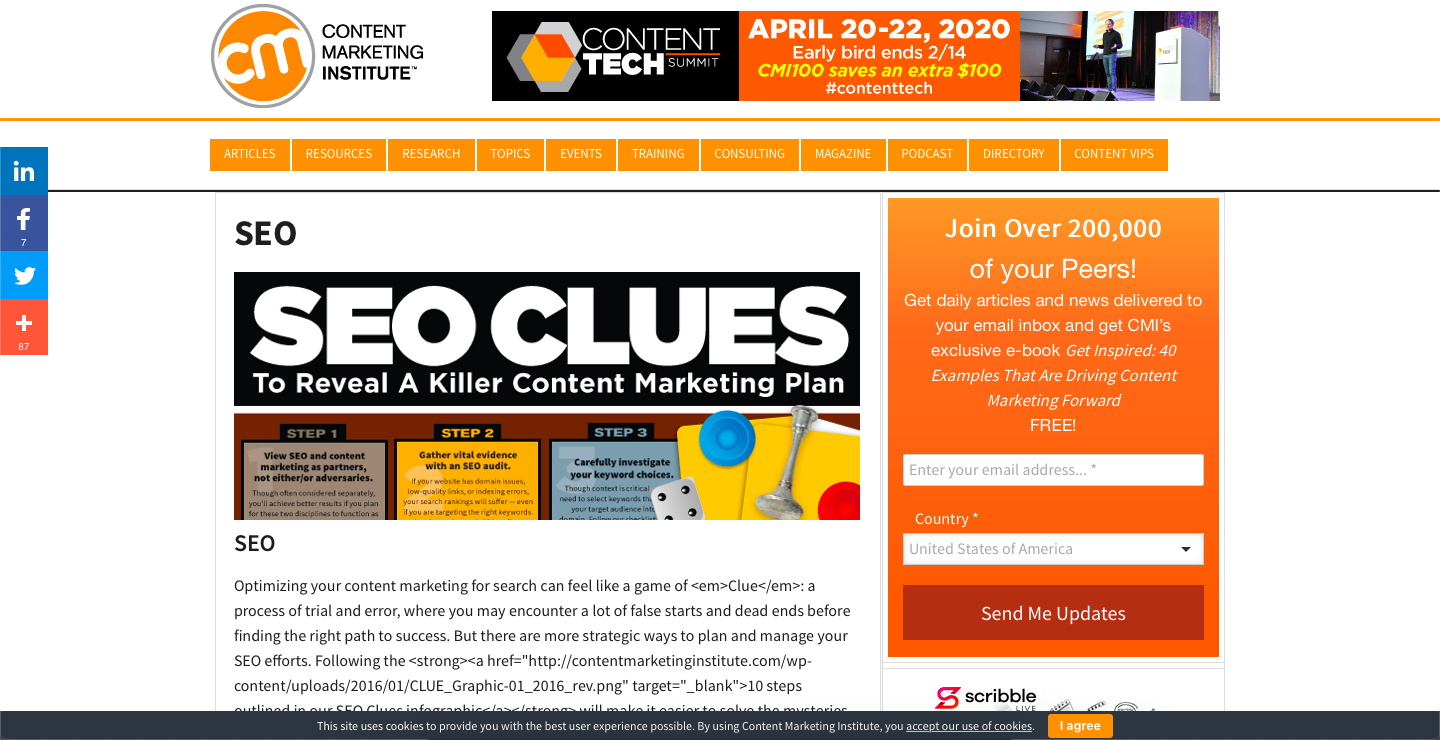 Content Marketing Institute is an SEO blog full of practical, how-to guidance. You'll also find insight and advice from the experts, and an active community for discussing the latest news, information, and advances that are moving the industry forward.
Today, it is the leading global content marketing education and training organization, teaching enterprise brands how to attract and retain customers through compelling, multichannel storytelling.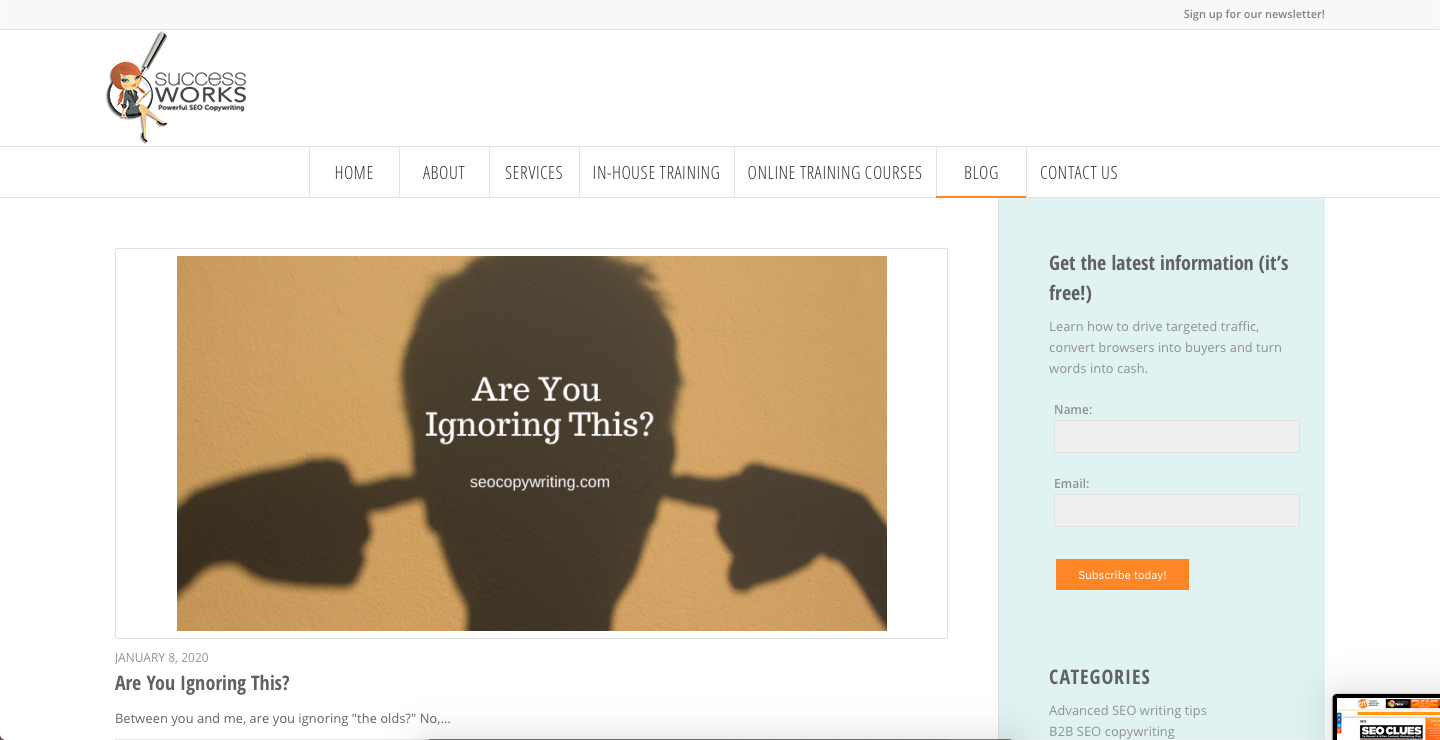 Using the domain SEOCopyrwriting.com, SuccessWorks was the first agency to focus on SEO content marketing and development. They also maintain a blog where you can learn a whole slew of SEO knowledge including SEO writing, B2B SO copywriting, blog writing, content marketing, SEO content marketing, and much more.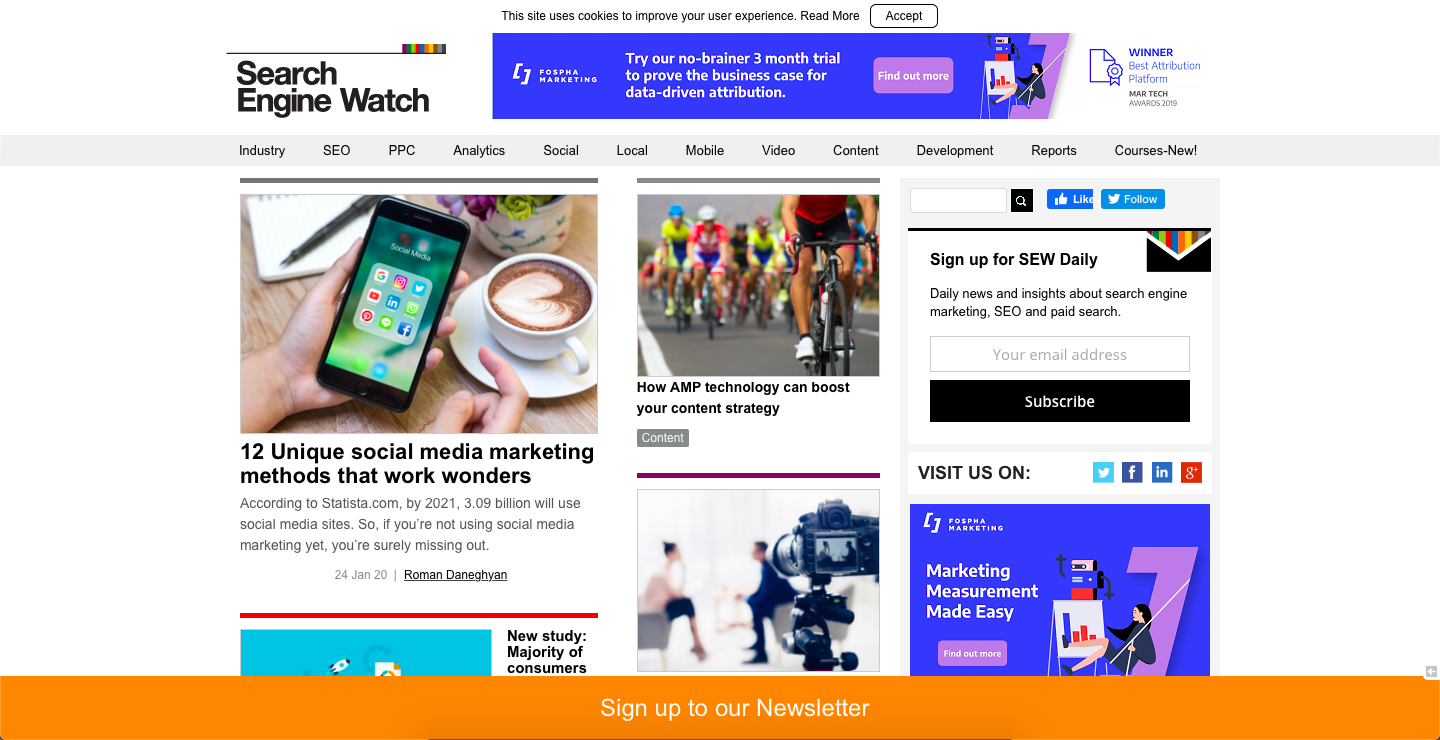 Search Engine Watch provides tips and information about searching the web, analysis of the search engine industry and help to site owners trying to improve their ability to be found in search engines.
The site features information in the categories of SEO, PPC, analytics, social, local, mobile, video, content, development, and more. It publishes newsletters such as SEW Daily, a recap of the working day's articles from Search Engine Watch; ClickZ Asia Weekly, which lists the headlines, brief descriptions, and links to all columns, stats, and news articles produced by ClickZ's Asia bureau; ClickZ Search, which features ways to improve marketing initiatives of a business; and more.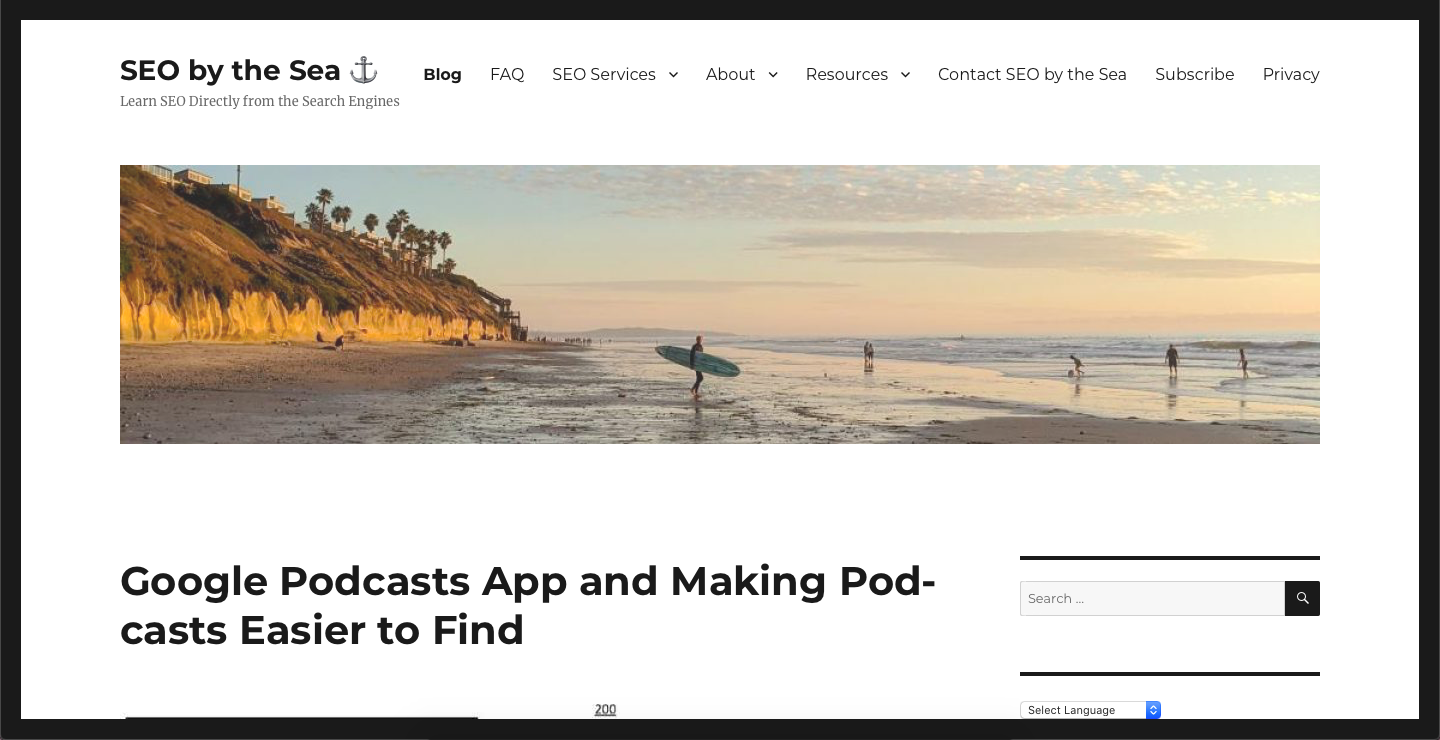 The SEO by the Sea blog helps you to learn from information directly from the search engines. Here, you can uncover some of the assumptions and processes behind how search engines work. You can also keep an eye on how search engines rank web pages. Moreover, this SEO blog will help you determine whether the search engines might have some surprises for us in the future.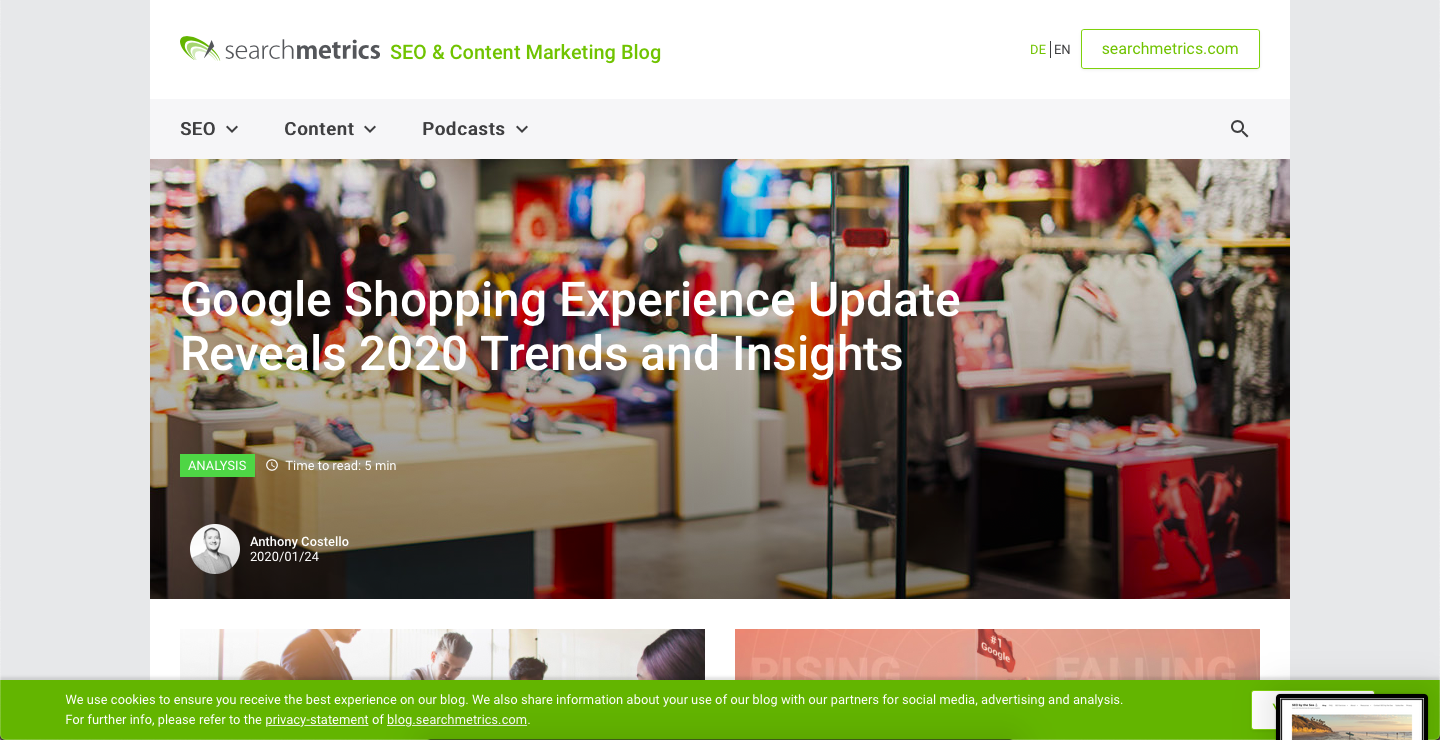 Searchmetric's mission is to enable ever-increasing transparency for the modern marketer. From discovery to insight, from insight to action, from action to value, they help their customers win without the guesswork. This helps in forming the vanguard of the global modern marketing evolution.
On their SEO blog, you can learn how to unwrap the secrets of SEO. You'll also learn about analytics, industry news and trends, facts and figures, as well as SEO-related events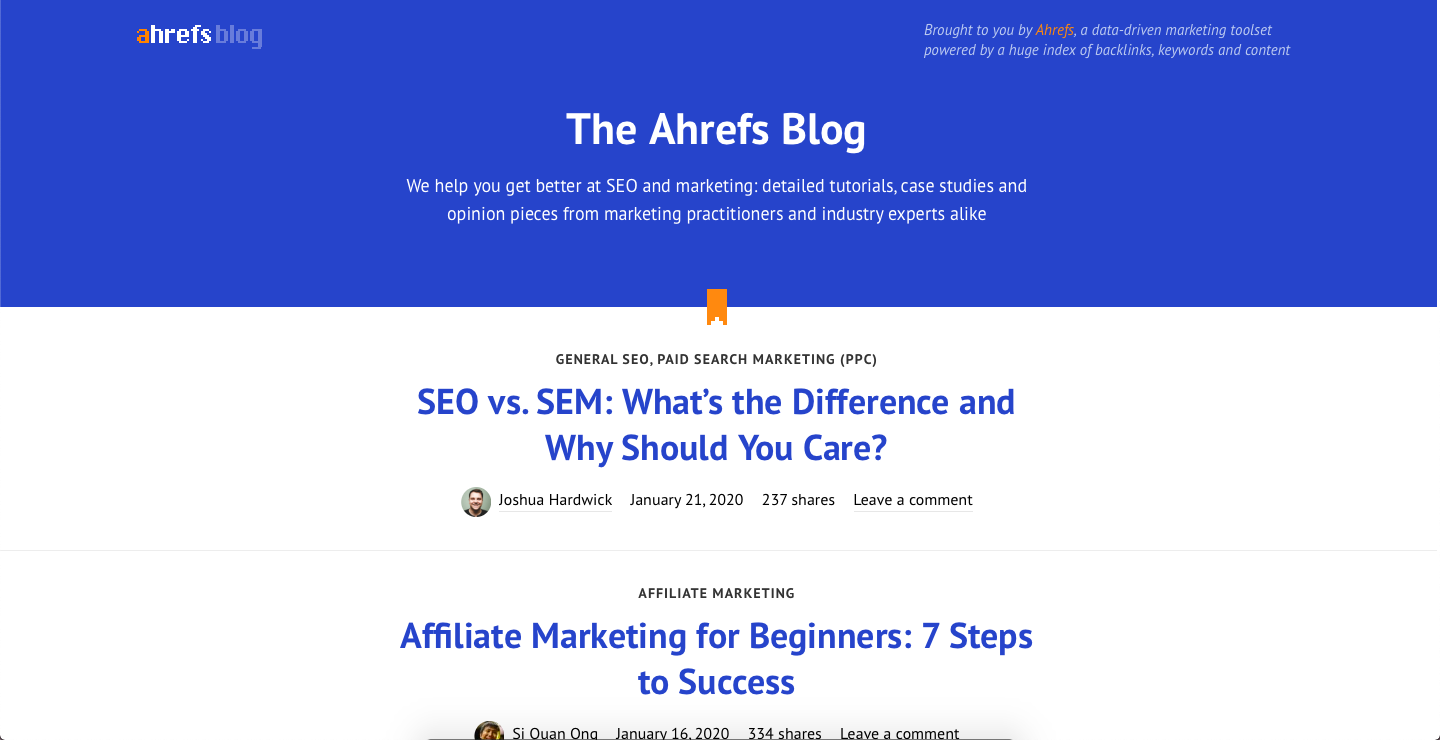 Ahrefs is a multinational team with roots in Ukraine and headquarters in Singapore. It is trusted by SEO and marketing professionals worldwide as the ultimate toolset for SEO, powered by industry-leading data. It provides the tools you need to grow your search traffic, research your competitors and dominate your niche.
Apart from offering an SEO tool, they also help digital marketers and business owners through an SEO blog. Here, you can learn about site audits, keywords research, link building, content marketing, and other SEO strategies. With the Ahrefs blog, you can grow your search traffic, research your competitors and dominate your niche.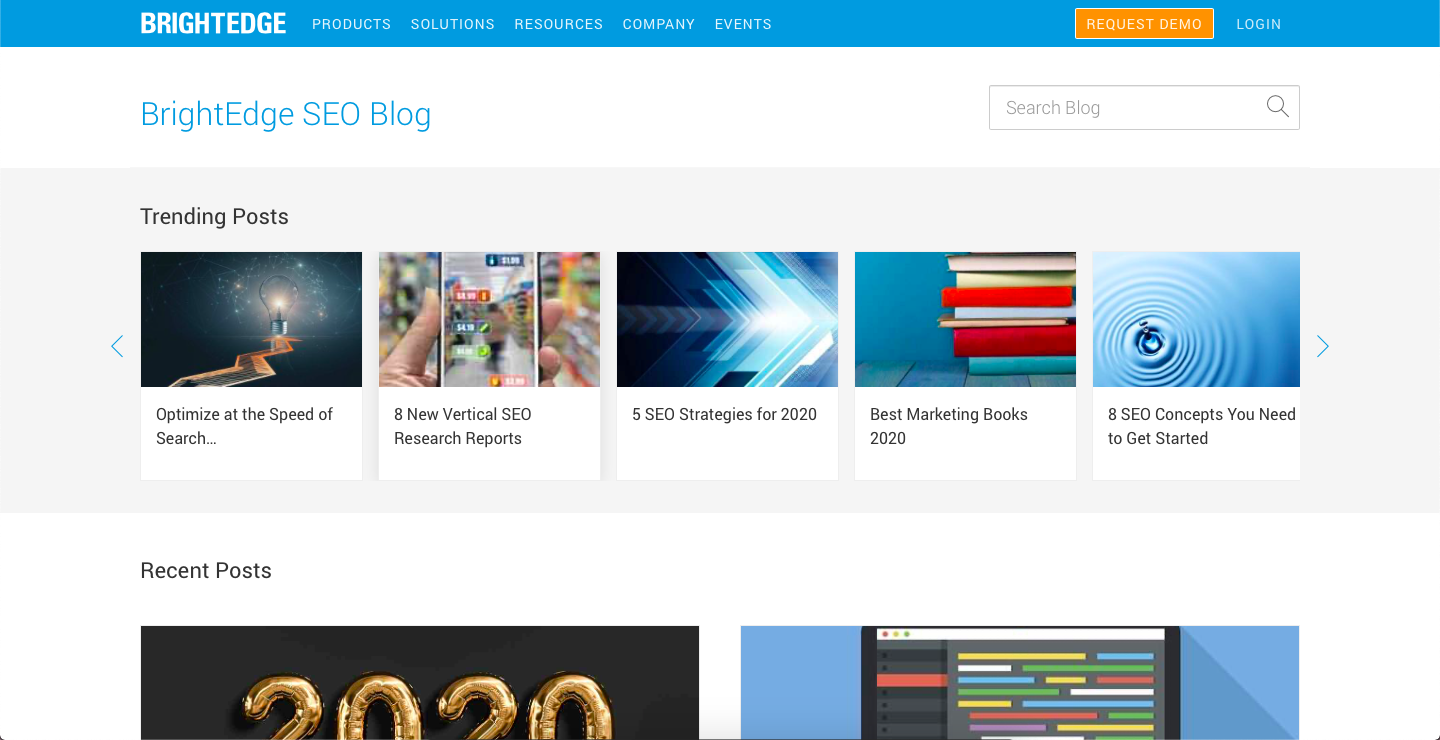 BrightEdge is the leading enterprise SEO platform that makes it easier than ever for businesses to optimize their SEO strategies. It aims to transform online content into tangible business results, like traffic, engagement, and revenue. On their SEO blog, you can find a plethora of useful information to keep your SEO strategy up to date.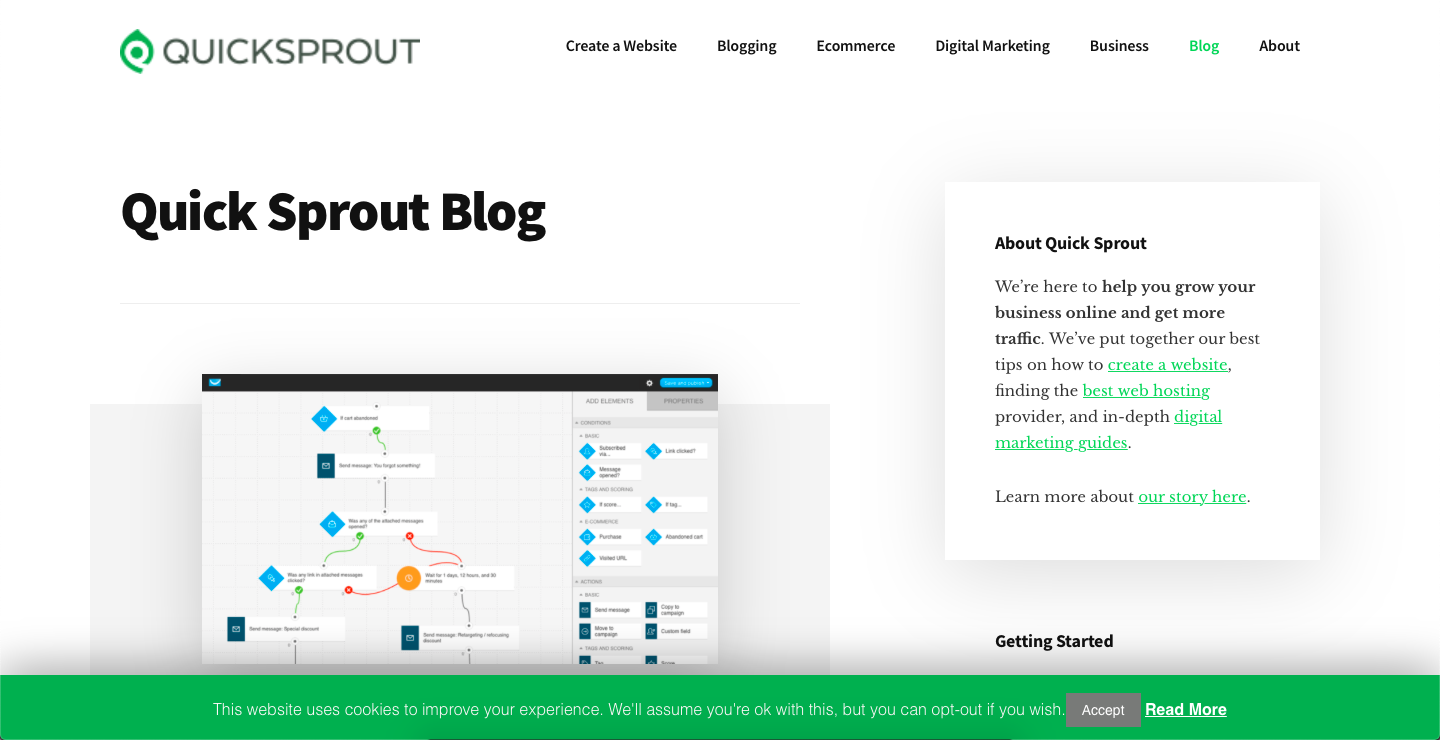 Quick Sprout was originally started in early 2008 by Neil Patel, the world's leading online marketer. Over the years, Quick Sprout grew into one of the top sites for online marketing. Today, it has expanded well beyond just digital marketing and is operated by a small group of online entrepreneurs led by Lars Lofgren.
Their team here to help you grow your traffic, business, and marketing career. Whether you're a founder, freelancer, marketing manager, or executive, there's something here for you.
On their SEO blog, you can learn their best tips on how to create a website, finding the best web hosting provider, and in-depth digital marketing guides.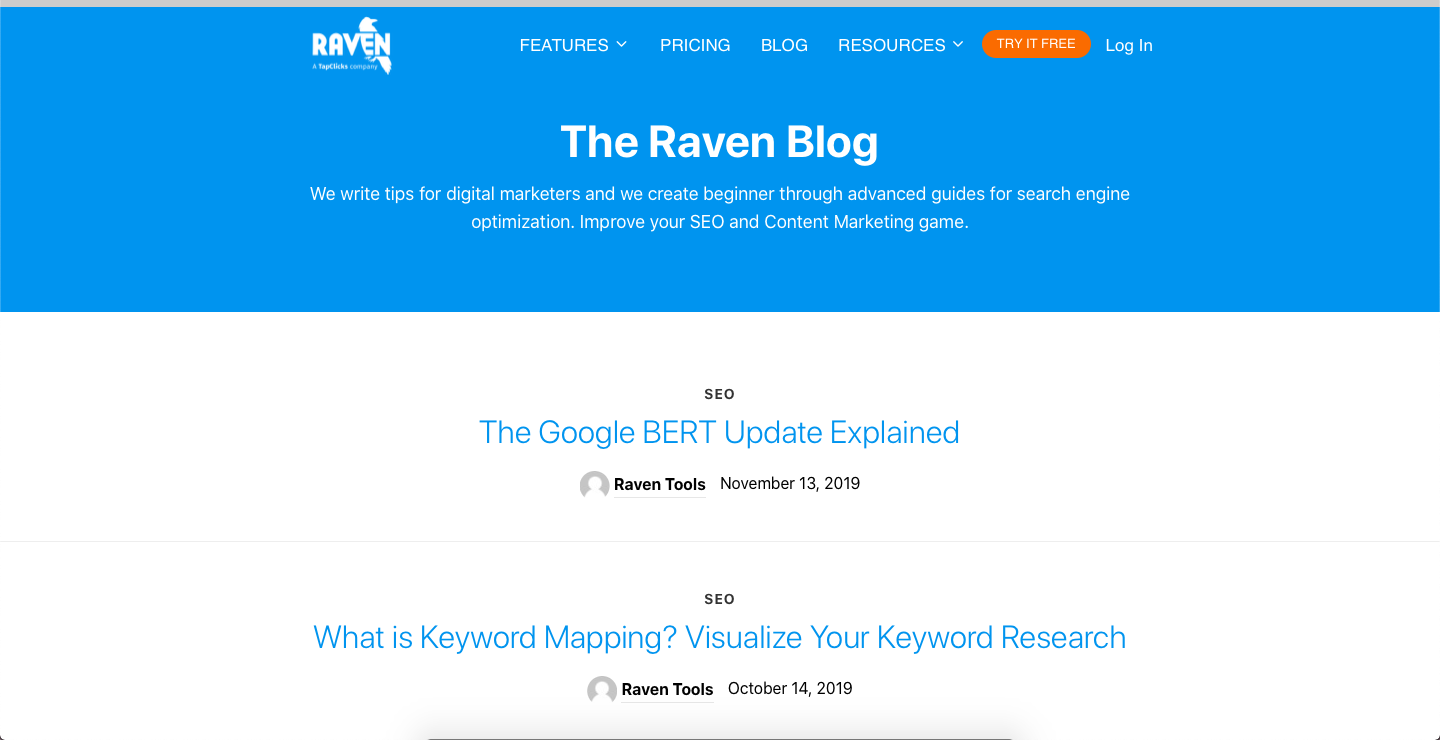 Raven Tools is a comprehensive online platform for agencies, consultants and in-house professionals who need to research, manage, monitor and report on SEO, SEM, PPC, social media, email, content and other Internet marketing campaigns.
On their SEO blogs, they write tips for digital marketers and we create beginner through advanced guides for search engine optimization. These help you improve your SEO and content marketing game.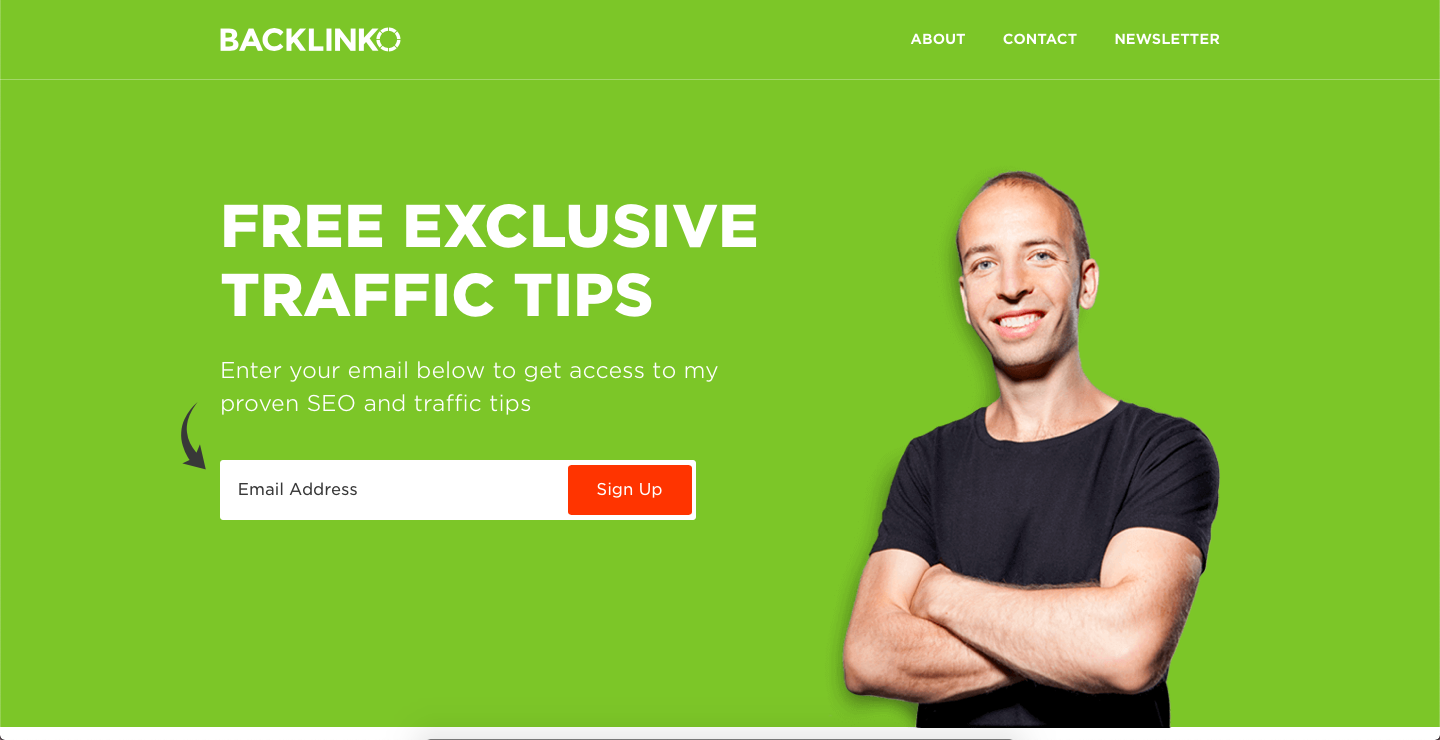 Backlinko was founded by Brian Dean, an internationally recognized SEO expert.
After failing with his first five online businesses, Brian finally struck gold with a site in the personal finance space in 2012. He created Backlinko to teach the lessons he learned along the way.
Since launching Backlinko, Brian quickly made a name for himself by publishing insanely practical strategies that marketers can use to grow their online business. Backlinko is now one of the most popular marketing blogs online.
Is an SEO Blog Not Enough?
Maybe you need someone to help you with SEO.
Sometimes, even if you read every SEO blog out there, your brand still needs a little push. If you're looking for someone who can help you with your SEO efforts, look no further than the FreeUp marketplace.
Here, you can find pre-vetted SEO freelancers who can cover all the bases you need for a complete SEO strategy. They are not only equipped with the right tools and experience to launch your website's SEO plan off the ground but they are also always on top of the latest trends. They can help you with a variety of tasks including:
Onsite optimization for SEO keywords that are most relevant to your business
Writing SEO blog articles for specific longtail keywords that drive traffic to your sites
Researching keywords to jumpstart your optimization efforts
Building backlinks from other sites to build authority
Reaching out to industry-relevant blogs to lad guest articles for you
Sign up for a FreeeUp account today to meet freelancers within one business day who can help you with all of these and more!