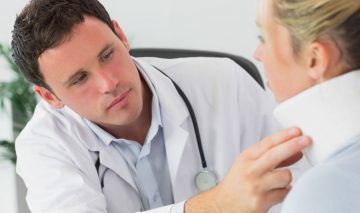 Top 10 Questions to Ask a Doctor After a Car Accident
Originally posted on https://www.injuredcalltoday.com/top-10-questions-to-ask-a-doctor-after-a-car-accident/
Automobile accidents are traumatizing events that can cause minor and major injuries after a violent impact. Find yourself an experienced New York car accident doctor that you can trust to provide expert care for your injuries. This will ensure you receive an appropriate scope of care for your health situation. For many auto crash victims, finding a physician who has the ability to properly diagnose and treat the traumas after a collision is difficult.
Discovering that one's general practitioner of twenty years cannot offer any assistance because of billing issues comes as a nasty shock to many accident victims. That is why it is vital to have a list of questions on hand to help you with your search for the ideal doctor to treat your injuries. Consider some of the typical injuries below that most prospective caregivers should have the training and ability to treat,  before placing your well-being in their care:
Soft tissue injuries
Musculoskeletal harm
Nerve damage
Fractures
Traumatic Brain Injury (TBI)
Dangerous diagnoses requiring spine surgery or orthopedic procedures
Your physician and the office's supporting medical staff should make every attempt to understand your needs and answer any questions you ask regarding care, recovery, and long-term health goals. Always make sure you are comfortable with a recommended procedure and understand the impact it will have on your life
Ask About Their Credentials
A doctor's credentials will not only demonstrate the training they have received but what conditions are their specialty. Whether they are a chiropractor, physical therapist, or practice in other fields of medicine, verify their educational background before entrusting them with your care.
Do They Have Experience Treating Car Accident Injuries?
Car accident injuries and their assessment require more training than most general practitioners can offer. You may want to focus on consulting with a clinic that specializes in collision care. Often, these offices will provide a range of services, including chiropractic and physiotherapy. This type of one-stop shopping for trauma-related injuries is a convenient way for patients to coordinate care.
What Do Other Patients Have to Say?
Always review patient testimonials when researching a physician for treatment of car accident injuries. If a relative or friend once suffered from similar trauma, ask them what their treatment experience was like and if they would recommend you go to this doctor.  Many medical providers specialize in specific areas of treatment, and your close friends and family are a good benchmark to use depending on the circumstances of your own health issues.
How Quickly Can They See You After the Car Accident?
After an accident, it's vital to receive an assessment and course of treatment as soon as possible, so you need a physician who prioritizes those who haven't received proper care yet. Find out if their office offers walk-in appointments, or if you can call in with questions about prescribed treatment. Your waiting time for a scheduled visit should be minimal, and if seriously hurt, you should get immediate care options.
Are They Part Of a Multi-Specialty Medical Care Network?
Car crash injuries often need a variety of treatments through different doctors. You wouldn't see a chiropractor for a fracture, would you? If your provider isn't part of a larger clinic with multi-disciplinary specialties, make sure to find out what other medical professionals they partner with to ensure you get the care you need.
This is especially true if you have a critical injury that relies on more than one expert to treat you. Collaborative care between multiple health organizations isn't all that uncommon due to the scope of injuries sustained in a traumatic collision event.  You can see this important relationship between chiropractic care and pain clinics, or physiotherapists and MRI facilities. These services rely on one another to paint a larger picture of the trauma you have suffered and work together to form the best plan possible to treat it.
Do They Thoroughly Document Your Accident Injuries and Treatment in a Medical Report?
Documentation and following through with all treatment recommendations are not only a critical part of your recovery but also integral to your injury claim process. No matter the doctor you choose, verify that they will keep complete records of your care and that everything gets documented according to the standards demanded by the insurance company. This eliminates confusion and minimizes errors, which lead to claim denials.
If you still have questions then contact a New York injury doctortoday to answer questions and help you get the medical attention you need.
Do They Use Diagnostic Testing as part of Their Evaluation?
Many injury clinics offer a free consultation with no obligation to allow their doctors to evaluate your injuries and answer questions surrounding your accident experience. They will recommend a preliminary treatment plan and may recommend further testing, such as:
MRI
CAT Scan
Range of Motion Testing
Neurological Assessment
Practices that offer these types of services are usually patient-focused and do their best to supply quality health care at their facility.
Do they accept No-Fault (PIP) Insurance and Medical Liens?
A significant roadblock for many car accident injury victims is the cost of care. All too often, sufferers are at the mercy of their No-Fault (PIP) coverage or are in the middle of a claim dispute and cannot pay right away. Finding a medical rehabilitation clinic that lets patients come for care on a lien basis is a challenge, but not impossible. Always clarify the payment policies with any doctor's office that you choose to get treated at and make sure waiting until your settlement to pay the bill is okay.
Do They Have a Variety of Treatment Options and Diagnostic Testing Available?
The type of treatment options you will have made available to you depends on your injuries and medical history. Ask ahead of time the range of services and procedures that their clinic offers that may help you on your road to recovery. The larger the variety, the better, but some common accident-related treatments they should offer their patients include
Epidurals and nerve blocks
Neurological testing and referrals
Orthopedic surgery or network providers
Plastic and reconstructive surgery
Physical Therapy
Chiropractic care
Pharmacy and Medical Equipment
Does the Doctor Have Proper Privacy Policies in Place?
The care provider you choose should also keep your medical records confidential, and only share them with physicians that are part of your collaborative care plan, or if you grant a release to specific parties involved in your case. Patient privacy is a vital aspect of care that you should never take for granted.
In summary, it's best to ask the following ten questions when visiting your doctor after a car accident. Stay safe!